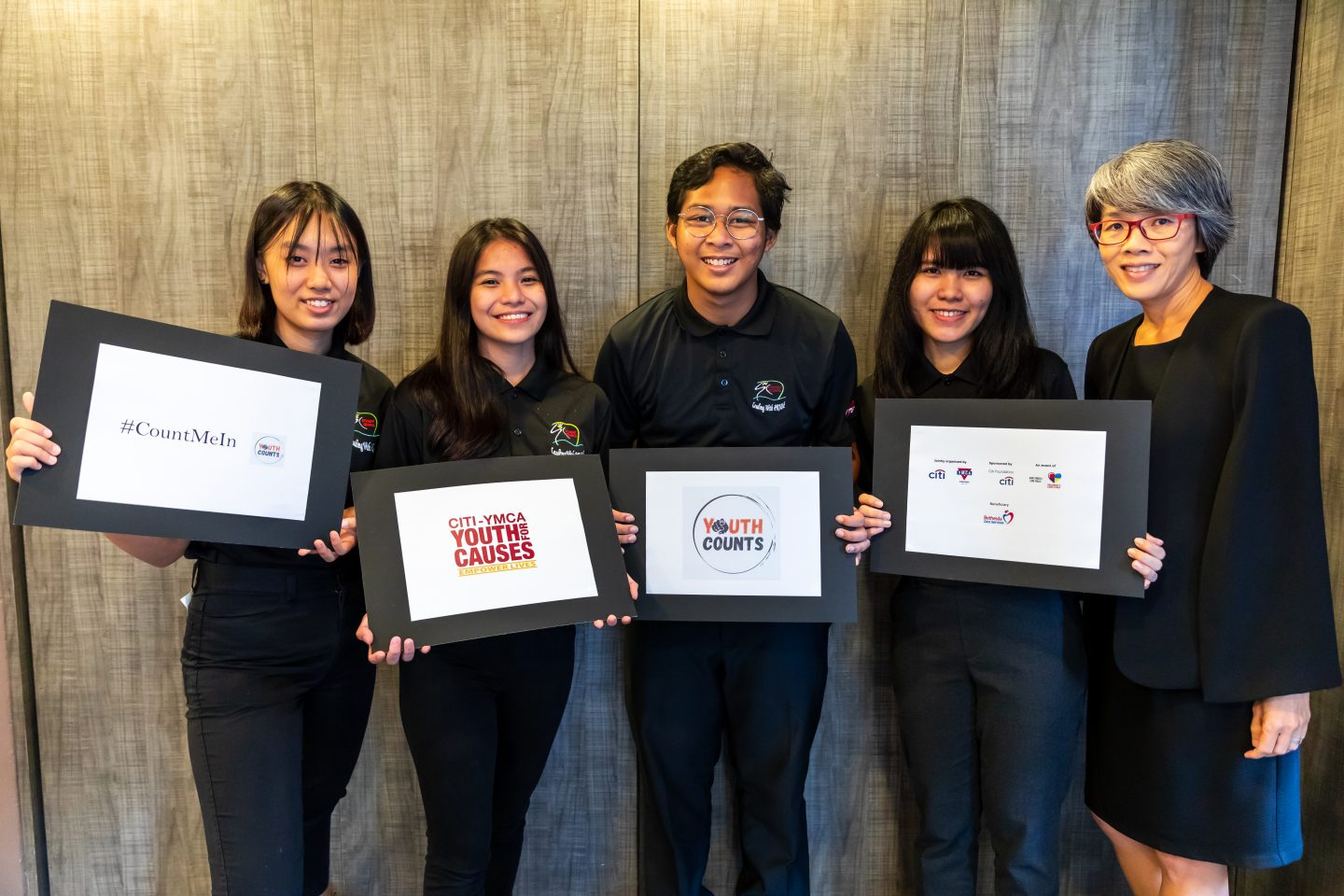 Team YOUth Counts, a group of students from ITE College East, was among the 316 youths who raised funds for a social service agency of their choice. YOUth Counts received the Best Fundraiser Award. All photos courtesy of YMCA of Singapore.
A total of 316 youths showed that the battered Covid economy, Circuit Breaker and social distancing measures were no barrier to fundraising.
They came up with creative and innovative ways to raise over $450,000 for 36 social service agencies (SSAs) in this year's Citi-YMCA Youth For Causes programme. The annual event promotes social entrepreneurship and develops community leadership among Singapore youths. 
"A wish sends an unspoken but uplifting message of love and encouragement"
Food writer Violet Oon and Alvin Yapp, owner of The Intan Museum, were roped in by a team of four students from St Joseph's Institution (SJI) known as Populas Sitas. 
Oon conducted online charity cooking show, Cook.Give.Heart, while Yapp shared his expertise on Peranakan history and traditions. The show was made available to donors who contributed more than $10.
Populas Sitas also sold customised merchandise and came up with social media awareness campaigns, raising close to $7,000 in all. Their proceeds went to Make-A-Wish Foundation Singapore, an SSA that grants the wishes of children with life-threatening illnesses.
Their efforts blessed 18-year-old Shadi Hannan, who has germ cell cancer, with a makeover for his room. Hannan comes from a large family and lives in a confined space which had not be refurbished for 12 years.
The team said that "the power of a wish is often understated", and saw how granting a wish sends "an unspoken but uplifting message of love and encouragement".
The team were moved by the support of their SJI community. They participated in making the publicity videos for the charity cooking show; some garnered close to 1,000 viewer hits.
Seeding hope
Populas Sitas was one of 79 teams of youths – ages 13 to 25 – taking part in this year's programme. Each team was provided with the guidance of mentors and seed-funding of $1,600 to conceptualise and bring to life their projects to raise funds and awareness for an SSA of their choice.
The initiative is funded by Citi Foundation, who has been organising it with YMCA of Singapore since 2002.
The chosen SSAs address a variety of social concerns from mental wellness to environmental conservation, and help groups ranging from special needs to youth in need. 
Because of Covid restrictions, large-scale physical events that attract crowds could not be used in fundraising efforts. Instead, the students used small-scale events on campus (observing safe distancing measures) as well as virtual methods such as video productions, poetry contests, virtual concerts and e-sports tournaments. 
"Even with new hardships in trying times, the youths and mentors displayed great determination and commitment to touching lives and lifting spirits of their beneficiaries," said Steve Loh, General Secretary & CEO of YMCA of Singapore.
"It has been truly moving and inspiring to hear of the many stories and adventures these youths embarked upon."
Stepping up
The contributions and achievements of different teams were recognised at an awards celebration streamed on YMCA of Singapore's YouTube channel on November 20.
Populas Sitas won the Most Innovative Award, while Team YOUth Counts from ITE College East won the Best Fundraiser Award.
Team YOUth Counts raised $86,000 for Bethesda Care Services, an SSA focusing on the community in eastern Singapore. Their campaign, a social media video, showcased heartfelt stories of their peers who have been struggling during the pandemic.
Merit and distinction prizes were given to the top teams.
"We learn what it means to walk in the shoes of others. This binds us, and this is what makes us a community."
The guest of honour, Education Minister Lawrence Wong, commended participants for putting aside their own struggles amidst the pandemic and stepping up to help others. He was "inspired by their passion to serve and to champion social causes they care about".
"Volunteering is powerful because it has a profound effect on our lives. It teaches us to care for the well-being of others, especially those in need", said Wong.
"When we serve, we meet people in circumstances different from our own, but we develop greater empathy and we learn what it means to walk in the shoes of others. This binds us, and this is what makes us a community."
---
MORE STORIES OF THE YOUNG AND YOUNG-AT-HEART RAISING FUNDS FOR OTHERS:
"Migrant workers are a part of our Singapore family": HealthServe co-founder Tang Shin Yong
If you have enjoyed reading Salt&Light...
We are an independent, non-profit organisation that relies on the generosity of our readers, such as yourself, to continue serving the kingdom. Every dollar donated goes directly back into our editorial coverage.
Would you consider partnering with us in our kingdom work by supporting us financially, either as a one-off donation, or a recurring pledge?
Support Salt&Light