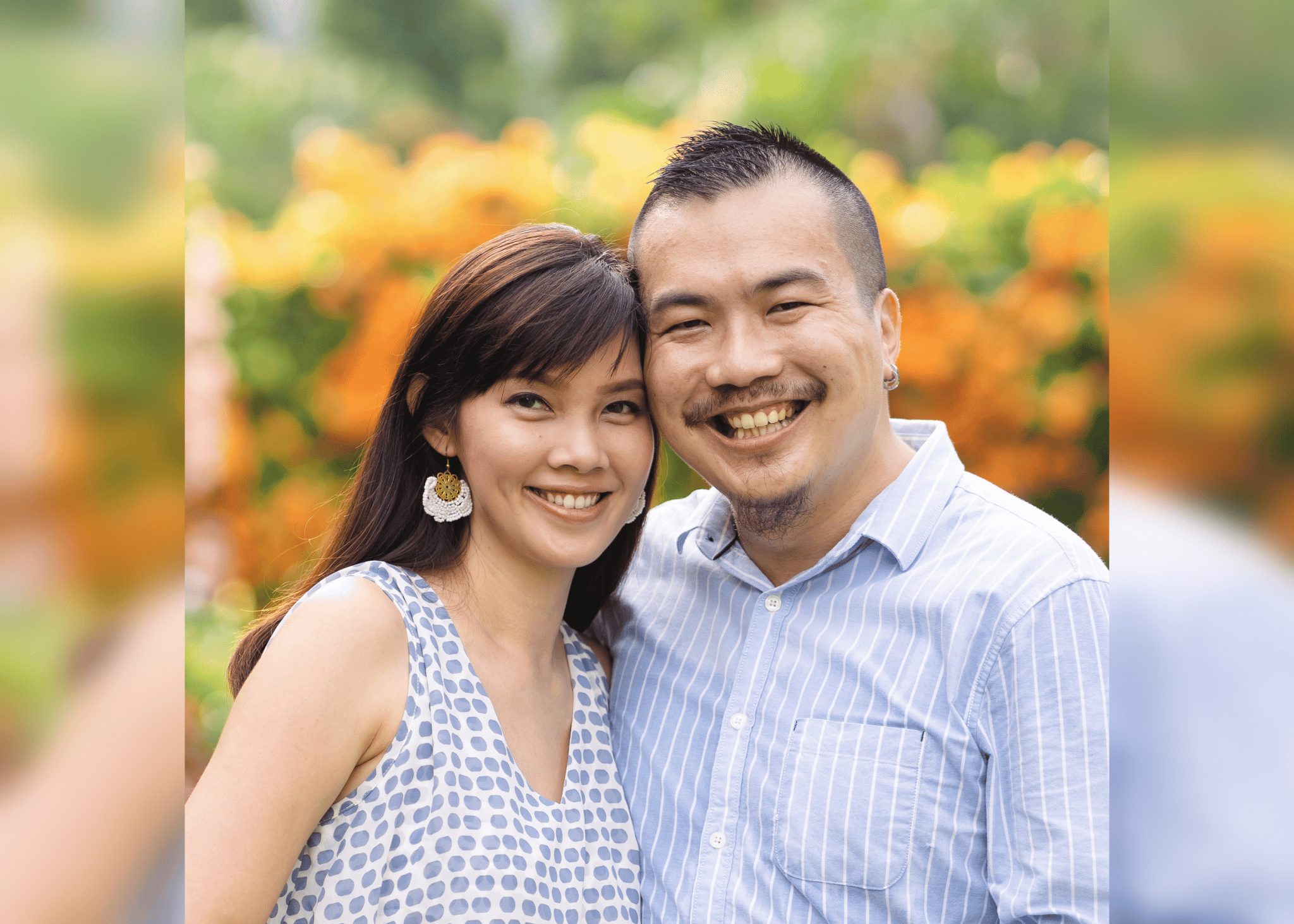 The acknowledgement of God's goodness and guidance has been the hallmark of Aaron and Chrystin's faith and business journey. All photos courtesy of Aaron and Chrystin.
In the picturesque city of Kota Kinabalu (KK), locals and tourists are spoiled for choice when it comes to weekend activities. You can bask at the beach, hike new trails, whitewater raft down the rapid rivers or dig into a good brunch at one of the umpteen cafes.
There was just one thing missing – a weekend artisan market where local indie artisans can proudly display their works of art and earn some well-deserved moolah. A market where delectable food is served against a backdrop of local indie artists belting out their tunes.
"God just opened the door and brought in the right people."
It was a gaping hole too obvious for Aaron and Chrystin Lam to ignore. The couple had just moved back to Sabah in 2015 after spending over a decade in Kuala Lumpur pursuing their studies and starting their careers.
"Back in Kuala Lumpur, we joined a lot of art markets. After I quit my full-time job, art markets were where I sold the t-shirts I designed. But when we moved back here and wanted to join art markets, there was none," Aaron said.
Realising the opportunity to create something new, the duo committed the idea to the Lord. "We prayed about it and submitted it to God and then one day, the marketing head of a new shopping mall walked into our stationery shop. She asked us if we wanted to do a market in her mall."
The obvious answer was yes – and Jesselton Artisan Market (JAM) made its debut in May 2017. The monthly weekend market started with only 30 vendors and has since grown exponentially.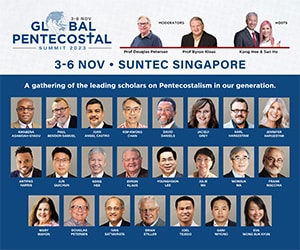 This December, JAM will be hosting its largest market yet, with over 200 vendors selling artisanal, handmade products and goodies from jewellery to home decor, stationery to scrumptious eats – just in time for Christmas shoppers.
It's hard not to be impressed by the buzz and scale of JAM, but Aaron is quick to interject when overflowing praises are given about JAM's success.
The acknowledgement of God's goodness and guidance has been the hallmark of Aaron and Chrystin's faith and business journey.
Learning to listen and obey God
Aaron and Chrystin had a pretty good life in Kuala Lumpur. As a young married couple, they were planted and serving at EveryNation church. Aaron's T-shirt line was selling like hot cakes and their shop, Supermart Collective, was flourishing.
The acknowledgement of God's goodness and guidance has been the hallmark of Aaron and Chrystin's faith and business journey.
And then, the nudge came to move back to Sabah.
"As a Sabahan, I always had the desire to move back. Even when we were courting, I told Chrystin that there is a possibility that we may one day move back," Aaron shared.
Nothing really materialised until they were expecting their first child. The soon-to-be parents seriously considered where they wanted to raise their children and Sabah was a certainty. Aaron's parents were eager to look after their grandchild and Sabah offered a slower pace of life. The answer was simple, but the move was difficult.
Chrystin, who is both a driven and determined entrepreneur shared: "It wasn't easy for me to move to Sabah. I felt that it was a setback instead of a step up. We talked and prayed about it for a long time and finally, I had to accept it."
At that time, she had the impression that it was easier for Aaron because he was moving back to his hometown. The truth was the contrary.
"We never lacked. God always provided for us."
"For the record, it wasn't easy for me. We were already accustomed to the pace in KL where everything is done faster and more efficiently. All my friends in Sabah had already left the state and we had to wind up our business, sell our house, uproot and start from scratch," he shared.
The peace of God led them to East Malaysia when Chrystin was seven months pregnant. There, they found themselves jobless and were faced with real concerns.
"One of our biggest fears was how to restart. We didn't have a plan and we were jobless for a few months," Aaron recounted.
"I couldn't even look for a job because who would want to hire a heavily pregnant lady?" Chrystin chimed in.
To make ends meet, the couple stayed with Aaron's parents while Aaron worked part-time as a guest lecturer in two local colleges, at the same time earnestly seeking God for what was to come.
Aaron recalled those early days of living by faith: "We never lacked. God always provided for us."
In the midst of waiting, the couple welcomed their firstborn son, Eli Johann Lam in 2016, while marking a new milestone for their family and the ventures ahead.
Starting a new shop
 As an avid stationery lover, Chrystin would buy and collect pretty and attractive stationery just for fun.
"We will go to stationery shops and Chrystin's basket will always be full. When I ask her if she actually needs it, she wouldn't take no for an answer!" said Aaron.
So starting a stationery shop in Sabah was no surprise. But it wouldn't be just any ordinary stationery shop. Aaron, a graphic designer and Chrystin, a graduate of film and television, both have an eye for unique designs and bespoke creations. They wanted to create a boutique stationery shop where local designers can also showcase and sell their products.
While the idea was birthed, the physical store was nowhere in sight. They again committed it to God and kept a lookout for possibilities. 
"It was the exact same rental price I had asked for! God was so specific,"
"We circled around town and asked God to show us the right place. Then we saw the row of shops along Jalan Dewan and knew immediately that it was the right place. We said a simple prayer: "Lord, we want this place. Please give it to us with this [specific] rental price. Amen," Aaron jovially recalled.
The simple and specific prayer was answered in no time when a friend alerted Aaron about a possible shop lot to rent.
"It was the exact same rental price I had asked for! God was so specific," he said.
In 2016, Salt x Paper opened its doors to stationery and gift enthusiasts. The shop was located on the 2nd floor and the couple wanted to test the market before investing more. 
"We really didn't expect a lot of people to come up. We focused a lot on online marketing so people knew where we were located,  but we received a lot more walk-in customers instead," much to Chrystin's surprise.
"Even on the second floor without a lift, people would still brave the stairs and march up to our shop. It was then that we knew there is a demand for a shop like ours," Aaron added.
Meaning in the name and brand
The catchy brand name Salt x Paper is more than just a nice play of words with salt and pepper. When the couple landed on it, they thought about how others will be impacted by their products and purchases.
"Our goal is to bring joy to people. We want our stationery to light up someone's day."
"Salt is a preservative and we chose the name because we want our paper goods to preserve memories. For example, in our paper goods, people can do scrapbooking, write memories and jot messages that can last for a long time," Aaron shared.
The name is also inspired by the verses in Matthew 5:13-14 where Jesus called His followers to be the salt and light of the world. Aaron and Chrystin wanted to be leaders in the industry God has called them to.
"Salt adds flavour and we want our designs to add flavour to anything and everything we produce. Plus, we really want to be the salt and light to stand out in the field of design and visuals," he explained.
When light shines in the darkness, it is likened to rays of sunshine on a dark and gloomy day. That's exactly what Aaron and Chrystin hope for when people walk into their store, even if it is just to window shop.
"Our goal is to bring joy to people. Our designs and products can be simple, but they are also witty and desirable. We want it to light up someone's day," Aaron quipped.
The Salt x Paper's tagline – "Little things that make you oh-so-happy" – is just the dose of happiness that was lacking in the sea of stationery offered in KK.
Stepping out of the comfort zone 
The duo had been selling from a 2nd-floor shop unit for two years, and they still had lots of customers. However, things were getting a bit too comfortable for them.
"We were very comfortable there at Jalan Dewan – rent was cheap, earn a little and we could survive," Aaron chuckled while reminiscing about old times.
The urge to move was fuelled by the need to grow and not stay stagnant as entrepreneurs. It also came with very real risk and the need to trust God more.
"We wanted to grow and needed a more visible place but the rental fees were double what we were paying and the space was smaller. When we moved to the new shop, everything increased and our faith was stretched," Chrystin shared.
Located on the ground floor with a large floor-to-ceiling window display area, the current and only Salt x Paper store on Jalan Gaya is a magnet to locals and tourists alike. The interior decor is fresh and welcoming and the aisles are decked with notebooks, journals, stickers, postcards, jewellery and all kinds of beautiful gifts that make your heart skip a beat. 
While they focused on being the best in their field, God worked behind the scenes and showed His faithfulness once more. 
"God came through for us because, when we moved into the new place, although the rent was double, our customers also doubled!" Chrystin testified. 
Business for a bigger purpose
For the duo, profitability is not the be-all and end-all of running a business.
They share a common desire to make an impact as creative entrepreneurs. When asked what success looks like to them, Chrystin said: "Walking in the will of God, enjoying what I do and having an impact on other people's life, be it big or small."
Aaron summed it up by saying: "Success may not mean wealth and net worth, but if I have improved someone's day or situation from bad to good or good to better, then I consider myself successful."
This desire to leave an imprint on lives has shaped the way they work with their vendors, staff and customers.
"When we first started Jesselton Artisan Market (JAM), we just wanted local artisans to have a dignified space with their own tables and chairs to display their hard work," Aaron recalled. "We wanted them to feel that they deserve the spotlight and attention from the public," he added.
As local artisans joined JAM month after month, the transformation stories kept adding up.
The market was a space for artisans to grow in confidence, test their products and receive the validation they needed for their work.
"There were artisans who created products as their side hustle, but because of the traction and response they received from JAM customers, some of them have quit their jobs to pursue their dream as full-time artisans. Some were even lawyers and architects!" Aaron shared.
Other vendors such as home bakers also gained the confidence to set up permanent kiosks at malls. And notably, the flagship Sabahan ginger beer brand, Uinah, first launched at JAM and sold out on the first day.
Today, Uinah beverages are found nationwide.
"JAM is more than just a market, it is a community of like-minded people. Seeing the artisans grow and witnessing their journey of being better at their workmanship, skills, branding and business is very rewarding," expressed Chrystin.
Teamwork makes good work
Looking back on their individual dreams and aspirations, Aaron and Chrystin never fathomed that they would be business and life partners. They work so well together that it's hard to believe it wasn't in their plan all along.
"We really want to be the salt and light to stand out in the field of design and visuals."
Aaron let out a ferocious laugh when asked about his experience working together with his wife.
"Thank God we are still married!"
He said: "When people hear us talk, they may think we are fighting but we're not – it's normal, that's just the way we communicate."
Chrystin grinned and said, "We learn not to be offended easily. When we work, we are direct in our communication – but it is just work. There is a mutual understanding and respect between us."
Complementing each other's strengths and talents is a big part of the partnership.
"We cover for one another. I am more of a designer and Chrystin takes care of admin and operations and ensures that we are in the green. I make things look nice and she makes sure that things are sold. When we work together, you get the best of both worlds," Aaron beamed as he looked at Chrystin.
Tasting God's goodness
The couple is quick to give credit to God because they have tasted His goodness many times over.
"I reflect on the past few years and cannot deny God's favour on our lives. From the shop to JAM, He has been guiding us. A lot of other markets strive for funding, vendors and sponsors, but for us, it's the other way around – people come looking for us," Aaron humbly testified.
"God knows you better than yourself. It is much better to listen to Him than yourself."
"I really don't want to take the credit because it is all God's doing."
And favour starts with prayer as Chrystin shared: "We always pray and surrender to God because we don't know what else to do, if not pray first."
As creative people, ideas are bound to overflow and the tendency to follow trends and jump onto the next big idea is part and parcel of today's fast-paced world.
While Aaron agrees that social media has opened up a sea of inspiration and ideas, it is more important to listen to God's leading. 
"Social media has really spoiled us because we have free access to what other people are up to. But as a [Christian] creative, if you listen to God, more than just follow trends or what you think is good for you, God has your back. It is much better to listen to Him than yourself."
With a deep gratitude in his voice, Aaron added: "I don't think we would be here doing what we are doing today if we had not taken the time to pray, listen and obey."
---
RELATED STORIES: 
He designs witty Christian gifts as a way to lead others to the light
"Even through Covid, God showed He can make miracles!": Chinatown shop that shot to popularity for Christian decorations
Mongolian shepherd-turned-artist says: "I'm a nobody, but God has blessed me with such amazing favour"
"Your art can travel but not you": An artist lets his work speak the Truth
If you have enjoyed reading Salt&Light...
We are an independent, non-profit organisation that relies on the generosity of our readers, such as yourself, to continue serving the kingdom. Every dollar donated goes directly back into our editorial coverage.
Would you consider partnering with us in our kingdom work by supporting us financially, either as a one-off donation, or a recurring pledge?
Support Salt&Light