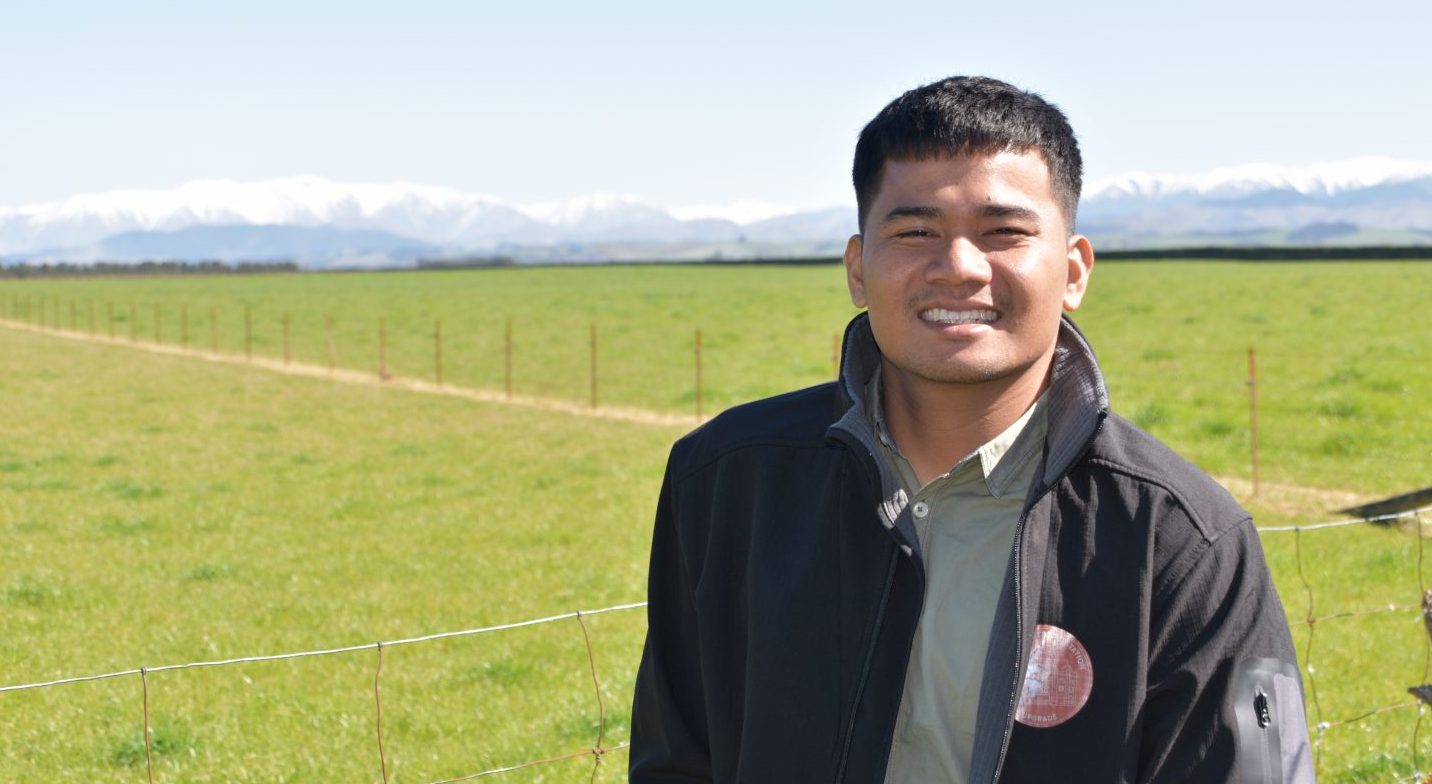 Trafficked to Thailand five times as a child and forced to suffer hardship, Longdy grew angry and bitter. "But after I believed in Jesus and accepted that He has a good plan for my life, I decided to turn all my resentment into thankfulness." All photos courtesy of Longdy Chhap.
Longdy Chhap held his breath, willing his body to stay completely still.
Huddled with nine other boys in the back of a truck, the eight-year-old hoped against hope that the vegetables they were hiding under, and the flimsy tarp blanketing them, would suffice in throwing off the border guards.
Footsteps circled around the truck. Knuckles rapped the vehicle's body.
He heard the driver get out of the truck. Prior to their journey, he had warned the boys: "Be quiet if you don't want to die."
Longdy didn't want to die. He had agreed to make the trip from his hometown in Cambodia to Thailand to earn money for his family. It was his one chance to help them after burdening them all his life, he had thought.
Never mind that polio had robbed him of using his legs when he was just five. Never mind that he had never gone to school. The lady had told him that he could just sit on the streets of Thailand, and people would give him money.
She promised he would live in a nice place. She promised that every cent of what he earned would go back to his family.
A curse to the family
It was an alluring offer for Longdy, who grew up in a poor family of eight in a town called Poipet. They never had much — his father was a builder and his mother sold porridge.
Most days, he sat in his very old wheelchair on the porch of his house, looking longingly at the other children who were running and playing. "Why are they able to do all that while I can only sit here and do nothing?" he wondered.
His father tried to send him to school but his classmates bullied him because of his disability, so he stopped going.
They weren't the only ones. People in his village gossiped about his family and said they had "bad karma". They whispered that maybe he had done something wrong in his previous life to deserve his suffering.
People in his country believe that a disabled child is a curse to his family.
Their snide remarks drove his mother to alcohol; perhaps their words pained her and the alcohol helped to drown them out. She would always come home drunk in the evenings, shouting at the children and blaming someone about something. She constantly complained about not having enough money for the family.
Longdy was scared of her. He had always felt guilty about making his family poor. They had spent a lot of money trying to treat his illness. But more than that, people in his country believe that a disabled child is a curse to his family.
So, when the broker visited his home one day, promising work and money, Longdy was eager to go. He didn't want to be a burden anymore. He wanted to be useful.
His mother encouraged him. It would be better for him to go out and help support the family instead of staying at home and doing nothing, she said.
The very next day, he was loaded into the back of a truck and smuggled into Thailand.
"Please give me money"
When they arrived undetected, Longdy wasn't sure where he was exactly. He just knew it was in Thailand because people were speaking in a different language. 
The broker split up all the children and sent them to different "families". She promised that they would look after him and feed him. "All the money you earn will go back to your family," she assured him again.
At first, his "family" treated him well. They gave him food and made him feel warm. He was happy. But it only lasted a few weeks.
Once he began working, they treated him ruthlessly. From 5am to 6pm every day, he was forced to sit on the streets with his hands clasped together and head bowed. "Please give me money, please give me money," he begged for hours.
His "family" kept their eyes on him from a distance. Whenever a kind passer-by gave him some food to eat, they would move him to another location and deprive him of food that day. 
Whenever he didn't bring in US$20 a day, they starved him and beat him, accusing him of being lazy and blaming him for his family's poverty.
His mother called only once a month. They had short conversations – these calls were expensive – where she reminded him to be a good son to earn money for the family. She never asked how he was doing. Longdy resented her.
A hopeless cycle
Longdy cannot forget the time his abusers starved him for three days, beat him and left him alone in a corner, oblivious to the fact that he was running a fever. Instead of caring for him, they blamed him for his plight and refused to give him water.
At the time, though he did not know who Jesus was yet, he cried out in desperation: "If there's a God in this world, just help me out!"
"Even though I was hurt and in pain, at least I could help my family a little bit."
Miraculously, soon after he was back on the streets, the Thai police arrested him and sent him back to Cambodia. Back home, the broker's lies were unraveled: He realised that his mother had only received 30% of what he had earned. 
Two to three months later, the broker returned to Longdy's home, apologising for what he went through and promising to change his "family". She seemed genuine, so he went again. But nothing changed.
Over the next two years, he was caught and repatriated four more times. However, he agreed to be sent out again each time, fully aware of the hardship that was awaiting him in Thailand.
He said: "It was only for one reason: I wanted to help my family. I didn't know if it was a right or wrong decision, but I just knew that it was the one thing I could do for them. 
"Even though I was hurt and in pain, at least I could help my family a little bit."
"If You are real, help me"
The Thai police eventually got tired of sending him back, only to find him back on the streets again. They sent him to the International Organisation for Migration, where he stayed for about two years.
When he was 13, he was sent to Hagar International, which supports those who have suffered trauma from human trafficking, slavery and abuse. They provided him with food, good accommodation and the opportunity to get an education.
He enrolled in school and began in Grade 1. At 13, he was much older than his classmates. Studying was difficult, and he almost threw in the towel countless times. 
For the second time in his life, he said a prayer to God. This time, he had come to know about Jesus through the organisation, though he did not yet acknowledge Him as his God.
He prayed: "Jesus, if you're the real God, just help me with my studies. If I fail in any year, I will drop out."
Again, God answered his prayer. Despite the obstacles, he passed each year and eventually accepted Christ into his life.
Turning resentment into thankfulness
Today, at 30, Longdy has two Bachelor's degrees in psychology and English, and works as a counsellor at Hagar Cambodia. He is married and has a baby girl on the way.
In February, Longdy will enrol in a Master's degree course in clinical and counselling psychology. His dream is to open a counselling centre in Cambodia for those who have suffered violence and trauma like him.
"After I came to know Jesus, I know that this was His great plan all along."
Knowing Jesus has brought peace to the anger and resentment he has long harboured in his heart. He finds healing in knowing that God had a plan for his life all along and that He has purposed his suffering for good (Romans 8:28).
"Before I knew Jesus I blamed everybody – myself, my mother, God – for the misery that I was in. I said: 'If there's a God in this world, why would He put me in this situation?'
"But after I came to know Jesus, I know that this was His great plan all along."
He especially finds encouragement in Psalm 23:4: "God is with us in every situation. Even when I didn't know Him yet, He was with me, protecting me."
Finding healing within himself has allowed him to forgive his mother, who has since stopped drinking. They now share a closer relationship and talk on the phone once a week. 
He has also forgiven his abusers, though he doesn't know where they are. "I don't harbour anger toward them in my heart. I've set them free. Let God be the judge.
"If not for my past, I would not have known Jesus. I would not have known real Love.
"I've come to understand that God is the God of love, the God of care and the God of forgiveness. After I believed in Jesus and accepted that He has a good plan for my life, I decided to turn all my resentment into thankfulness.
"If I hadn't lost my legs to polio, looking at my attitude and personality, I probably would have ended up in a gang in the village, using drugs.
"If I hadn't been trafficked to Thailand, how would I have known how painful that experience is? I can better empathise with my clients because I know how painful and hard it is.
"If not for my past, I would not have known Jesus. I would not have known real Love. I would not have known how to help other people. So, I thank God for that. This was all in His plan."
Slavery is not a thing of the past: Love Justice International
To learn how to spot a victim or partner Hagar in their fight against trafficking, visit Hagar Singapore here.
If you have enjoyed reading Salt&Light...
We are an independent, non-profit organisation that relies on the generosity of our readers, such as yourself, to continue serving the kingdom. Every dollar donated goes directly back into our editorial coverage.
Would you consider partnering with us in our kingdom work by supporting us financially, either as a one-off donation, or a recurring pledge?
Support Salt&Light