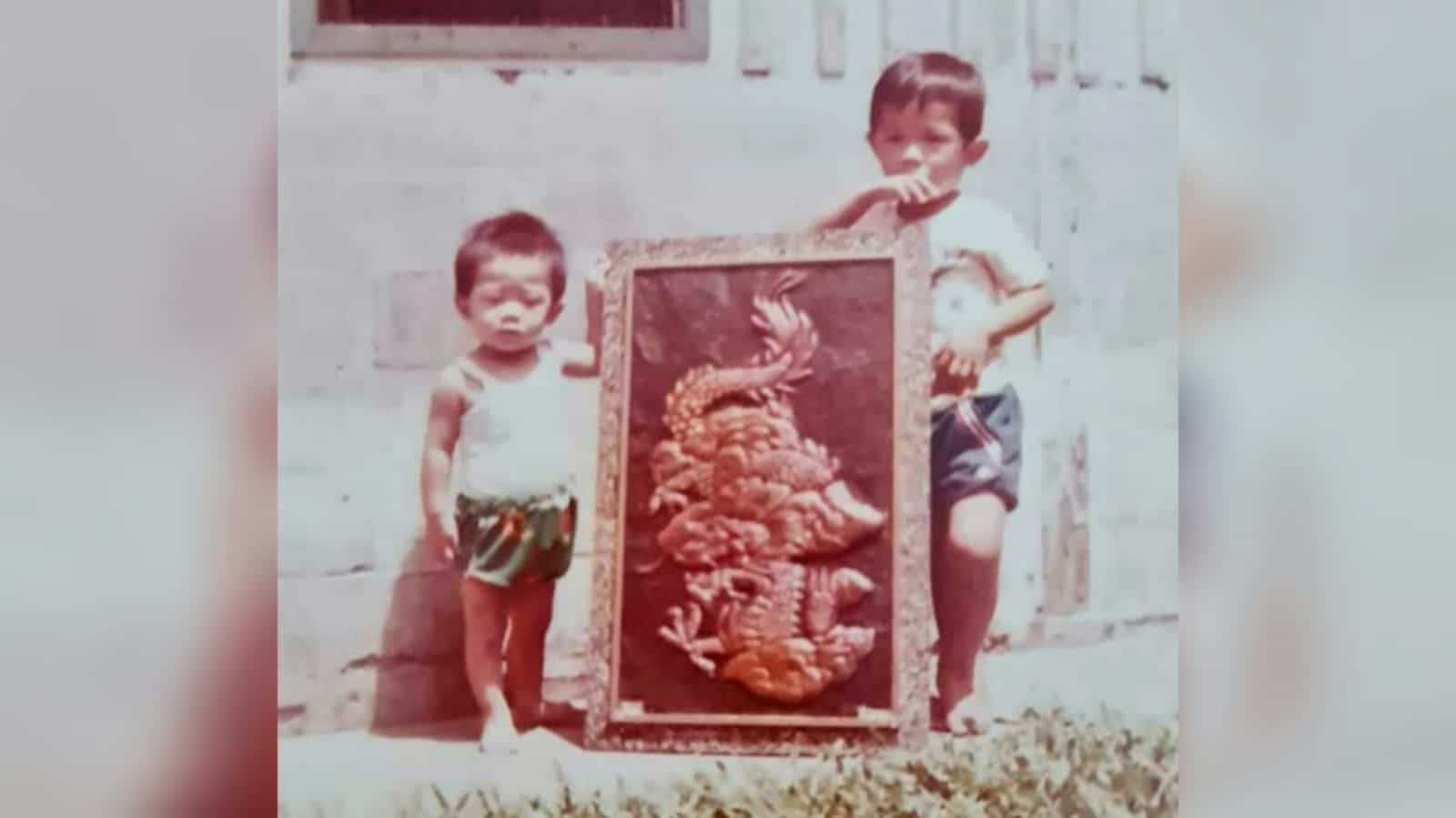 Johnson Tan's grandfather was friends with the most notorious secret society members of the 1960s. Johnson (right) and his younger brother would join gangs at a young age and serve time for drug-related crimes, but have since turned their lives around. All photos courtesy of Johnson Tan.
Johnson Tan joined a gang when he was 13, the same year he dropped out of school.
"The year I turned 13 was a milestone year," said Johnson, now 45.
Being in a gang was natural for the teen then because he came from a family familiar with gangs. Home in the early years was a kampung (village) in Lorong Tai Seng. The area was known for gangster activities from the 1950s right up to the early 1970s.
His family lived with his maternal grandparents and uncles. His grandfather was buddies with one of Singapore's most notorious secret society members in the 1960s, Lim Ban Lim, who orchestrated several armed heists and was the most wanted fugitive in Singapore in the early 1970s. Three of Johnson's four uncles were members of one of the most established secret societies in Singapore.
"Since young, I was influenced by my family and their gang activities. My grandparents admired Lim.
He came from a family familiar with gangs.
"From the age of about eight, my uncles would bring me with them for meetings with the gang."
But it was not his uncles who recruited him into the gang. Johnson was brought in by a friend from his old kampung.
"When I was asked to join the gang, it was like tian diao xia lai (the sky had fallen)," said Johnson, using a Mandarin expression to describe how honoured he felt about the invitation.
The next 15 years of his life would be largely devoted to his gang.
Good Christian boy
Johnson began life promisingly enough. His was a happy childhood. As the oldest grandchild in the family, he was doted on by his grandparents and his parents gave him plenty of freedom.
"I could go outside and play till eight, nine, ten o'clock, no problem. I think I had too much freedom."
He was a good student in primary school and even joined Boys' Brigade (BB).
"I got to hear about God and Jesus, and I believed. My parents even gave me money to buy a Bible."
Although his family had a different religion, they never objected to Johnson's Christian activities. He attended Pentecost Methodist Church throughout his primary school years, stopping only when the church moved when he was 13.
That same year, he went from the primary school he was familiar with to a brand-new secondary school. He attended just three days of Secondary One.
He was a good student in primary school and even joined Boys' Brigade.
"Teacher asked us to do Maths homework. I'm no good in Maths. I opened the book, looked at it and closed it back.
"The next day, I told my family I didn't want to go to school, I was sick."
Johnson would go on to make up different excuses to avoid school. After a week, his parents gave up nagging him to go to school. After a month, his teacher visited him to encourage him to return to school. But, by then, he had "lost interest" in studying.
His days would be spent "hanging around downstairs". In the evenings, he would meet up with friends in the neighbourhood and chat till 10 or 11 in the night.
Joining a gang was an easy next step.
Beginning of gang ties
At first, all that was expected of Johnson was just to be present.
"Hang around, just be there. Once in a while fight, turn up for funerals."
Funerals were major events for gangs. That was when members of different branches attended to show off how large their gang was. Every member was counted on to do their gang proud.
During this time, Johnson also became more committed to the religion of his family. He went to the temple every week and became a medium in training.
At 14, Johnson got his first tattoo, a dragon. But he hid it from his parents just as he hid his gang affiliation.
"I dare not make fun of Jesus because I still believed."
"For a year, I never took off my shirt at home. Then, one day I played soccer and was soaked through with sweat. My mother saw my tattoo through my shirt and realised that I had joined the gang."
That was also the year Johnson got his first whiff of substance abuse. It would lead to his first arrest at 15.
"A group of five or six of us were sniffing glue on the 12th floor of a block of flats. One of my friends had a hallucination and wanted to jump down. We pulled him away but someone called the police.
"When we got downstairs, the police were there. I was the first to go down and the police arrested me. Everyone ran away. So, I was the only one arrested."
Johnson was given two years' probation. It was the wake-up call he needed. He got a job, stayed away from glue sniffing and kept to his 10pm curfew for the next three years.
He even found himself a Christian girlfriend who tried to share the Gospel with him and his friends in the gang.
"They would tease her and make fun of her. But I dare not. I dare not make fun of Jesus because I still believed."
Deeper into crime
Just a few months after Johnson finished serving National Service, he got pulled back into his old life. A friend introduced him to Ecstasy, a new drug at the time.
"In gangs, illegal things to us is very normal. From there, I started to be involved more in drugs. After Ecstasy, it was ketamine and then Ice. I was upgrading my drug level."
Just like that, Johnson returned to his gang activities. It would be the weekly gatherings where everyone pooled together whatever cash they had to buy drugs that would lead to his next arrest.
"After a while, there wasn't enough money. So, my friend suggested using my company car to drive him around to send drugs to make some money."
"In gangs, illegal things to us is very normal."
This would go on till his friend got arrested. Then, Johnson was persuaded to take over his friend's duties. From drug abuser, he became a drug trafficker.
When he was 26, his illegal activities caught up with him. The brother of one of his runners was arrested. That led to the arrest of his runner who gave him up to the police.
"She called me and told me to go to her house. I was arrested downstairs before I could even reach her house."
Johnson was sentenced to six years in prison and five strokes of the cane. By then, his girlfriend had also broken up with him.
"She said I had no goal in life. I was living a day at a time."
Happiest memory
The arrest would put Johnson on the road to redemption.
"When I was in remand, I was thinking that maybe I would get two to three years' sentence. Then, someone told me, 'Nowadays, trafficking will get you at least five years.'
"I was shocked. But I refused to believe it. I looked up and said to heaven, 'If my sentence is more than five years, I will believe in Jesus.'"
Even as Johnson challenged God, he was slowly realising his need for Him. Then, something happened that, looking back, he believes was God reaching out to him – Johnson was offered counselling while still in remand, which was not the usual practice.
"I realised that God was working, revealing to me what I was looking for."
"They asked me what kind of counselling I wanted. I said, 'Chapel service.'
"I had tried other religions but I still felt very empty. So, I thought: Why not go back to Christianity?"
What finally tipped the scales for Johnson was what happened at his sentencing hearing. His parents were there. As he was led away, his normally undemonstrative father walked up to him and hugged him.
"Me and my dad, we were not very close. We didn't talk much and he never really showed much concern for me.
"But at that point when he hugged me, I was like: Wah! This was the thing that I had wanted. I was smiling as I walked into lock-up. I realised that God was working, revealing to me what I was looking for all along, what I lacked."
Though he got a six-year sentence – five years for drug trafficking and one for drug consumption – Johnson considers that day in court one of his happiest because of the hug from his father.
Transformed life
So, Johnson started his sentence determined to become a Christian. It was not an easy decision for a gangster.  
"If I wanted to really change, I had to renounce my gang ties."
"To believe in Jesus is something opposite of what a gangster would do. Attending chapel service is very counter to prison culture. So, the first few times I went to chapel service, I was paiseh (embarrassed)."
But he persisted. At his first chapel service, he prayed to ask Jesus to be his Saviour. As he faithfully attended service in prison every week, he found God transforming the way he thought.
When he was incarcerated, he was put in the same cell as the brother of the runner who had led the police to him. Johnson blamed him for his arrest. That would change.
"I heard a sermon about forgiveness. When I went back to my cell, I told the man, 'You are forgiven.' He was surprised."
Johnson would go on to introduce the man to the Bible.
"He read the whole Bible. He is now a Catholic."
But God would do a greater work in Johnson's life. Two years into his sentence, he was at another chapel service when a fellow inmate shared his testimony of renouncing his gang associations while still in prison.
"I was shocked. I thought: Like that also can, ah? It was then that I felt that if I wanted to really change, I had to renounce my gang ties. But my resolve was not so strong yet."
In September, almost a year after he heard the testimony, Johnson heard a sermon about not servicing two masters.
"I have Jesus. So, I am not afraid that I would be alone."
"To me, God is my Master. But in a gang, I have a lao da (master). I cannot serve two masters."
The next month, as Johnson was reading the Bible, he came across a verse that promised that "if God is with me, who can go against me" (Romans 8:31). The verse convicted him even more of the need to publicly cut his ties with his gang.
So, on the last day of that year, Johnson announced that he wanted to renounce his gang ties because he wanted to start the new year on a clean slate.
"When you go to prison, your gang members in prison will help you and take care of you. They will receive you, give you extra things. When you start work there, you have nothing. They will give you a welcome pack.
"To renounce your gang is a big deal. The 10-odd gang members I told, some were in shock. The older ones advised me to wait till I got out, don't do it inside.
"I said, 'I already said it out. I won't take it back.' I have Jesus. So, I am not afraid that I would be alone."
Beyond prison's gate
Two years later when Johnson was released, having served four of his six-year sentence, three groups of people were at the prison gate to welcome him home.
"I want to walk Jesus' path."
"My parents were there, the PFS (Prison Fellowship Singapore) staff was there, and some six to eight of my gang brothers were there. They didn't know I had renounced the gang inside."
They promised him a job and invited him for a night of "go happy" at a night club. Johnson took up the offer to meet, but only to say a final farewell.
"I prayed to God to give me the courage to tell them. Then, I said, 'I renounced the gang inside. I want to hao hao zuo ren (turn over a new leaf) and walk Jesus' path.'"
It has been 14 years and Johnson has kept to his word. He has not been in touch with any of his gang friends. What helped him stay the course was the support of Prison Gate Ministry (PGM), part of the effort of PFS to provide holistic care and counselling to ex-offenders.
"PGM really helped me. They introduced me to a support group. There were counsellors and brothers with the same background.
"People like us have quite low self-esteem. If we only had church, it would not be the same. With the support group, I could share openly with them.
"There is discipleship and the Celebrate Recovery programme so we could learn how to have a relationship with God."
Johnson gained so much from the ministry that, six years later, he graduated from attendee to becoming a volunteer with the support group.
Now, he serves in the after-care and in-care ministry at both PFS and his church, Grace Assembly of God. 
Married with two daughters and a son, aged one to eight, Johnson said that his life now is vastly different.
"Now, I have no more burden, no more worries. I used to be the second in command and I had to worry about my men.
"I used to be afraid when I was at work, afraid that the gang would call me to join them to do things. When I was selling drugs, I was afraid of people knocking on my door, thinking it might be the police.
"Before, I had no goal, no purpose in life. As a Christian, my priority now is God, then family."
---
RELATED STORIES:
"Meet you at the gate": Prison Gate Ministry helps ex-offenders chart a fresh life
The pain and power of prison ministry: One man's God-given burden in his God-appointed calling
"God, if you are real, get me out of this mess," pleaded "seasoned prisoner" with 20-year addiction
If you have enjoyed reading Salt&Light...
We are an independent, non-profit organisation that relies on the generosity of our readers, such as yourself, to continue serving the kingdom. Every dollar donated goes directly back into our editorial coverage.
Would you consider partnering with us in our kingdom work by supporting us financially, either as a one-off donation, or a recurring pledge?
Support Salt&Light