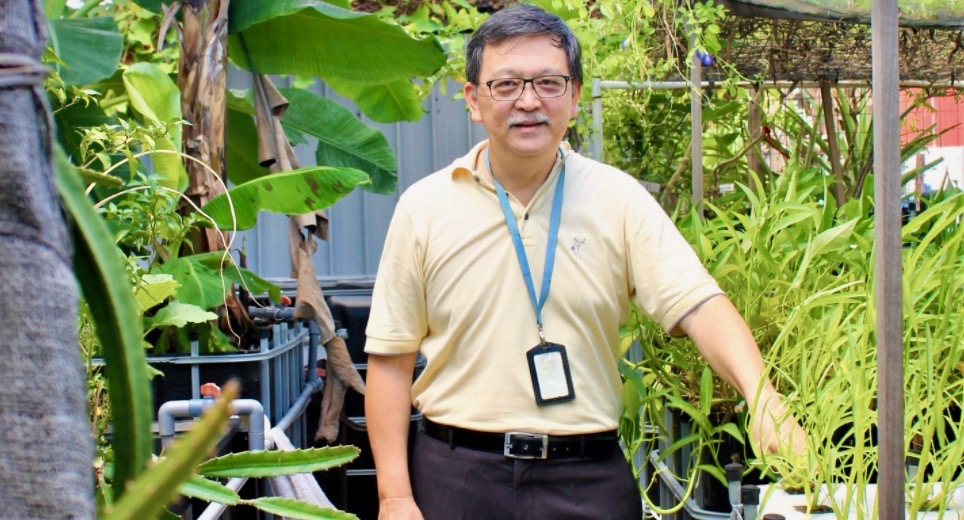 Wee Yin Sian's call to feed and grow edibles came even before the current surge in urban farming. Photos courtesy of Wee Yin Sian unless otherwise stated.
When Wee Yin Sian was five years old, he witnessed the grand funeral of an old neighbour.
"The procession was long and noisy. When I asked my mother why, she said: 'This old man never wasted food. Even when he stepped on a grain of rice, he would pick it from his feet and eat it.'
"It may sound gross, but it is something that has stayed in my heart," Wee, 59, told Salt&Light.
Even today, he teaches his children not to waste food. "If we give thanks to God at the start of the meal for His provision, then we should be good stewards and not waste it."
Since COVID-19 has seen supermarket shelves emptied by panic buying and disruptions in imported supplies, not wasting food has become relevant to a generation of Singaporeans that, by and large, has never wanted for anything.
"What if the two fish are alive? What if we feed them with the five loaves of bread until they multiply? 
It has highlighted how much our island depends on the global supply chain – 90% of our food supply is imported. 
The Singapore Food Agency (SFA) has floored the gas pedal on the republic's goal to produce 30% of the country's nutritional needs locally by 2030. The goal was first announced in March 2019 – one year before the pandemic – and is now known as 30×30 Express. Strategies include providing grants to help local farms accelerate the production of fish, leafy vegetables and eggs over the next six to 12 months.
Since the outbreak of the coronavirus, Singapore has also seen a surge in urban farming. For many, growing for self-sufficiency and food security is on their minds – and a useful distraction during the Circuit Breaker.
Ministry of feeding
Wee's call to grow came well before the coronavirus. It sprung out of his love for feeding friends and family regularly, enjoying that the occasions were "always a social event".
"With added things of the Kingdom, such as exchanges of experiences, scriptures and praying for one another and whatever the Lord laid upon our hearts" after he became a believer, his feeding grew to include hosting visiting missionaries.
"God is nurturing and is certainly involved in the ministry of feeding," says Wee, "because the first thing God did after He created Adam and Eve was to place them in Eden where all kinds of trees that were both pleasing to the eye and for food were grown. One of the first things God said was: 'They will be yours for food.' These were one of the very first words uttered to man's ears. What a priority feeding must be!"
"If we give thanks to God for His provision, then we should be good stewards and not waste it."
Several passages in the Bible spoke to Wee of the power of fellowship over a meal, in particular, Matthew 14:16. "'You give them something to eat' clung to my heart. I couldn't let it go," he says.
"The story of Jesus feeding the crowd with five loaves and two fish kept coming back to me, and I began to ask: 'Oh Lord, will I be able to feed the 5,000 as you did?'"
Then one day, inspiration came.
"What if the two fish are alive: One male, one female? What if we feed them with the five loaves of bread until they multiply? 
"I got excited! And that was how I started my fish farm in Malaysia in June of 2011. I grew more fish than I could count. And through that farm, more than 5,000 people were fed."
After six years, things came to an abrupt halt. The source of water became bad. It killed the fish.
"In desperation, I tried to recycle the water to preserve what I had left. I drew on my experience of keeping aquarium fishes since I was a young boy. I tried to put in biological filters to maintain the water quality."
Around that time, his former pastor was organising an event on sustainability. And invited Wee to share about his fish farm.
Wee hesitated to say yes. "My farm was a failure. But he was so encouraging, saying: 'It's okay, bro, even through failures we learn'.
"I then learnt from the audience that what I was trying to do with filters and plants to clean the fish water had a name: It was called aquaponics. 
"Aquaponics is a form of hydroponics, growing plants in the absence of soil."
An internet search led him to Murray Hallam, one of Australia's leading practitioners of aquaponics. "However, my training was not enough, nor was it in time to save the fish farm. We suffered the pain of closing."
Two-in-one
Back in Singapore, the call to feed and become a producer through farming or gardening continued.
"I inherited from my father the joy of gardening and keeping fish in aquariums. The idea of plants and fish growing together in an eco-friendly system was really appealing."
In December 2016, Wee built his little aquaponics garden. It has since expanded to 14m x 5m.
Salt&Light visited Wee's garden early this January.
Aquaponics mimics nature by converting the waste of fish (fast-growing tilapia in Wee's case) into nutrients for the plants.
Through containers filled with gravel, water from the fish tank is allowed to flood then drain away repeatedly to encourage the growth of beneficial aerobic bacteria.

"It is a beautiful picture of a trinity at work. It is not just about the relationship between the fish and plants, but the unseen third party – the bacteria – that, not only makes this relationship possible, but also flourish."
Streams from below
In aquaponics, plants get their water from the bottom, instead of being showered from a watering can or from rain.
"I often get asked if plants in the aquaponics system are watered correctly. 
"In Genesis 2:5, the Lord God had not sent rain on the earth, but instead, streams of water came up from the earth and watered the whole surface. It sounds exactly like what we do in aquaponics. In fact, up until God caused the world to flood during Noah's time, rain had not fallen on earth. Plants were watered by streams coming up from the earth.
"Although the initial amount of water to fill the fish tank may seem a lot, this water is recycled. Experts have quantified that aquaponics uses almost 90% less water than traditional farming where water is sprayed over the plants. Most of that water is soaked into the ground beyond the reach of the roots. We can no longer afford to use water this way."
A garden for cities 
In land scarce Singapore, aquaponics is an excellent method to produce food wherever you have some space, sunlight, electricity and a convenient water supply, says Wee.
"Even in home apartments where sunlight is insufficient, you could use artificial illumination."
But sunlight is the best, since it is readily available, says Wee who also reminds: "In the beginning, God created light. And on the third day, God created plants of all kinds. Yet, it was only on the fourth day, God created the greater light (the sun) to rule the day and the lesser light (the moon) to govern the night." (Genesis 1:16).
"So for one whole day, the plants survived without sunlight."
"We are farmers or, you could say, gardeners. We were made to till the ground and tend to the plants and trees."
This method is scalable. So if you start with a small unit, you can enlarge it. Or create a few more small ones to connect into a larger system. You could also build larger systems as you go along. The raised beds sit on top of a concrete floor that would otherwise be vacant. It can be removed to another place if need be. 
"Aquaponics is an ideal way to bring fresh vegetables into an urban setting where it is needed. It is estimated that there will be more people living in urban cities than in rural areas by 2030. There will be more crowding into tight spaces. Younger people are attracted to cities, leaving the not-so-young in the rural areas where the traditional farms are. 
"It doesn't take more than 40 steps to bring your harvest to your table. Besides lowering our carbon footprint, it helps to ease the logistics of bringing in food from all over the world.
"And with aquaponics, we not only have vegetables, we have fish protein too! Two-in-one."
Taking root
Planting aside, Wee has also had cookouts with improvised stoves made from simple, everyday items such as milk tins and hollow blocks. 
"In emergencies such as the tsunami of 2004, there was a great flood of debris – like fragments of wood and furniture – all over. Using this debris, one could make a stove to boil water and cook food. The broken pieces of wood could be used to fire the stove. With disinfected water to drink, the whole situation would tip in the right direction. In our last session, we started the fire in the stove by rubbing sticks and striking flints, without matches or lighters.  
"We teach this mostly to believers, who are motivated by the prophecy of the coming times. Otherwise, there is little to motivate us in times of plenty. 
"It may sound strange in this time of technological advancement to be preparing in such an old-fashioned manner."
Wee's vision is to "push on further to prepare us to feed the community. Some of us may be called to prepare just as Joseph prepared to feed the nation of Israel when famine was coming."
Wee hopes to eventually build farms "fashioned very much like a Kibbutz" – collective communities in Israel traditionally based on agriculture – where "the community comes together to serve one another in whatever capacity they can: Farmer, cook, laundry, teacher, doctor and so on. 
"God is nurturing and is certainly involved in the ministry of feeding."
"We are farmers or you could say gardeners," says Wee. "We were made to till the ground and tend to the plants and trees. That is why Jesus spoke about putting our hands to the plough. It connects us with something that is our innate nature. 
He references Genesis 2:5: "After God made the earth and every plant of the field, there was not a man to till the ground."
"This is my favourite line to counter narcissism and the belief that God loves us so much that we are the centre of the universe."
Planting is restorative, says Wee, who also helped Salvation Army set up a therapeutic garden for the elderly.
"Young or old, we connect when we plant something and see it grow. And, like Adam, we need to reconnect with the soil, with nature, with plants and the microbes. It brings healing, it gives us a reason to look forward to tomorrow, to see if it grows.
"It feels great to harvest – plants or souls. It's the same. It is therapy."
"We watched in awe as the miracle of five loaves and two fishes came alive!" How one church rallied to support 1,200 migrant workers
Interested in aquaponics?
If you are interested in acquiring aquaponics skills or setting up a system, email Wee: wee@nexg.sg