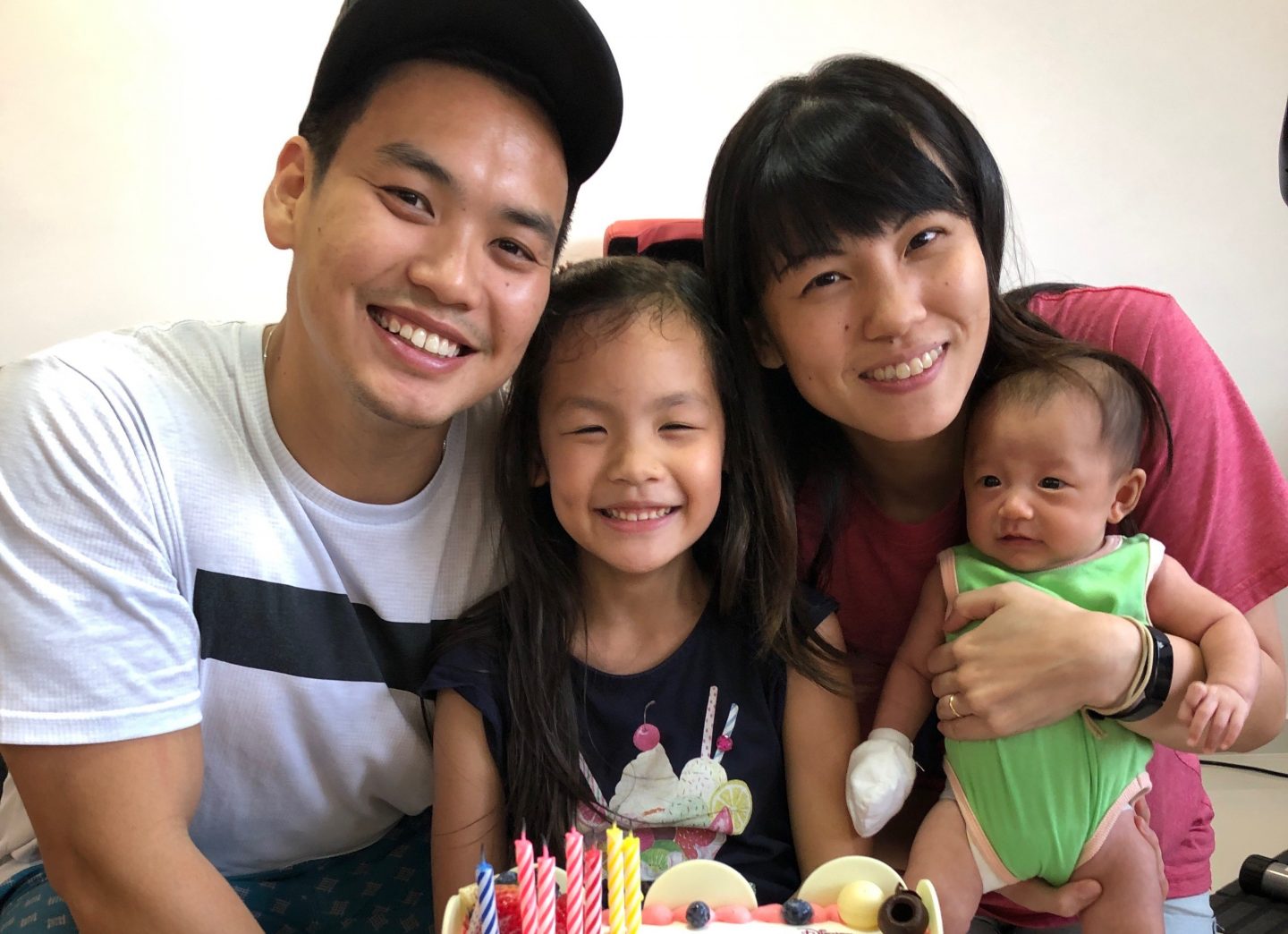 "You receive His love, it overflows to love others," says Esther Koh on reaching out to others. With husband Joel and their kids. All pictures courtesy of Esther Koh.
When Esther Koh and her husband Joel moved to Sengkang to set up their first matrimonial home five years ago, the new estate lacked the amenities and accessibility she was used to in the more established Joo Chiat area where she grew up.
"There were no supermarkets, libraries or parks then. It was dismal and I was a bit frustrated and even miserable.
"In hindsight, the Lord showed me that He had a purpose for me living in Sengkang even though I had grumbled and complained back then.
Now the 34-year old now laughs, as she looks back on the friendships formed in the area: "I know that I didn't waste my time." The Kohs moved to Tampines at the end of 2019 to be closer to their daughter's primary school.
A life-changing birthday party
A breakfast catch up with her cell leader at the beginning of 2018 started the ball rolling. 
When her cell leader surfaced the question: "What are your plans for the year, how is God leading you?" Esther had no ready answers. Her cell leader then suggested, "Why don't you reach out to other mummies?"
"That can't be too difficult," the stay-home mum thought. "I just need to pluck up courage."
And she did.
"Thank God, He gave me that insight and wisdom to make the first connection."
In March, she decided to throw older daughter Hailey a birthday party, and invited her classmates from Sengkang Methodist Children Centre and their mummies. 
"I figured having a birthday party could  bridge gaps and forge friendships. Back then we were mostly acquaintances, nothing beyond just hi and bye exchanges," Esther recounts.
The birthday party started conversations rolling, play-dates coming, and friendships forming.
"Children just glue people together," she muses.
A brother in need
That camaraderie among the mummies was taken to a new level when an old classmate of the children re-appeared after the March school holidays.
Ronzo Loh, a bespectacled lad of four who had lost his mother to a bus accident in the previous year had returned to the kindergarten. He had changed schools temporarily to live with relatives and was now back, with dad in tow.
"All of us were surprised to see them. As we chatted with his dad, Ronald, he told us his son had asked: 'When is mummy coming back to bring me out to play?'
"That one line just broke our hearts," Esther recalls.
That tug in their hearts pulled Esther and her mostly Christian mummy friends into action as they rallied around the bereaved family. "We decided to organise play dates for Ronzo. As Ronald works, it's hard for him to take his son out. But as stay-home mothers, we could. We celebrated birthdays and just did things together outside of school."
Unbeknownst to Esther, the kindness extended to the Low family was a balm to their wounds, "The mummies really helped my family to move on," Ronald shared with Salt&Light earlier this year.
It was an opportune moment that Esther had walked into, birthed from a step of obedience that turned into a purpose.
She also introduced Ronald to the Palimarmo family whose child was in the same school. The Palimarmos attended Sengkang Methodist Church. Esther thought it would be a great way to get Ronald "plugged into the church" since they live in the same area. Esther goes to Bethesda Bedok Tampines Church – which would have been too far for Ronald. 
"I believe in being intentional about cultivating friendships."
At the gathering that Esther invited several families to, Ee Ling and husband Wiwie Palimarmo got to know not just Ronald, but the other families as well.
"Wiwie was very intentional about reaching out to Ronald, and helped him to settle into the church," says Esther.
"Thank God, He gave me that insight and wisdom to make the first connection."
"I believe in being intentional about cultivating friendships," says Esther, a self-confessed extrovert who grew up in church and served as youth and cell leader.
"I enjoy building relationships and the whole process of discipleship; it is building life upon life." 
Tag team
Taking the extra mile to walk with others in their faith journey is a way of life. "Increasingly, I do see that anywhere can be a mission field. It's like hey, I can befriend someone and reach out. Even if I may not be the one to share the gospel, it's okay. As long as I live to share my life."
Esther and Joel have been sharing their lives with younger members at church for the last decade.
What started out as responsibilities as cell leaders' has taken on a different trajectory of informal mentorship cemented in friendships built on Christ's love.
"It's two-way. As we receive a benefit, we also want to give. And when we give, we receive as well."
"We felt burdened when the members share their trials during cell meetings, so we suggested meeting up over dinner to chat more."
"Back then they were mostly young adults, some were dating. 
"In our own dating years, there weren't couples that we could talk to about the ups and downs of dating life, so we wanted to walk with them."
They have been working as a tag team since they having children. "It is a common mandate for us, husband and wife, to be in ministry together," says Esther. They also journey individually with the youths. 
Esther has been mentoring a group of girls since 2014. In addition to following a book on discipleship, they also bond over other things like having sleepovers and catching up over dinners.
"It's about being available. We will make ourselves available.
"We tell them, the minute you call, we will come."
Esther shares of how her husband once dropped everything to be with one of the boys who was going through a bad breakup. "They drove around from 12 to 4 am, just eating ice cream and chatting".
The Kohs are a living testimony of a friend who loves at all times, and a brother who is born for a time of adversity. (Proverbs 17:17) 
"We enjoy building relationships; we see value in it," says Koh.
Cell culture
Esther would know. It was a lesson gained through her own trials and tribulation.
Esther has been through failed IVF (in vitro fertilisation) attempts while others in her cell group had similar and different hiccups along the way. 
"We tell them, the minute you call, we will come."
"It was quite dramatic, but we came together as a cell and stood together.
"Having gone through so many rough patches together as a team bonded us.
"That cell culture has definitely rubbed off on us.
"It showed me what a community really is about. And how it would have been like in the early church described in Acts 2:41-47. How the believers held everything in common and did everything together. What is yours, is mine. What is mine, is yours. And the love they had for each other, it's love in action.
"It's two-way. As we receive a benefit, we also want to give. And when we give, we receive as well."
Are deeper, 3-2-1 relationships the first step to healing a fragmented world?
Tragic bus accident: "God sent us help when we most needed it," says widower and father of two young sons
If you have enjoyed reading Salt&Light...
We are an independent, non-profit organisation that relies on the generosity of our readers, such as yourself, to continue serving the kingdom. Every dollar donated goes directly back into our editorial coverage.
Would you consider partnering with us in our kingdom work by supporting us financially, either as a one-off donation, or a recurring pledge?
Support Salt&Light