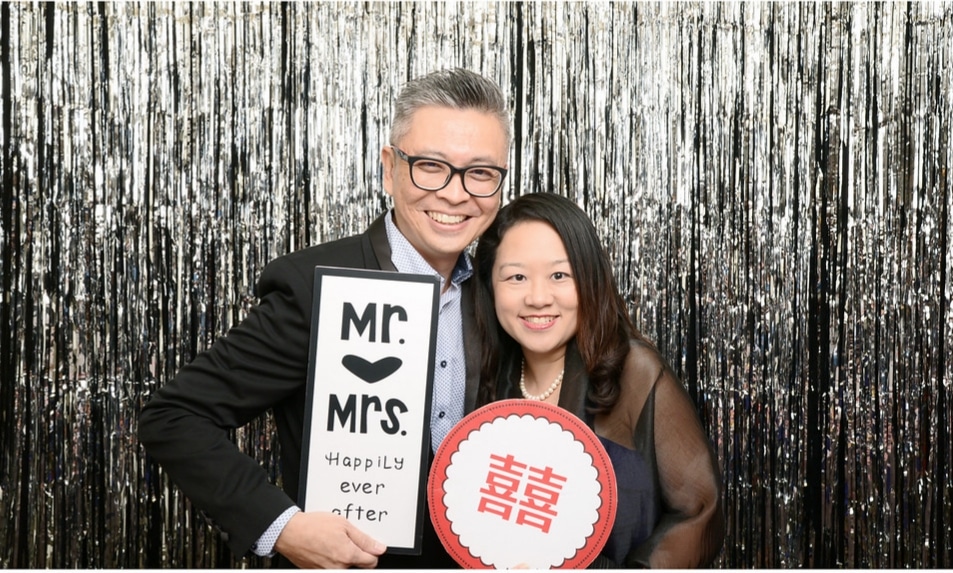 Jason and Shelen Ang make date night their priority – they've found that dates have deepened their love and intimacy. Photo courtesy of the Angs.
Jason and Shelen Ang dated for two years before getting married. But their first date almost never happened.
"I'm not afraid to confess that I asked Jason out for dinner first when we were colleagues. But he rejected my invite!" Shelen recalled with a laugh.
"Dates may not be as spontaneous but it is definitely worth putting in the effort."
Jason clarified: "I didn't want to lead her on when I wasn't quite sure if we should take our friendship to the next step.
"But when I heard from God that she could be the girl, I asked her out for a movie."
Some 19 years of marriage and two children later, dates for Jason, 50, and Shelen, 46, have become more convenient.
"I no longer need to send Shelen home!" joked Jason.
But their busy schedules also mean dates have not been as frequent. They do not have a fixed schedule. But the couple try to go on a date at least once a month.
Said Shelen: "After we had kids, dates needed more intention and co-ordination to ensure that someone is taking care of our kids while we are out.
"Dates may not be as spontaneous today as when we were dating. But it is definitely worth putting in the effort to plan and schedule them regularly." 
Reset your marriage
To help married couples keep the spark in their marriage alive, Focus on the Family Singapore has launched a marriage campaign. Celebrate Marriage Campaign (February 3-17) provides resources to inspire couples to have regular, intentional dates.
"Making time to unwind and just enjoy each other's company made a difference to the way we handled stress as a couple."
Said Focus Singapore's Chief of Strategy Vicky Ho: "As the years go by, it can be hard to remember the initial passion and admiration we feel for our spouse. Inertia can often set in and make us complacent.
"Every date is an opportunity to reset the relationship, to right the wrongs, and to give attention where there is neglect. With this year's Celebrate Marriage campaign, we hope that more couples will rekindle that desire to date and discover their spouse once again, and take that essential step towards a stronger, healthier marriage." 
The Angs attest to the importance of carving out time and space for heart-to-heart conversations in troubled times.
Things were particularly tough for them in the first five years of their marriage because they had trouble having children.
Said Jason: "We were under a lot of stress and frustration at the time as we kept seeking medical help but to no avail.
"Making time to unwind and just enjoy each other's company made a difference to the way we handled that stress as a couple. It helped us grow closer instead of allowing the disappointment to pull us apart."
How to date again
Among the resources Celebrate Marriage Campaign has this year is the How to Date Your Spouse Again guide. The e-booklet offers practical tips to make the best of dates.
Included are fun date ideas as well as hacks to make preparing for dates easier.
What is especially helpful is the fact that the content is crafted with special His and Hers ideas. There are tips on how to start conversations so couples can connect emotionally and mentally.
"Dating is a chance to rekindle our love for each other and to continue to build intimacy in our marriage."
Another date aid is the Best Date Ever Kit. The pack is a step-by-step suggested flow of activities for couples who want to learn to better connect with each other so their relationship can become more resilient through life's stresses.
The kit comes with the Next Best Date Planner so busy couples can schedule and protect their "alone time". 
Once on the date, the couples are not left to their own devices.
The deck of 100 Couple Conversations cards included in the kit suggests things to talk about beyond the usual work, children and church topics. Some questions include What does trust in our marriage mean to you? What makes it difficult for you to share your feelings with me? In what ways are we closer now than when we were newlyweds?
Like a Truth or Dare game, some of the cards have Touch-&-Talk-Dare or an Activity Challenge that can get couples involved in activities as well.
In addition, there are Because I Love You coupons. Couples can use them to encourage and reward each other until the next date. Coupons that allow chores to be swapped or for extra cuddle time come together with empty ones for couples to fill out.
The Angs have found that investing time and effort in their relationship through dates has helped them discover and fall in love with each other all over again.
Said Jason: "Marriage can last a lifetime and be so much more if you truly believe in it and invest intentional effort to sustain it." 
Added Shelen: "Dating is a chance to rekindle our love for each other and to continue to build intimacy in our marriage."
---
"For more practical dating tips and fun date hacks and ideas, download the free 'How to Date Your Spouse Again' guide!" 
---
RELATED STORIES:
What they never knew about marriage and each other till they tied the knot
The good wife: After 26 years, here's what I learnt about love and submission in marriage
Wedding videos that help couples remember why they said "I do"
If you have enjoyed reading Salt&Light...
We are an independent, non-profit organisation that relies on the generosity of our readers, such as yourself, to continue serving the kingdom. Every dollar donated goes directly back into our editorial coverage.
Would you consider partnering with us in our kingdom work by supporting us financially, either as a one-off donation, or a recurring pledge?
Support Salt&Light