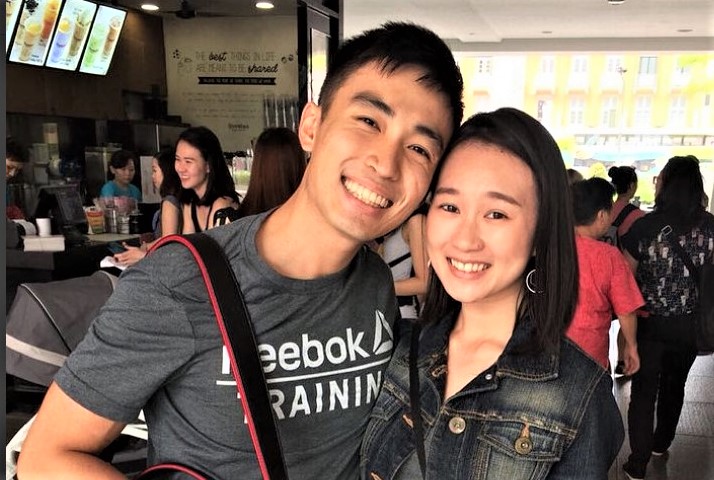 Josh and Stephanie Cheah got married in April. Even though they dated for seven years, there were still things they discovered about each other after they said their "I do"s. Photo courtesy of the Cheahs.
Whenever Josh Cheah makes dinner, he forgets to cook rice. It has happened often enough to become a sort of running gag in their marriage.
"How can anyone forget the rice?" his wife of seven months, Stephanie, muses on social media which often show her husband's Instagram-worthy home-cooked dishes.
She has even sought the opinion of friends on ways to help him remember to add rice to his menu.
Said Josh, 29, by way of an explanation: "I didn't cook at home (before marriage) because my mum didn't let me into the kitchen."
"I didn't use to cook before either," Stephanie, 27, said. "But we cannot always eat dabao (take away) food."
Marriage does shed light on many things, and not all are as humourous and harmless.
So, they try to cook when they can. For the couple, who has a heart for missions, home-cooked meals is also a way of drawing people to their homes.
Said Josh: "Food is a great way to start conversations."
"It's hard to cook for just two. So, we tend to cook for four and invite two others to join us," said Stephanie.
Although Josh and Stephanie dated for seven years before tying the knot this April, the habit of missing out the rice is something they only discovered after they got married.
Marriage does shed light on many things, and not all are as humourous and harmless as a meal without carbs.
Couples shared with Salt&Light some of the things they found out about marriage, and each other, that never quite surfaced during dates or even marriage preparation sessions.
1. It's okay to be different
Paul and Joyce Lim have been married for 26 years and have raised three children together – a daughter, 23, and two sons aged 21 and 18.
Said Joyce, 52: "Within the first year of marriage, we learnt that never the twain shall meet on some things and should not be forced to meet!
"I like things tidy and have a system for hanging clothes out to dry, getting them folded and kept in the drawers."
Said Paul, 55: "As long as the clothes get dried, it doesn't really matter how. I'm also not particular about how they get folded, as long as they're not in clumps."
Over the years, they have learnt to "respect each other's private space".
"Within the first year of marriage, we learnt that never the twain shall meet on some things and should not be forced to meet!"
"This means that when we travel, we bring our own luggage so he can have his clothes the way he wants and I can have mine the way I want," said Joyce.
They also discovered other differences as they got more involved in church as a couple, such as "how we would respond to situations or lead Bible study". The difference in approach was inevitable; Joyce had been attending church since she was in her teens while Paul became a Christian in adulthood.
Said Joyce: "We learnt to respect and be patient with each other's trajectory of spiritual growth. 
"We chose not to be in conflict in terms of, for example, our different expositions of the Bible study, but to complement each other's strengths and compensate our weaknesses."
That approach has worked out well.
Paul has come into his own in his faith journey. Today, he is one of the leaders in their church in charge of finance. Together, they also lead a cell group made up of parents with children in their teens, and are set to mentor a couple who will soon be married.
2. The little things will surprise you
Even though Josh and Stephanie share a lot in common – their love for God, their vision for missions, their devotion to their family, their passion for fitness – they found that they were still different in little ways.  
It was these little ways that became magnified when they lived together after they got married.
"She takes a longer time than I do to get ready to go out," said Josh.
It was these little ways that became magnified when they lived together after they got married.
Said Stephanie: "He can be ready in five minutes. I need at least half an hour. So he cannot say, 'We leave at 5pm' when it is already 4.50pm."
This was not news to Josh but it became more of a reality after they got married.
"It didn't use to bother me before because she would meet me outside. So, even if she took longer, it didn't affect me.
"Now, we have to set off together. So, does leaving at 5pm really mean leaving at 5pm or …"
Quipped Stephanie: "We're both not great at estimating time, but he is better."
Another little thing that the Cheahs discovered after they walked down the aisle was how much Josh liked to clean. Stephanie had known this small fact but had not realised the extent of his passion for cleaning.
"He takes care of the house. He loves to clean. He even has a cleaning schedule – big cleaning, small cleaning. It's a good surprise.
"Since I got pregnant and it became difficult to bend down to do things, I've only ironed the clothes because he doesn't know how to iron!"
3. Making joint decisions means dying to self
"I used to always make decisions by myself. It was so much easier," said Stephanie.
Agreed Josh: "We were just talking about it yesterday. My decisions – financial, priorities, time – are no longer 100% my own.
"When I make an important decision, I have to consider Steph and our families."
This became more apparent in how the couple spends money. Josh tends to be freer with his money. "Every day is shopping day."
To help matters, the Cheahs have a system of "departments".
Josh is in charge of facilities, including buying household appliances. Stephanie is in charge of perishables, such as groceries. A percentage of their individual incomes is set aside for various items – parents, tithe, giving, and their son who is due in late January.
"You don't have to win everything. It's a relationship, it's not about winning."
Big-ticket items – anything above S$100 – require consultation and agreement by both parties.
Said Josh: "In the past, I had free reign over what I bought – a couple of hundreds, thousands."
He is currently eyeing a sound system for their new home that costs five figures.
"I like sound; I like gadgets," he said.
Though he has taken his wife to the showroom to have a listen and though she agreed the sound system is indeed superior, she has yet to agree to spending five figures on a home sound system.
"The sound system quality is good but I cannot hear the difference between this and a cheaper system," she said.
So, for now, Josh's dream is on hold.
Said Stephanie: "People say it's good to communicate, talk it out and align but I've come to understand that no matter how much open communication you have, there are some things that you can't agree on. You have to compromise."
Josh agreed. "You don't have to win everything. It's a relationship, it's not about winning."
4. A godly foundation really works
In their 26 years as husband and wife, Paul and Joyce have lived in different countries for three extended periods. Two years into their marriage, when Joyce was five months pregnant with their first child, Paul left to further his studies in Scotland. He was there for two years.
Some years later, while Joyce remained abroad to complete her work assignment, Paul and their three children returned to Singapore. That time, they were apart for a year.
Most recently, Joyce spent three years abroad for work, while Paul and the children remained in Singapore.
The marriage remained strong and, for their last separation, the couple even managed to continue to lead their cell group together, thanks to Zoom.
"God has established a hierarchy of order which, when obeyed, brings forth fruitfulness into a marriage and family life. 
"Our marriage is girded by the Biblical fundamentals that marriage and the family are sacred, and must always be protected. Fundamental principles of loving God, and loving who He loves and what He love, makes decision-making much easier."
In the same way, 1 Corinthians 11:3 has been the foundation on which the Lims have lived out their marriage.
Said Joyce: "God has established a hierarchy of order which, when obeyed, brings forth fruitfulness into a marriage and family life. 
"This will obliviate any need for comparisons by a couple of, for example, who is more successful and whether this is measured by one being in the marketplace or in the home."
Paul resigned from his job and was a stay-home dad when Joyce was first posted abroad.
Recognising the headship of her husband has helped Joyce navigate their different appetites for risk as well. Even though she prefers "safe options with minimal risks" when it comes to growing their money, she defers to her husband's preference for investments with "some associated, inevitable but manageable risks".
---
Salt&Light Family Night
: What no-one warned you about marriage
An Egyptian man made the news earlier this month when he divorced his wife after just one month of marriage. His reason? He was shocked by how she looked without make-up and claimed that she had deceived him.
So, maybe the path from courtship to marriage won't be quite this drastic for most. But life as a twosome definitely requires getting used to, no matter how long you dated before marriage.
What are some things that no marriage preparation quite prepares you for? What were some things married couples learnt that they never knew before the "I dos"? How can couples stay the course for life?
For the final episode of Salt&Light Family Night for the year, we are introducing a novel format. Soon-to-be-married couple Joel Seah and Gracia Lee will get the chance to ask couples who are much further along the path of marriage all these questions and more.
Come and listen, learn and even laugh along with the couples.
Date: November 30, 2021
Time: 8.30m–10pm
Cost: Free
Click here to register
About the Organiser:
Satl&Light is a Christian news digital platform where believers can unite in spirit and purpose to see God in the 9-to-5, to influence and to impact, to find meaning in the mundane and to wrestle with doubt and despair in faith – and find amazing grace for the journey ahead.
About the Hosts:
Carol Loi is the International Director of Generations of Virtue, a ministry committed to transforming culture, one family at a time. She runs a social enterprise Village Consultancy that provides digital literacy education as well as John Maxwell Certified training on leadership & family life. She and her husband are raising two teenagers.
Alex Tee is a former banker who left the corporate world to home-school his three young children. His deepest desire is to prayerfully raise children who seek first the kingdom of God and His righteousness. He is part of the Elijah 7000 group of fathers who meet every Saturday at dawn to intercede for families and the nation.
---
RELATED STORIES:
Redeeming sex, apologising well: 5 pointers practised by pastor and wife who prepare couples for marriage
"Power in a marriage is not the problem. The problem is dominance": Family counsellor Benny Bong
If you have enjoyed reading Salt&Light...
We are an independent, non-profit organisation that relies on the generosity of our readers, such as yourself, to continue serving the kingdom. Every dollar donated goes directly back into our editorial coverage.
Would you consider partnering with us in our kingdom work by supporting us financially, either as a one-off donation, or a recurring pledge?
Support Salt&Light