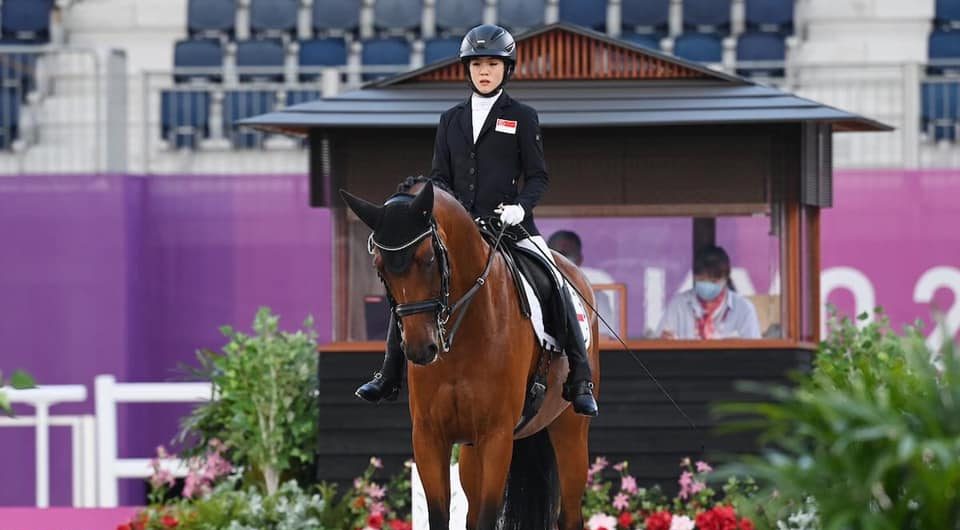 Gemma Rose Foo riding into the arena during the Tokyo 2020 Paralympic Games that were held this year. All photos courtesy of Gemma Rose Foo or from @xogemrose unless otherwise stated.
Barely the size of her father's palm, Gemma Rose Foo weighed just 580 grams when she was born three-and-a-half months premature.
She would spend four months fighting for her life in an incubator.
Doctors had more devastating news. As a result of her preterm birth, Gemma would live the rest of her life with spastic quadriplegia, the most severe form of cerebral palsy.
To call her a miracle baby would be an understatement.
At age eight, she could barely stand up when she got on a pony for horse riding therapy to improve her physical and cognitive abilities. She was soon strong enough to ride without a guide.
At age 12, she won first place in her maiden tournament with no formal training.
Now 25, she has no less than three Paralympic Games under her saddle – including the Tokyo 2020 edition which was held this year.  
"If I could go back in time to the doctor's office and tell him and my younger self about me today, I don't think anyone would believe it," she told Salt&Light in awe of how far God has taken her, and how He has been with her through the thrills and spills of competitive riding. 
A horse on the beach
The prologue of Gemma's competitive riding journey was for not therapy.
"It was a beach vacation in Phuket. I was six when I first got on a horse," she said.
Two years later, her physiotherapist introduced her to the Riding for Disabled Association Singapore (RDA Singapore).
As a child, Gemma had barely been able to hold herself up.
"My legs might not work like a regular person's, but God has gifted me with so many other talents."
At this first session, the then eight-year-old bobbed about on a tiny pony in a large arena, with three volunteers encircling them to guard against falls.
What began as mere sessions of hippotherapy – using horse riding to enhance physical and cognitive functions – became her much awaited weekly getaway from school.
"I always loved animals, but horses showed me something else." 
The instructor was impressed, too.
"I was improving so much that they advised me to start riding independently – without a guide."
She did.
Horse-riding eventually became her co-curricular activity at school. She won a school sporting award during her PSLE year.
God was laying the path for more to come. 
Talent scouted
At what was yet another therapy session when she was 14, Gemma was riding a horse named Laurie.
Except this time, a national equestrian coach was watching.
It was 2010, and Volker Eubel, a German coach, was talent-scouting for Singapore's first para-equestrian team. 
Gemma was shocked when he asked if she would join the national team.
At her very first tournament, Gemma, then 12, had clinched the top placing. "It was definitely God." 
"Laurentia Tan (now Gemma's teammate) had already made history as the first Paralympic medallist in Beijing 2008, so of course I was okay with it!"
At her first local tournament, her family was not sure what to expect, for they were green to the world of competitions.
In para-equestrian competitions, competitors are split into five grades, based on the severity of disabilities. Gemma was slated to compete under Grade 1, for athletes whose impairment has the greatest impact on their ability to ride. 
But as the Singapore pool was small, competitors of different grades rode in the same circuit.
Gemma's mother, Jacqueline Lim, recalled the nail-biting lead-up as the results were announcement.
"It was her first competition and we were not expecting much.
"They called out the fifth, fourth and third places … 'How could they not even give her a consolation prize?'"
"They were giving out ribbons for the five consolation prizes.
"They called out the fifth, fourth and third places. Her name wasn't there. I was really shocked. I thought: 'They totally forgot her! How could they not even give her a consolation prize?'
"Then they called out the second place, and when they reached the first, they called out her name."
At her very first tournament, Gemma, then 12, had clinched the top placing. 
"It was definitely God, the way things happened," said Gemma's proud Mum, smiling.
"God certainly had a sense of humour."
A spill before competing
Following the unexpected victory, Gemma was swept into a formal training regime, where she began training for her first Paralympic Games in London in 2012.
When she got to London, the odds were stacked against their team. They were competing with the UK team on home ground for qualifiers.
Gemma's horse, Avalon, was the oldest horse at that competition.
The wintry November season did not help, either.
The team failed to qualify on their first attempt.
The stakes were high.
"We had exhausted all our savings at that point," said Jacqueline, referring to the hefty training, travel and upkeep fees for the horse, which resides overseas and travels with her to different competition locations. 
"We had exhausted all our savings … it was now or never."
"It was now or never," she continued.
In Gemma's second qualifier, one of the horses, startled by the raucous cheering of the crowd, bolted.
Gemma was in the training arena then, preparing for the next race.
The horses began to shift. Spooked, some of them began leaping up. Like dominoes, riders began tumbling to the ground.
Gemma was one of them.
It was moments before her competition. She got up, dusted the sand off her jacket and got back onto Avalon.
Following the race, the team waited anxiously for the results, which came a few days later.
They had qualified for the London 2012 Paralympics.
Love at first sight
Equestrians hold a special relationship with their horses.
"Well, they're God's creatures, right?" said Gemma.
"I feel that horses are very intuitive, easy to get along with. Even though they're such huge creatures, they are such gentle animals," she said.
"Whoever returns a horse? This is one of those moments when you really feel God's hand."
Finding the right horse for the rider is critical.
Horse-searching is an arduous task which involves getting on a flight from Singapore to an overseas location, and a long drive to the stables.
Her current horse, Cassis Royal, is a "Godsend".
"It was 2013 when I met him, and it was like love at first sight," she said.
However, her initial exhilaration dissipated quickly when she found out Cassis had already been purchased by another buyer.
A few months later, however, the buyer decided that the horse was not suitable for them.
"I remember thinking when I first got the call, 'Whoever returns a horse?'
"This is one of those moments when you really feel God's hand," Gemma shared.
We thought it was over
Just six months before her second outing to the Paralympic Games, Gemma, then 20, took another tumble.
Gemma had ruptured her spleen. "My hopes were dashed. We thought it was over."
This time, she was carted off for emergency surgery. She was in Germany – 10,000 km away from home.
Gemma had ruptured her spleen.
The next two hours was a blur of forms, hospital staff and beeping monitors.
When she woke from the surgery – still groggy to the foreign voices of nurses, hands tracing the freshly bandaged surgical wound on the left of her abdomen – her first thought was: "How am I going to compete?"
The doctors had managed to save her spleen.
But when she attempted to sit up, stand to retrieve a book, or visit the washroom, she found herself retching into a nearby plastic bag.  It would be nine days before she would even manage to sit up.
"That episode made my faith stronger, and I realised that life is precious"
Gemma had been set to compete in three competitions in Rio de Janeiro in 2016. It looked like four gruelling years of training would come to naught. 
"My hopes were dashed. We thought it was over," she said.
Night after night, her family would kneel by her bedside, eyes shut and fervent in prayer.
"I think that episode made my faith stronger, and I realised that life is precious" she said.
Weeks away from Rio
In the season in the valley , Gemma chose to spend her waking hours poring over the Word.
"Trust in the Lord with all your heart. In all your ways acknowledge Him and he shall direct your paths" (Proverbs 3:5-6) are among the verses she clung to.
Was she upset with this twist?
Gemma shook her head and said: "I don't blame God. Sometimes things have to happen. You can't plan everything."
She grinned as she quoted Matthew 6:34: "Therefore do not worry about tomorrow, for tomorrow will worry about itself."
Barely a month before Rio, Gemma, now walking and feeling much stronger, asked doctors if she could start training again.
"Everyone thought I was crazy!" she recalled with a laugh. She was given the green light. 
Gemma found herself competing at the Olympic Equestrian Centre in Deodoro, just outside Rio. 
The heat of Rio de Janeiro was a welcome shift from the biting cold of London in her first Paralympics, but Gemma recalls feeling "palpitations".
She was six months behind in training and on foreign ground.
She was six months behind in training and on foreign ground … She turned to the Lord and surrendered the event to Him.
She turned to the Lord, as she does before every competition, shutting her eyes, and surrendering the event to Him.
"I just prayed. You can never go wrong. God and His timing is always perfect," she said.
Though she did not get placed at the events, Gemma, who was surrounded by the love from her supportive family and team mates, remained thankful.
The season was a defining one for her. 
"I learned to take things one step at a time, and really start understanding more about myself," she said.
"God was so faithful during that time." 
An unexpected scholarship
Gemma's time away from the field following the emergency surgery meant more time to focus on her studies. 
Then a mass communications student at the Management Development Institute of Singapore (MDIS), she threw herself into her coursework, rediscovering her joy of the subject.
She spent hours thumbing through readings, engrossed in a way she scarcely had the time to do so before.
Later, she would find an unexpected email from her school.
At the behest of one of her lecturers, they were awarding her a scholarship – one she had never even thought to apply for, or even petition God for.
For her family, who fretted over financing both her riding and education, it was an answer to prayer.
"We were just so thankful to God," said Gemma.
Ingrown hooves
It seems that every one of Gemma's Paralympics has been preceded by an unexpected event.
In September this year, Gemma flew to Tokyo for one of her first few competitions in nearly a year, following Covid-19 restrictions and lockdowns. 
Her beloved horse, Cassis Royal, whom she had been riding for nearly over a decade, had been limping.
"We found out that he had ingrown hooves," she said, her voice dropping. Cassis had to be taken to the veterinarian for treatment, and would not recover in time for the Games. 
Her substitute horse, Gambler, was a marked change from Cassis.
It was unheard of for riders to swap horses for major competitions, let alone just two weeks before the Paralympics. For each horse has its own specific cadence and preference of movement. 
She had been training on Cassis, her "first love" of a horse for nearly every international competition in recent history. 
"It's usually quite tough to have a good partnership with a horse you've never ridden before."
In addition to spending time developing a partnership with him, she, for instance, had to lessen the pressure on her hands to control him.
She looks back on the memory fondly.
"You know it was really God's hand, because if I didn't have a horse, I wouldn't be able to compete!" she said, with a laugh. 
Running with God's gift
Gemma believes horse riding is God's gift to her, and holds fast to using this gift in a positive manner, and using it wisely.
"God has given me this special connection with horses, and I'm here to do my best, all for His glory." 
"God has given me this special connection with horses, and I'm here to do my best, all for His glory." 
When asked if she has ever wrestled with God about the cerebral palsy, Gemma paused before answering.
"You know, I used to really want to know what it was like to run," she said.
"My legs might not work like a regular person's, but God has gifted me with so many other talents," she said. 
"With my horse, I can run, I can fly," she said, her eyes full of wonder.
---
Contribute to RDA Singapore's efforts
Riding for Disabled Association Singapore is a registered charity which provides free therapeutic and rehabilitative horse-riding for children and adults with disabilities. To find out how you can support them, click here.
---
RELATED STORIES:
"I prayed for His wisdom as we were navigating uncharted territory": Team Singapore's Chief Medical Officer at the Tokyo Olympics
Student with autism has reached symbolic peak of Mount Fuji … twice
She lost her dad at 19, and her boyfriend 100 days later: How national bowler Grace Young played through pain and loss
If you have enjoyed reading Salt&Light...
We are an independent, non-profit organisation that relies on the generosity of our readers, such as yourself, to continue serving the kingdom. Every dollar donated goes directly back into our editorial coverage.
Would you consider partnering with us in our kingdom work by supporting us financially, either as a one-off donation, or a recurring pledge?
Support Salt&Light