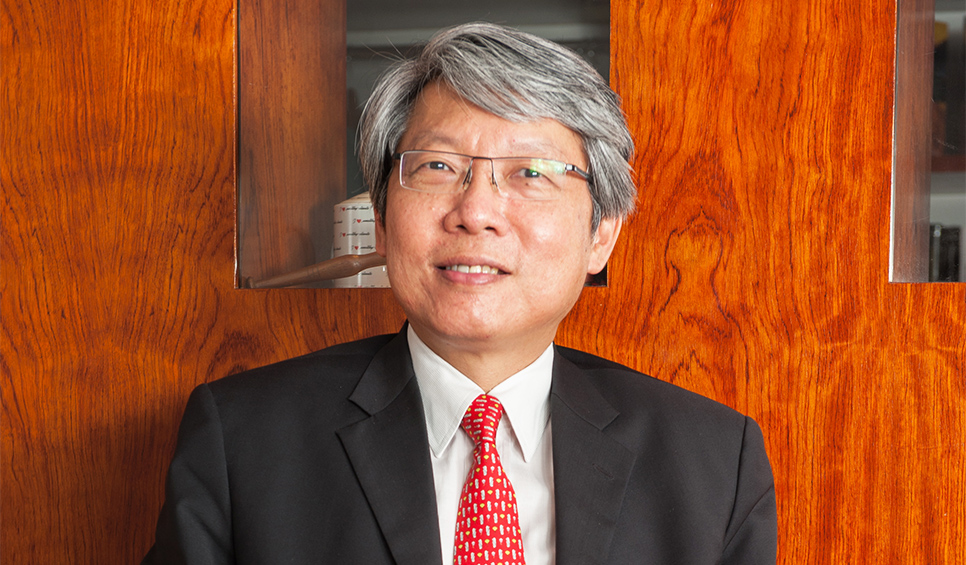 Senior Counsel Lok Vi Ming has had many distinguished moments in his three-decade legal career. But the case that is a landmark one to him did not require him to stand in court, but to go down on his knees.
A client had engaged him to appeal against an earlier judgment. Unfortunately, the client was unaware that the period of appeal had lapsed. That meant that there was no recourse but to make payment for a debt she did not owe, in a mere 21 days.
"I told her there's no point in taking the case further and the only thing that I could do was to go down on my knees to pray for her."
On the 21st day, his phone rang.
It was, quite unexpectedly, someone close to the debtor. The caller said: "You don't know me, but this morning I just had this thought that I had to call you. How much money does your client owe and I will help pay up." 
God had come through.
Lok acknowledges that, in his experience, there are many cases where human effort comes to an end, only for God's provision, grace and mercies to take over. 
As a Senior Counsel who sits among the international Who's Who of aviation lawyers, he has a résumé that outshines most. 
In more than 30 years as an advocate and solicitor at Rodyk Davidson (now known as Denton Rodyk), Lok represented in aviation advisory and arbitration panels across the world.
In his legal experience, there are many cases where human effort comes to an end, only for God's provision, grace and mercies to take over. 
Locally, he became famous for leading the defence for Singapore Airlines in the SQ006 and SilkAir M185 incidents.  He was a senior partner in Singapore's first and oldest law practice, a principal Mediator with the Singapore Mediation Centre and led the fraternity as the President of the Law Society in 2013 and 2014.
Currently, he sits on and chairs various legal and non-legal committees and boards, including Singapore Food Industries, Mapletree Greater China Commercial Trust and Temasek Junior College, reflecting his wide-ranging interests and community engagement.  
The list goes on.
But to this silver-haired, down-to-earth 57 year old (who could pass off as your next-door neighbour), Lok dismisses the accolades with: "I must say I enjoy more success in my career than I deserve."
Stumbling into law
In fact, it was almost a career that never was.
Right up to 18 years of age, during his 'A' level years, Lok's sole ambition was to study medicine and medicine only. However, that desire to become a doctor strangely disappeared despite his making the grade. Not wanting to do medicine and not liking engineering, applying for law studies was the "leftover choice".
And that was exactly what he told Professor S Jayakumar, then Dean of the Law Faculty, during the interview for admission to the National University of Singapore.  
"When I told the professor the reason for my application, he replied: 'Is that right?' It was only after I walked out of the interview that I realised how stupid I was to have told the Dean that, by default, I chose to be in his law school."
Despite stumbling into legal studies, he was determined to start his career right.
"I began to pray and ask God to allow me to use my craft as a lawyer to do work that was meaningful. Meaningful, in that, I can change some lives and do something to influence someone. I was not looking to climb the corporate ladder, slay opponents or change the world."
God in the equation
That meant allowing God to work with him in the daily grind.
There are those who will argue that prayers are but a psychological crutch for the insecure and weak, a defence mechanism to keep you on the safe side.
Nevertheless Lok continues to pray over his work because it teaches him two important lessons: One, never to take each case he represents for granted. And two: To entreat God's divine justice.
"In every case, win or lose is just one outcome. Whether it is the right or wrong result, is also another outcome," he says. "In addition to a favourable result, I also pray for a just decision, for God to be in the equation. Because you never know, in the process, you may have made somebody's life very miserable, and wrongfully so. There is an aspect of this whole matter that needs the divine touch and protection."  
"I also pray for a just result, for God to be in the equation. Because in the legal process … there is an aspect that needs the divine touch and protection."
Prayer also helps Lok reconcile the facts of the matter and the truth in the situation.
"If I lose, that is not the end. The result may be the end of the case, but it is not the end of the relationship, or what you are trying to achieve. After prayer, the decision lies with God and what He allows according to His plan. It may be years later before I realise why something turned out in a certain manner. Praying allows me both closure and a sense of detachment. That is also important."
From the early beginnings of his career until now, at every five-year mark, at the age of 30, 35, 40 and 45 and so on, Lok makes it a point to take a pause, to spend time praying and seeking God for direction in his career.
For more than 30 years, he stayed with one firm. That is not to say he has never entertained thoughts of moving on especially early in his career when pressed by the rigours of practice and its demands.  
"Overcoming the temptation to leave requires a strong dose of reality. When approaching that decision, it is very important that the Lord has to speak very clearly and to have peace within my heart. If not, I would assume the default position."
Divine discontent
Such moments are what Vi Ming calls divine discontent. A time to re-assess if you are in the place God wants you to be or it can even be a nudge from God for the next growth opportunity.  That divine discontent must come with seeking the Lord.
"That means going back to His word," says Lok. "It also means seeking out people you can pull aside and say: 'Look I am going through a dry period, I am getting nowhere, what can I do?' However, sometimes, the change God wants you to make may take years for the situation to pan out. We need to keep at it, to keep it in focus."
Lok is especially concerned about longevity of career when it comes to the younger lawyers.
In 2014, during his term as the President of Law Society, he unveiled a set of numbers that showed that three out of four local lawyers leave practice in the first 10 years of their legal career – a statistic that set off alarm bells.
Therefore, when he established his own practice, LVM LAW Chambers in 2017, one goal he had was to nurture the younger lawyers.
"Many younger lawyers may feel little professional satisfaction and respect. Some may be tossed around and have their work product torn up and thrown into the wastepaper basket. I encourage them not to give up so easily. Work to hone the craft they have been trained in, to have a longer lifespan and a more sustainable practice beyond ages 30, 35 to 65. Have tenacity, hang on to it, ask the Lord to help you get through before you jump out."
He added: "My career took a lot of time to unfold."
And those who know Lok know the secret that has kept him going for more than three decades in the legal profession: Steely focus and a commitment to prayer. 
If you have enjoyed reading Salt&Light...
We are an independent, non-profit organisation that relies on the generosity of our readers, such as yourself, to continue serving the kingdom. Every dollar donated goes directly back into our editorial coverage.
Would you consider partnering with us in our kingdom work by supporting us financially, either as a one-off donation, or a recurring pledge?
Support Salt&Light