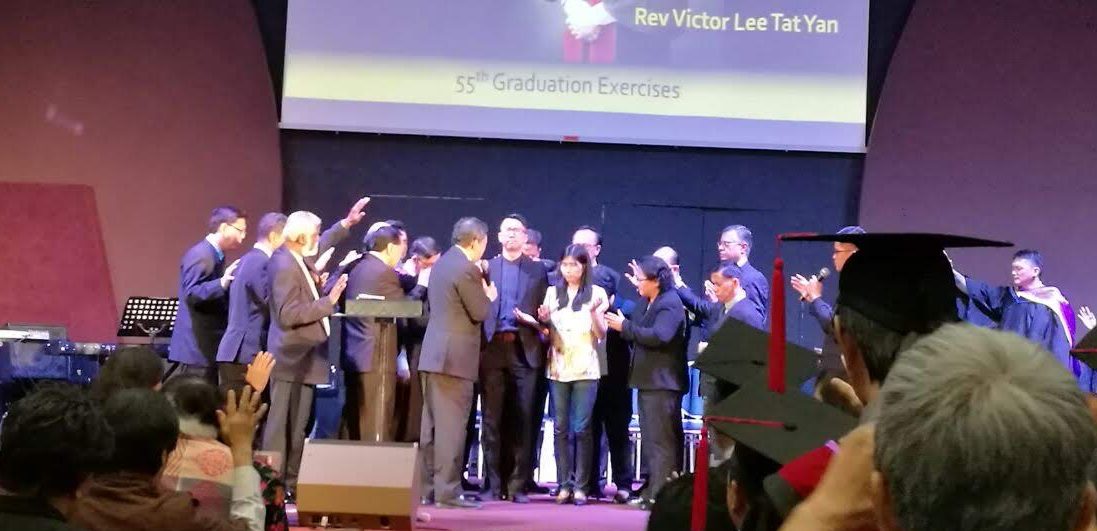 Rev Dr Victor Lee's installation as the third president of the Bible College of Malaysia in 2017. All photos courtesy of Rev Dr Victor Lee.
Rev Dr Victor Lee was just 32 years old when he took over the mantle of Bible College of Malaysia (BCM) in 2017, becoming the youngest president of a theological college within the Assemblies of God circle in Malaysia and the region.
"When I became president, there was a lot of hype and encouragement. But there was also a lot of pressure. BCM had been around for more than half a century, producing pastors and leaders who were serving at national levels and even on the global stage. I had to make sure the ship didn't sink at my watch," he shared.
The first hurdle he had to overcome was being the leader of a team of older people who had known him as a student.
"The faculty and office staff were in the age range of 55 to 70 years old, so I had to navigate a unique situation, being someone in my thirties," he said, acknowledging that adjustments were made by everyone.
Destined for ministry
A third-generation Christian, Rev Victor and his family were a part of First Assembly of God (First Assembly AG), a Chinese-language Pentecostal church in the heart of Kuala Lumpur. The formative years of worshipping and serving there have largely impacted how he views Christianity.
"For me, the Christian community is all about being a family because the church was like a family to me. We could comfortably interact with different generations and people of all backgrounds," he recalled.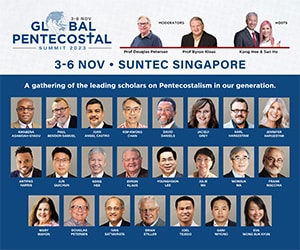 "The impression my parents had was that choosing such a vocation would mean a life of suffering and hardship."
While still in secondary school, Rev Victor felt God's call to go into full-time ministry at a youth camp.
However, his parents were not keen on him entering ministry at the time.
"My granduncle was a pastor and the impression my parents had was that choosing such a vocation would mean a life of suffering and hardship. Lots of work and an uncomfortable life," he said.
Honouring his parents' wishes, Rev Victor received a full scholarship to study business and IT at a private university.
He completed his diploma and considered obtaining a degree, but then received a prophecy about his full-time calling as an "end-times soldier and equipper".
He knew he couldn't brush it off any longer. After consulting his parents and pastor, he enrolled into the Bible College of Malaysia (BCM), a theological college under the Assemblies of God movement, to pursue a Bachelor of Theology at the age of 21.
Taking on a heavy mantle
After completing his three-year programme in 2008, Rev Victor returned to serve as the Christian Education pastor at First Assembly, leading Bible study groups for members.
"Once I made the decision to go full-time, my parents fully supported me," he said. "I served in the church for only a year and then BCM offered me the opportunity to become a lecturer at the college."
After seeking counsel, Rev Victor left for Singapore to pursue his Master of Theology at Trinity Theological College in 2010. A little over two years later, he returned to Malaysia and began his career as a lecturer with BCM.
"Once again, I had only served for a year when I was asked by then-president Rev Ng Kok Kee to consider taking over his role. It would be a three-year preparation journey if I said yes," he said.
It was a weighty decision for a 29-year-old, who wanted to pursue a PhD, had just gotten married the year before and was hoping to start a family.
After praying together, Rev Victor and his wife, Vicky, felt the Lord's approval to go ahead.
Thus began three years of preparation, but it was not easy convincing church leaders who were older and more experienced to entrust the college to a young man.
"In my third year, there were concerns regarding my readiness. But Kok Kee told them, 'You either have him or no one at all.' That was the level of trust he placed in me. I too had doubts about myself, but he said, 'You're ready. Just take it.' It showed me how important it is to take wise risks and throw your weight behind your successor," Rev Victor said.
Seeing God come through
Apart from needing to navigate staff who were older than he, there were also two giants he had to face: Finance and the lack of younger faces amongst the teaching faculty.
At the time, BCM did not have a strong financial buffer, but Victor began to reach out to new donors and churches to seek their support. 
"In order to keep our study programmes affordable, we only charge students around 30% of the actual fees. In Asia, fees are often subsidised and the remainder is covered by churches, donations and sponsorships," he said.
"Our financial state wasn't the best; we only had a one-month buffer. But, by God's grace, we saw funds come in. Within two years, we had a six-month buffer on operational expenses."
At the same time, the college was struggling to find younger lecturers. Bible colleges don't have congregations and a regular salary is not a given.
"Again, God came through. In the last five years, we've managed to bring in four new lecturers under 40 years old in the fields of ministerial counselling and theology. Two of them are under 30 years old," he said with glee.
Family before ministry
While Rev Victor is the president of a Bible college, pastor, mentor, lecturer and scholar, he is foremost a husband and father. His wife, Vicky, also grew up in First Assembly AG, where the family still worships today.
"We went through youth together, but back then our youth leader had a strict rule: No dating until after secondary school," he shared with a laugh. The couple got together when they were 20, and married eight years later.
"When I took up the role of BCM president, Vicky had just finished her PhD in agriculture and was stepping up her academic career. I was in the midst of completing my PhD in Divinity/Ministry. And we had two young children under five. It wasn't the easiest," he said.
If there's anything he's learned over the years about building a successful ministry, it's that family comes first. A strong family built around Jesus Christ will help you not just go far, but last long.
"Ministry opportunities will always be there; it's important not to get carried away," he said thoughtfully. "When I plan my calendar, I slot in all family leave first before accepting invitations to preach or minister."
---
RELATED STORIES:
"He has called me to a different kind of life": 29-year-old music teacher and missionary to Rwanda
"God's economy is very different from capitalism and consumerism": Lawyer, business owner and pastor Rachel Ongkili
If you have enjoyed reading Salt&Light...
We are an independent, non-profit organisation that relies on the generosity of our readers, such as yourself, to continue serving the kingdom. Every dollar donated goes directly back into our editorial coverage.
Would you consider partnering with us in our kingdom work by supporting us financially, either as a one-off donation, or a recurring pledge?
Support Salt&Light