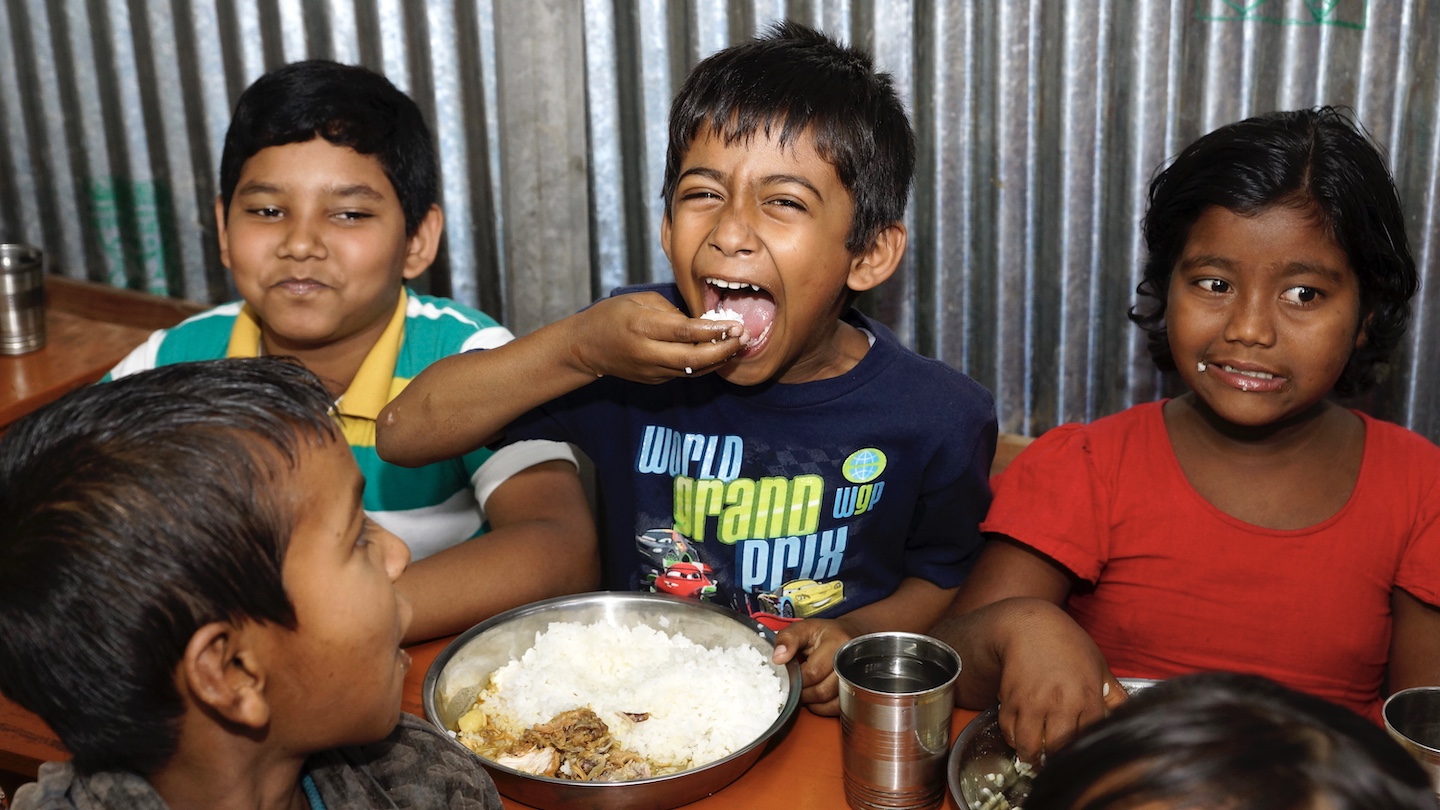 Many children below 5 years old suffer from malnutrition-related ailments in Chuadanga, Bangladesh. To address this, Care Channels International (CCI) has started a feeding programme there. All photos courtesy of Care Channels International unless stated.
"Can I buy a calendar?" asked Susan Justo.
"With your pay scale, it will not be cheap," Yeoh Seng Eng, director of non-profit organisation Care Channels International (CCI), gently replied. "Why do you want to buy it?"
"What I make is beautiful and what the other families do is beautiful too. I know which is their piece and which is mine because I can recognise the style. I just want to look at it and enjoy the handiwork," explained the 48-year-old Filipino mother of four.
Justo has been part of CCI's livelihood programme for a number of years, creating pressed flower crafts by hand.
Her life has been challenging: Other than her own children, she's also caring for her 4-year-old granddaughter, who has been left in her care since the child was a month old. With little education and limited job opportunities, she had struggled to make ends meet.
After receiving training from CCI's livelihood coordinator, she has been able to craft from home while keeping an eye on her granddaughter.
"It is a very big help to meet our daily needs," revealed Justo, who lives in one of the slum areas of Metro Manila. It has helped the family so much so that she is now able to afford one of her creations for her enjoyment.
That encounter was seared in Yeoh's memory.
"I'm not helpless anymore"
"She is basically expressing what God, Himself, expressed when He created the world (Genesis 1:31). I think the fact that she can say that, it means the project has done something to her soul," said Yeoh, 57.
And that's the barometer the former full-time business and HR consultant looks at – the restoration of body, soul and spirit as described in 1 Thessalonians 5:23.
For the last 19 years, CCI has been working among the poor and marginalised in Asia. The work, which began in the Philippines, has now spread to Indonesia, Timor Leste, China, Pakistan, Bangladesh, Thailand and Malaysia.
Another livelihood programme it runs is the animal dispersal programme, where young animals are provided on loan to needy families to supplement their income. The livelihood coordinator not only trains these new farmers, but they also help monitor the animals to ensure the farmers know what to do to benefit fully from the programme.
"We have dignified him by allowing him to earn his own keep."
Yeoh recounted a conversation he had with a Filipino man in his 50s, who joined CCI's pig dispersal programme after leaving his job to care for his cancer-stricken wife. The latter, eyes wet with tears, told Yeoh: "I can wake up tomorrow for there is a glimmer of hope because I'm not helpless anymore."
"The pig was his only source of income," recalled Yeoh. "He's proud of it because he worked! No one gave him money. I mean, sure, we help him but he looked after the pig.
"He did not look at me as if I am giving him money. He looked at me because we have dignified him by allowing him to earn his own keep. And when he eats, he enjoys it.
"To me, you cannot create that feeling, you cannot buy that."
Giving up six-figure salary
Yeoh is no stranger to poverty. Born the fifth of six children, he grew up near Chow Kit – an impoverished area in Kuala Lumpur riddled with drug addicts, prostitutes and gangsters.
He studied hard, made it to the National University of Singapore in 1982 and soon found a job in a multinational corporation here.
But he was undone in 1987 after a mission trip to the Smokey Mountains in the Philippines. He witnessed thousands living right next to the 11-storey-high mountain of rotting rubbish, the young and old scavenging with their bare hands for anything they could either sell or eat.
He was shocked that anyone could live like that.
Yeoh and his wife, Dr Chau Chwen Hwe – whom he met during that fateful trip – would go on to make repeated visits to the Philippines, becoming increasingly involved as the years go by. When they got married in 1989, they decided they wanted to head back to the Philippines to serve as missionaries. In 1995, God finally gave them the green light to go.
"A single approach to poverty is insufficient."
By then, husband and wife were earning handsome amounts of money. Yeoh was drawing a six-figure salary annually, while Dr Chau was pulling a five-figure sum from her medical practice.
Yet, they gave it all up to answer God's call – heading to the seminary before starting their seven-year posting to the Philippines in January 1998, with two young children in tow.
"But after two years of language learning and going to the slums, I felt that the single approach to poverty – for example, you change a kid by giving him a chance at education – is insufficient," said Yeoh.
"It has to be holistic – it is not just social, it is not just emotional, it is not just physical, it is not just spiritual. For some families, addressing one aspect can change a lot more than it would for another family."
---
Read part two of the story here.
If you have enjoyed reading Salt&Light...
We are an independent, non-profit organisation that relies on the generosity of our readers, such as yourself, to continue serving the kingdom. Every dollar donated goes directly back into our editorial coverage.
Would you consider partnering with us in our kingdom work by supporting us financially, either as a one-off donation, or a recurring pledge?
Support Salt&Light