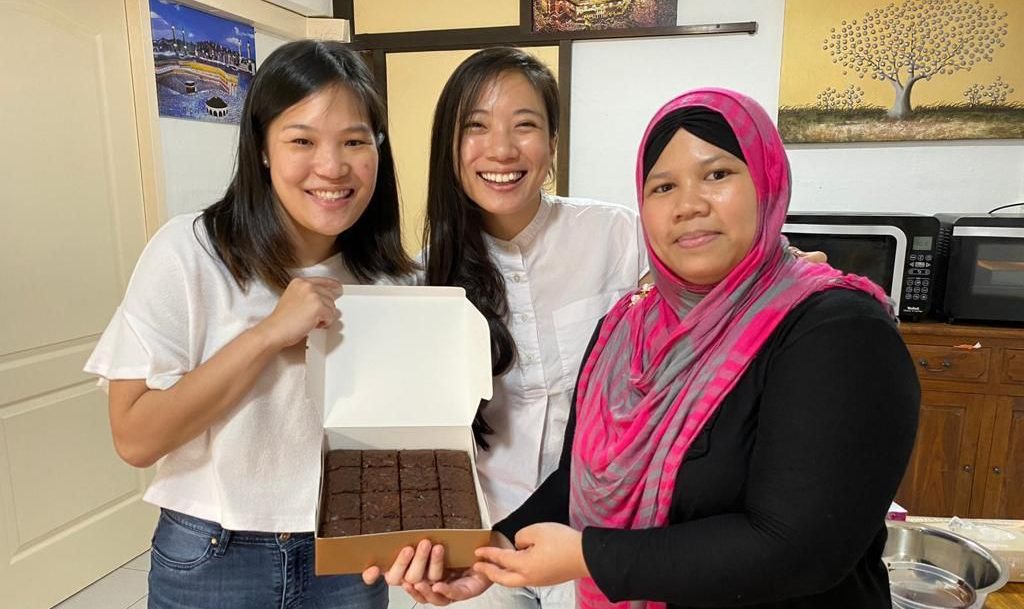 "I do believe that God wants us to bless others with what He has blessed us with, to uplift the lives of others," said Samantha Kwan (left), pictured here with Abigail Han Kachtik (centre) and Heni Sugiyarti. Photo courtesy of Samantha Kwan.
When her husband was forced to quit his job early last year due to a nerve condition, mother-of-four Heni Sugiyarti, 30, was at a loss over how she would feed her young family.
As the family's sole breadwinner, Sata, 62, had brought in about $1,500 a month through his job as a cleaner. Even then, his salary had been insufficient to feed themselves and their children, all of whom are under seven years old. 
Left with no income, every meal for the family became a struggle.
"What could we do? Luckily my children are not picky about food, we just ate what we had," said Heni, whose family lives in the rental flat community of Jalan Kukoh.
Heni, who came to Singapore from Indonesia when she got married at 22, would have gone out to find work. But she was not confident about doing so, as she cannot speak English fluently and struggles with social anxiety. She also needed to be home to care for her children.
It seemed that there was nothing she could do to help her family financially.
Yet, little did she know that she had in her an entrepreneurial spirit and, in just over six months, would be running her own home-based business as her family's sole breadwinner.
All she needed was the boost of a helping hand.
"I try and try, learn and learn"
This helping hand came in the form of Samantha Kwan, 32, who got to know Heni and her family through ReadAble, a non-profit organisation that holds English literacy and numeracy classes in the Chin Swee neighbourhood.
As a volunteer with ReadAble, Samantha had forged friendships with several stay-home mothers in the low-income Jalan Kukoh neighbourhood and was aware of the struggles they were facing, especially during the Circuit Breaker period early last year when many residents lost their jobs.
"I'm not going to give up. I will try my best because my hope for my family is to survive."
So, she decided to help.
"I thought that this was a really good time to leverage these mothers' talents in cooking and baking, and to jump onto the food delivery bandwagon and help them start businesses," said Samantha, adding that she is passionate about social enterprise and using business as a force for good.
And so began Project Cookoh, which aims to help stay-home mothers in Jalan Kukoh start home-based businesses so they can earn income for their families. 
To start the ball rolling, Samantha roped in a good friend and avid baker, Abigail Han Kachtik, to help refine Heni's brownie recipe and guide her through the baking process.
"It was difficult when I first started … Sometimes I would bake wrongly, sometimes too burnt, sometimes inside is not cooked. But I try again. Try and try," Heni told Salt&Light in Bahasa Indonesia.
"I try to improve myself … try and try. Learn and learn."
"I said, I'm not going to give up. I will try my best because my hope for my family is to survive. At least we can have our own income. It's good for our family," she added.
Motivated to expand her repertoire, Heni also searched up new recipes online, such as for sea-salt brownies, cheesecake brownies and peanut butter brownies, and learnt to master them.
"I try to improve myself. The most important thing is that I must have the confidence to do everything. Try and try. Learn and learn," she said.
Nurturing mumpreneurs
As Heni honed her baking skills, Samantha, who works in marketing at Facebook, helped to create a Google form for people to place their orders.
She also set up Facebook and Instagram pages for the business, named Bakes By Heni, filled them with mouth-watering pictures of the sweet treats, and spread the word to all her friends.
Initially, Samantha helped to handle everything end-to-end, from marketing to coordinating delivery orders, which allowed Heni to focus solely on baking.
But as the months rolled on and Heni grew more confident, Samantha slowly relinquished each additional task to her one by one. In the span of six months, Heni was running her own business.
As word of mouth spread in the tightly-knit Jalan Kukoh community, more mothers came forward to express interest in selling their homemade food too.
Today, Project Cookoh has helped five mothers start their own home-based businesses, selling food from tahu bagedil and beef rendang to frozen poprolls and Nutella tarts. (All the businesses are halal.)
"My goal from the very start was to create sustainable businesses for these mothers, such that I would become obsolete," said Samantha.
"It's empowering for them to earn their own income and be able to provide for their families materially, and that has really helped in building their own confidence in themselves." 
Putting in the hard work
Juggling a home-based business, a household and four young children – one of whom is still nursing – is far from easy. But Heni has been working hard to make it happen.
In fact, Heni even received a commendation on Facebook from former Member of Parliament Amrin Amin for her "never-say-die attitude".
When there is an influx of orders, she wakes up as early as 4am to start baking. "All the brownies are freshly baked. If you order today, tomorrow we will do for you," she said.
Sata supports her by helping out with the household and childcare chores, as well as going out to buy ingredients for her bakes.
Once her children come home from school, Heni sets aside her baking to care for and spend time with them. Then she resumes work once they are asleep at about 8pm. On particularly busy days, she goes to sleep only past midnight.
"My wife is very hardworking. I'm very proud of her. She never feels tired. But I tell her she must take care of herself also," said Sata.
Nevertheless, while the couple is thankful for the business, their stream of income is dependant on the number of orders they receive and, as a result, can be irregular and unstable. 
On special occasions like Hari Raya, Teacher's Day and Christmas, business can bring in up to $2,000, though about 30% of their earnings go into paying for ingredients.
But other times are much quieter and there aren't always orders.
"It's like the seawater – sometimes the tide is high, sometimes the tide is low," said Sata, adding that the family also receives financial aid from the Government.
Gaining more than just income
This is why they are especially thankful for large corporate orders, as well as wedding and café gigs that they receive from time to time.
Many from Samantha's social circle – and beyond, as word of mouth spread – have been eager to support the Project Cookoh mothers and their businesses.
For example, Redemption Hill Church, which Samantha attends, ordered Heni's brownies as care packages for leaders in its congregation. 
Food and beverage establishments Maxi Coffee Bar and Jekyll and Hyde, both of which are owned by friends of Samantha, have also invited Heni to do a pop-up event in their shops.
"Through Project Cookoh, I've not just seen Heni gain a source of income but a whole community of people who love and care for her," said Samantha, adding that many have gone beyond just ordering her brownies.
"To see so many people care for her … That's really a testament to God's grace and God's providence."
Said Sata: "(Samantha's) friends from church have supported us by giving milk powder, clothing, toys. They give our children free tuition, call us and ask how we are.
"The first time Heni baked, the oven spoiled. But somebody from the church donated an oven. There were others who also supported my wife to go for a hygiene course and a baking course."
Though Samantha recently moved to the United States for work, she is confident that there will be people who will continue to look out for Heni.
She said: "To see so many people care for her in a way I never thought was possible, that's really a testament to God's grace and God's providence."
Tuning in to God's heart for the vulnerable
When asked what spurred her to start Project Cookoh, Samantha said it came out of a biblical conviction to be a good steward of the gifts, talents and resources that God has blessed her with.
"He calls us to join His renewing work in the community."
"Whether it's using our intellect, physical abilities or social capital, I do believe that God wants us to bless others with what He has blessed us with, to uplift the lives of others," she said.
She added that she was particularly challenged by Micah 6:8, as well as a book by Timothy Keller called Generous Justice.
"It says that if we have experienced God's grace for ourselves, then it's only right and just to be able to show mercy just as we've received it," she said.
She believes that there are many opportunities to tune into God's heart for the vulnerable, especially during this pandemic, and build friendships across the lines of culture, race and religion to help one another.
"I think that if we understand the message of the Gospel, then we should see how He calls us to join His renewing work in the community," she said.
For people who wish to help but do not know where to start, she suggested first praying for God to open our eyes to the needs of those around us, as well as where He might want to use us in the community.
Then, we can take stock of what God has blessed us with – the gifts, talents, resources and passions that we have – and how we can use them to bless others.
"No task is too small, no person is too inadequate for us to just give of what we have to the people around us."
---
Want to show your support for the Project Cookoh mums?
Follow them on their social media channels:
You may also view their menu or order from them here.
---
MORE STORIES ON BUSINESSES FOR GOOD:
"Don't worry, I'll take care of you. Just take care of my kids," God tells cafe owner who employs people with special needs
The Peranakan's Raymond Khoo loves his neighbours with belacan and pineapple tarts
"We may serve bread, but we want to share the true Bread of Life": Thrina Low of Bakery Brera
If you have enjoyed reading Salt&Light...
We are an independent, non-profit organisation that relies on the generosity of our readers, such as yourself, to continue serving the kingdom. Every dollar donated goes directly back into our editorial coverage.
Would you consider partnering with us in our kingdom work by supporting us financially, either as a one-off donation, or a recurring pledge?
Support Salt&Light