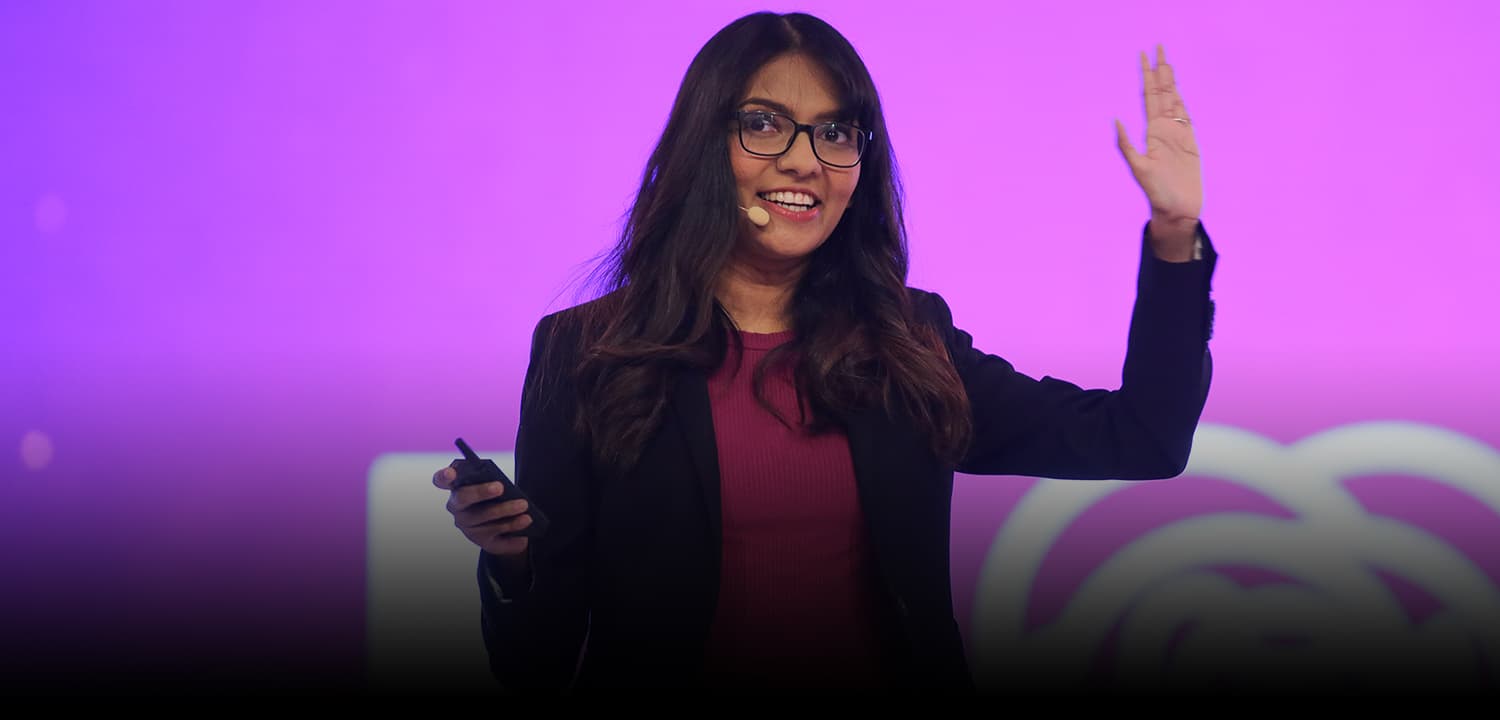 "A good education is one where every child can find and fulfil their potential, and that's not necessarily measured academically," said Cheryl Ann Fernando. All photos courtesy of Cheryl Ann Fernando.
"I had quite an ordinary childhood," said Cheryl Ann Fernando with a laugh when asked to recollect her growing-up years. The petite firebrand and education advocate could never have imagined that God would lead her down a path that was anything but ordinary.
Cheryl founded and helms Pemimpin Global School Leaders (Pemimpin GSL), an NGO uplifting Malaysia's education system by empowering school administrators and educators in over 800 national schools across the country. 
Her experience as a rural teacher at a high-need school in Kedah inspired the independent feature film, Adiwiraku (My Superheroes), which won Best Film at the Malaysian Film Festival 2017 and is available on Netflix. 
Through it all, the 37-year-old knows the foundation upon which her life has been built.
"I'm Catholic and we had a lot of emphasis on the faith. Growing up a Christian, you are always reminded that your life is in service to others. That has become an anchor for all I do," she said. 
Realising her love for teaching
Cheryl grew up in a middle-class urban family; her father was a journalist and her mother was a teacher.
"My mother placed a lot of emphasis on us doing well in school and education as a way to improve one's life," she said.
"A good education is one where every child can find and fulfil their potential, and that's not necessarily measured academically."
After high school, she pursued mass communications at university and landed a job at a public relations firm. Cheryl also volunteered at a refugee school in Kuala Lumpur and served in the church. 
"One day I realised I like teaching more than PR and so I decided to quit my job and become a teacher. I was young and thought I had nothing to lose. If I had a similar revelation today, I don't know if I would have been able to do something so drastic," she said.
Cheryl worked as a teacher at an international school for a year but soon realised this was not the teaching she wanted to do. She wanted to serve the underprivileged. 
So in 2013, with a head full of dreams and a heart yearning to do something more, she applied to be a Fellow with Teach for Malaysia, a non-profit that runs a two-year, fully-paid leadership development programme where Fellows teach in high-need schools.
Faith tested
Cheryl was assigned to a rural school in Pinang Tunggal, Kedah to teach English, but faced an uphill battle the moment she began. First, she was shocked to discover that her secondary-level students could hardly speak any English.
And as an ethnic Indian and a Christian brought up in a city, she was entirely different from her students in race, religion and background. Her fellowship was for two years, and it was a time when her faith was most tested. 
"I had never really viewed myself as someone very pious, but I faced many remarks and comments about my faith, especially as an outsider. I would ask, 'Why me, God? I don't want to be persecuted, I'm not exceptionally religious!'" she shared. 
She thought about throwing in the towel due to the level of discrimination she and another Teach for Malaysia Fellow faced for their Christian faith. But her parents and fellow teacher encouraged her to stick through until the end, so she did. 
And something remarkable happened within her. For when her two years were up, she decided to commit to a third year because she felt there was still much to be done. 
Lightbulb moment
In 2015, Cheryl asked her English class if they were up for a district choral speaking competition, and her students were keen to enter. They knew it wouldn't be easy; many of their competitors were prestigious schools with excellent track records and lots of funding. 
She "bribed" the students with free food to get them to come for practice. With her fellow teacher, they trained the students for up to three hours every day after school for months leading up to the competition, even through the fasting month.
And at the end of practices, she would cram six to seven of them into her tiny Perodua Viva and send them home.
"We are a sekolah kampung (rural school) … It was now all up to my students to prove everyone wrong."
But when competition day came, her students were a nervous pack. The other schools, with their shiny new uniforms and professional lilt, only amplified the inadequacies they had felt about themselves all of their lives. 
"We are a sekolah kampung (rural school). When they see us walking up on stage with our off-coloured uniforms and old shoes, they are not even going to look up at us. When they hear our school's name, many might choose to leave the hall at that time to take a break. They would laugh and jeer at us, wondering what we have against all the other prestigious schools in the district. It was now all up to my students to prove everyone wrong," Cheryl wrote in an opinion piece after the competition. 
Just before their turn, Cheryl and her fellow teacher told their students again how proud they were of them for courageously choosing to participate. That day, the students of SMK Pinang Tunggal bagged fifth place, beating 20 other schools across the district. 
"They proved that their economic backgrounds or social standings only mean so little when they can stand with the giants and shine," she wrote. "They went home that day with more than just a certificate but with the newfound confidence that maybe, just maybe, everything is possible."
New season and purpose
After that school year, Cheryl stepped out of her teacher's shoes and began working with an education-focused organisation. Then, an opportunity cropped up to start something new, and so she founded Pemimpin GSL in 2017.
"I realised school leaders are really important, they set the tone and culture. They are responsible to ensure that every child in school has access to quality education. Again, I was young and I'm not so sure I would do it again. I just jumped in, and thought, what's the worst that could happen?" she said. 
"I really want my children to know why they're doing good."
Pemimpin GSL started with 22 schools and today, the organisation works with over 800 schools across Malaysia. With supportive funders and corporate partners, Pemimpin GSL has an overarching focus: equity-based education. 
"We wanted to empower teachers to teach to the best of their ability; it's up to them to realise a child's potential. A good education is one where every child can find and fulfil their potential, and that's not necessarily measured academically," she explained. 
If school administrators and teachers believe that every child has potential and is their responsibility, regardless of what class they belong to, they will push for a wide range of classroom strategies and more diverse outcomes. 
"One of the key things we work on is mindset changes. We want school leaders to see themselves as instructional, not administrative. That means they're involved in classroom practices and make sure teachers are teaching well. 
"Over the years, we have seen school leaders prioritise students who are the last, lost and least. Also, seeing how teachers have improved their practices is always rewarding," Cheryl said.
Grit and good friends
Asked if she has ever felt disheartened along the journey, she said at times discouragement can hit every day. "Some days I'm just tired," she added. 
It's understandable because her schedule is so full. Aside from helming Pemimpin GSL, Cheryl is a sought-after speaker and relentless advocate. She's also married and a mother of two young children. 
"In terms of balance, I am quite busy. But I've always been resilient and have good friends I talk to often. We share the same faith or beliefs and that helped at times when I needed it the most," she said. 
When it comes to work and motherhood, she's found a way to make it work. "My kids hang out at the office all the time," she said.
"I also invite my five-year-old girl into my world, sharing what we do. For example, we're currently working with indigenous schools so I'm teaching her about their communities. So in a way, I'm glad I don't have to balance it out because both worlds can coexist." 
Passing on a spiritual heritage
The journey so far has been full and fulfilling, but Cheryl has yet another focus: To raise her children on the same foundation of faith. 
"I really want my children to develop not a crippling fear of God but love for God. I want them to know why they're doing good, not just do it because of fear. It took me many years to come out of the fear I had of God, to realise He loves me and is good and merciful, and knows I am doing my best," she said. 
The working mother also adds that working in the non-profit sector often means drawing a smaller paycheque and, truthfully, it can be quite discouraging at times. Her prayer, therefore, is to remain strong, resilient and focused. 
"I'm still so passionate about the work we're doing and am excited to see how much farther we go. But over the years I've learnt that much of my life hinges on a relationship with God and who I understand Him to be. It's been fundamental in the way I live, look at work and understand my purpose today," she said. 
---
Adiwiraku (My Superheroes) is a 2017 independent feature film tracing Cheryl's journey as a teacher in Kedah, directed by Jason Chong and Eric Ong. Cheryl co-wrote the script together with her fellow teacher and her actual students played themselves in the movie. One of these students will soon be joining Cheryl in Kuala Lumpur as an intern with Pemimpin GSL.
---
RELATED STORIES:
"I thought everything I touched would turn to gold": He was a wildly successful businessman – until he lost everything
This widow's grief became a meditative breadmaking course that helps others heal
"Many go through suffering to find God. But God found me first to prepare me for suffering": He testified till his last breath
If you have enjoyed reading Salt&Light...
We are an independent, non-profit organisation that relies on the generosity of our readers, such as yourself, to continue serving the kingdom. Every dollar donated goes directly back into our editorial coverage.
Would you consider partnering with us in our kingdom work by supporting us financially, either as a one-off donation, or a recurring pledge?
Support Salt&Light