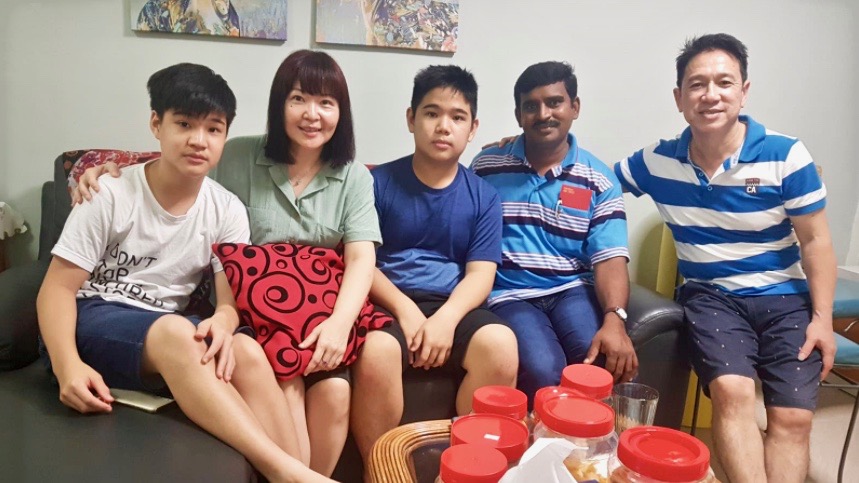 Senthil, an Indian national working as an electrical engineer here, visiting the Wee family this Chinese New Year. The boys have known "Uncle Senthil" since they were little, when he would buy them sweets and toys. All photos courtesy of Wee Sok Hwee.
Singaporean Wee Sok Hwee is sheepish as she confesses the warped view she had of foreign workers 15 years ago: "As long as you don't make trouble and do your job, fine. Just don't bother me."
Today the 50-year-old pastoral staff at Agape Baptist Church counts foreign workers among some of her best friends.
One of them is Villavanam Senthil, now 38, an Indian national working as an electrical engineer in Singapore.
The pair met nine years ago, back in 2012, when Senthil started attending conversational English classes conducted by Wee and another church mate, Mary Ann Justin, now 58. 
The English classes were organised by the two women, who were both members of Agape Baptist at the time. The pair sought to teach conversational English to the foreign workers, hoping that it would help them in their interactions with Singaporeans.
Just like us
The heart behind the classes went beyond merely teaching conversational English. 
Both Wee and Justin had developed a strong burden for the workers.
"They are just like us. They have their own families, their own homes. Like us, they desire acceptance." 
Wee had come across stories of foreign workers being badly cheated and mistreated in Singapore. She read about a worker who was hit by a descending lift in a worksite accident. His local superior then left him to die in a monsoon drain in a forested area off Jalan Ulu Sembawang, paralysed from the waist down.
He was subsequently rescued by passers-by who heard his cries for help. The incident happened in 1997, but was reported again in 2012 in relation to a similar incident. 
The news hit her hard, forcing her to relook at the way she viewed foreign workers.
"I realised that they are just like us. They have their own families, their own homes. Like us, they desire acceptance." 
Prompted by Leviticus 19:33-34, she reached out to the workers. "Just as Jesus has shown me such grace through the cross, I needed to show the same to the people around me."
As for Justin, the housewife's motivations were relatively straightforward – she just wanted to share the Gospel with as many people as possible. 
"These are men who are heads of households. If we can share the Gospel with them, imagine the influence they will have on their families and on their villages," she said. "That was my biggest motivation." 
English classes
It was Pastor Guna Raman, the founding pastor of Agape Baptist Church, who brought the pair together after learning about their individual burdens and motivations.
The Lord deposited Colossians 3:12 in her heart, encouraging her to persist in showing compassion.
He brought them along when he went to speak to the manager of a foreign worker centre about conducting English classes. The manager agreed almost immediately.  
Still, the pair had reservations. Other than the language barrier (only Justin speaks Tamil fluently), fears that they would be unable to relate to the workers culturally plagued the two. 
Would the workers even be interested? What if nobody turns up for the classes? Even if they do, how will we teach them? 
These were questions that burned in the back of their minds. 
Ultimately, it was confidence in God that gave them the courage to proceed. "Every opportunity that the Lord gives, I want to use it to glorify Him. The rest will be left to Him," Justin said.  
That is not to say that the classes proceeded smoothly. There was a period when turnout was discouragingly low.
But even as Justin wondered if they should continue with classes, the Lord deposited Colossians 3:12 in her heart, encouraging her to persist in showing compassion.
That day, the classroom was filled to capacity. The pair could go on about the numerous unexpected joys that peppered the programme, but one of their greatest joys has been their friendship with Senthil. 
Uncle Senthil
Senthil arrived in Singapore in 2010, starting out as an electrical worker. For two years, he had little to no interaction with anyone who did not speak Tamil and kept mostly within his circle of foreign worker friends.  
When he was introduced to Wee and Justin's English classes in 2012, he jumped at the opportunity. He had only stayed in school till standard 10 in India, the equivalent of Primary Four, and could neither read nor write English.
He soon became a regular student of the class, striking up friendships with Justin as well as Wee, who happened to be the facilitator of his group. Friendship grew as his regular attendance in class became opportunities for the two women to learn more about Senthil's life, and the struggles that he went through. 
"Every opportunity that the Lord gives, I want to use it to glorify Him. The rest I leave to Him."
When he asked them to share the Gospel with him, they were delighted. They also told him about the power of prayer, after which he constantly asked for prayer support from the two women.
Wee, together with her husband, Andy, invited Senthil into their home, introducing him to their two young sons. Over time, the two boys developed a bond with "Uncle Senthil", who brought them sweets and toys whenever he came over to visit. 
When one of Wee's sons was sitting for his PSLE examinations, Senthil regularly asked Wee how her son was coping – "it was his way of showing love and care", she realised. 
Senthil was no stranger to Justin's family either. When Senthil started to attend Justin's Tamil-speaking cell group, Justin and her husband offered to drive Senthil to wherever he was going after cell group.
"The time spent together in the car with Senthil was our discipleship time," Justin quipped with a laugh. "We just answered any questions he had or just prayed with him in the car." 
Match made in heaven
Senthil's biggest prayer request to the two women came in January 2015: He needed to find a good wife.
His parents had been looking to matchmake him since 2013, searching in four or five places in India for a suitable wife, but to no avail. He was becoming increasingly discouraged. 
A few months after, however, his parents called to inform him that they had found him a wife. The arrangement was made with a non-Christian girl in India. The wedding was scheduled to occur in December. It seemed like his parents' prayers had finally been answered. 
Senthil delivered the news to Wee, inviting her and her husband to his wedding in India. She delightedly agreed, happy to share in her friend's joy. 
Come early December however, Senthil's hopes for marriage were dashed. Again. 
The girl's family backed out at the last minute, citing internal family problems. Senthil was at a loss, and he remembered asking God: "Why would you leave me stranded now?" 
In late December 2015, Senthil got baptised.
But stranded he was not, as his aunt, the only other Christian in his family, later introduced him to a woman she knew from her church in Chennai. Senthil liked the girl instantly, and wanted to get married as soon as possible. Both families gave their approval. 
In an interesting twist, all arrangements for the wedding with the previous girl had not yet been cancelled. The venue was still booked, and the invitees were still anticipating a wedding!  
There was only one thing left to do before he could marry the Christian girl – she had been baptised two years earlier and her church required him to get baptised as well before they could marry. 
In late December 2015, Senthil got baptised. The wedding took place in January 2016. 
In attendance were Wee and her husband, Andy. Wee was personally invited by Senthil to preach a short sermon at the wedding, and to pray over the newlyweds. It is an invitation traditionally given to esteemed guests of the couple. 
Wee remembered feeling extremely honoured but unsure: "I don't speak Tamil and I don't know the culture. Is it even going to be meaningful?" 
But Senthil's sincerity and persistence won her over. 
Passing on the kindness
Since his baptism and subsequently his wedding, Senthil has seen his life transformed. 
God has given him the strength to kick certain bad habits, one of which was excessive drinking, he told Salt&light. He used to spend his nights after work getting drunk with friends. That has changed.
Before the pandemic, he said, he spent his time outside of work attending church services and prayer meetings as often as he could. 
He has also seen restoration in relationships with family. Previously ostracised for being public about his Christian faith in a family who subscribed to another religion, he has now seen reconciliation and healing in these relationships.
Since his baptism and subsequently his wedding, Senthil has seen his life transformed. 
Although they have not been converted to Christianity, he still "longs for the day when they are". This longing extends to his village as well.
Relating how he has started to share the Gospel with villages in his hometown, Senthil has used what he terms "the miracle birth" of his second child as a testimony. Given that his firstborn was birthed through a Caesarean delivery, it was expected for the second-born to be birthed the same way. Instead, the delivery was a natural one, leaving many in his hometown amazed. 
He also makes monetary contributions back to the church in his hometown and towards the feeding programme. He has managed to gather a few friends working in Singapore to pool together a monthly offering. All this, he said, comes from a place of "passing on the kindness and grace shown to him". 
In her 2016 TedXPickering Street Talk titled Not so hard to befriend foreign workers, Wee said that "people think that, in order to make a difference in this world, you have to do the spectacular".
"While that's true, I think there's also power in the ordinary."
---
RELATED STORIES:
We are in this together: Showing love to our foreign workers
If you have enjoyed reading Salt&Light...
We are an independent, non-profit organisation that relies on the generosity of our readers, such as yourself, to continue serving the kingdom. Every dollar donated goes directly back into our editorial coverage.
Would you consider partnering with us in our kingdom work by supporting us financially, either as a one-off donation, or a recurring pledge?
Support Salt&Light