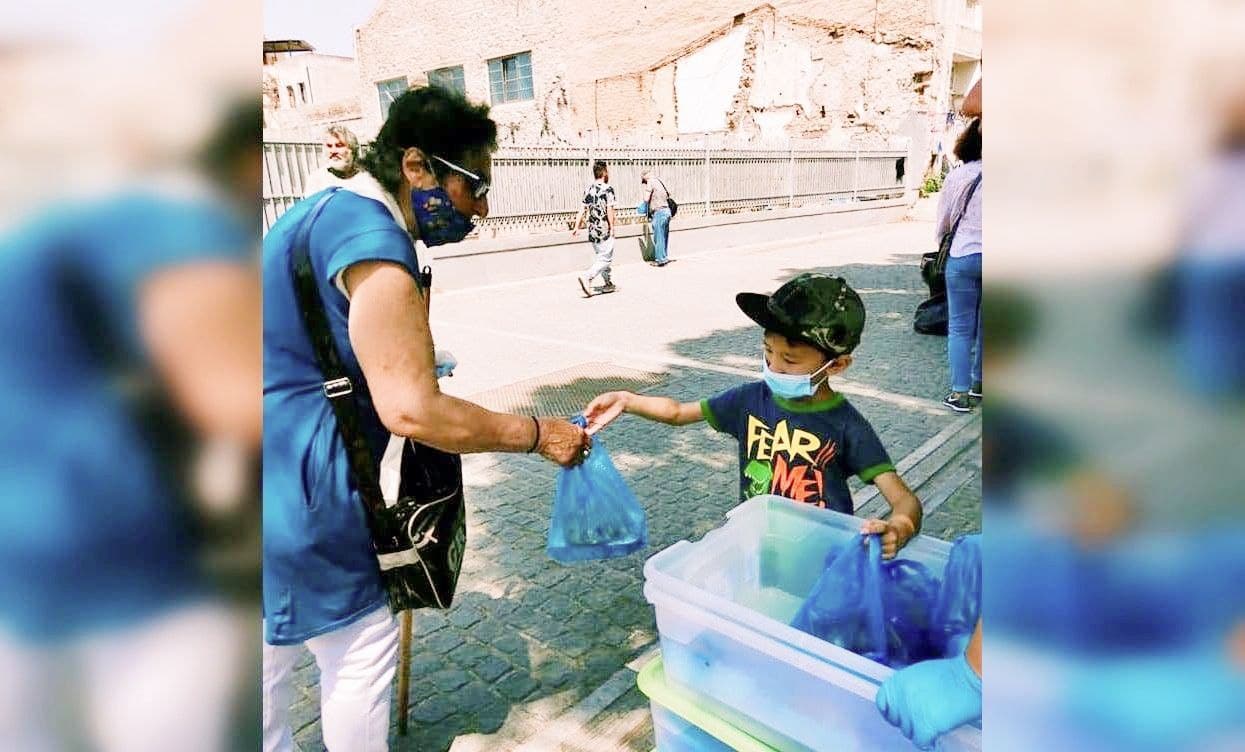 Seven-year-old Emmaus distributing food to the poor, homeless and refugees in Athens, Greece. All photos courtesy of Lim Nan.
Lim Nan was driving home after dropping his five-year-old daughter off at school early this year when he heard a simple but direct call.
"Go to Greece by next year."
Though it was void of any other details, he knew that God was calling his family not to a swanky and picturesque holiday by the Aegean Sea, but to serve refugees and the poor.
This is not our home
Seen as an entry point to Europe, Greece has granted refugee status to over 68,000 people in the past three years, according to the country's migration ministry. Most have fled violence from South and Central Asia and the Middle East.
"One day we will return to King Jesus. But meanwhile, He wants us to do important things for Him here."
Having served refugees in the Middle East for six years before their children were born, Lim Nan, 48, and his wife, Christy, 47, had developed a burden for the marginalised and downtrodden.
Though they returned to Singapore in 2013, they knew their work was not done.
So in early May, just a few months after Lim Nan received the call, the couple packed their bags, applied for a three-week leave of absence from school for their seven-year-old son and left for Athens with their two kids in tow – well ahead of the "by next year" timeline.
As a family they would spend the next two months feeding refugees and the poor, building a livelihood for human trafficking survivors and helping young refugees access online education.
"We always tell our children to be ready to move. Bishan is not our home, Singapore is not our home and neither is this world our home," said Lim Nan, a part-time associate lecturer at SIM, over video conference from Athens.
"We tell them, 'One day we will return to King Jesus. But meanwhile, He wants us to do important things for Him here. Other things are not so important.'"
"A" is for Afghanistan 
What the family of four did may be unconventional, but to Lim Nan and Christy, it is just part and parcel of what it means to follow Jesus as a family.
Lim Nan told Salt&Light that listening to the Lord and responding to Him takes precedence over things that may sometimes seem more important, such as making sure our children stay through the entire school term or sending them for various kinds of enrichment classes.
"Sometimes we are so completely tied up by the system, believing it is the only way to go. That is a problem because it means that the system has risen above our Lord," he added.
He lamented that too many children are being brought up with a "Singapore-centric" mindset that neglects larger issues around the world and Singapore's ability to make a difference.
But he is hoping to break that mould, starting with his own children.
"We want to bring up our children as compassionate, God-fearing and mature believers with a global mindset that extends beyond just Singapore," said Lim Nan.
Though Emmaus and Ekklesia are only seven and five respectively, they are well aware of what has been happening around the world – from the war in Ukraine to the plight of the refugees from countries like Syria and Afghanistan.
"When we teach them the alphabet, we tell them 'A' is for Afghanistan and share with them more about what is happening there," said Christy.
Even mundane everyday events like mealtimes are used as tools for discipleship as they remind their little ones to thank God for the food they have – and to take a step further by thinking about how they can help the hungry around the world.
"If you have any love of our Lord, you would do something."
"I ask them, 'If we are Christians, can we just eat and be happy and let other people go hungry? Cannot, right?'" said Lim Nan.
"Ekklesia's shaking her head now," added Christy as she looked at her daughter eating her breakfast across the table. 
She added: "The concern for the local and the immediate is all around us, but we must not be confined to that. There's a much bigger world out there. Just because we don't see it doesn't mean it's not there.
"We must put ourselves out there to see, so that we can feel that compassion and engage in what God is doing in us."
Teaching compassion
Over the past few weeks, Emmaus and Ekklesia have gone from just hearing stories about refugees to making friends and playing with them. 
As Lim Nan and Christy visit and serve with different non-governmental organisations, they are intentional about involving their children too.
"This afternoon, Emmaus will help me to prepare food and do a setup for the poor in the area. Earlier, we were all out in the street helping them. Tomorrow morning, he will also join me in another programme with the Ukrainian refugees," said Lim Nan.
When asked what he has learnt about refugees so far, Emmaus answered candidly: "They are people, not aliens!" And why should Singaporeans care about them? "Because they run from their countries. It is hard for them," he said.
Christy has also noticed that Ekklesia has learnt to show compassion for the homeless people that she sees on the street.
"She will say, 'Mummy, can we do something? Can we give something?'" she said, adding that the kids know to give out food bars or a piece of paper with more information on organisations who can offer long-term help.
These real-life experiences have been crucial in teaching their children about their role as followers of Jesus in a broken and unfair world, said the couple, who hope to serve refugees full-time as a family in the near future.
"Refugees and human trafficking victims have gone through horrors – rape, abuse, houses burned down. And just the sheer number of them … " said Lim Nan.
"I'm a very practical person. When you see a need, just go and do something. Don't need to listen to too many sermons, don't need to do too much Bible study – in fact I think we do too much already," he added.
"If you have any love of our Lord, you would do something."
Playing our role
The couple challenged believers to lift their eyes to situations beyond Singapore's shores and set their hearts on doing something to help out.
And if they have kids, why not bring them along too?
They acknowledged that there are real considerations and logistics to settle when bringing along young children, but also pointed out that many families put in much of such planning when it comes to family holidays.
"Why not have both holidays and trips to help the poor?" said Lim Nan, adding that being a Christian is so much more than just attending church and cell group meetings every week.
"We are all called to play our role. Our roles may be different. Some people are not called to uproot their families but we are definitely still called to serve a global and missional God," added Christy.
Lim Nan shared that when he witnesses the state of affairs in many persecuted and marginalised communities in the world, he sees the disparity between their situation and the reality of God's Kingdom, which believers pray to come in the Lord's Prayer.
He said: "We say we want to see His Kingdom come, but how can we as believers bridge that gap to bring His Kingdom here on earth?
"This is not just something for us to memorise but to do."
---
RELATED STORIES:
World Refugee Day Singapore: These Singaporeans are helping refugees worldwide – and you can, too
Sister Act: These 6 women take annual leave monthly to serve refugees and migrants
If you have enjoyed reading Salt&Light...
We are an independent, non-profit organisation that relies on the generosity of our readers, such as yourself, to continue serving the kingdom. Every dollar donated goes directly back into our editorial coverage.
Would you consider partnering with us in our kingdom work by supporting us financially, either as a one-off donation, or a recurring pledge?
Support Salt&Light