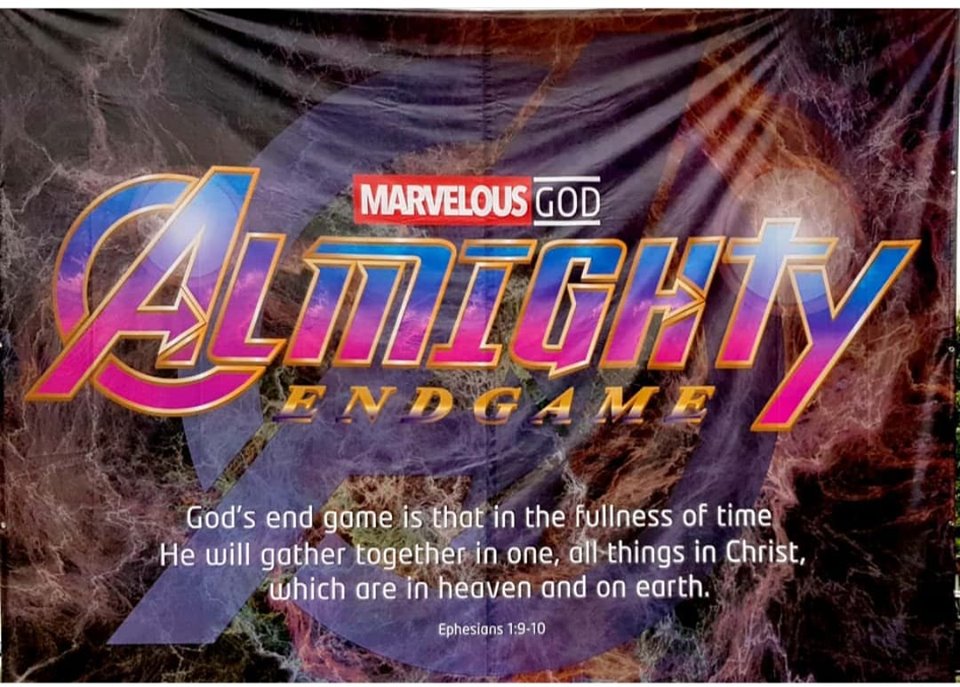 Orchard Road Presbyterian Church put up a banner on the Avengers: Endgame movie within days of the movie's release.
Proclaim and provoke. 
For a church ministry, that sounds radical and sensationalistic.
But that is as far from the truth as you can get. This creative ministry operates under strict principles and under the purview of Orchard Road Presbyterian Church (ORPC).
Situated on a small plot of land on Orchard Road between Singapore Management University and Dhoby Ghaut MRT station, the Orchard Road Presbyterian church building used to trigger memories of the infamous – and still unsolved – "curry murder" that took place way back in 1984. 
It was almost an urban legend.
Today, however, the church is known for something far happier – the large, "punny" banners that amuse and intrigue drivers and passersby at the busy Cathay-SOTA-Dhoby Ghaut junction.
Yes, it is actually a ministry – the banner ministry.
15 years ago
Strategic location was what inspired the start of the banner ministry.
When a friend suggested starting a banner ministry for outreach to capitalise on the strategic location of the church, Lim Ee Tuo, 51, was intrigued.
Lim, a member of the church and director of a kindergarten, used to work in government regulating the early childhood sector.
The ministry aims to proclaim the Word of God and provoke thought.
When his pastor, Ps Peter Poon, 61, and another church member in his 50s, Pang Siok Sen, got onboard, the ministry was ready to go.
There was a clarity in purpose amongst the three men.
Ever since its inception, this ministry has been guided by two simple goals: Proclaim the Word of God and provoke thought in the hearts and minds of those who come across the banners.
Explaining the provocative aspect of their ministry, Lim says: "Our banners mean nothing unless they capture people's attention.
 "Society today is overloaded with information. So, putting more information out there is not going to get a message across, unless there is the element of something provocative."
The banners used to be tied between two palm trees.
By the end of the first year, people were calling up the church to ask when the current banner would be replaced.
Strangers were observed taking photos of the banners (during a time when handphone cameras were not yet invented).
The team realised that they had made an impact and decided to erect metal poles on which to hang the banners.
Up till then, the banners were tied between two palm trees. But Lim shared that they "became concerned for the palm trees; we thought this would kill them".
Together, the trio has kept this ministry going for 15 years with a new banner every month. 
Pun factory
"I'm not a designer by training but I enjoy puns and doing design work," Lim shared.
They get their ideas from their observations of the world around them – the banners often reference current issues, events and seasons.
"We try very hard to put a little twist in our message. Sometimes it works, sometimes it does not!"
One of Lim's all-time favourite banner is from August 2007. It reads: "God is the Potter, not Harry."
In July 2007, the fifth movie of the Harry Potter series, Harry Potter and the Order of the Phoenix, was released in Singapore. Amidst the hype surrounding the movie at that time, the verse proclaimed was Isaiah 64:8: "We are the clay, You are the potter."
Banners get banned
The banner ministry values the responsibility that comes with their work. 
Sensational messages travel fast – they elicit emotions and responses and quickly become talking points.
However, Lim says: "We want to be responsible, and that makes life very difficult for us."
He makes it clear that they are not anti-establishment: "I might say that we are pro-government, but issues-focused."
Provocative, yet balanced.
Proclaiming the Word of God in relation to current, controversial issues takes hard work.
The team is committed to this, and Lim says that they hold each other to such high standards that their brainstorming sessions are "ruthless".
Their brainstorming sessions are "ruthless".
Thankfully, there is great respect for each individual within the team which cradles the harsh feedback that is common in creative work.
Lim remembers one such comment: "We are not here to print pretty little bookmarks, you know."
However, not every design gets to see the light of day.
The second layer of accountability lies with ORPC's church leadership where their banner designs are audited by the church.
Lim admits that the team can get "very cheeky" in terms of commenting on current affairs and that, in submission to authority, they do sometimes end up going back to the drawing board for something less "edgy".
Timing and stand
"Balanced" and "responsible" does not mean that the team shies away from controversies.
The banner that went up at the start of September read: "Come home. Life is certainly not all rainbows and unicorns. The world needs God's grace and love."
The team can get "very cheeky" when commenting on current affairs, but they submit to the authority of church leadership.
Accompanying this was Psalm 34:18: "The Lord is near to the brokenhearted and saves the crushed in spirit."
This was a banner which the leaders had considered canning … but eventually approved.
The timing of the banner was uncanny – no one foresaw the national discussion surrounding the issue of Penal Code 377A that would arise from India's decision to decriminalise gay sex on September 6, 2018.
While there was no pushback from the public, which was a relief for Lim's church leaders, Lim hopes that people who see this will recognise their position as a proclamation of God's heart for the broken-hearted.
However, Lim admitted sheepishly that the lack of pushback was a bit of a disappointment.
"We may do a second one," he says with a laugh. 
At the end of the interview, Lim says they are keen to see more people come alongside them to serve together. "We want to hear from people who have the right skillsets and feel the desire to serve in this ministry – be it a talent in copy-writing or with an interest in design work.
"This does not just belong to our church, but it is something that the larger body of Christ can, and should, play a part in."
It is a low-profile ministry – which Lim likens to the thankless task of mopping the floor – but it is not unfruitful in its proclamation of the Word of God (Isaiah 55:11).
It fulfils a crucial task – as in Romans, when Paul challenged the people: "How can they believe in the one of whom they have not heard?" (Romans 8:14-15)
Provoking thought in the minds of passersby along bustling Orchard Road, this banner ministry is one of beautiful feet: "How beautiful are the feet of those who bring good news!" Romans 10:15
If you have enjoyed reading Salt&Light...
We are an independent, non-profit organisation that relies on the generosity of our readers, such as yourself, to continue serving the kingdom. Every dollar donated goes directly back into our editorial coverage.
Would you consider partnering with us in our kingdom work by supporting us financially, either as a one-off donation, or a recurring pledge?
Support Salt&Light