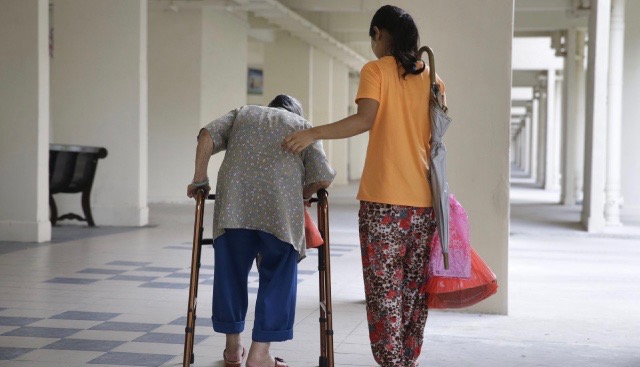 Foreign domestic helpers, too, have been affected by the Circuit Breaker as they have to forego meeting up with friends on their days off. Photo from hagar.org.sg.
Even as Singaporeans wrangle with the challenges of being cloistered at home for weeks, another group of people has been facing increased stress and cabin fever.
Many foreign domestic helpers have had to forego meeting up with friends and going to town on their days off, even before the Circuit Breaker started on April 7, as employers kept them at home for fear of the coronavirus spreading.
In an interview with Salt&Light, president of the National Council of Social Service (NCSS), Anita Fam, expressed concern especially for caregivers, including domestic workers, who take care of people with disabilities or mental health conditions, as they have "no respite" or help during this stay-home period.
"I cannot imagine the stress that they are going through at this time," she said.
How are we caring for our foreign domestic workers (FDWs) in these difficult times?
Salt&Light spoke to three people who are shepherding Filipina helpers spiritually and providing them with fellowship and a listening ear, lockdown or no lockdown.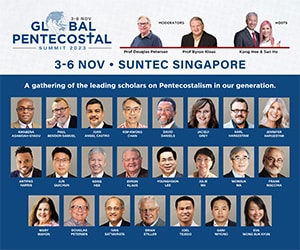 Grace Teng: Studying the Word at home
Every Thursday morning, when their morning chores are done, three Filipina helpers take out their mobile phones. They meet virtually for a hour with Singaporean neighbour, Grace Teng, 61.
The Filipinas work for a three-generational family who live in three separate units in the same condo development. The trio used to meet around Grace's dining table in pre-COVID days. 
Their arrangement started last October when Grace was asked by her neighbour and good friend, Loh Lay San, if she would follow up with the helpers who had recently received Christ. "Because I don't have a domestic helper, she said I was a neutral person. It is harder for an employer to conduct Bible study for her own helpers," Grace told Salt&Light. 
"Requests for prayers usually revolve around patience and for their families back in the Philippines."
Their employer set one ground rule: No complaints about their bosses, so that it wouldn't become a platform for venting about challenges in their households. Especially if other helpers in the condo join their study group in the future. So the session is spent concentrating on the Word of God.
Requests for prayers usually revolve around "patience" and for their families back in the Philippines.
"They are worried. The Philippines is very big, it's not like Singapore. And the medical facilities there are not that great," says Grace. 
Lay San gifted each helper with an ESV Bible. Their grasp of English varies, but the trio chose the English version over Tagalog as they come from different regions and speak different dialects. 
Grace familiarised the three ladies with the books in the Old and New Testaments and gave them a brief history of how the Bible came about. She's encouraged them to do Quiet Time and is heartened that the ladies do their homework, preview chapters and memorise verses before meeting each week.
"They are wonderful, open-hearted and very willing to learn."
The group has finished workbooks from The Navigator's series, which Grace says are "quite easy for new believers to fill in the blanks". They included "Lessons on Assurance" and "Lessons on Christian Living", and they are now starting on the Gospel of John. They move at a measured pace of one lesson over two weeks.
"They are wonderful, open-hearted and very willing to learn," notices Grace. They are also willing to help each other; it helps that they work for the same extended family. 
"They ask questions, which shows that they are thinking about the lessons. Just the other day, I brought in Psalms 139:14-17, about how we are beautifully and wonderfully made. One asked the good question: 'But what about those who are born deformed?'" 
"I am so thankful because I am the one who gets most encouraged."
Their command of English has also improved. Grace would help the oldest of the trio, in her 40s, fill in the blanks as she found it more difficult to understand the words. She also looks up words on her handphone to offer alternative words.
The helpers are able to relate to Grace, who shares that she sings verses from the Bible, such as "Seek ye first the Kingdom of God" (Matthew 6:33) when peeling vegetables or washing the dishes. "They see me taking down the rubbish. They see me carrying NTUC bags from the bus stop."
Grace has been a full-time stay-home mum giving tuition from home for the last 20 years. "Lay San didn't know I had asked God for an opportunity to be involved in foreign workers in some way.
"I think God handed me this opportunity on a plate. I am so thankful because I am the one who gets most encouraged."
Pastor Jingle Cortes: Shepherding her flock online 
"Filipinos are very communal people," says Ps Jingle Cortes, pastor of the 120 or so strong Filipino Ministry at Bethesda Bedok Tampines Church (BBTC Filipino).
The last few months have been especially hard on foreign domestic workers who make up 60% of the congregation, as they have had to stay home on Sundays during the Circuit Breaker period.
"So if we do not come out of the house from Monday to Saturday, we really look forward to Sunday. It is about community," said Ps Jingle, herself a Filipina.
During the early days of the coronavirus, when worried employers started keeping their helpers at home, BBTC Filipino leaders would visit domestic workers who were permitted by their employers to have visitors. These FDWs only formed a handful. 
"If we do not come out of the house from Monday to Saturday, we really look forward to Sunday. It is about community."
Then social visits and all church activities including Sunday Fellowship lunches were prohibited. Training sessions from "101s for new believers" to leadership courses were put on hold. This included The Significant Woman study, which helps women from all walks of life realise their significance. 
However, baptism classes and training for cell supervisors are running online in March and April. 
The Sunday service also went online. It now has over 1,000 views weekly. "Members share them with relatives, friends and former classmates in the Philippines and other countries," said Ps Jingle, who leads the Filipino service.
Because of COVID, leadership has been decentralised and empowered to encourage maximum participation. Ps Jingle has formed clusters of two to three cell groups, with each cluster headed by a cell supervisor. Each cell group is led by a core team of three. 
"Two weeks ago, the mother of one of our worship leaders in Hong Kong accepted the Lord when we premiered our first online service."
The BBTC Filipino service has nine cell groups. Seven of them are made up of domestic helpers. Each cell has 10 to 20 members. 
The Filipino Ministry is "very intentional" about discipling its members. It has a "pyramid structure of leadership, with about 80% or more of members involved in ministry and leadership". 
Online prayers and devotions have been intensified. Most cell groups do this daily, with salvations seen.
"Last week, one cell supervisor ministered to two people online. One accepted the Lord. The other one rededicated her life. Two weeks ago, the mother of one of our worship leaders in Hong Kong accepted the Lord when we premiered our first online service."
The church's main communication is through WhatsApp. But it is social media that provides their pastor with an insight into "what is happening in their hearts and minds" of her flock. "They love to post on Facebook. So I go there to see how the ministry has affected them, or if the message has made a difference in their lives."
Audrey Lai: Caring for special needs caregivers
At 9pm on weekday nights, when their duties are done for the day, a group of Filipina caregivers to special needs kids take to Messenger for a group chat study.
The carer of these carers is Singaporean grandma, Audrey Lai, 73, aka "Lola" (grandma) to her Filipina friends. Their  charges all go to the same special needs school where Audrey's grandson is also a student. 
Pre-COVID, they would meet at a public sky garden in Dawson once a week to study God's word after settling their charges at school.
The carer of these carers is Singaporean Audrey Lai, 73, whom her Filipina friends call "Lola" (grandma).
They are nourished by a workbook from Fruit of the Spirit Bible Studies by Phyllis J Le Peau, Kindness: Reaching out to Others. "They read a passage, then answer the questions – very simple, commonsense ones. No one answer is right or wrong. It depends on your perspective. God is so creative," says Audrey.
"The workbook is very personal, and easy for them to do and read on their own. There is no pressure on those slower to respond because some may have a heavier load of chores," says Audrey. Those who need more help, or a listening ear, phone or text Audrey who counsels them personally.
Pre-COVID, they would spend some four hours waiting near their charges at school in case they need to attend to them.
Now, in the period of Circuit Breaker, the school is closed. The Filipinas, who are unable to go out on their days off, continue to care for their charges who have daily schoolwork at home, guided by the teacher online. The helpers see to the needs of the entire family and have to find ways to allow their special needs charges to expend their energy without upsetting the neighbours.
Audrey says other Filipina caregivers who would like to join the group may email her at [email protected].
"Go home healthy, minister to your families and share what God has done."
When their time in Singapore is up, Audrey is able to connect them to churches that she and her husband Harry planted in the Philippines in 2001.
The pastors of the church were once domestic helpers in Singapore.
In an earlier interview with Salt&Light, Audrey had shared how her group had started with a dream. 
Cristin Talastas, a veteran Filipina caregiver who had worked in Singapore for more than two decades, had first seen Audrey in a dream.
"I had a dream of an old lady, and the Lord said to ask her to pray for my son. When I went to school, I saw Auntie Audrey sitting in the corner and I said, 'I think I dreamt about you, can you pray for my son?'" 
Audrey prayed along with Cristin until her son in the Philippines had the breakthrough he was seeking.
Audrey's motherly concern for her flock is a soothing balm to these sometimes lonely, often stressed, women and mothers who are far from home and family. 
She tells them: "You are not sold to us, you are not slaves for us. Money is not the end of everything. We don't want you to go home sick. Go home healthy, minister to your families and share what God has done."
"Whatever the law states, we must do better": Employers who cook for their sick helpers and pay for husband's airfare because "love begets love"
Who cares for the caregivers? 70-year-old Auntie Audrey does
If you have enjoyed reading Salt&Light...
We are an independent, non-profit organisation that relies on the generosity of our readers, such as yourself, to continue serving the kingdom. Every dollar donated goes directly back into our editorial coverage.
Would you consider partnering with us in our kingdom work by supporting us financially, either as a one-off donation, or a recurring pledge?
Support Salt&Light