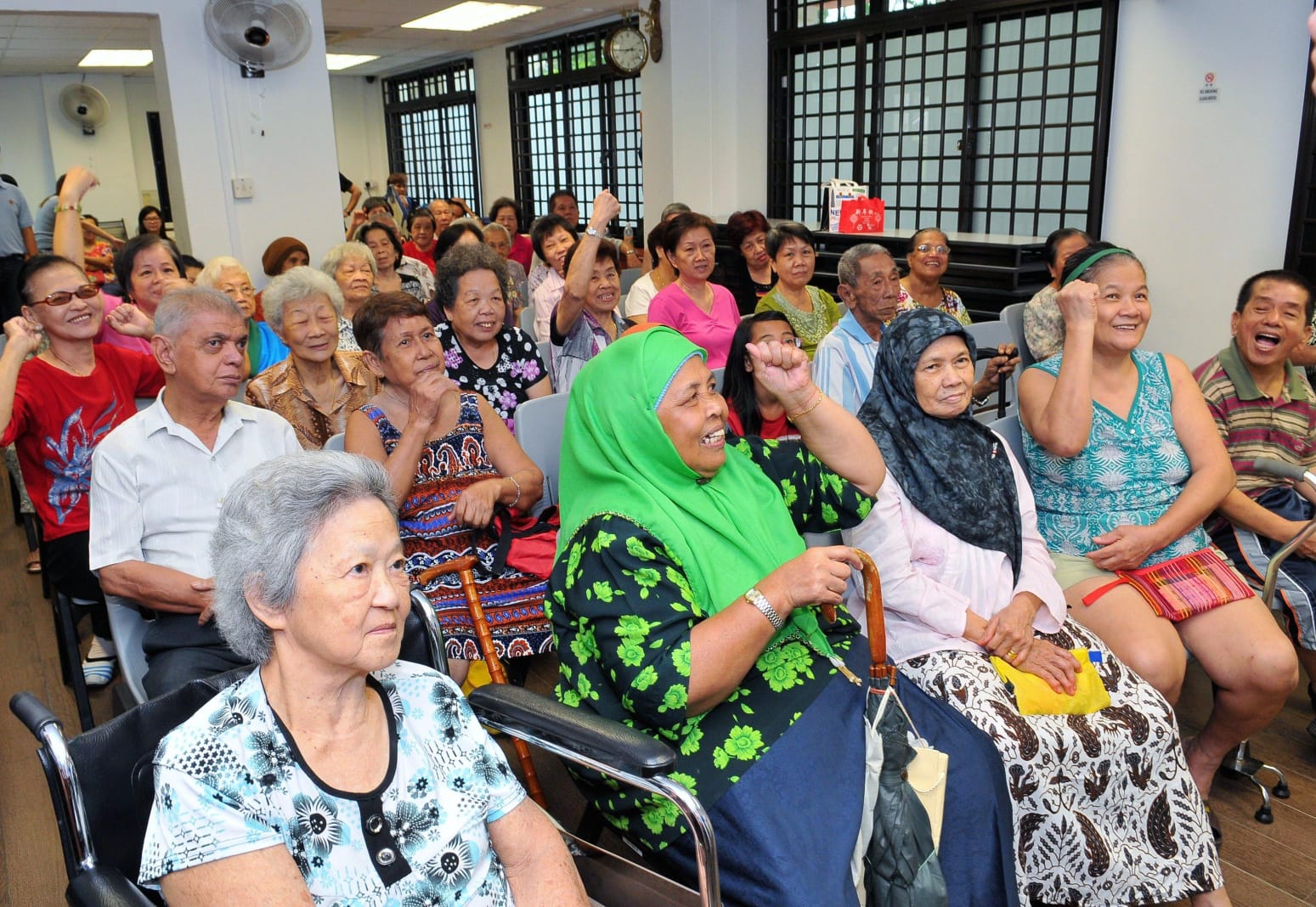 Setting up Active Ageing Centres (ACC) is one of the ways Fei Yue cares for the elderly. The NGO is raising funds to continue honouring the "invisible" as it celebrates its 30th anniversary. Photo courtesy of Fei Yue.
Early in her career with Fei Yue, Amiyan Tiiong, 35, met an elderly lady who moved her to tears.
The incident left such an impression on her that, 11 years on, the senior executive at Fei Yue's Active Ageing Centres (AAC) still remembers the woman.
"I had to do a lot of home visits then and we would knock on doors to ask the elderly in the area to join us for our activities at the void deck.
"This aunty opened the door and when I told her about us, she started to cry. I was shocked and asked her what I could do for her.
"She said just one thing. She said, 'You don't even know me, yet you would visit me.' I hadn't done anything for her yet but she was already so moved.
"It made me realise that what I was doing was very meaningful."
"I want to give them hope, so that they can live out their golden years with hope."
Tiiong never imagined she would ever be involved in social work, much less work with the elderly. Her degree in Taiwan had been in broadcasting.
The Malaysian had hoped to come to Singapore to work with its national media network, Mediacorp. Instead, she got offered a job at Fei Yue to engage the elderly through programmes, befriending them and helping with referrals to other care services.
"I find the elderly very lovable. I believe they need to have the good things in life.
"I want to not only provide services to them but also to give them hope so that they can live out their golden years with hope."
That is not to say that Tiiong has never thought of a career switch.
"Every few years, I will ask God, 'Is it enough? Can I leave?'"
She never got an answer. But one day, in her 11th year with Fei Yue, she woke up at 5.58am.
"God spoke to me and asked me to get up and pray. I was sleepy and didn't feel like it. I kicked off my blanket in frustration but I got up.
"I didn't know what to pray about, but I just prayed."
The next day, she woke up at exactly the same time.
"God asked me to get up and pray again."
On the third day, nothing happened. But at the end of the day, while she was on her way home from a discipleship class, Tiiong felt God tell her that if she wanted to leave her job, she could.
"I cried all the way home. That was when I realised that I didn't really want to leave.
"My heart was not ready even though I thought I was ready. So, I think that was God's answer to me."
Work that moulds character
The work at Fei Yue has been humbling.
Once, new on the job, Tiiong was berated by an elderly man for going too fast when she was teaching them how to use the computer.
"He scolded me in front of everyone. I had to keep my cool and not show my emotions because I didn't want to embarrass him. 
"Afterwards, everyone told me not to mind him, that this was what he was like. But the more they comforted me, the worse I felt."
Totally discouraged and thoroughly embarrassed by the public putdown, Tiiong was on her way home when her supervisor texted her.
"It has made me more patient, seeing things from their point of view."
"He simply said, 'Jesus was once a teacher, too.' And I thought, 'Jesus taught people God's Word and yet they betrayed Him'.
"Here I was, only teaching the elderly and I hadn't even done it for that long. What did I expect? I told myself not to be so petty and not to take things to heart.
"My tolerance grew as a result."
Since then, Tiiong has learnt to slow down. Now, she allocates two days just to teach the elderly how to use the mouse.
"You would think it would be so easy to use the mouse, just right click or left click. But, for the elderly, it's a challenge.
"Their eyesight is bad, so they can't see the cursor. Their hands can't grip the mouse properly. Their hearing isn't so good so they don't always get what you say, not because they don't want to, but they can't.
"It has made me more patient, seeing things from their point of view. If not for this job, I would have been a lot more impatient."
The work has also been heartbreaking. On more than one occasion, Tiiong has had to arrange for funerals for the elderly because they had no family.
""I was a bit scared but also very sad. I know these people. I see them more often than I see my parents."
"I had to collect the body of an elderly man who had killed himself. The police called us because he had no next of kin and no one had come to claim his body for two weeks.
"I was left to identify his body because I knew him."
The normally cheerful and helpful man, who was always ready to help the Fei Yue staff arrange chairs for their activities, had received bad news about his health. It had devastated him. 
"I was a bit scared but also very sad. I know these people. I see them more often than I see my parents.
"It made me realise that I didn't really know what was going on inside. I only knew him on the outside and it was such a pity."
Spirit of giving
It is for work such as Tiiong's and more, that Fei Yue has embarked on a fundraising campaign that will run till July 31. The campaign celebrates Fei Yue's 30th anniversary this year.
"When all of us begin to reach out to love others, we become other-centred." 
Fei Yue's Toast to 30 aims to raise S$250,000 for its essential initiatives including its Early Intervention Programme for Infants and Children (EIPIC) which enables children with special needs from low-income families through occupational and speech therapy as well as AAC. This will help over 1,500 beneficiaries.
Kicking off the fundraising drive was the charity premiere of the inspirational movie The Ride starring actor and rapper Ludacris at Capital Tower on June 16. CapitaLand was the venue sponsor.
Said Speaker of Parliament and Guest-of-Honour, Tan Chuan-Jin, as he urged everyone to not only give donations but also to volunteer their time: "I believe that when all of us begin to reach out to love others – to have compassion, empathy – we become other-centred, and that's when society begins to truly change."
Two online passes to the movie ahead of its premiere in local cinemas will be given to donors for every S$100 donation. The movie can be viewed on Salt Media & Entertainment's streaming service, SMIX, for up to three months after the issue of the passes.
In addition, Fei Yue has collaborated with five local F&B social enterprises – Soul Food, The Social Space, The Social Kitchen, Foreword Coffee Roasters and Pope Jai Tai. Foodies can opt to receive meal vouchers redeemable at these outlets for every S$150 they donate.
Both the online movie passes and the meal vouchers can be gifted to Fei Yue beneficiaries in a pay-it-forward move to share some cheer.
Fei Yue has also lined up other ways for donors to give. There is a charity art auction of a collection of 15 art pieces from Sound of Art. The auction will be on till the end of the month. 
Sign up for virtual roundtable conversations over a meal with leading start-up investors and technology leaders at #Makanforhope Festival 2021. The investors and leaders hosting the sessions have committed to match at least $1 for every $1 raised via ticket sales.
The Big Bake-Off is the effort of six home bakers who have put together care packages that donors can send to seniors living in rental flats. 
There are specially designed Freedom Mask face masks that feature the artwork adapted from a Paravanda Nelson Mandela Orchid painting by artist Glacy Soh. 
The technology behind the material of the mask was developed with A*Star Singapore. Priced at S$35 each or S$70 for a pair, the mask has reinforced high filtration and is water repellent, breathable and environmentally friendly.
"We've seen that the spirit of giving remains strong in Singapore's society."
So far, over S$135,000 has been raised thanks to more than 200 donors, including those in the business community.
Said Leng Chin Fai, Deputy Chief Executive of Fei Yue Community Services: "We believe that everyone can have a part to play in helping to build a stronger and more equitable society.
"It is truly heart-warming to see how the community has come together to help the underprivileged and vulnerable members of our society, especially when many themselves are going through difficult times.
"Through our fundraiser, we've seen that the spirit of giving remains strong in Singapore's society, and we thank you for your continued support in helping us help those who need it most."
The ones who matter
Fei Yue has even become a second home to those like Sim Hwai Lin, 69. Sim lives with her godsister in a rental flat and relies on her for the day-to-day errands.
"I have no strength in my legs now. Since my operation, the muscles have been getting weaker.
"When I walk, I'm very clumsy. I can't even walk to the bus stop. So she helps me buy my lunch and dinner and takes me to see the doctor."
Once an executive in charge of housekeeping at a hotel, Sim retired over a decade ago because of her weakening legs. She has had to give up dancing as well, a hobby she used to love.
Her godsister works long hours and, were it not for Fei Yue's Senior Activity Centre at the void deck of her home, Sim would have no one with whom to interact.
"God has always been there for me. He is really a living God."
"It's nearby and convenient. They have parties, dancing, and games – many things that make seniors very happy. And the people are very nice, very concerned about me. I made a lot of friends there.
"When I am bored and have nowhere to go, I go down to the centre and see what they have."
The centre also has morning exercises as well as singing and computer classes, offers financial help and conducts visits to check up on the well-being of the elderly in the area.
Sim had the chance to hear the Gospel through Fei Yue. Volunteers from a church visit the Senior Activity Centre every two weeks and eventually invited Sim to church.
Now, they ferry her to and from church every week. This year, Sim got baptised.
"Jesus has helped me a lot. I'm very touched. I don't know how to express it. When I was homeless, I prayed to him to provide a rental home. Within two to three months, I was given one. The wait is usually two to three years long.
"I pray before I go to sleep and God has always been there for me. He is really a living God."
---
RELATED STORIES:
"Don't lose heart in doing good", urge charities facing plummeting donations and isolated beneficiaries
Encourage frontliners, friends with a $1.80 hot drink treat: Ya Kun Kaya Toast's latest "pay-it-forward" effort
"Wrong timing" did not stop this architect couple from launching Neighbours for Life for the needy
If you have enjoyed reading Salt&Light...
We are an independent, non-profit organisation that relies on the generosity of our readers, such as yourself, to continue serving the kingdom. Every dollar donated goes directly back into our editorial coverage.
Would you consider partnering with us in our kingdom work by supporting us financially, either as a one-off donation, or a recurring pledge?
Support Salt&Light