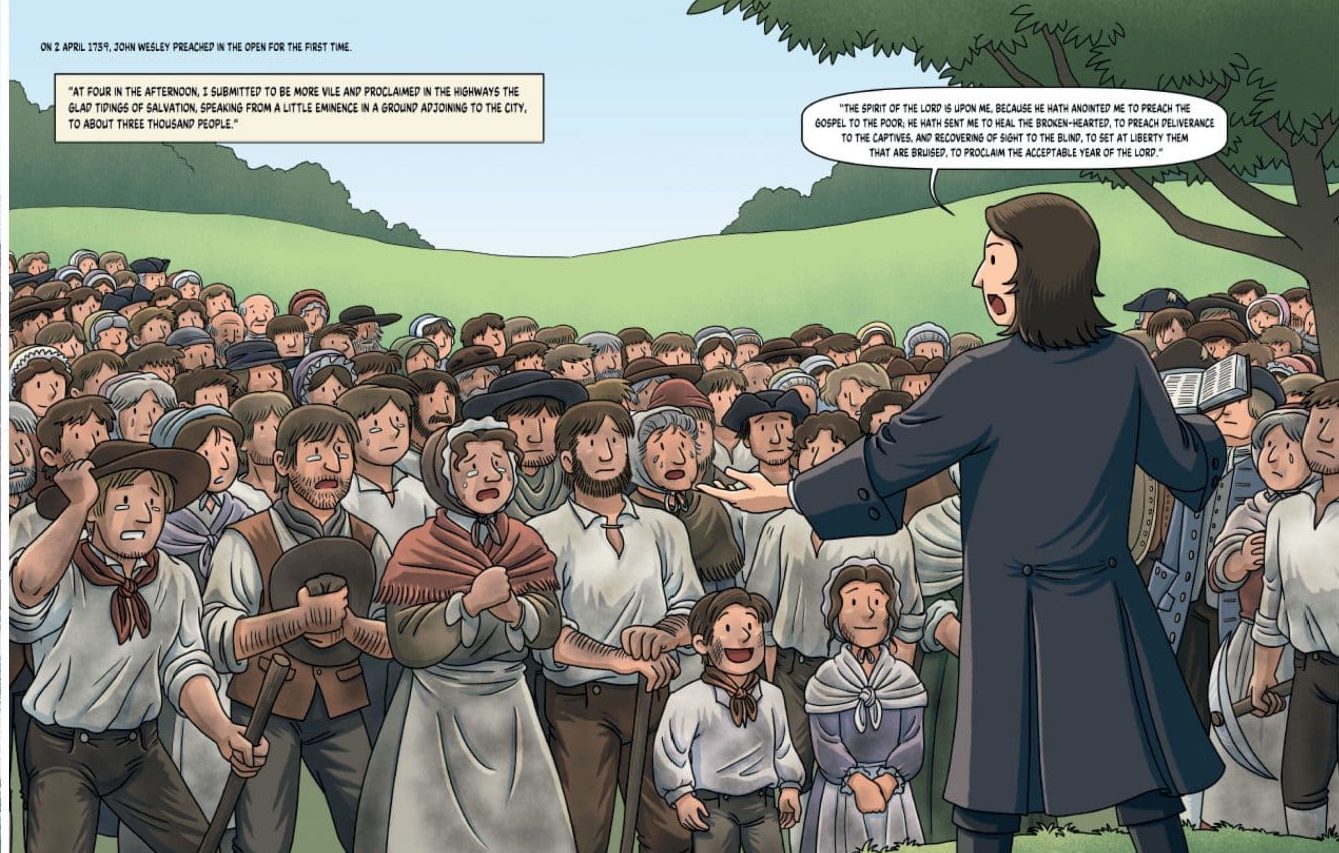 Those interested to learn more about the life of Methodist founder John Wesley, how Methodism was founded and how it arrived in Singapore can now do so through a new 98-page graphic novel commissioned by the Methodist Church in Singapore (MCS).
Written and illustrated by 44-year-old artist Favian Ee, John Wesley: The World, My Parish was initiated by the MCS General Conference Council on Communications to provide a refreshing and accessible way for people to learn about the life and ministry of John Wesley, said MCS in an article on November 1.
Distilling John Wesley's life
Favian, who said he did not really know much about John Wesley prior to this book, prepared for his task by doing in-depth research and reading up on the Englishman's life.
A consultancy team comprising representatives from the MCS Council on Communications and local clergy also provided him with feedback and helped him to fine tune the facts and details.
The book, which took about 18 months to write and illustrate, includes details about Wesley's family history, the encounter with the Moravians, the start of his ministry and the arrival of Methodism to Singapore.
Seeking to present John Wesley in a convincing manner, the former visual effects artist also chose to highlight events in the clergyman's life like his crises of faith and his romantic troubles.
"I wanted to show that he was human and relatable," Favian, an avid reader of biographies, told MCS.
He also did extensive research on what the clothing, hairstyles, architecture and furniture looked like in 18th century England and took great care to depict them authentically, as well as retained the style of old English that was used during that time.
Said Favian to MCS: "This project gave me a better appreciation of John Wesley as a man. His sense of humour, his failings and achievements. He held himself to high standards and called people to holiness."
A refreshing and accessible read
Speaking on the book, Bishop Dr Gordon Wong told MCS: "The plethora of historical information and research about our founder makes for daunting reading, but an inspired comic such as this presents his life in a refreshing format that is more accessible and enjoyable to read."
Trinity Annual Conference President Rev Stanley Chua added that he hoped that "this graphic novel (would) help all Methodists to remember who  we are and whose we are so that we (would) continue to be a salt and light to our nation and beyond like the early Methodists".
---
Find out more about John Wesley: The World, My Parish here. The book, available at $20, can be ordered online and collected at any local Methodist church.
---
RELATED STORIES:
Things you never knew about the Methodist Church in Singapore (or your pastors)
Methodist Church marks 135 years in Singapore with acts of love
Come back, Neighbour: A Methodist reflects on 135 years of God's faithfulness
If you have enjoyed reading Salt&Light...
We are an independent, non-profit organisation that relies on the generosity of our readers, such as yourself, to continue serving the kingdom. Every dollar donated goes directly back into our editorial coverage.
Would you consider partnering with us in our kingdom work by supporting us financially, either as a one-off donation, or a recurring pledge?
Support Salt&Light