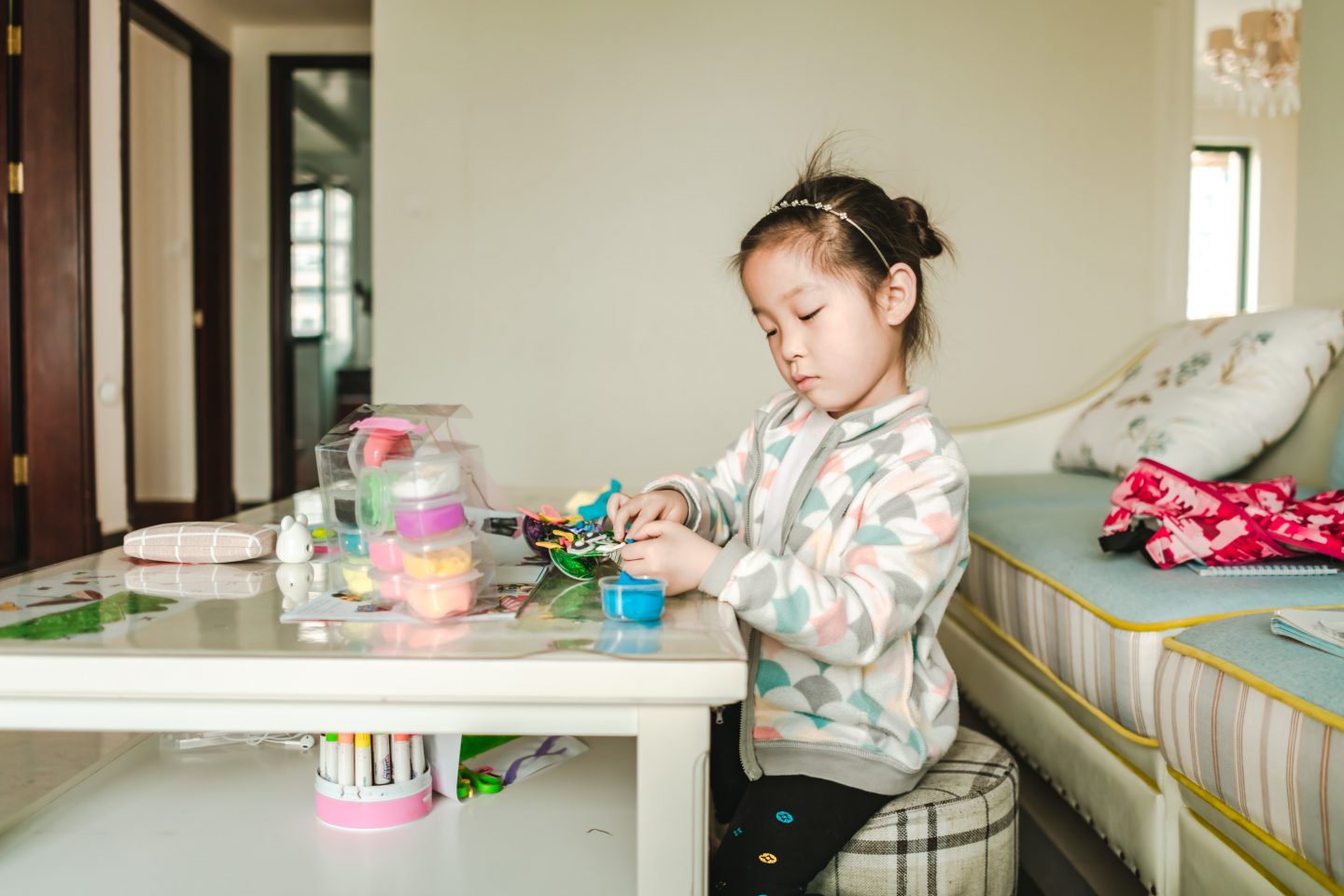 Photo by Jerry Want on Unsplash
As the third week of the Circuit Breaker draws to a close, parents may be wondering if there is anything new to do with their under-sevens.
To keep the little ones entertained (not to mention keeping parents sane), Focus on the Family Singapore's Family Life Specialist Skye Tan suggests "daily physical activity that will help burn off their energy, whether it's an obstacle course set up at home or doing a home workout. Pre-schoolers also typically enjoy sensory play".
The good news: Under-sevens may have a short attention span, but they also love to do what they enjoy over and over again. So there's no need to stress out over having new activities all the time.
Here are more ways to educate, entertain and engage your pre-schooler.
1. Read-aloud to engage with books and each other
Former banker and now stay-home dad Alex Tee has three children aged eight, seven and five. He knows full well what it means to keep his brood occupied because he has been home-schooling them for two years.
It's an abiding habit that is so pure and so enjoyable as a family.
One family practice Tee firmly holds to that he thinks can be an excellent Circuit Breaker activity is Read-Alouds. He spends 20 minutes a day reading out loud to his children.
"It's an abiding habit that is so pure and so enjoyable as a family. It engages our minds, knits our hearts and nourishes our minds with noble and beautiful ideas," he enthused.
Tee is careful to select books that bring out values, and qualities of wisdom and courage.
"It becomes a platform to discuss ideas," said Tee.
Pre-school age and younger is considered the most important time for imparting values. Science news website Life Science reported in 2010 on a study that suggested that personalities are largely set for life by first grade or age six.
One book that can help parents share and shape good values that will form personalities is the newly launched children's book Meme the Monkey Wins in Life.
Written by local author Joanne Lim, the book tells the tale of a little monkey named Meme who does not excel in exams but learns that there are other ways to win in life. Through Meme, young readers are encouraged to rethink their idea of success and move away from using conventional measures such as grades.
E-versions of the book can be bought on the website where there are also Meme the Monkey activities.
2. Watch shows that appeal to the whole family
Watching programmes together is another way to bond as a family. The issue is that there is a dearth of family viewing shows.
That is why founder and CEO of local media company Salt Media & Entertainment, Sherman Ng, started streaming service SMIX.
SMIX offers wholesome and inspiring entertainment for the whole family ranging from faith-based to non-faith-based blockbusters, independent films, television shows, documentaries, children's programmes and non-governmental organisation (NGO) features.
Try Storm Boy for a movie for the whole family. It stars Oscar winner Geoffrey Rush as a retired businessman haunted by images of his past he cannot explain.
There is a post-Easter sale now and titles are going at half price.
3. Allow for messy games
Young children do not have high expectations when it comes to play. Anything that expands their energy, leverages their natural curiosity and incorporates some competition is considered fun for them.
So, bring out those old school games you used to enjoy which require little preparation – indoor scavenger hunt, obstacle course with household items, hide and seek.
Lucian Teo, a father of two boys aged 12 and seven, and a girl aged 15,  recently created an impromptu indoor basketball game that occupied his sons for over an hour during the Circuit Breaker.
"They were upset that we had thrown away an old basketball hoop and complained about how they would not be able to get a replacement at this time," Teo recounted.
Set up a play area and bear with some mess.
To show them that all it took was a little imagination to have fun, Teo balled up a piece of paper and challenged his sons to toss the paper ball into a bucket and then into a water bottle.
"It became a form of exercise as well because we had to squat to pick up the ball," he said with a laugh.
That rousing session was followed by a round of home-made golf using the paper ball and a paper towel holder, and the same bucket turned on its side.
Added Tan from Focus on the Family Singapore: "Set up a play area and bear with some mess. Allow them to play with slime, Play-Doh, kinetic sand, coloured rice.
When all else fails, go to the bathroom, give them washable finger paint and let them paint the walls or (prepare) a bubble bath in a shallow tub and let them play."
4. Bring exercise indoors
James Ong, co-founder of training and consultancy company, Three Cords, admits that since the Circuit Breaker measures were put in place, what his young family missed the most was outdoor play.
"We enjoy walks in the parks where the children would collect leaves and twigs or look at the flowers.
They would also run around, cycle or kick a ball about," said Ong.
Now that going out is no longer possible, Ong keeps his two older children aged two and five active with simple indoor workouts comprising star jumps, short relays and bouncing ping pong balls with a bat.
"They sweat buckets after that," he said.
5. Create something meaningful
There are plenty of YouTube videos and social media posts that teach all sorts of craft as well as provide easy recipes to try.
But if you want to make your craft work more meaningful, go to the Bible Society website where you can sign up to make encouragement cards for those battling in the frontlines during this COVID-19 outbreak.
6. Turn chores into family fun
CEO of Dads for Life and the Centre for Fathering, Bryan Tan, uses household chores and responsibilities to both occupy his three children and foster co-operation amongst them.
"It's all hands on deck at home when it comes to meals and household chores. We prepare the meals as a family. They learn to clean up after themselves, make their own breakfast. We find ways to get them involved," he said.
The oldest, who is 10, is also in charge of entertaining his siblings aged six and four in the afternoons during the Circuit Breaker period.
7. Do Sunday School at home
You can learn about God as a family, too. Christian resource website The Treasure Box has put up children's church programmes and videos as well as downloadable materials for parents, so you can take over your children's Christian education quite effortlessly.
New streaming service with wholesome shows launched by local media company
If you have enjoyed reading Salt&Light...
We are an independent, non-profit organisation that relies on the generosity of our readers, such as yourself, to continue serving the kingdom. Every dollar donated goes directly back into our editorial coverage.
Would you consider partnering with us in our kingdom work by supporting us financially, either as a one-off donation, or a recurring pledge?
Support Salt&Light