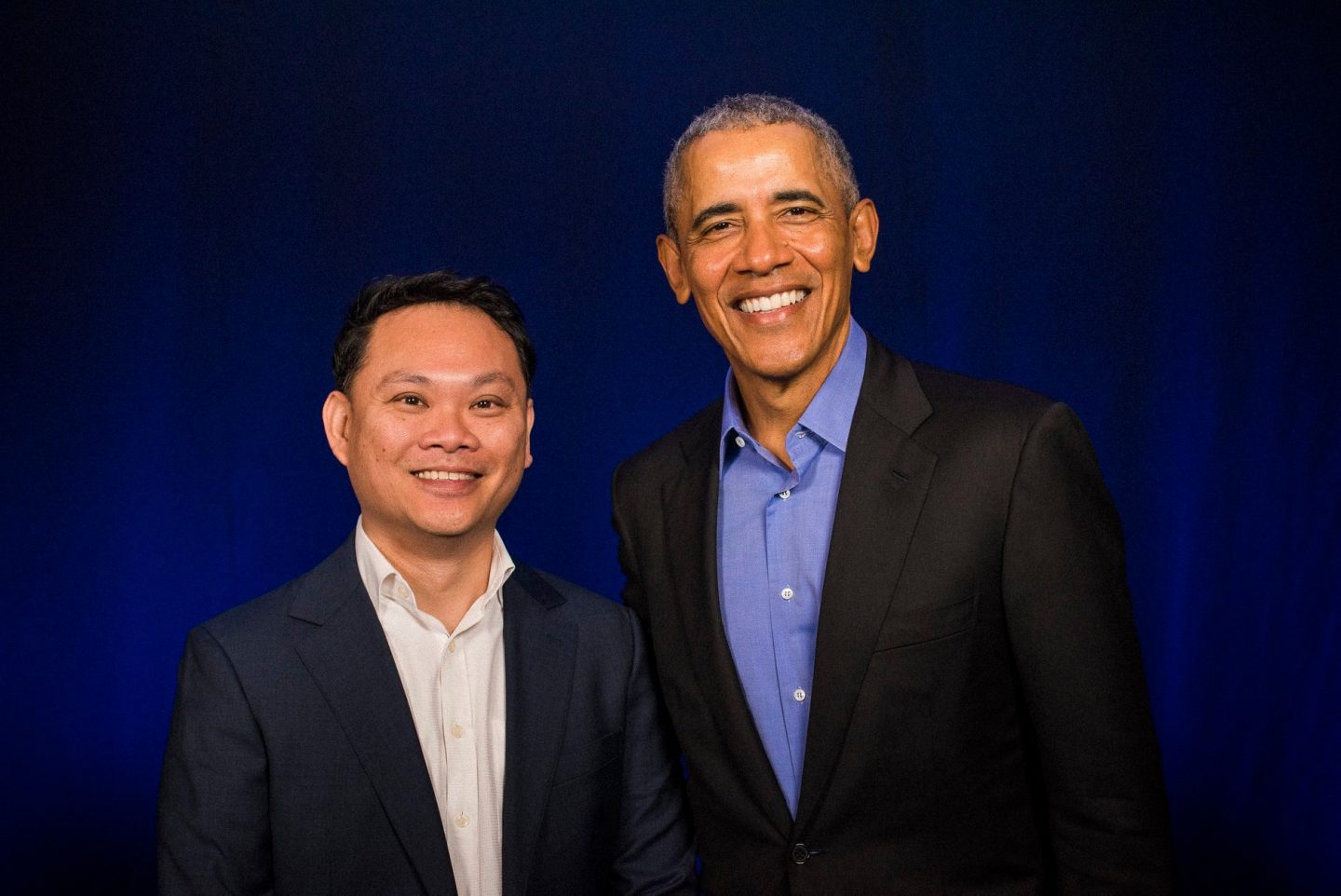 Jeremy had an exclusive opportunity to meet former US President Barack Obama last year as part of a business coach network. All photos courtesy of Jeremy Han.
Former English and Humanities teacher Jeremy Han has been seeking for the purpose of both the minutiae details and significant events in his life ever since his father died when he was 14 years old.  
It was a series of unexpected deaths that shook him. While on a business trip, his father had a stroke in the night and did not wake up from his slumber. His father's best friend had also died in his sleep shortly before that. His uncle also passed on while playing golf during that time. All three men, who were in their 50s, affluent and had successful careers, often hung out together since their university days.  
Their sudden departure made Han wonder what he needed to do with his life before he goes to meet his Maker.  
In 2007, at the age of 32, he believed he had discovered the specific calling for his life.  
It was to turn the hearts of businesses to the needs of the poor.  
He had reached this conviction after a series of life experiences, including a time when he bargained with God.  
Since his teenage days, he had been supporting children in less developed countries under the World Vision child sponsorship programme.
The voice said: "I was going to be sold off but now I can go to school."
In 2002, Han went to Europe for a holiday which he had enjoyed immensely. When he returned, he began saving up for the next trip to return to Europe. That was the year when there was a drought in Cambodia. Many families were selling off their children in order to survive instead of sending them to school.  
He was praying about the situation when he heard God telling him to sponsor 40 children. That would be a huge expense for the young teacher, not to mention that he was hoping to save money for another holiday trip.
As he bargained with God on the number of children to sponsor while driving along the CTE, he heard the soft voice of God saying: "Thank you very much."
The young man was puzzled, as he thought he was being selfish in trying to bargain with God to reduce the number of children he had to support. The voice continued: "I was going to be sold off but now I can go to school."
That was when he understood on a deeper level what Jesus meant when he said "when you did it to one of the least of these … you were doing it to me". Jesus was showing Himself through the voice of a child.  
After weeping and willingly donating his bonus for that year, Han began to realise that he could only do so much with donations. To him, sponsoring 40 children was a large number but it was pittance on a global scale. He began to see how charity alone will not lift the children out of systemic poverty.
Instead, he felt that only job creation can break the poverty cycle and only businesses can provide those jobs.  
"By then I felt my season of teaching was ending. My wife and I felt led to move to China to get into business somehow and be tentmakers," said Han, 45.   
In figuring out how to work out his calling, he assumed that it meant that God will pave the way for him to become a successful businessman so that he can then bless the poor with jobs and other resources.  
He was terribly wrong.  
Wrestling with God
In 2007, Han quit his teaching job and his wife left her banking job after receiving teaching job offers from a school in China. Its Christian school principal was keen to have them on board as she wanted to bring more believers into the school. The couple saw the job offers as an open door from God to get a foot in the door before setting up their own education company in China.  
"How am I going to provide for my child now that I have no job, no house and no money?"  
One month before they were due to leave for China, he received news that the school had closed. The management of the school had fallen out with its partners in China. Both of them were now left jobless.  
Han wrestled with God. Had this not been an open door provided by You? Had I and all my church leaders who were also praying alongside me heard You wrongly?  
At stake were the loss of four jobs. The two jobs they had quit in Singapore, and the other two jobs that were taken away before they could even start work. They had also been preparing themselves for a life in China when the doors slammed shut.  
Depression hit Han hard. He found himself not being able to get out of bed. His wife eventually had to drag him out of bed and they both went for a Silk Road holiday in China to seek God for their next steps.
Upon coming back to Singapore, Han learnt that his former school principal was hoping that he would return to his old job.  
"My ex-boss was happy, thinking that I would go back. He told me that the promotion that was once due to me would still stand if I returned," said Han, who has two daughters aged eight and 12.  
"The poor love their children as much as you love yours."
During this valley moment in his life, God would point Han to John 6 when many of the disciples left Jesus because they did not believe in his teaching. Jesus then asked the 12 disciples if they, too, wished to leave. Simon Peter answered him: "Lord, to whom shall we go? You have the words of eternal life."  
"When we experience our own version of the dark night of the soul, do we still choose Him or give up? This is the question that God has consistently been challenging me with each time I meet with a crisis or failure," said Jeremy.  
At that point in time, he had just had his first child. Their flat was not ready yet so they were still living with his mother. As he carried his baby for the first time in the hospital room, his heart ached and he cried out to God: "God, You led us onto this path but what is it for? How am I going to provide for my child now that I have no job, no house and no money?"  
God's reply came swiftly to him: "The poor love their children as much as you love yours. You want the best schools and best medical care for your child, but what about the poor? They feel the same love and the same pain in their hearts when they cannot meet the needs of their children."  
When that reminder from God came, Han knew he could not look back and return to his old job.  
"God has led us out of that so the only thing we could do was to start an education business here in Singapore, when our initial plan was to learn the ropes in China before launching a business there. But we did not know whether the business could survive or not, much less think about how to help the poor," he said.  
His world crashed
With much trepidation, they partnered with two friends to launch an education company called Kingsbridge in 2009 that provided English and Maths enrichment classes to international students hoping to study in Singapore.   
During that time, Han constantly soaked the company in prayer, asking God for favour and to send him the resources he needed for the business to succeed.  
In 2010, the Adam Khoo Learning Technologies Group came knocking on his door. Kingsbridge caught their eye because it was doing well and they wanted to acquire it.  
"I followed everything You told me to do. All that I have tried has failed."
He prayed and asked God if he ought to go into this business partnership with them, since they are not believers and thus, it may be an unequally yoked relationship.  
He heard God saying to him: "You did not seek them. You sought me and I sent them." That gave him the assurance to go ahead with his company being bought over by Adam Khoo Group. Things seemed to be going smoothly for his company.  
Who would anticipate that barely a year later, the Government would change one of its education policies and Kingsbridge had to shut down after its licence was not renewed. When Han informed his wife of the news, it felt like his whole world had crashed once again.
"So much for wanting me to use business for a redemptive purpose huh, God?" he hit back at God despairingly.  
On hindsight, God must have had a sense of humour, he said. He received the bad news via a call that came just minutes before he was due to speak at a talk. The irony was that he was asked to share with a group of retrenched professionals how to get back on one's feet after losing a job.  
Han began grumbling to God. "From 2008 to 2014, I followed everything You told me to do. I don't know why you are leading me to business when all that I have tried has failed. My peers, even those lower ranked than me in the past, are now doing far better than me. They have a nice house, nice car and can go for a holiday every year. Should I go back to do a 'safer' job like teaching?" he asked the Lord.  
Once again, he felt God asking him if he would choose to walk away or to follow Him, as in the scenario in John 6.  
When his company closed down, Han accepted the offer from his bosses to remain with Adam Khoo Group as part of its leadership team.  
Despite not having a successful business to his name, he still persevered in the mandate God had given him and founded Transformational Business Network (TBN) Asia with some friends in 2014. It is a Singapore-based non-profit organisation that seeks to bring together social entrepreneurs, impact investors, coaches and other experts to develop sustainable social impact businesses in Southeast Asia. 
Jigsaw pieces 
At that time, Adam Khoo Learning Technologies Group was struggling and its bosses intended to go to a conference in Indonesia to learn about a certified methodology aimed at scaling up business. His colleague fell sick and Jeremy was invited to go for the conference instead.  
He began to learn and be certified in the method, with the aim of helping his own company which was facing growth problems. Together with his team, he successfully managed to turn the business around.  
Today, leaders of regional companies who face crises or need assistance to scale up their businesses seek him out for advice.
Gradually, he sees the jigsaw puzzle pieces of his life slowly fitting into the bigger picture of a purpose-driven life. 
Besides being the corporate strategy director at Adam Khoo Learning Technologies Group, which won the Enterprise 50 award for most enterprising businesses in Singapore last year, he also holds a similar position in a business coaching subsidiary parked under the Group.  
Gradually, he sees the jigsaw puzzle pieces of his life slowly fitting into the bigger picture of a purpose-driven life.  
He now finds himself in a unique position of coaching businesses for growth.  
"God told me to be like Joseph to the Pharaoh. Ostensibly Joseph was helping Egypt to prosper but what he was doing was gaining influence and favour so that he could guide Pharaoh to be a refuge for Israel when the time comes," said Han, whose wife is a tutor.  
Similarly, if he were to be successful in helping those companies double or triple their growth and revenue, they would be more open to listening to him on how setting goals for social impact would be beneficial to businesses. 
"There are two myths that business leaders often hold on to when it comes to doing good. The first one is seeing that making money and doing good are conflicting objectives. The other myth is that one can't do both at the same time. They feel that they have to make a lot of money first and then do good after they retire," he said.  
They saw how they were benefiting the children of the cleaners and security guards from the slums who were their colleagues.
Instead, Han taught the businesses how to tie their social impact goals with revenue and profit goals as part of their growth matrix. His rationale was that if a company does not exist for a higher purpose, it will not be able to have breakthroughs for continual growth. Its growth will plateau eventually if its leaders and workers find the work empty and meaningless.  
Of course, some companies were not convinced.  
A pharmaceutical company in Philippines that consulted him in 2017 was not interested in social impact. All it wanted was to grow its business by three times. Han felt the company had a great deal of potential to do good because it had a lot of resources. So he prayed for them for one year, asking God to grant them success so that he would gain influence with them and to turn their hearts to seek for purpose.  
By 2019, the company had reached its target goal of tripling its business. Yet its leadership team confided in him that they were so successful by now that replicating the success meant nothing to them. They were starting to get tired from the work. He worked with its leaders to come up with a goal to use a portion of its earnings to sponsor 250 students from underprivileged families with four years of education at top universities.
Workers in the company became more motivated when they saw how their hard work were benefiting people in their midst – the children of the cleaners and security guards from the slums who were their colleagues.  
Tying business goals to impact goals
The most common goal for many companies, said Han, is to become a company with one billion in revenue by the next 10 years.  
"Businesses need to have a higher purpose for breakthroughs."
"I challenged this big company from Nepal to think about what one billion really means to them. Its CEO said, yes, it is just another number that the board wants and next time it would be two billion, three billion and it never ends. He was tired of leading with no purpose," said Han.  
When he proposed for them to translate their goal of one billion in revenue to instead emphasise the number of jobs that amount of revenue would create – one million – the eyes in the meeting room started lighting up.
When the company built a resort and a road leading up to the resort in an obscure corner of the country, they realised that they had brought life to the area. Small shops and inns came in to line the roads and about 7,000 jobs were created indirectly.  
"Businesses need to have a higher purpose for breakthroughs and one way to help them keep seeking a higher purpose is to tie business goals to impact goals," said Han.  
His own goal is also tied to the goals of the companies which go to him for consultation. He figured that if he were to help 100 CEOs succeed in 10 years, he would have impacted the lives of 100 million people if each CEO and company commit to uplift the lives of at least one million people.  
Looking back at the twists and turns his life has taken, Han now knows that it was indeed his folly to assume that God would empower him to be a successful businessman in order to realise his calling to push for transformational businesses that would serve the needs of the marginalised.  
"Instead, He brought me through failure after failure. But strangely, each crisis point was a turning point for me to step into my purpose. If the teaching job in China was not rescinded, I would not have started my business in Singapore. If my own company in Singapore had not wound up, I would not have needed to learn the technique to turn companies around. Now, the impact is magnified when I influence multiple companies instead of helming just my own," he said.  
"Each crisis was a turning point for me to step into my purpose."
Today, the majority of his clients are business leaders from China.
"Sometimes I wonder if all those years were to prepare me for the chance to speak into the lives of the Chinese business leaders. Back then we were not prepared and we did not have anything of value to bring to the table. But now, as I work with them and get to know them better, they ask me things like the meaning of life. It is as if God is closing the loop on our early call to go to China," he said.   
While it is immensely satisfying to be able to identify the hand of God in the larger arc of one's life purpose, Han acknowledges that many may not be able to see the purpose for the drudgery and mundanity of certain tasks in life.  
"Every single task and every single day add up and builds something towards your unique purpose in life.
"Many people struggle with this because some work can just seem like saikang (menial tasks). But if I do not write this proposal or plan the cashflow well, then I would not have the opportunities to influence my clients on other more important things," he said.  
"Mundane things will add up to the moment when your purpose comes through so we need to be faithful in the lead-up to it. The lead-up is not anything less; it has as much purpose as the eventual purpose itself."  
---
MORE STORIES ON DOING GOOD THROUGH BUSINESS:
"If you just give money, how do you change a person's heart?": Why Fullerton Markets CEO Mario Singh is hands-on at his foundation
"I'm really proud of our miracle nation": NVPC's Melissa Kwee on her dreams for a City of Good