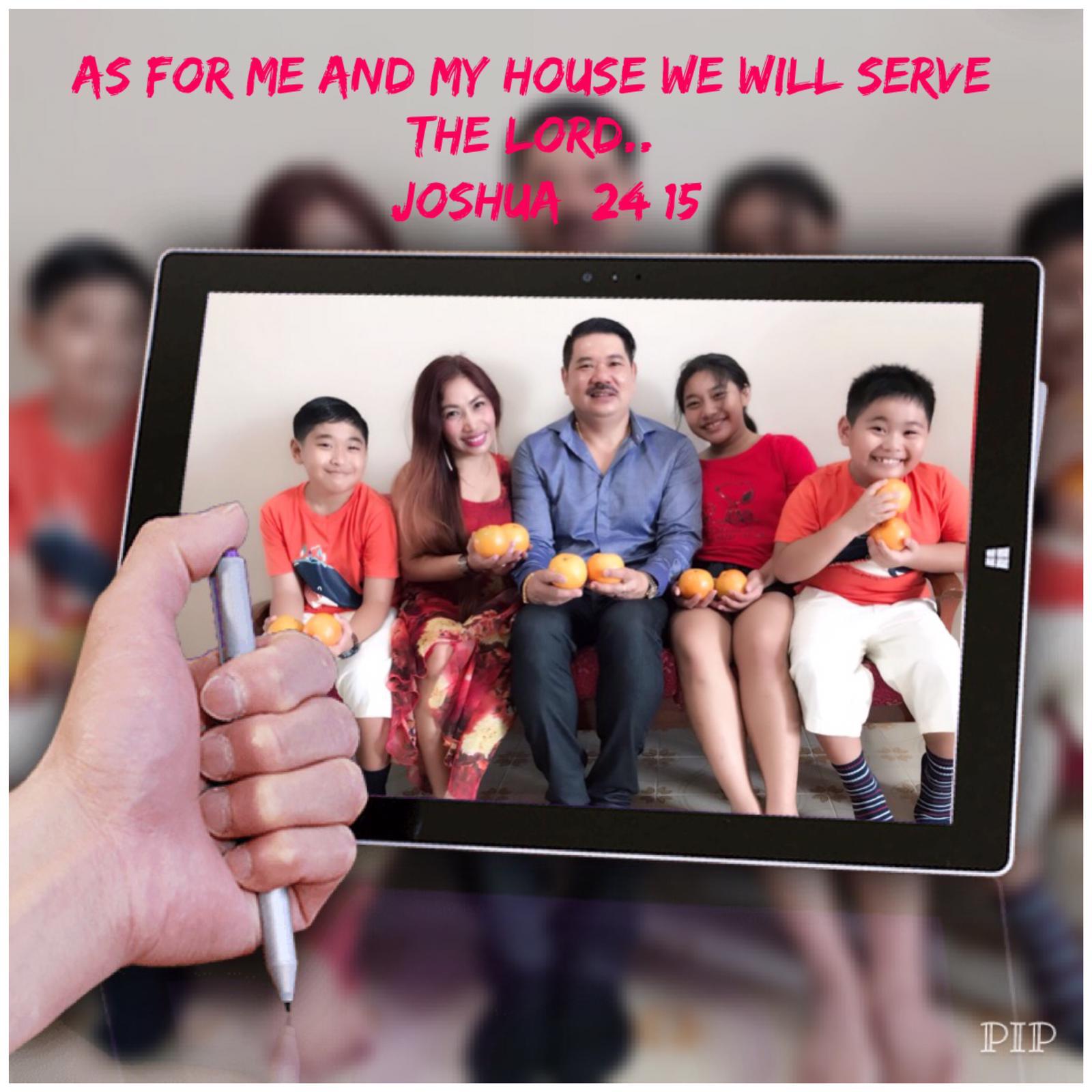 Faith and her family over Chinese New Year. Their daughter is now 13, and their sons 12 and 9. All photos courtesy of Sherlita Faith Chua.
Faith was 18 when she decided she wanted to leave her dysfunctional family in the Philippines and come to Singapore to be a foreign domestic worker so that she could support her siblings.
Little did she envision the rollercoaster of events that would eventually lead to her marrying a Singaporean man and becoming a church leader.
This is Faith's story in her own words.
---
My father took out his gun and pointed it at me. He found out that I had decided to apply to work in Singapore as a foreign domestic worker (FDW). We were fighting and he refused to let me leave the Philippines. 
I was 18, and wanted to support my siblings, and also get as far away from home as possible. Being the eldest of six children, I could not swallow the fact that my siblings were suffering due to my parents' neglect. 
My father was an alcoholic. My mother was not only an alcoholic, but also a gambler. I grew up with so much trauma, fear, anger and frustration. I was also a disobedient daughter and an impatient person. 
My grandmother was our pillar of support.
From abuse to love
My first employer in Singapore was a family from another country. I experienced verbal and physical abuse, working long hours with very little rest. 
I was beaten over the head. A Filipino neighbour saw me covered in blood and called the police. They took me to the hospital, then to the Philippines embassy.
"My second employers treated me like their daughter. I had never known the love of parents before this." 
There, I met my second employer. It was the same day they arrived in Singapore to work. I was their first case.
I was surprised when they told me that they wanted to employ me.
My previous employer had wanted to send me back to the Philippines. I dropped the case against them. I only wanted to continue to work in Singapore.
My second employer treated me like their daughter, like their child. I had never known the love of parents before this. 
They encouraged me to upgrade myself in whatever way I could, sending me for any course I could study. I did many, including book keeping and cooking. I also trained as a nursing aide. (I later worked briefly in nursing before my first child was born).
They also asked me why I had no boyfriend and encouraged me to find someone so that I could get married. They later asked to meet my boyfriend (now husband) when we were getting serious.
After seven years in their employ, they were posted to another country. Before they left, they made sure I was cared for, that my life was okay. Including being prepared for my wedding.
At that time, I only had a work permit. They wrote to the Ministry of Manpower so that I could get married and stay in Singapore. My Singapore husband owns a construction company. 
A fiery match
Even before I was a believer, I prayed to God to help me find a husband. I wanted someone 10 years older than me. 
When I met the Singaporean man who would become my husband, I thought he was older. But he was only one year older than me. 
Later on, when sharing that my employers and I used to live in another part of Singapore, he realised that he had seen me four years before.  
I was trying to catch a dog that was running across the road. He was driving and thought: "Crazy girl. Want to die." He honked.
I was also thinking: "Crazy man. Why honk so loudly?" I also realised that I had seen him around: "Oh! That means that man every morning sending workers to work – is that you?"
After we were married, my parents-in-law were very good to me. I felt their love.
But my marriage was full of ups and downs. A very insecure person, I was always jealous. It resulted in several quarrels. I even wanted to end my life.  
Around this time, a friend consoled me with the verse: '"I know the plans I have for you,' declares the Lord, 'Plans to prosper you and not to harm you, plans to give you hope and a future. Then you call on me, and come and pray to me and I will listen to you."' (Jeremiah 29:11) 
My life was messy. I was searching for happiness. I doubted the love of my husband. It was never enough. I had many negative thoughts.
"When I look back on my life before Jesus, it was full of struggles and worries."
One day, I bumped into someone who lived in my same block. She was also a Filipina married to a Singaporean. She attends Bethesda (Bedok Tampines) Church (BBTC).
She shared: "Trust in the Lord with all your heart and lean not on your own understanding. In all your ways acknowledge Him and He will make your paths straight." (Proverbs 3:5-6,)
She taught me how to read the Bible and encouraged me to attend church.
Slowly I began to understand what God was trying to tell me. 1 Thessalonians 5:16-18 encouraged me to pray without ceasing. I learned that nothing is impossible with God and that He is a faithful God.
In 2011, when I was pregnant with my youngest child, I became a Christian. I was baptised on 25 December 2014.
In Christ, I found the love I had always been longing for.
I was able to forgive myself and my husband.
Throwing out the rubbish
The path of knowing the difference between the Old Me and the New Me became apparent as I grew in Jesus.
"The fruit of the Holy Spirit is love, joy, peace, forbearance, kindness, goodness, faithfulness, gentleness and self-control"  (Galatians 5:22-23) became real to me. 
When I look back on my life before Jesus, it was full of struggles and worries.
I felt I was in a hopeless situations. I had no peace at all. I felt miserable every day and most of the night. I couldn't sleep.
Outside I may look good. But inside I can say that I was broken pieces full of rubbish. Words coming out from my mouth were full of hurts and complaints.
Jesus came knocking at the door of my broken heart as I needed peace and help. I received Him as my Saviour and Lord over my life and over my family. Jesus restored my brokenness and is transforming my life.
"Almost there"
I prayed to God: "Once you touch me, can you change me? I can't change my husband, but you change me."
Slowly, we stopped fighting. My husband and I became more loving toward one another. 
I learnt to be a more understanding, more patient, and more caring wife to my husband and mother to our three children.
The Lord also answered a prayer for my youngest son. It was difficult to handle him when he was young because he was very active. His school and many people advised me to bring him to test for ADHD (attention deficit hyperactivity disorder).
But I ignored their advice and continued to pray and trust God. The children's leaders at church also prayed for him. Jesus is the best physician. My son changed so much. 
He was healed and now he's a good student.
Although my husband has yet to accept Jesus, he fully supports me and my children in attending BBTC. I go earlier to church as I serve, and he gets the children ready and brings them to church. He allows us to pray for him.  
"The Lord restored my marriage, and He is now using me to be the salt and light to my extended family."
The children also encourage him. My son asked him: "Daddy, do you believe in Jesus?"
He replied: "Almost there."
My son said: "Daddy, you must believe now. Why almost there?"
The Lord restored my marriage, and He is now using me to be the salt and light to my extended family. He is giving me wisdom and strength to love and serve them, to show the love of Christ.
My in-laws come to the Hokkien service where I serve in worship. When I practise the songs, I ask my mother-in-law what the Hokkien words mean. 
I know that in God's perfect timing, my husband and his parents will come to know Him.
As I wait for this day, I continue to praise God and rest in His strength. I proclaim Joshua 24:15 over my family: "As for me and my house, we will serve the Lord."
Living testimonies
When I was working for my first employer, I realised that no matter how bad my parents were, they are still my parents. I wrote to my parents and asked them to forgive me. But it was only lip service at that time.
It was only after I received Christ and found His peace and love that I was healed and able to forgive and forget. 
I learned to pray for my parents. I prayed that they would come to know Christ. I shared with them how God loved me.
When I sought God first and put Him first as my priority in life … the natural become supernatural.
"My parents are a living testimony that nothing impossible."
My father was riding a motorbike when he fainted. That put him in a coma. I cried and prayed to the Lord to give my father a chance. He woke up from the coma after three days.
Hebrews 11:6 says, "Without faith, it is impossible to please Him for whoever would draw near to God must believe that He exists and he rewards those who seek Him."
After his discharge, my father started reading the Bible. He started attending church fellowship and was subsequently baptised. My parents and my siblings now actively serve the Lord and lead a church in my home province. They are constantly sharing Jesus with their neighbours.
Now my parents are a living testimony that nothing impossible. Only God can turn a mess into a message, a test into a testimony.
When we put God first, all things will fall into its proper place.
"Whatever the law states, we must do better": Employers who cook for their sick helpers and pay for husband's airfare because "love begets love"
Who's looking out for our foreign domestic workers during Circuit Breaker?
If you have enjoyed reading Salt&Light...
We are an independent, non-profit organisation that relies on the generosity of our readers, such as yourself, to continue serving the kingdom. Every dollar donated goes directly back into our editorial coverage.
Would you consider partnering with us in our kingdom work by supporting us financially, either as a one-off donation, or a recurring pledge?
Support Salt&Light