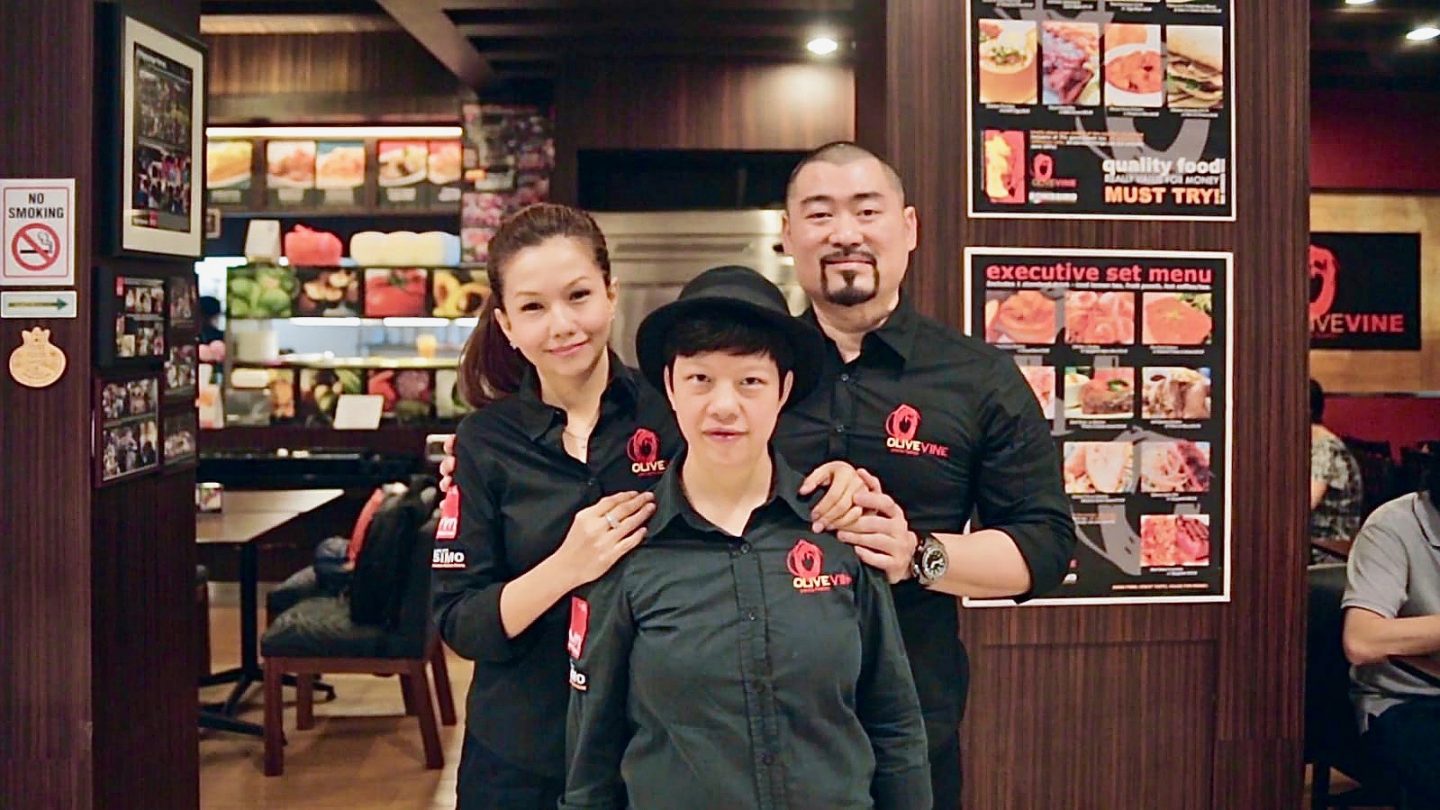 Judith, Jason and their daughter, Joel, at their restaurant, Olive Vine, which God led them to open. Jason, who did not have any culinary experience, said: "I just stood in front of the pan and asked the Lord, now what? And the recipes just came from Him!" All photos courtesy of Judith Halim.
Judith Halim was at the helm of a fashion company when, in December 2006, she heard God say: "Quit. Leave. Now. Do not turn back."
"I just heard like a small still voice from inside, within me," she recalls, the details as clear in her mind's eye as the day it happened. 
She heard God say: "Quit. Leave. Now. Do not turn back."
She was in the office, a vibrant 34-year-old managing director at the peak of a very successful career.
She was also her family's sole breadwinner. Her husband, Pastor Jason Ong, was battling a relapse of a rare strain of brain cancer. At the time, they'd been married just five years.
The initial diagnosis was made in 2004, and he was given six months to live. "He didn't die," she states plainly. But by end-2006, "his condition was quite bad".
"Every time we see the doctor, the doctor says he's going to die," shares Judith, now 49 and a pastor. He did not have any form of insurance, and the medical bills were being paid for with a combination of their Medisave funds and cash.
A regular income was not a want, it was a need – or so she thought.
"If God asks you to quit, you'd better quit now."
"I went back home and I asked Jason, 'I heard this word. What do you think?'
"I was expecting him to say, 'Quit when I get better, then I can look for job. If not, there's no income in the family.'
"But he's a man of faith. He said, 'If God asks you to quit, you'd better quit now and it looks like it's urgent.'"
He reminded her of what happened to Lot's wife who turned back (Genesis 19:26).
She reminded him that without her job, there would be no income for either of them or their daughter, Joel.
"He was very clear: 'If God calls, He will provide. Your part is to quit.' So, I quit lor. I tendered my resignation."
Tears for fears
Was she scared?
She laughs. "If I want to think naturally, of course!
"You mean, nobody is hiring me? You mean, end of this month there's no more salary coming in?"
"But our determination is that we just want to obey God fully, above everything else. So, it becomes a must and an ought-to-do, not so much thinking about 'I'm scared', 'how?', 'what if'."
She handed in her letter of resignation the very next day. Her bosses were so upset "they refused to talk to me" and only accepted her resignation in January 2007 after much to-ing and fro-ing. Her last day was set for March 31, 2007.
With barely enough time to hand over her many responsibilities, both local and overseas, she was too busy to look for another job. In fact, it didn't even cross her mind to try.
"It was so strange. Now when I look back, everything I did doesn't make sense at all. But I guess it must have been God's grace that watched over me, to make me do the things that I did."
"I was like, 'God, if I heard wrongly I'm in deep, deep trouble.' "
On April 1, she hardly dared to wake up to her worries: "You mean, I got no more job? You mean, that's it? You mean, I never even look for a job? You mean, nobody is hiring me? You mean, end of this month there's no more salary coming in?
"I could not take it that usually I'm so busy, many people look for me, but that day was quiet. I had nothing to do.
"I was questioning myself: Why am I so stupid ah? I mean, how can it be I just hear one word and I just drop everything and now I have to face this reality that I'm sitting at home and I look at my husband also sitting at home and he's sick and there's no more income at the end of this month?"
She was a Permanent Resident of Singapore then; her last salary was thus withheld for tax purposes.
"I was like, 'God, if I heard wrongly I'm in deep, deep trouble.'"
Trust and obey
Reciting Proverbs 3:5-6 unceasingly kept her going.
"Without that I could not have survived," she tells Salt&Light flatly.
"A lot of people think that, wah you are very strong. No. I think maybe because I'm very weak, I need God. Many of us, we don't really need Him because we have everything.
"Because I don't have anything to hold onto, the only thing I can hold onto is God. I want Him to make my path straight. And in order for my path to be made straight, I know my part. My part is that I have to trust Him.
"God is very faithful. His part – no need to question."
God was silent for three weeks. "I tell you, it was so tough to even pass my day without depression," she recalls.
"It was so tough to even pass my day without depression."
Whether in the shower or in front of the stove, "I literally lived my 24 hours with Proverbs 3:5-6 just to get by, preserving my peace, preserving my sanity".
She mumbled, she shouted: "I trust the Lord with all my heart! I lean not on my own understanding!"
"I just refused to let negativity come into me. You see, when we declare the Word the God, it's not to change the situation. It's to change our unbelief – to make sure we nail this flesh to the cross so that we can be in line with where God wants us to be, how He wants us to feel."
Finally, at 3am on the Wednesday in the third week of April 2007, God spoke again: "Do you want to do business?"
Ps Judith: "Sounds good."
God: "Ok. Do F&B business."
"I said, 'Huh? What is F&B business? Can I do fashion? I know where to buy, how to work with designers, I am in this trade for eight years. Right?
"He said that: Precisely because you don't know anything, so all glory to Me. If you know it, then glory to you. I said, 'Oh ya ah, true. God, You so clever!' "
"I woke Jason up: 'God said do business. How?'"
His reply: "If God asks you to do, you'd better do it."
What about the recipes?
Ps Judith swallowed hard and braced herself for an almighty challenge, but she found a business proposal taking shape in her mind as if somebody had "put a thumb drive in and everything is downloaded – the blueprint, including the vision of the company, the mission of the company".
She mimes inserting a thumb drive into the side of her head and makes a ccchh-kkk sound. "It was very clear. I carried it out."
God's purpose was foremost, she says: She was not to hog the profits.
"From the very beginning already it's been established in that way: You are going to use the profits to feed the poor, the needy, the orphans and the widows."
The download was so comprehensive that she knew she had to open in Bugis Junction and sell Western food. "It was like on one page, 1-2-3-4-5-6-7-8-9 ­… including the type of food and the price list.
"I started by pricing everything at $5.90, $6.90, because I got that all – the location, the products, the price. And that's it. Full stop."
But how to cook all that? The revelation didn't include recipes.
Both she and Ps Jason were theologically trained, but they were not accomplished cooks.
Big money
Two days later, they went to Bugis Junction and checked out the restaurants listed on the directory. An appointment with the management left them reeling at the high rental rates.
Ps Judith recounts: "When I counted my savings, I realised the only place that I could afford was in the food court. I cried big time. I said, 'God, I gave up 'managing director' for You and You put me in food court? At least put me in restaurant, can or not?'"
Two corporate men in long-sleeved shirts and ties from the Bugis Junction management quizzed them about everything from their backgrounds to their stall renovation plans. And where was their Master Kitchen located, so they could arrange for a food sampling?
"I go inside my kitchen, I chuak (Hokkien for 'scared'). Everything is like big, big, big."
"I didn't know how to answer," Ps Judith recalls. "I didn't have anything. I didn't even have a name card. The only kitchen that I had was at home: Would you want to come to my home and try out the food?"
Incredibly, they did, and gave their approval.
It would cost Ps Judith $28,000 a month to rent a 270 sq ft stall in the Food Junction at Bugis Junction, but she signed on the dotted line two weeks later. In four months, on September 1, 2007, Olive Vine was ready for business. Sort of.
The stall was fitted out and the equipment set up, but Ps Judith had not factored in the monumental difference between home and commercial cooking. The pots were huge, the stove fires were high-pressured. She could not even manage the oversized rice cooker.
"I go inside my kitchen, I chuak (Hokkien for 'scared'). Everything is like big, big, big."
The stall was supposed to open at 10am. "At 9 o'clock, my mushroom soup was burnt because I didn't know how to handle the fire. I cried and cried."
"My hands shook, I tell you. Anything that could go wrong, went wrong."
The newly installed American-made deep fryer came with the contractor's assurance: "Just pour the oil, turn on the fire, sure it will work. This is idiot-proof."
But 15 minutes before opening time, there was an acrid burning smell emanating from it and Ps Judith discovered that the cooking oil she'd put in was pitch black.
"Scared, right? Quickly call the contractor, 'Quickly come! Something is wrong with your machine!"
He was furious. "You first time ah? Never see people like you. You dare to do business?" he scolded, and ranted at her for not removing the plastic film that coated the new deep fryer.
None of her four employees was any help. They had said during their interviews that they could cook; it turned out that none could. She assigned them cash register and kitchen duties instead.
Ps Jason was made the pasta cook. She manned the Western grill. "So funny, right?" Ps Judith smiles at the memory. "Pretend only. My hands shook, I tell you.
"My chicken was uncooked, my fish was uncooked, my rice was salty. Anything that could go wrong went wrong.
Bad food, bad sales
Ps Judith continues: "Business was so bad. One day I only did $300. Can you imagine? My rental was $28,000."
Her neighbour jibed: "Hey! You first time ah? And you dare to take this location? I salute you!"
Working 14 hours a day, Ps Judith lost 4kg in 10 days. "I was smelly all the time. My toes swelled. My hands cramped up."
The food court stalls' sales were rated daily, and Olive Vine was consistently at the bottom of the list of 25 stalls.
"I had to hand in the money every day. They laughed at me. 你是来还散钱,是吗? (You are handing in loose change?)"
"If we cannot make it within three months, I die."
Behind the scenes, she only had enough funds to sustain the business for three months. "If we cannot make it within three months, I die. I do my calculations, I open shop, I pay salary and all that, I can only last September, October, November.
"And if anything happens to me, not just I will lose all my savings but I will go into bankruptcy and get sued by this public-listed company."
Ps Jason, who is 50 this year, encouraged her: "Don't cry. Remember you are not in this on your own. Remember God is the one who called you. You are the head and not the tail. (Deuteronomy 28:13)
"Go back there. You have to be strong. One day I'm not around, then how?"
Reminded that he was dying of a malignant brain tumour, she cried even harder. "I have my crying corner. It's a wall. I will stand there and face the wall and I cry."
Their staff thought they were both mad and wanted to know if Ps Judith would be able to pay them at month's end. "My God will pay you," she replied. "Don't worry."
When they threatened to leave, she would say: "Can I share Christ with you first?"
They shook their heads: "Our boss confirm siow liao (crazy already)!"
POOM!
Despite how surreal their situation was, the couple continued to press on. Tears streaming down her cheeks, Ps Judith would sing her favourite chorus from a song by Paul Baloche as she cooked.
"What can I do but thank You, what can I do but give my life to You/Hallelujah/Hallelujah."
Ps Jason, while standing in front of his pasta pot, would pray: "God, who else can I call upon? I'm here. I'm availing myself, but You need to show up."
Amazingly, recipes started to emerge from within them. They didn't scour the Internet for quick fixes, they didn't buy any ready-made sauces.
"Through the tears, through the prayers, recipes just came: Put this, put that," Ps Judith describes. Their signature style was developed, not by trial and error, but by sheer obedience to God. "We put-put-put-put-put, we taste … Eh, can!"
The stall gradually became home. "We cried there, we laughed there. All the stupid things that could happen, happened there."
Indeed, harrowing things happened as well. By the second month, Ps Jason was struggling intensely with the effects of the growing brain tumour and was off-and-on oblivious to his surroundings.
One day, while standing in front of the stove, he knocked over a bottle of oil and a bottle of water simultaneously into a pan that was over-heating. "POOM!" Ps Judith describes the explosion of sound and smoke. "Everybody looked!"
"We cried there, we laughed there. All the stupid things that could happen, happened there."
Ps Jason remained calm. As the vapour dissipated, "he started to think, 'Hmm … This is an idea! Water, oil and fire represent God's presence and the Holy Spirit.
"'I'm going to test it. Every plate of pasta that I fry, I'm going to heat up the pan so hot and I'm going to use the effect of the oil and the water to create that sound: POOOOM!''"
Ps Jason, with his stern looks, became the ultimate showman in his chef's uniform. Passers-by wondered where he had come from and would form a queue to watch him and buy what he cooked.
"Because of that, our sales rose to No. 15 in the food court. In the third month, we became No. 1 in the entire Food Junction food court. Everybody was shocked, including us!"
No Western stall tops the sales charts in food courts, according to Ps Judith. "Usually it's nasi padang (Malay-style rice), 菜饭 (Chinese-style rice),板面 (handmade noodles). Drinks stall is a definite."
Yet, the combination of Food Junction Bugis' three drinks stalls brought in less than Olive Vine's takings.
"Nobody could believe it. The management didn't believe it. It's like we had something.
"They always said, 'You all are famous for making the dead alive', because the position that they gave us was a 'dead' position. People could not find our stall, people could not see us. Our signage faced the plate-washing area."
The sceptical neighbour now changed her question: "你去哪里拿护? (Where did you go to get the good fortune amulet)?"
"I pointed to my cross. She exclaimed, 'Hallelujah pun eh sai (also can)?' I said, 'eh sai (can)!'"
---
This is Part I of the story of God's miraculous provision over Ps Judith and Ps Jason's lives. Read Part II here: After God saw the couple through many challenges and tears, they finally achieved great success, only to have God abruptly command them to shut everything down. Read Part II to find out why.
---
RELATED STORIES:
"If you heal me, Hallelujah. If you don't heal me, also Hallelujah"
"I am moved by the tears of your wife. I will heal you," Jesus told this dying man
If you have enjoyed reading Salt&Light...
We are an independent, non-profit organisation that relies on the generosity of our readers, such as yourself, to continue serving the kingdom. Every dollar donated goes directly back into our editorial coverage.
Would you consider partnering with us in our kingdom work by supporting us financially, either as a one-off donation, or a recurring pledge?
Support Salt&Light