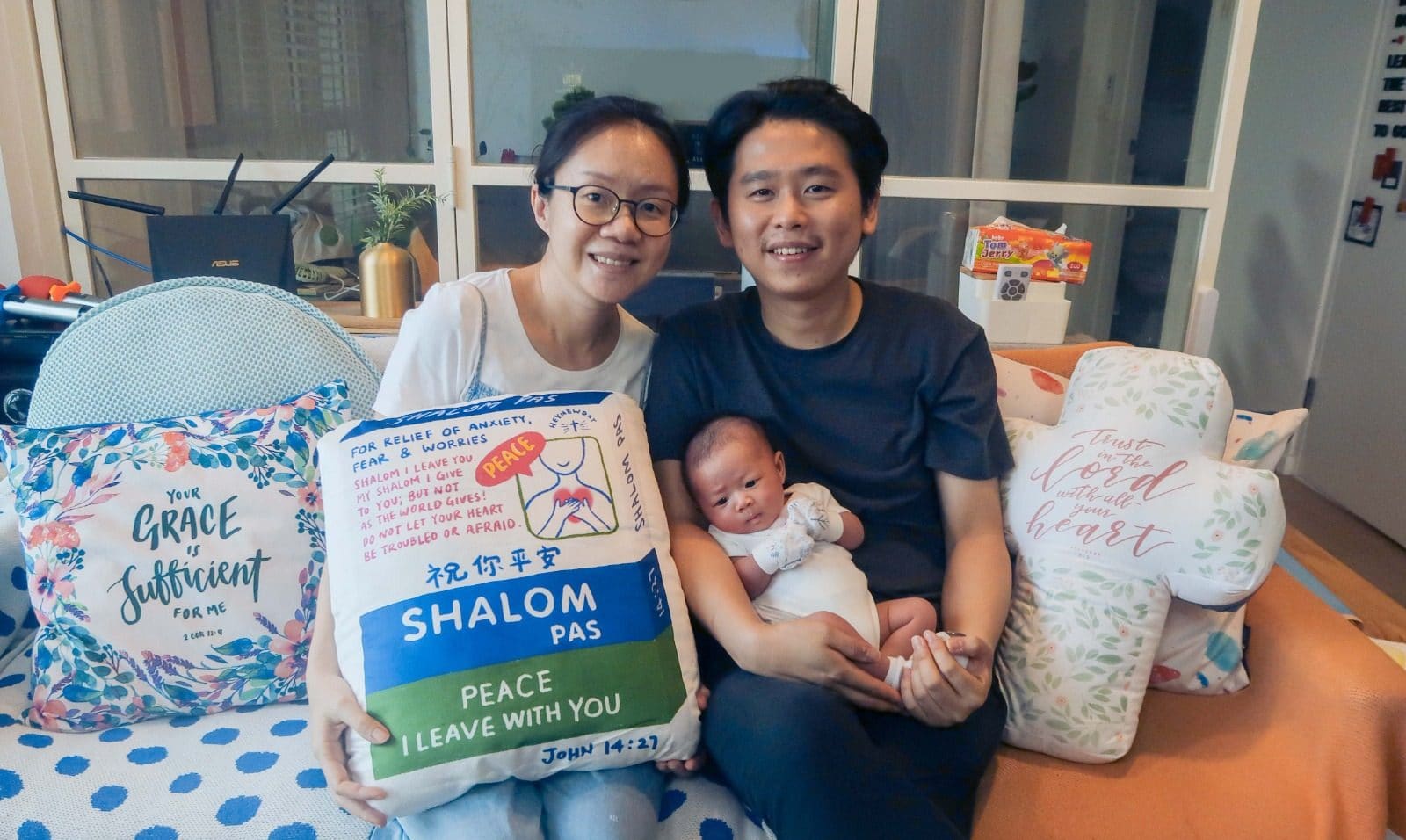 Edwin Lim is best known for his supermarket-inspired designs overlaid with Bible verses, as seen on the cushion resembling a pack of medicated plasters held by wife Tan Li Ling. They are pictured with daughter Ellie. All photos courtesy of Edwin Lim and The Commandment Co.
When a designer with an advertising agency had trouble finding quirky yet practical and inspirational gifts locally for his young Christian friends, he took matters into this own hands.
In 2014, he started designing a series of postcards – while at work. 
The bosses of the agency were semi-retired and not actively taking on many new projects.
"Just go and design your own stuff when there are no projects to handle," they told him.  
This is was Edwin's ministry … he is not the type to walk up to someone to tell them about God.
Out of this was born a collection of postcards with calligraphed gold-lettered Bible verses set against landscapes of mountain ranges, fields and roses. It was inspired by a fresh look Edwin Lim had seen while browsing online for Christian gifts from the US.
"I had to work during the day and would not have had the discipline or energy to work on them at night if not for this blessing," Edwin, now 36, told Salt&Light.
From postcards, Edwin's offerings would grow to include bags, homeware, apparel and accessories that he would sell under the banner of  The Commandment Co. Its best-known range features verses and encouragement wittily placed on designs that echo the packaging of supermarket provisions such as luncheon meat cans, chocolate wrappers and detergent bottles. The offerings are a hit with those aged between 18 to 40.
The forerunner of this series was a card Edwin's wife, Tan Li Ling, made for his birthday. Combining Edwin's love for junk food and chocolates with her new-found faith, the graphic designer placed 1 Corinthians 13:4-5 where the product description would normally go.
Li Ling, now 35, is the talent behind Wheniwasfour. It specialises in nostalgic Singapore-style knick-knacks and accessories that also communicate messages of hope, love and peace – minus the Christian references.
Dream of a brightly-lit road
Over the next two years, Edwin sold his offerings at flea markets or on consignment to Christian gift shops. He also participated at annual trade show which showcases unique goods from independent labels across Southeast Asia. 
Preparing for flea markets meant packing goods past midnight till 3am. Then trying to catch a wink before arriving at the stall before 8am when the markets opened. It was mentally and physically tiring.
But the sales volume and public feedback was encouraging.
Edwin prayed about working on The Commandment Co full time. 
"Every product is birthed from focusing on that larger purpose of leading people to the light."
God gave him a dream.
"I was in a dark place with many other people around. I asked myself, 'Why am I here?'." 
"At that moment, a brightly-lit road suddenly appeared in front of me. I started walking on that road.
"As I turned back, I saw a lot of people following me.
"I didn't intend to lead people to the light. The light attracted me, so I went toward it. It was a very natural thing.
"Even if no one followed me toward that bright road, I would still have gone."
He took it as a sign. 
"The Commandment Co is a calling," said Edwin.
"I pray over the whole business that we will always remember why we're doing what we're doing. Every product is birthed from focusing on that larger purpose," said Edwin.
Guiding nightlights
The first thing Edwin needed to go full-time in 2016 was a unit large enough to contain a warehouse and office space – for his and Li Ling's businesses. It would also be a collection point for customers. 
Li Ling, then his girlfriend, had been running her business out of a studio of 100sq ft. 
"Li Ling had to meet customers at different MRT stations to deliver their products. That was super tiring."
The couple put down a deposit on a fourth-floor unit at Waterloo Centre. The monthly rental was slightly more than what the owners of one fledgling business and another struggling one could afford.
As they were taking their leave after making payment, they saw a large For Rent sign on a second-story unit. They dialled the number on it – a casual shot at getting a better price. 
"Lower floors usually enjoy higher foot traffic, so we were surprised that the rental for the second-floor unit was $800 cheaper than the fourth-floor unit we bid for," said Edwin. They forfeited their original deposit.
The second-floor unit was spacious enough for a retail space. It also had a large storefront which they could dress up to attract passersby. 
"Though we had not planned for it, having a retail space opened doors for people who are not of the faith to have an initial exposure to Christianity," he said. 
Edwin's hope is that with this exposure, non-Christians will be more receptive the next time someone shares God's love with them.
"Having a retail space opened doors for people who are not of the faith to have an initial exposure to Christianity."
This was his ministry, Edwin realised. For he is an introvert, not the type to walk up to someone to tell them about God.
Some of their most popular products metaphorically reflect God's guiding light.
A dove-shaped nightlight proclaims Christ's promise of peace (John 14:27), while a whale-shaped one assures of His presence in troubled waters (Isaiah 43:2) . 
One customer who chanced upon a nightlight with Psalm 46:5, wrote on Instagram that she spent a good few seconds mulling over the verse and thinking about "our changing world vs our immovable God". 
She wrote: "I was still, but my spirit was moved.
"Moved that I have a Rock to cling to …
"Moved at the reminder that I need only to centre myself on Him, and He will hold me fast."
Dream unit
As business grew, so did the need for even more warehouse space. Edwin and Li Ling rented an available unit one level up, and over the next three years, their team transported products between the two floors. 
The inconvenience stirred the couple – then newlyweds – to look for another location, still within central Singapore, that would be large enough to house operations on a single level.
God would again lead them to a unit that ticked all these boxes – and more. 
It was at Bras Basah Complex, just a 10-minute walk away from Waterloo Centre. 
The couple put up flyers to see if any of the business owners were interested in assigning tenancies.
Six months later, the unit was put up for bidding from HDB. There was no need to pay an assignment fee.
The only response came from one in a fourth-level unit that was tucked away at the extreme end of a corridor.
It was "cozy and peaceful" – a dream workplace. He did not worry about low foot traffic as a large portion of their business still comes through e-commerce.  
But the $50,000 assignment fee was too steep.  
"Every time I came to replenish my products at Tecman (a Christian bookstore that was previously on the same level), I would walk over to this unit, just to look at it," said Edwin.
Six months later, the unit was put up for direct bidding from HDB (Housing and Development Board) – which meant there was no need to pay an assignment fee.
With Christmas 2020 fast approaching, they worked till 2am every day to complete the relocation in two weeks.
"I was like a Santa, carrying gunny sacks of plush toys and doormats every day from Waterloo Centre to Bras Basah Complex," said Edwin. 
Li Ling shed many tears from the sheer exhaustion.
The couple have both been operating from the 1,600sq ft unit since then. 
"God knows just what we wanted. This space was always meant for us," said Edwin.
"Whenever we feel like giving up, we just think of how this unit was given to us after so many months. We remember that wah, God has been really faithful."
Supply that does not run dry
Last year, when Singapore's retail stores shut their doors during Circuit Breaker in a nation-wide attempt to contain Covid-19, the brand stepped up on creating social media content to encourage its Instagram community.
"We went into survival mode and we had to work much harder," said Edwin.

They did not have enough products to post about on Instagram every day, so instead generated inspiring content like prayer pointers, devotionals, testimonies and take-aways from sermons – with attractive visuals. They also included links to humanitarian organisations to inspire followers to be a blessing – in prayer and deed – to others in their darkest hours.
The posts brought comfort to many who sent messages expressing their gratitude. "People often tell us that they came across our posts right when they needed it most." 
A volunteer counsellor, who regularly purchases gifts from The Commandment Co for the people she counsels, suggested they create more products with verses on healing. In addition to doing this, Edwin also launched an Instagram campaign to connect people in need of healing, prayers or a listening ear with the ministry this counsellor works with.
"People struggling with their mental health may not always know where to seek help. Our purpose was to connect them with avenues of help," said Edwin.
"After seeing the posts, four people who were battling suicidal thoughts reached out to the ministry for prayer and counselling," said Edwin.
It is known that at least one has been healing well.
As Edwin tells story after story of God's "step-by-step provision" for The Commandment Co – in relocations, a flow of inspiration for fresh products or ideas for Instagram posts through which He saves and heals, Edwin comes to a realisation. 
"In these seven years, I have not had to worry about supply." 
---
RELATED STORIES:
"Helping our customers try on shoes reminds us we are all servants": Founder of online wearables store Kléo
"People thought we were so spiritual but we were desperate!": How God grew Singapore brand Supermama
If you have enjoyed reading Salt&Light...
We are an independent, non-profit organisation that relies on the generosity of our readers, such as yourself, to continue serving the kingdom. Every dollar donated goes directly back into our editorial coverage.
Would you consider partnering with us in our kingdom work by supporting us financially, either as a one-off donation, or a recurring pledge?
Support Salt&Light