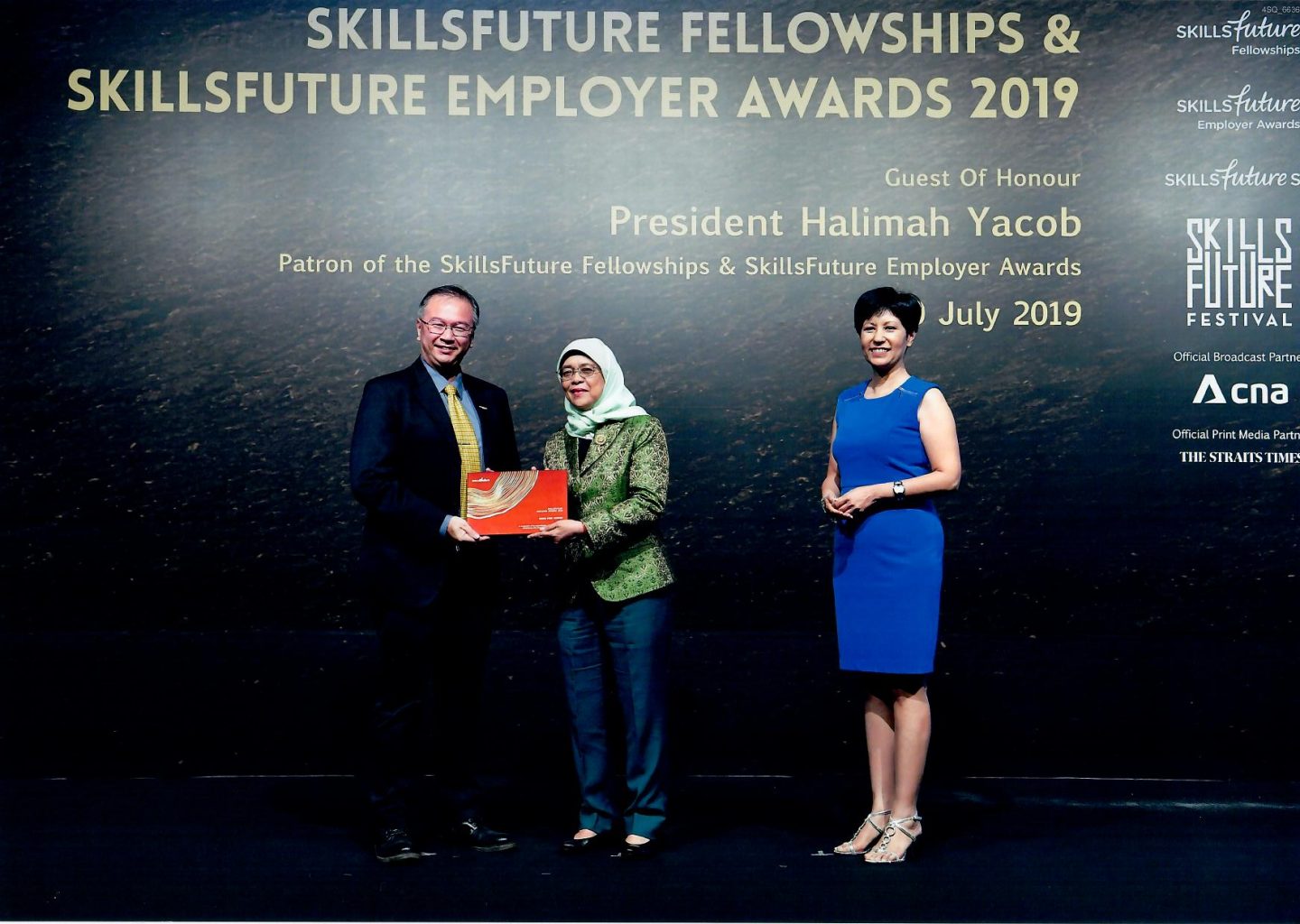 Dover Park Hospice won this year's SkillsFuture Employer Award. CEO Timothy Liu received the award on behalf of the hospice from Singapore President Halimah Yacob in July. Photo from Dover Park Hospice's Facebook Page.
Before "workplace as a mission field" became a buzzword among churches and Christians, Dover Park Hospice chief executive officer Timothy Liu, 47, was already pioneering marketplace ministry here.
He founded Marketplace Christian Network in 2001, after being inspired by R Paul Steven's book The Other Six Days, which Liu says gave him the "theological language" and "framework" to understand how to carry his faith into the workplace.
We have been placed here to turn around things that were meant for evil.
The group organised workshops and connected Christian professionals that could support each other as they learnt to live out their call in the corporate setting. It is currently on hiatus, but Liu plans to restart activities soon.
He was also part of the Lausanne Movement's Workplace Ministry for 15 years as a Senior Associate (Catalyst) before stepping down right after he chaired its first Global Workplace Forum in the Philippines in June.
Since spearheading the local marketplace ministry movement almost two decades ago, Liu says the Church has definitely recognised the importance of having Christians in the secular space. The next step is to figure out how they can live and work in a manner that demonstrates their spiritual beliefs.
In a conversation with Salt&Light, Liu shares his personal reflections on Christianity's place in the office.
Q: You mentioned earlier about God's redemptive work, how does that play out at work?
Liu: I believe that this doesn't happen only when God returns but, at this moment, when we are called to the workplace. We have been placed here to turn things that were meant for evil – systems that are broken, company ethics that are wrong – around and we work towards making it better for the kingdom. If every Christian is able to see their daily work in that way, we will have a revolution.
Q: How do we stop short of "Christianising" the workplace though?
Liu: We should look at ourselves through the exile model. We are a people who are exiled, we have an allegiance to the King of Kings, yet we are working to bring about the kingdom in and through a broken world.
This kingdom isn't one that is domineering or top-down, but one where we wash other peoples' feet, where we serve, motivated by the Gospel.
Once we appear trying to dominate, we become too arrogant and we lose that humility – the beatitudes are not domineering.
Q: But we can't always be meek, right?
Liu: Marketplace people like studying Daniel, Joseph, Job, Nehemiah: "See how Daniel became a great leader, how David was persecuted and sinful, but he become a great king."
There's nothing wrong with them but if we only focus on these characters, then we have a serious problem. If we aren't careful, we allow them to pander to our worldly narrative, the Singaporean narrative: We are a small fishing village, we grew up and we became great. The rags to riches story. It's very prosperity-like.
We are so enamoured with praise, we've forgotten how to lament.
On the contrary, the heroes are also Jeremiah, Hosea or Jonah. Jeremiah was a total failure in the world's eyes. He prophesied to a people that didn't listen to him, he was thrown into the cistern, went into depression, and history has it, he was stoned to death by his own people, probably because they were so sick and tired of him telling them the bad things.
Hosea had to name two of his children Lo-Ruhamah and Lo-Ammi, which mean "not-loved" (Hosea 1:6 NIV) and "not-my-people" (Hosea 1:9). Can you imagine how weird it must be around the dining table? And then in the middle of the night, Hosea had to go and run after Gomer, bring her home, endure the shame and find deep inside the love for his wife, despite the fact that she was unfaithful (Hosea 3:1).
In our Christian psyche we don't have the mindset that it is a testimony, sometimes, to fail.
Q: How do we fail rightly?
Liu: I think failures are our teachers, and we don't spend enough time learning about them.
During the period of time when I was unemployed, it was scary and painful but I learnt to handle that situation. And because of that journey I went through, I could share and comprehend the pain other unemployed people go through.
As a Church, we are so enamoured with praise, we've forgotten how to lament.
In our Christian psyche we don't have the mindset that it is a testimony, sometimes, to fail.
Lamenting builds up deep intimacy with Christ. If we always brush things aside and say "God will do better", "He will help me because He is on my side" and you never process the pain, you'll never learn. You become a superficial Christian, because you've never felt deep pain.
Professor Brené Brown, who spoke about the power of vulnerability, said in her research that if you numb or dumb down your pain, what happens is you also dumb down the other side – the joy, the happiness, the beauty, the appreciation of goodness. If we look into the characters of lamentations, we see in their experience of pain, their experience of God.
In the first two-and-a-half chapters of Lamentations, you see Jeremiah complain like nobody's business, until in the middle when he says: "Your love is new every morning". The pain is still there, but he's comes to a point where he truly experienced that intimacy with God because he no longer depends on things external to himself to find that joy.
Q: But isn't it up to the Holy Spirit to shore up that joy in us?
Liu: Yes, but it's also the willingness to submit. You have to come to a point where you just have to submit to God, and know that God's promise is always there. He may not have promised to give us what we want but He'll give us what we need (Matthew 6:25-34).
The Church has a part to play as well. We have to be willing to walk with others through these dark moments so they don't feel all alone in their pain.
Q: What do you think is lacking in the conversation on marketplace ministry today?
Liu: We have gone through the period of "wow, this is what we can do (as Christians in the marketplace)". Now what we are lacking is "how to do it". What we need to do is to look at every industry and reflect theologically on how we can centre our jobs and career around our faith.
Take for example the commandment to "love the Lord your God with all your heart and with all your soul and with all your mind" (Matthew 22:37). We have to think about how, as we build a person up, how do we develop each of these characteristics – loving God with all your heart, loving God with all your soul, loving God with all your mind – in him or her. And we need the industry veterans to work out the structure.
"Leaders are called to love", says Philip Yancey at the close of Eagles Leadership Conference 2019
If you have enjoyed reading Salt&Light...
We are an independent, non-profit organisation that relies on the generosity of our readers, such as yourself, to continue serving the kingdom. Every dollar donated goes directly back into our editorial coverage.
Would you consider partnering with us in our kingdom work by supporting us financially, either as a one-off donation, or a recurring pledge?
Support Salt&Light