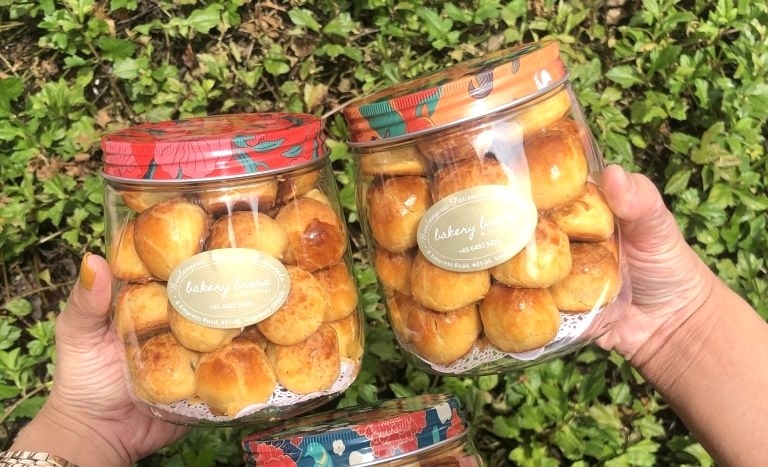 This Chinese New Year, why not support some businesses which strive to bring about good with their CNY goodies. Photo courtesy of Bakery Brera.
It will be another Covid Chinese New Year of small gatherings and limited interactions.
But that is no reason not to celebrate. After all, the extended weekend still offers time for a good break and plenty of fellowship and feasting.
So, if you are looking for Chinese New Year goodies for your table or to bless someone, consider these chefs and bakers. They share more than good food, they share God's goodness.
Family favourites from around Asia: Elsie's Kitchen
This Chinese New Year, Elsie's Kitchen is featuring a catering menu that includes specialities from the home countries of their culinary team.
Among the global dishes are Canton Golden Sand Prawns from their cook who hails from Guangdong, Burmese Chilli Chicken from their cook from Myanmar and Jade Green Spinach Fried Rice from their Malaysian cook.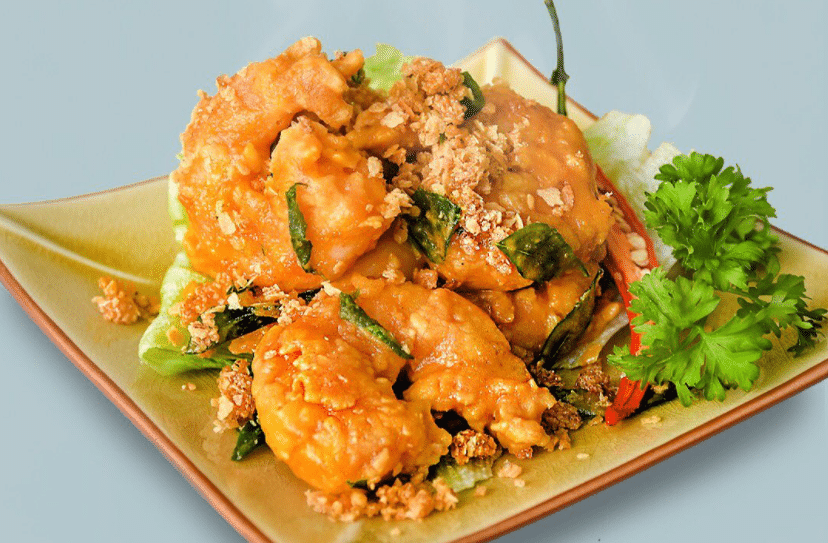 "Last year, when Covid hit, all my foreign staff could not go home. They missed their families.
"Family business is about being involved in the personal lives of our staff."
"So, I asked them to create dishes that felt most like home to them," said Reuben Ang, 34, who helms the three-generation family business.
This year, with travel restrictions yet to be fully lifted, these hometown delicacies have remained on the menu.
Some dishes, like Jiang Zheng Mussels by their cook from Ipoh, were created by the cooks with their families in mind. Others, like Steamed Shrimp & Chive Dumpling with Shan Dong-style Vinaigrette, are dishes traditionally eaten during Chinese New Year in the cook's home country.
This family themed selection of Chinese New Year dishes is particularly fitting for a business that prides itself on being a family business.
"To my parents (who ran the business), it was important to treat people like family. They interpreted for me what family business meant.
"We tell them, 'Your problem is my problem.'"
"It's not about having the same surname. It is about being involved in the personal lives of our staff, seeking their well-being and welfare," said Reuben.
His parents never shied away from offering help to their employees. From a listening ear to financial assistance, they showed care in concrete ways. This is a practice Reuben has adopted and intends to continue.
"We offer micro loans and help manage finances for those who can't do it.
"One of our staff had a son who was born with a hare lip. We helped to fund his surgery. Another one needed a loan for his renovations. We gave him one.
"We tell them, 'Your problem is my problem.'"
Click here to order from Elsie's Kitchen.
Business as missions: Reuben Ang of Elsie's Kitchen takes "heartware" seriously
Hokkien specialties like grandma's: KeeHive Private Dining
Some of private chef Bernard Kee's best memories of Chinese New Year when he was growing up are of gathering at his paternal grandmother's home to have a meal with the extended family.
"We give out angbaos (red packets) with verses and also speak out God's blessings." 
"Ah Ma's Hokkien dishes – ngoh hiang (five-spice pork rolls wrapped in beancurd skin), kong bak bao (five-spice braised pork belly with steamed buns) and steamed fish – are what I remember best," said the 53-year-old.
For KeeHive Private Dining's first Chinese New Year, Bernard is offering some of grandma's specialty for takeaway although he confesses that he can only approximate his grandmother's recipes.
"Nothing was ever written down. Everything from Ah Ma was agak agak (an estimation)."
Apart from kong bak bao, there are three other items available for delivery: Porchetta (Italian rolled pork belly with herbs), garlic crab and peng cai (a traditional pot laden with luxurious ingredients that include baby abalone, tiger prawns, fish maw, dried scallops, dried oyster, pork sinew and braised pork belly).
Of adding porchetta, an Italian dish, to his Chinese New Year offerings, Bernard explained: "After I sous vide (temperature-controlled water bath) the pork belly for 24 hours and I scored it, I realised it looked like a pineapple, especially after I put lettuce on top."
The garlic crab, which involves steaming the crab before topping it with olive oil and fried garlic, is a tribute to his wife Kathleen's Filipino heritage.
"You will not see this dish in restaurants here. I ate it in the Philippines and decided to bring the dish back here.  
"It's our signature dish for dining in and is only available for takeaway during Chinese New Year."
Bernard, who always shares with diners his conversion story and how God led him to start KeeHive, uses the festivities to share God's Word with people as well.
"We give out angbaos (red packets) with verses printed on them and as we give them out, we also speak out God's blessings to the people."
Click here to order.
From S$100,000 debt to private dining chef: The story of the hidden inspiration behind KeeHive
Festive cakes from the encouraging baker: Ten Butter Fingers
Since she baked her first encouragement cake in 2018, Jenny Lie, 45, has been using her baking skills to bring hope and God's message to people.
Last Christmas, her brand – Ten Butter Fingers – sold cupcakes that told of the birth of Jesus so that they could be used to share the Gospel. For Chinese New Year, Ten Butter Fingers has three types of cakes for sale: Orange yuzu cheesecake, kueh lapis and kueh lapis prune.
Her hope is that her bakes will bring families and friends together.
"Our family's celebrations are fairly simple. But the reunion dinner is an important tradition.
"We used to go back to Malaysia to my mum's family on the second day of Chinese New Year. It's something I miss especially with the pandemic."
"We want the kids to realise that loving their grandparents is all about showing up and honouring what matters to their grandparents."
Meeting up with the extended family is one way of honouring them. Showing them love in this way, especially for relatives who are not Christians, can be more effective than preaching love or getting them to go to church, said Jenny.
"A lot of the current traditions like having reunion dinner, which may seem like yet another meal, or ensuring we wake up early on Day 1 to visit our parents, may seem mundane or not make much sense to the children.
"But what we do want the kids to realise is that loving their grandparents is all about showing up and honouring what matters to their grandparents, not what makes sense to them as kids.
"I love the fact that during Chinese New Year, we all seem to be more present with one another – no work to catch up with or emails to reply, the kids have homework but they are more willing to take a day or two off to be present with the family.
"I cherish these traditions very much. It's time to be unhurried, to laugh together and to enjoy each other."
Click here to order (last minute orders for January 28, 2022 for cookies; kueh lapis orders available from February 4, 2022)
Touching lives with her creations: The icing on the cake for popular Instagram baker
Cookies and pineapple tarts with heart: Bakery Brera
Artisanal boutique bakery Bakery Brera is known for being more than a bakery that specialises in viennoiseries.
It is one that believes in community – among its staff, customers and neighbours – especially those that owner Thrina Low, 56, thinks needs some extra tender loving care.
For Chinese New Year, Bakery Brera has five types of cookies: Golden globes of pineapple tarts, osmanthus cookies, butter cookies, chocolate chip cookies and almond hazelnut cookies.
The osmanthus cookies is a Bakery Brera first and is, in true Thrina fashion, the result of her heart for people. The cookies are a collaboration with local brand digesT, a business started by national springboard diver Mark Lee.
"God kind of brought us together," said Thrina.
"God kind of brought us together."
Late last year, Mark, then a business undergraduate at the Singapore Management University, was doing field work that required him to interview customers who were trying out a new type of flour. Thrina happened to one of them.
What started out as a survey developed into a friendship.
"We talked about his life, his story. I wanted to encourage him, support him and also to whisper wisdom as part of informal mentoring."
Around that time, Thrina was also praying for inspiration for her Chinese New Year cookies.
"I was asking God for one very clear cookie that we should make. Then, suddenly this idea of osmanthus cookies popped up in my head.
"The very pleasant flower, the fragrance – I just felt it's very, very Chinese New Year-inspired."
When Mark approached her to package her cookies with his tea gift packages, she agreed readily as a way to support his new business. "I felt like God prepared us for this collaboration."
"Our kampung neighbours all knew there would be free food from us during CNY. This was the kind of environment I grew up in."
That same desire to encourage people is also the reason why Thrina opens up her home every Chinese New Year to those whose families are far away or who are estranged from their families.
"My mother was very hospitable. We used to open up our house in Malaysia for the first three days of Chinese New Year. We would have food done buffet-style for anyone who walked in.
"Our kampung neighbours all knew there would be free food from us during Chinese New Year. This was the kind of environment I grew up in."
This year, because of Covid-19 restrictions, she has plans to invite five people each day of the Chinese New Year holiday.
"I intentionally look for people like that. Recently, I read this Salt&Light article about a gangster who made good. I reached out to him and invited him for Chinese New Year."
Click here to order.
"We may serve bread, but we want to share the true Bread of Life": Thrina Low of Bakery Brera
---
RELATED STORIES:
Don't pek chek, here are ways to answer those CNY questions graciously
If you have enjoyed reading Salt&Light...
We are an independent, non-profit organisation that relies on the generosity of our readers, such as yourself, to continue serving the kingdom. Every dollar donated goes directly back into our editorial coverage.
Would you consider partnering with us in our kingdom work by supporting us financially, either as a one-off donation, or a recurring pledge?
Support Salt&Light