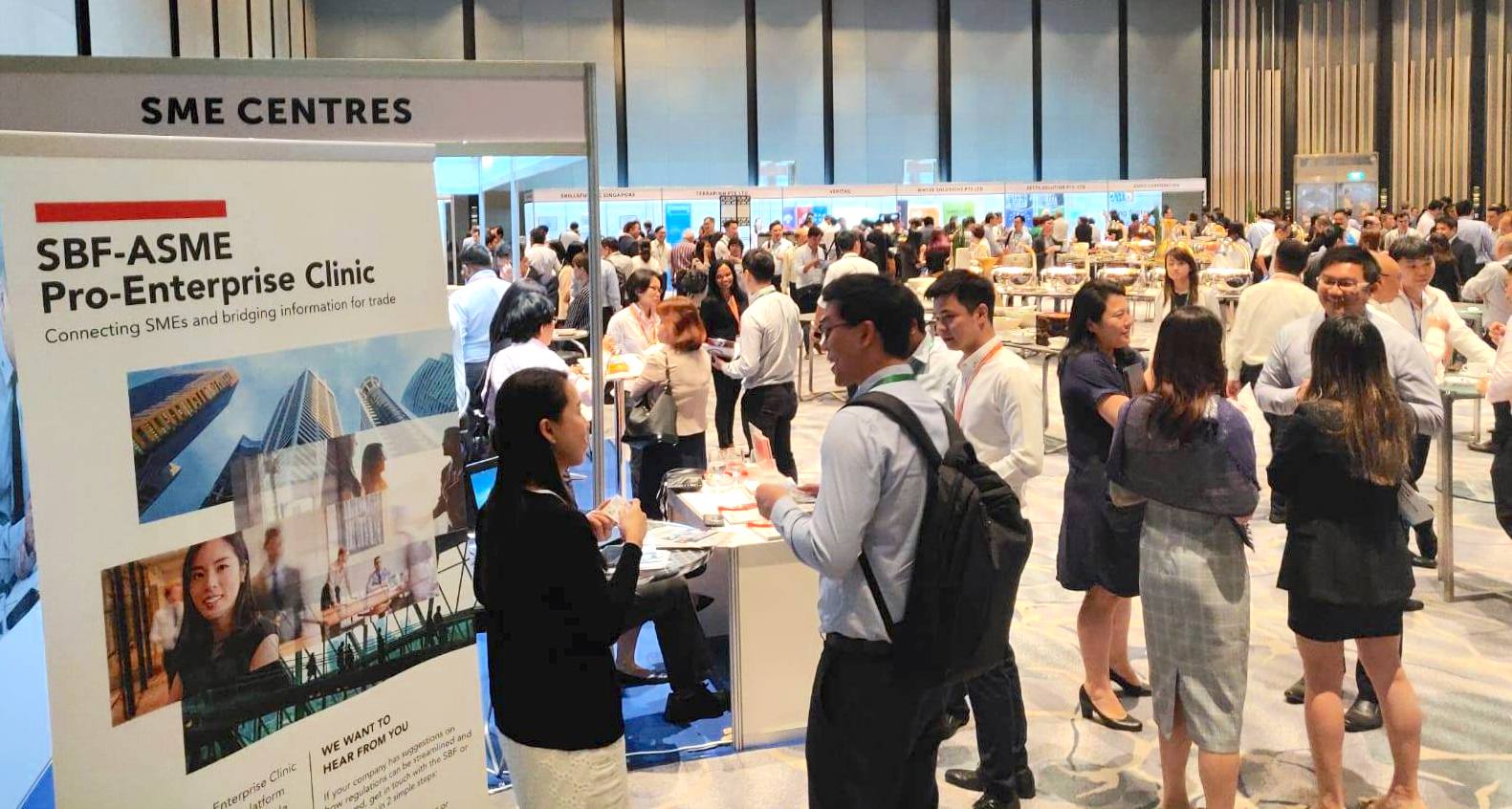 "What a reassurance it is to know that God cares and I am not fighting the devastating impact of COVID-19 in my own strength," says Chew Lee Ching, managing director of Mandate Advertising. Photo from ASME Facebook page.
COVID-19's ripple effects on Singapore's economy have yet to settle, and might not for some time to come.
The Monetary Authority of Singapore forecasts a deep recession the likes of which we have not seen since independence 55 years ago.
Unemployment rates are at their highest levels in a decade, according to a recent labour market report by the Ministry of Manpower, and still more retrenchments are likely, in spite of the government's largest rescue budgets to date.
In such economically uncertain times, small and medium enterprises (SMEs) feel especially vulnerable, being without the resources and lines of credit available to larger firms. Both employers and employees find themselves having to navigate precarious positions, and for an as-yet unknown length of time. 
Salt&Light spoke to three SME owners, who shared their go-to words of encouragement from Scripture:
"This too will pass": James Quek, owner, maid agency
"I was young and now I am old, yet I have never seen the righteous forsaken or their children begging bread." (Psalm 37:25)
Since Singapore instituted a travel ban on March 23, barring all incoming foreigners except permanent residents and those already holding long-term passes, the maid agency business nationwide has stalled. 
"No transactions also means zero income," said 62-year-old James Quek, owner of MyHelper, which was set up six years ago. The agency specialises in providing foreign domestic workers from Myanmar, although it can also bring in helpers from Indonesia and the Philippines.
"God is the provider and He never fails – this is not a cliché."
Until country borders reopen, business will continue to be very slow indeed. But Quek, a former journalist and communications professional, is unfazed.
"The short-term future looks bleak, but as in all crises, this too will pass," he said. "This season of waiting is also a time for planting."
Instead of worrying, he has spent this "precious time" developing systems and finding ways to improve his business processes.
For one, he has built a hiring system through which employers and helpers can be better matched. Helpers will be empowered to choose whom they are willing to work for, which means employers will get happier domestic help.
Meanwhile, Quek has committed to keeping all his staff, who are being paid a reduced salary even though there is hardly any work for them to do. 
"When there is a financial need, I remember Psalms 37:25," said Quek, having seen God at work in his life, including the six years when he was the Executive Director of WorldVision Singapore. 
"God is the provider and He never fails. This is not a cliché. Each crisis is painful, but an opportunity to know God better and understand His purpose for my life."
"Trust the Lord": 
Joseph Lau, co-founder, architectural firm
"You will keep in perfect peace those whose minds are steadfast, because they trust in You." (Isaiah 26:3)
The construction industry saw its activities grind to a halt as the coronavirus swept through Singapore's foreign worker dormitories.
By late April, infections within the migrant worker community alone accounted for some 85% of all COVID-19 cases, and in late May, there were days when all the new cases reported were dormitory-related.
LAUD Architects was not spared the consequences.
Its ongoing projects have been delayed by a minimum of six months because of the stop-work order from April to June. While some construction work has resumed, the architectural firm is anticipating that the long hiatus will take on a material effect as well, because the company's resources are bound to prior commitments.
"Hang on and trust the Lord; He has His plans for you in the big and small things."
The firm's six directors, of whom most are Christians, have decided that they will not issue pay cuts nor retrench any of their 46 staff, even though their cashflow is "hand-to-mouth". 
For now, the staff are kept occupied by design competitions and charitable initiatives to bless migrant workers.
"It's challenging," said co-founder Joseph Lau, 70, especially when new projects are scarce. But LAUD was a faith-endeavour right from its inception 15 years ago.
When Lau was on the verge of leaving his previous company, he received strong prompting from the Holy Spirit reminding him that God was greater than any human partner he could find. That gave him the courage to set out on his own.
Since then, he has witnessed God's faithfulness and provision for the firm through multiple crises, even the Global Financial Crisis in 2008.
LAUD has gained a reputation for accepting church contracts, which usually mean lower fees, and – even so – is equally well-known for its many design awards. 
"I firmly believe that God will help us," Lau said. "When I'm anxious, I straightaway go to the Lord.
"It boils down to faith. When God answers our prayers, our faith is strengthened," he shared, adding that he sometimes gets answers from the Lord in the form of specific verses that come to mind.
"Hang on and trust the Lord; He has His plans for you in the big and small things."
"
Manage our present anxieties": 
Chew Lee Ching, managing director, communications agency
"Where does my help come from, my help comes from the Lord, the Maker of heaven and earth. He will not let (my) foot slip. The Lord watches over me … The Lord will keep me from all harm – He will watch over my life … both now and forevermore." (Psalm 121:1-8)
"Our clients are suffering," Chew Lee Ching said matter-of-factly, and noted that in any economic downturn, marketing budgets are the first to be cut.
Hence, the managing director of Mandate Advertising foresees a slow recovery for her firm, compared with those in retail or food-and-beverage industry. It will take time for her clients to regroup after the coronavirus crisis passes – because events do not "just jump back" – and for their momentum to benefit businesses like hers.
"I have a choice ­– to remain passive and worry or to manage present anxieties differently."
"It is a worrying time to watch your business grind to a standstill and see your revenue drop as fast as a pack of domino cards," Chew said.
Like anyone else in higher management, she feels the pressure – especially when payroll is a "substantial expense".
The issue for her is not just about keeping the business going; rather, it is that there are livelihoods of people at stake. 
Government injections of funding have helped, but ultimately, the responsibility of reviving the business after COVID-19 "rests squarely on our shoulders", Chew said.
For now, her first order of business is to mitigate the sense of helplessness in her environment. She is pushing ahead by sending her staff for training and getting them involved in volunteer work while she reevaluates the business model, operations and management.
"I'm very, very thankful I have God on my side," she said. "I'm counting on Him big time to guide and lead me."
The industry veteran, who has been with Mandate since 1985, was quick to add: "But you have to be open and be prepared to work in tandem with Him.
"It may not be the solution you expected."
Just as He has seen me through past trials, I know He will enable me to do the same again."
"I have a choice ­– to remain passive and worry or to manage present anxieties differently."
Past experience of seeking God for wisdom and guidance has shown her that nothing is impossible with Him (Luke 1:37). "That has been a good stay – the cache of memories of how God has brought the company out.
"What a reassurance it is to know that God cares and I am not fighting the devastating impact of COVID-19 in my own strength. 
"The challenges are still there but so is the reassurance. Just as He has seen me through past trials, I know He will enable me to do the same again."
Business down by up to 97%, yet these restaurant owners are still giving to the community