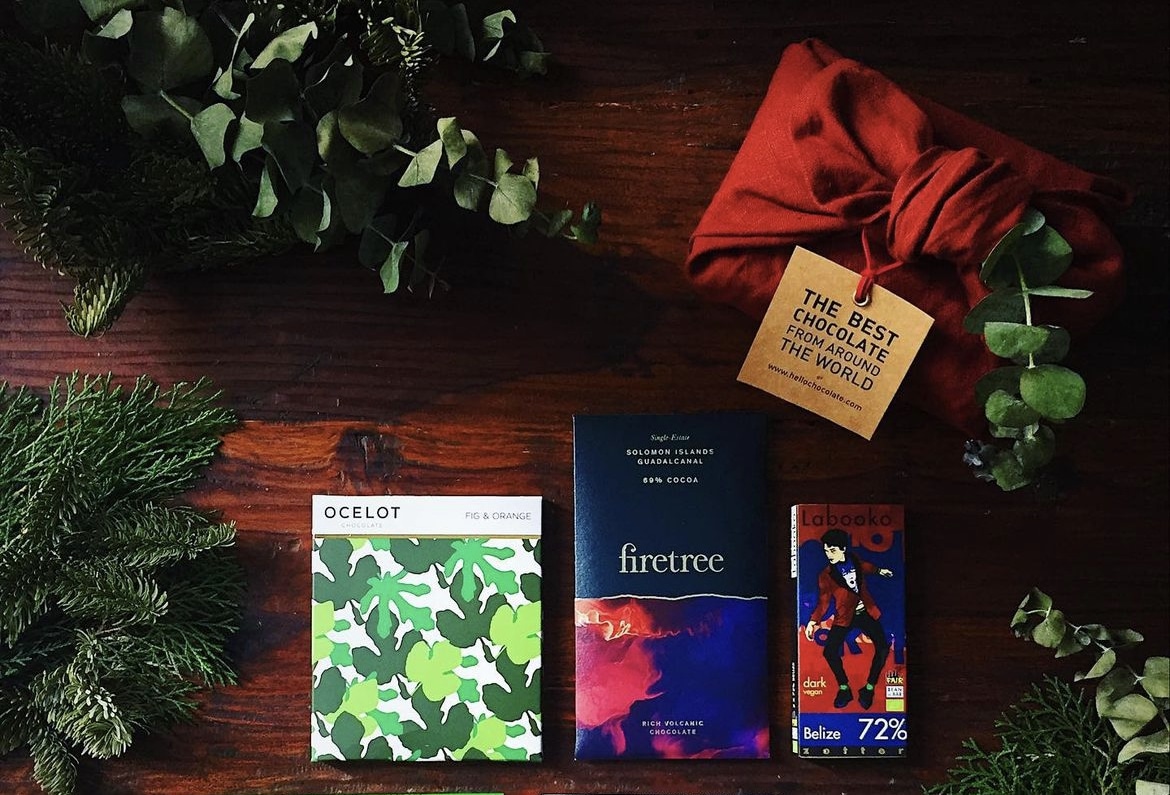 When the founders of bean-to-bar chocolate business, Hello Chocolate, set up shop in Singapore in 2015, they never imagined that one day their artisanal chocolates would be helping support displaced Ukrainian families. Photo from hellochocolateasia.
When Dmitry and Nina Minkov dreamt into reality their bean-to-bar retail chocolate business, Hello Chocolate, in Singapore in 2015, little did they know their chocolates would one day be helping support displaced Ukrainian families in the midst of the Ukraine war.
On February 24 this year, when the couple was back in Ukraine, a ferocious war descended on their hometown, Kyiv. Nina, their 12-year-old daughter, Varya, and Nina's mother, were forced to flee and move constantly for survival under the intense bombing.
Hello Chocolate: Hope for displaced Ukrainians
"Our family has witnessed Russia's invasion first-hand. Sadly, our daughter (along with millions of our country's children) has been through things that no child should ever have to experience," wrote Dima, as he is fondly known to friends, in a blog post on the Hello Chocolate website in April. 
It was a difficult decision to part with his family, but Dima was enlisted in the fight together with his younger brother. In Odessa, he divided his time between helping local defence units and running Hello Chocolate's operational teams in Singapore and the US.
Now reunited with his wife and daughter in Canada, where the family is currently based, Dima and Nina have committed a quarter of Hello Chocolate's proceeds to support other displaced Ukrainian families, mostly through the continuity of the food supply chain in Odessa.
If you are looking for edible Christmas gifts, party hostess gifts or Christmas party favours curated from ethical and sustainable sources, Hello Chocolate offers a broad range of bean-to-bar chocolates curated from independent chocolate makers around the world.
Fascinating flavours this season include Kefir (probiotic milk chocolate), Black Sauna (smoked chocolate), Oat Milk (unroasted dark chocolate) and their bestseller chunky Pralus bars. Gift Sets are wrapped in beautiful linen cloth called "furoshiki".
The biggest online chocolate shop of bean-to-bar chocolates in Asia and one of the largest worldwide, Hello Chocolate offers same day chocolate delivery in Singapore and fast delivery worldwide. 
Bakery Brera: Serving the community with love
Artisanal boutique bakery Bakery Brera is known for being more than a bakery that specialises in viennoiseries.
It is one that believes in community – among its staff, customers and neighbours – especially those that owner Thrina Low thinks needs some extra tender loving care.
From care packages for frontline healthcare workers to inviting migrant workers home for Christmas and Chinese New Year meals, from taking young interns under her wing to raising awareness of the plight of David Lang's family, Thrina is constantly looking for ways Bakery Brera can bless those around her.
"We may serve bread, but we want to share the true Bread of Life," she told Salt&Light.
This Christmas, feast on Bakery Brera's signature Italiano panettone, German christstollen, British mince pies, Christmas bread wreaths, festive matcha burnt cheesecakes, lychee rose log cake, gingerbread cookies and other seasonal treats, and you can be sure you will be partnering Thrina in her community efforts.
To order, go to bakerybrera.com/shop or [email protected] For bulk orders or other enquiries, Whatsapp 6492-5428.
You can also visit the bakery near Empress Market at #01-05, 8 Empress Rd, Singapore 260008, or catch them at upcoming festive fairs: German Center Christmas Market (Dec 6-8, 9am-5pm); BlueSG x City Sprout (Dec 10, 9am to 3pm) and Christmas on the Hilltop (All Saints Church in Upper Changi Road, Dec 23 and 24, 6-9.30pm). 
"After I became a Christian, my definition of Christmas is no longer about my own family and friends, but also about the community, the church, the least, the lost and the last. The priority has shifted to how we can share our warmth and love with many," Thrina told Salt&Light.
"I see Christmas as a powerful time for me to serve and I am constantly challenged by how I can bring God's love to people whom God has brought through the bakery platform. 
"So this year, we are collaborating with All Saints Church to do a joint Christmas on the Hilltop event on December 23 and 24 to serve the communities in the East (Bedok/Changi) by bringing our well-loved pastries and Christmas goodies with special discounts. We encourage folks to bring their families out after dinner for a fun time at All Saints Church to experience Christmas vibes!"
Joanna's Oven: Celebrating the season with family
With the pandemic having shut down many food businesses, many homeowners have taken to starting home businesses. One of these is Joanna Ying, 28, who runs a one-woman home business selling personalised cakes to order.
"Christmas is usually one of the most memorable moments for me in the entire year," she recalls, "My whole family (and extended family) are Christians, and so we will always come together as a family to celebrate and exchange gifts."
"As Christians, we know the reason behind Christmas. Because of that, we have this joy, we have this hope in Christ."
Beyond that, however, Christmas also has additional significance for Joanna and her family.
"As Christians, we know the reason behind Christmas. Because of that, we have this joy, we have this hope in Christ," Joanna said, "Because of Him, we are celebrating, and we do not dread life because of that hope."
This Christmas, Joanna has gone the traditional route with her chocolate and yuzu log cakes.
"The last few years, I went quite crazy with the Christmas bakes," the 28-year-old admitted, "so this year I wanted to make it more traditional, and also more simple."
The log cake symbolises both aspects: It is associated with Christmas, and is simple to cut and distribute for families, an aspect that strikes a chord with Joanna.
The log cakes are both 18cm long and 6cm high, weighing 500g for sharing among 8 to 10 people.
Orders for Joanna's Oven can be made from her website or Instagram.
My NoNNa's: Bonding over comfort food
When one thinks about food and restaurants, the last thing in their mind is often the staff.
"After 22 years in the corporate world, managing mostly abled-bodied people, I felt that I needed to do more meaningful work."
But for Geraldine Tan, that is the exact opposite.
"After 22 years in the corporate world, managing mostly abled-bodied people, I felt that I needed to do a lot more meaningful work," Geraldine said. Drawing on the experiences an intellectually disabled friend of hers, she decided to focus on individuals with special needs.
Today, My NoNNa's hires those with intellectual disabilities in both her kitchen and restaurant.
For Christmas, the restaurant's participation in Uncle Ringo's The Great Bay Fiesta brings on a special menu for the entirety of December.
The selection of food – a mix of international cuisine such as beef curry or black pepper chicken with blue pea rice, mac & cheese, and beef bolognese – as well as the festive menu of crackling roast pork, honey baked turkey ham and roast turkey with cranberry sauce, are all significant to Geraldine.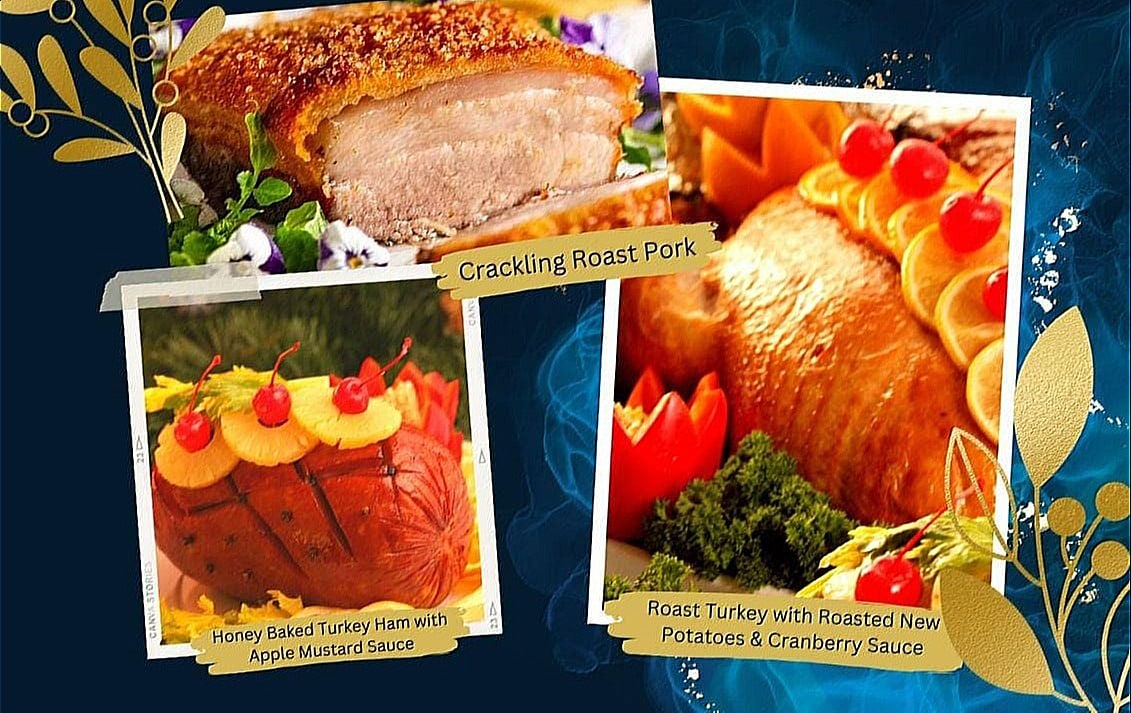 "Christmas is all about love and bonding of family and friends," Geraldine said, "and our menu is all about comfort food that all can enjoy together. What better way to bond is there?"
"Till this day, I still look back upon those Christmas greetings when the going gets tough."
In fact, Christmas reinforces to her the mission that started My NoNNa's, and the calling she received to help the intellectually disabled.
"The first Christmas after I started My NoNNa's, I received cards and notes from the parents of those with special needs whom we had helped," she shared. "All of them expressed their thankfulness, blessing me for doing something that many people have said could not be done."
"Till this day, I look back upon those Christmas greetings when the going gets tough."
Orders for MyNonna's Christmas menus can be placed here. The restaurant is located at 600 Upper Thomson Road, Level 1 Block E, S'pore 574421.
Café de Paris: Art jamming with friends
Set in the heartland of the city, Café de Paris pairs a high tea set of sweet, savoury goodness with art jamming sessions and complimentary drinks.
Behind the concept is owner Ming Ming's way of encouraging the Christmas spirit of giving and celebrating God's love.
"Besides being a festive season of joy and gift-giving when families and friends come together, Christmas means much more to us as Christians – this is the day where our saviour Jesus was born," said Ming Ming.
"Christmas is the season when we are reminded of God's love for us and for us to similarly share this love with others by spending quality time with our dearest ones."
Café de Paris' high tea sets go for under $26/pax, while art jamming sessions come with a complimentary drink which are also available as gift vouchers for purchase over the counter.
Reservations for High Tea can be made here while art jamming sessions can be booked here. Gift vouchers can be purchased over the counter at Café de Paris.
SALT Singapore: Blessing others by paying it forward
Customers at SALT Singapore outlets in Old Airport Road and Cross Street mostly come for one irresistible thing on the menu: Fried chicken.
In particular, their signature chicken cutlet with soy garlic fried rice.
This Christmas, there are some new kids on the block: Chilled capellini with caviar, black truffle chicken wings with truffle fries and Christmas cookies.
"Our black truffle wings was an inspiration from the Salt and Light theme, hence the black and white appearance," said owner Kenny. "It was a huge hit at its launch and many people requested for it again."
However, that is not all that SALT will be doing for Christmas.
"Every year we take the special occasion to look for opportunities to bless others."
"There was a year I just came back to God (after I backslid)," shared Kenny. "That year, the Lord urged me to set up a Christmas booth at church and subsequently donate all the profits to a missionary couple.
"Since then, it has been a yearly tradition to do something good for the community as a reminder of our Lord's providence."
This year, in addition to their own menu, SALT will be collaborating with three other start-ups – Grace's Delights, Noah Bakes and Mikah – to sell the trio's treats as well. This includes special Christmas cookies, Christmas tree nonya kuehs and specially curated salad bowls.
"Every year we take the special occasion to look for opportunities to bless others," Kenny said. "Mikah, for instance, is a start-up with a social cause that aims to provide F&B employment to people with special needs. We want to show our support for their cause.
"Christmas is a reminder for us that Christ died for our sins and that it is only by His grace that we are here today being able to serve Him," Kenny said. "We want to share that grace by blessing others through food."
SALT Singapore has two outlets: 51 Old Airport Road, #01-128 S390051; and 18 Cross St, Cross Street Exchange. #B1-110 S'pore 048423. Contact 8882-7258 to place orders.
Living Room Cafe: Bringing people together with sharing plates
A large sharing dish is what Living Room Cafe has in mind for bringing families and friends together.
This Christmas, they are bringing sharing platters of lamb shank and roast chicken as well as fruity coolers to the table
"Our team creates a Christmas menu annually in the hope that families will reconnect and bless others within their circle of reach," said ­manager Christina Wong, who envisions her customers sharing stories and praying for one another over the festive meal. 
"Our team creates a Christmas menu annually in the hope that families will reconnect and bless others."
To facilitate this, Living Room Cafe organises an annual Christmas Friendship Meal to reach out to the community around them.
"We feel that it is a season of giving and sharing. To be able to bless our neighbours with a warm meal and conversations at the table with loved ones gives us great joy," Christina said.
"It is a season that reminds us of the greatest gift given to us, Christ."
During this festive season, lunch sets on offer are the braised lamb shank with pumpkin mash, king oyster mushroom, roasted baby potatoes, confit tomato in lamb jus; and oven roasted chicken with roasted baby potatoes, confit tomatoes, charred cauliflower in onion gravy. You can choose to add on a peach-passion, strawberry or yuzu cooler.
The Christmas menu is available from December 8 onwards, at the eatery at 4 Bishan Street 13, S'pore 579792.
Other delectable menu items include grain bowls like honey yuzu salmon, chicken truffle and pulled pork, as well as kimchi shabu pork and Japanese chashu koka with wallet-friendly prices from $5 to $15. Contact 6715-7889 for enquiries.
---
RELATED STORIES:
Why would God care about a humble hawker stall in Pasir Ris? This young hawker found the answer
"Heaven is full of good food": ieatishootipost's Dr Leslie Tay
"It's a simple act of providing food and a listening ear": The Peranakan's Raymond Khoo launches community café for the elderly lonely
"Would you change your prayers?" God told a father, who went on to launch Soul Food for youths with special needs
From Peranakan traditions to Passover feasts: Cookbook author Christopher Tan's expressions of faith
If you have enjoyed reading Salt&Light...
We are an independent, non-profit organisation that relies on the generosity of our readers, such as yourself, to continue serving the kingdom. Every dollar donated goes directly back into our editorial coverage.
Would you consider partnering with us in our kingdom work by supporting us financially, either as a one-off donation, or a recurring pledge?
Support Salt&Light