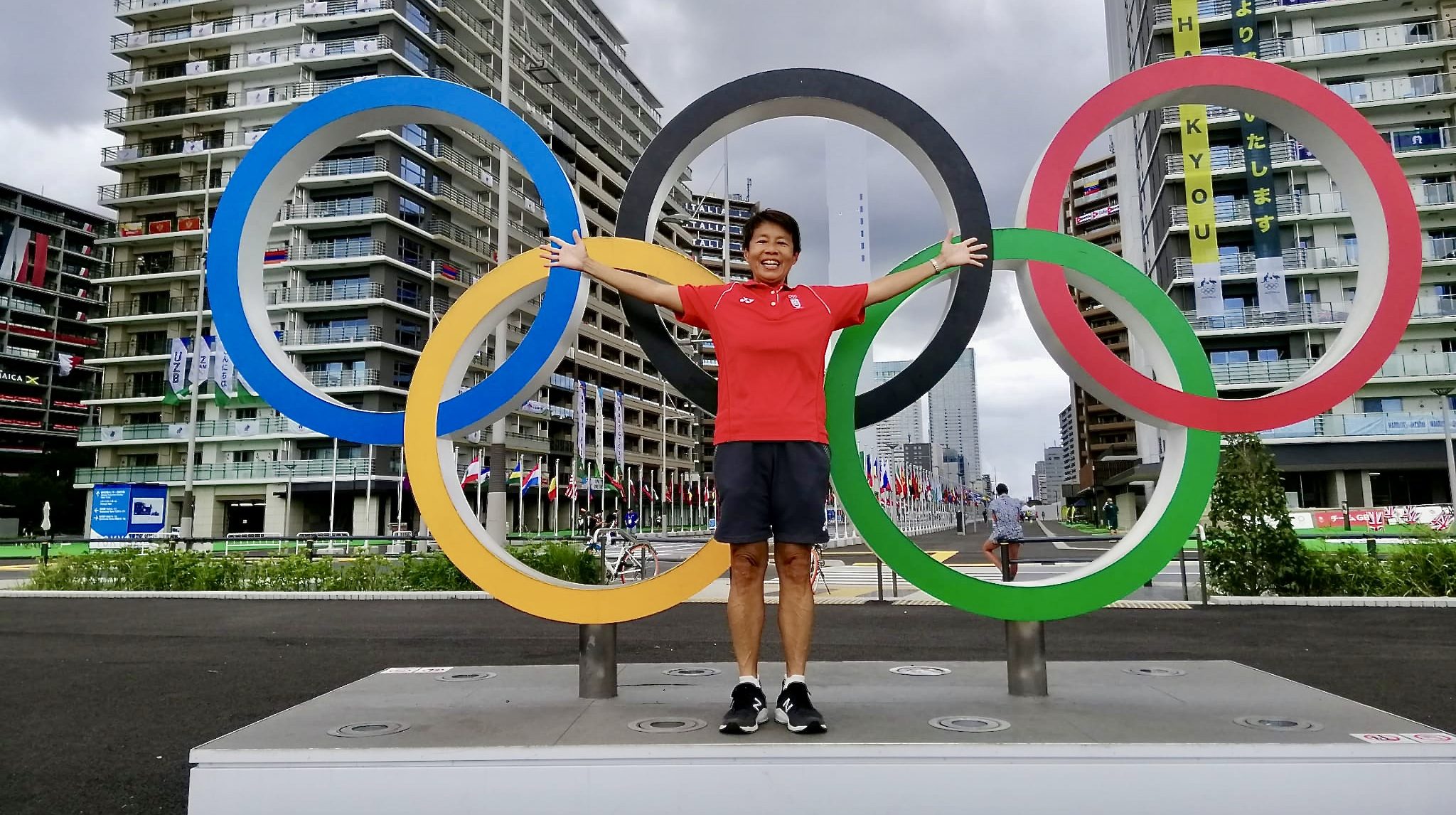 Dr Teoh on her last run around the Olympic Village before the close of the Games. She stayed on in Tokyo to attend the Paralympic Games as an official on the anti-doping team. All photos courtesy of Dr Teoh Chin Sim unless otherwise stated.
In June 2021, the world was still waiting and watching to see if the postponed Tokyo 2020 Games would be cancelled altogether as the battle against Covid-19 intensified. Prime Minister Yoshihide Suga had also extended the state of emergency to cope with the rising number of cases in Tokyo and other prefectures.
Some of my well-meaning friends told me that they wished it would be called off as it was simply too great a health risk. Others asked if I, the Chief Medical Officer (CMO) to Team Singapore for the Olympics, had any influence on the decision to participate in the Games. I replied that my role was to give appropriate medical advice to best support the team.
This was my first Olympic Games, but my fourth Paralympic Games (I am a tribunal member on the anti-doping team of the International Paralympic Committee).
These Games are the pinnacle of every athlete's aspirations – and likewise for the sports and exercise medicine physician. I am so grateful to the Lord for the unique opportunity, honour and privilege to serve and to witness, in person, what many only get to watch online or on television – especially this time when no spectators were allowed.
Evolving decisions
But let me first take you back 30 years to an exchange I had in a doctors' lounge with a colleague at a public hospital. Dr Tan Lai Yong (who needs little introduction for his community work with marginalised groups) asked if I had ever considered sports medicine as a specialty. He was active in football circles and back then, sat on the bench for our national team at the legendary Malaysia Cup matches.
 The Lord God is the architect of every detail of the past three decades of my journey in sports medicine.
One thing led to another, and within the next two years, I found myself working as a medical officer at Singapore Sports Council (SSC), now known as Sport Singapore.
As someone who accepted Christ as Saviour through television evangelism while sitting alone in a one-bedroom apartment on her second night in Alabama, USA, in September 1993  (I was sent there to complete a Master's degree in sports science on an SSC scholarship), I firmly believe that the Lord God is the great architect and arranger of my conversion, every detail of the past three decades of my journey in sports medicine, and indeed my entire life.
Having accompanied Team Singapore as sports physician on multiple occasions to major games, I daresay that the Tokyo preparations were the most complex ever to organise.
There were new considerations, primarily with regard to disease prevention and infection control. We needed to constantly adapt and make decisions and recommendations to evolving situations in the run-up to, and during, the Games – without knowing if all this would come to naught if Tokyo 2020 were cancelled.
The Singapore media and public were also naturally very interested and concerned that all possible precautions were taken to keep Team Singapore safe. So, for the first time in all my years of serving behind the scenes as CMO, I underwent training to brief the media at a press conference and a radio interview prior to our departure for Tokyo. It was stressful.
I am very thankful for the various stakeholders who worked tirelessly to ensure that, in addition to the usual tasks, Covid-19 vaccinations were completed, specific health and safety measures and protocols were developed with a clear travel advisory, protective gear was procured, and a comprehensive crisis management plan was in place.
In Japan, we had also to consider the risk of natural disasters such as floods, typhoons, earthquakes and tsunamis. Praise to the Lord for His favour and timely provision of manpower, professional expertise and supplies.
He also brought to mind names of experts and specialists in my existing and extended circle whom I could consult for advice to make good and informed decisions regarding Covid-19 related matters in particular.
Wake-up call
Though we worked as a team to prepare, coordinate and deliver the best care possible, there was no escaping the fact that the ultimate burden of responsibility fell firmly and squarely on my shoulders where medical matters were concerned.
The unexpected, ballooning demands of the Tokyo 2020 Games preparation added to my usual daily hospital work and many extracurricular activities. It eventually took its toll on me, in the form of recurrent chest pain for several months prior to our departure.
Not wanting to be "wise in my own eyes" (Proverbs 3:7), I consulted a cardiologist classmate and was sent for a battery of tests. The results were not perfect but the condition treatable. I was put on long-term medication for the first time in my life and gently counselled, too, by the good doctor who attributed the chest pain to my workload.
It also served as a wake-up call for me to review my over-committed lifestyle and seek the Lord for direction as I did not want to keep busy doing anything that is not aligned to His purpose for me.
Prayer warriors
Throughout the Olympic Games, my constant hope and prayer was that we all would return to Singapore in one piece, free from serious injury and in good health, not having contracted Covid-19 nor put through any natural disaster.
I was so touched that so many friends and family members took time to pray unceasingly for our Team Singapore contingent. My cell group leader's wife, Selina Tay, steadfastly messaged me with prayers every day.  
Papa God was ever faithful and answered our prayers. I never worried, for I knew that nothing could happen without His permission, and ultimately, God was in charge.
I prayed also for His wisdom as we were navigating through uncharted territory, and there were several occasions where I needed to make difficult decisions and explicit recommendations.
Lessons from the polio epidemic
Rewind to one-and-a-half years before. The Lord had built my faith and taught me that everything that mattered to me mattered to Him, that He was indeed Jehovah Jireh and Jehovah Nissi.
In the Philippines, I burst out crying uncontrollably, in gratitude to the God of the possible and impossible.
It was not a global pandemic, but a local epidemic of polio in the Philippines that had come to my attention just prior to the 2019 SEA Games. There would be more than 1,000 people in our contingent flying there in several waves within days of this news.
The situation weighed heavily on me. And for a fleeting moment, when the enormity and gravity of it all came upon me at 10.30pm while driving home after a long day at the hospital interspersed with speaking with various people and authorities to address the emerging issue, I wished myself dead.
And, at that very moment, God brought to mind the image of Moses leading his people and holding up his staff to part the Red Sea, telling me that I was to lead in what seemed to be an impossible situation to me at that time. (Earlier that year, I had received the Public Service Medal during the National Day Awards for my service to Team Singapore at multiple major games, so I felt an overwhelming responsibility, not just to the contingent, but my country as well.)
As the next three days unfolded, I saw God move many mountains to secure the booster doses of polio vaccines for everyone and mobilise many busy people to organise things on the ground. The cooperation and teamwork was phenomenal.
I barely slept and lost 1kg in those three days, and till this day, am ever grateful to all who made things possible, especially my colleagues at the Ministry of Health, Sport Singapore, and Singapore National Olympic Council.
When I finally arrived in the Philippines, I burst out crying uncontrollably in the midst of a run on my first morning there, in awe and gratitude to the Lord who is God of the possible and impossible.
All wonderful abilities
Shortly after Team Singapore returned home on August 8, I assumed my next role at the Paralympic Games.
It would be very remiss of me not to mention the London 2012 Paralympic Games at this juncture.
It was like no other Games that I had ever been to, as it opened my eyes and moved my heart to the world of para sports, leaving an indelible impression, and influencing how I think and what I do ever since.
In that edition of the Games, 4,302 athletes – who came in all shapes, sizes and abilities from 164 countries – showcased to the world how to optimise what they had to maximise their athletic performance. Each one Papa God's creation.
I was sold and became a para sport fan and fanatic, sharing and speaking to anyone who would give their ears and time to hear how we can all do more in Singapore.
In writing the above, an old hymn came to mind:
All things bright and beautiful
All creatures great and small
All things wise and wonderful
'Twas God that made them all
He gave us eyes to see them
And lips that we might tell
How great is the Almighty
Who has made all things well.
It is no coincidence, therefore, that the Tokyo Paralympic Games became the launching pad for WeThe15 human rights movement to effect change for 15% (1.2 billion) of the world's population with disabilities to remove inequality and inactivity.
Amazing feats and a moving hug
My role during the Paralympics granted me access to all competition venues, so I was blessed to able to support our Team Singapore athletes in-person for many of their competitions, witness their achievements and catch other events as well.
From time to time, I found myself crying out of sheer admiration and respect for the athletes as they swam, cycled, ran and more. There were countless and amazing feats that I witnessed.
One of the most vivid images was that of a para-triathlete running on her one good leg and one prosthetic leg, stabilising herself all the way with a pair of crutches for 5km, after having completed a 750m swim in Tokyo Bay and cycling 20km. As she crossed the finish line, the Japanese competitor before her reached out to welcome her with open arms, smiling, then hugging. Each had a prosthetic leg. It was a sight to behold.
My 53 days in Tokyo passed quickly, and so have my 30 years in sports medicine in the blink of an eye. Little did I know that brief encounter in the doctors' lounge would become an adventure culminating in the Tokyo 2020 Games.
But He knew, and that is all that matters.
"For I know the plans that I have for you, declares the Lord, plans for prosperity and not for disaster, to give you a future and a hope." (Jeremiah 29:11)
And, as God wills, the journey continues beyond Tokyo 2020, as I will be at the Commonwealth Games in Birmingham, England, in July 2022, serving as a member of the Antidoping and Medical Commission of the Commonwealth Games Federation.
---
MORE STORIES ON SPORTSMEN AND WOMEN:
"God doesn't need a gold medallist to glorify Him": A national athlete's journey of faith
"Without God, I would've just been your average Mr Nice Guy": Olympian and ex-MP Dr Tan Eng Liang