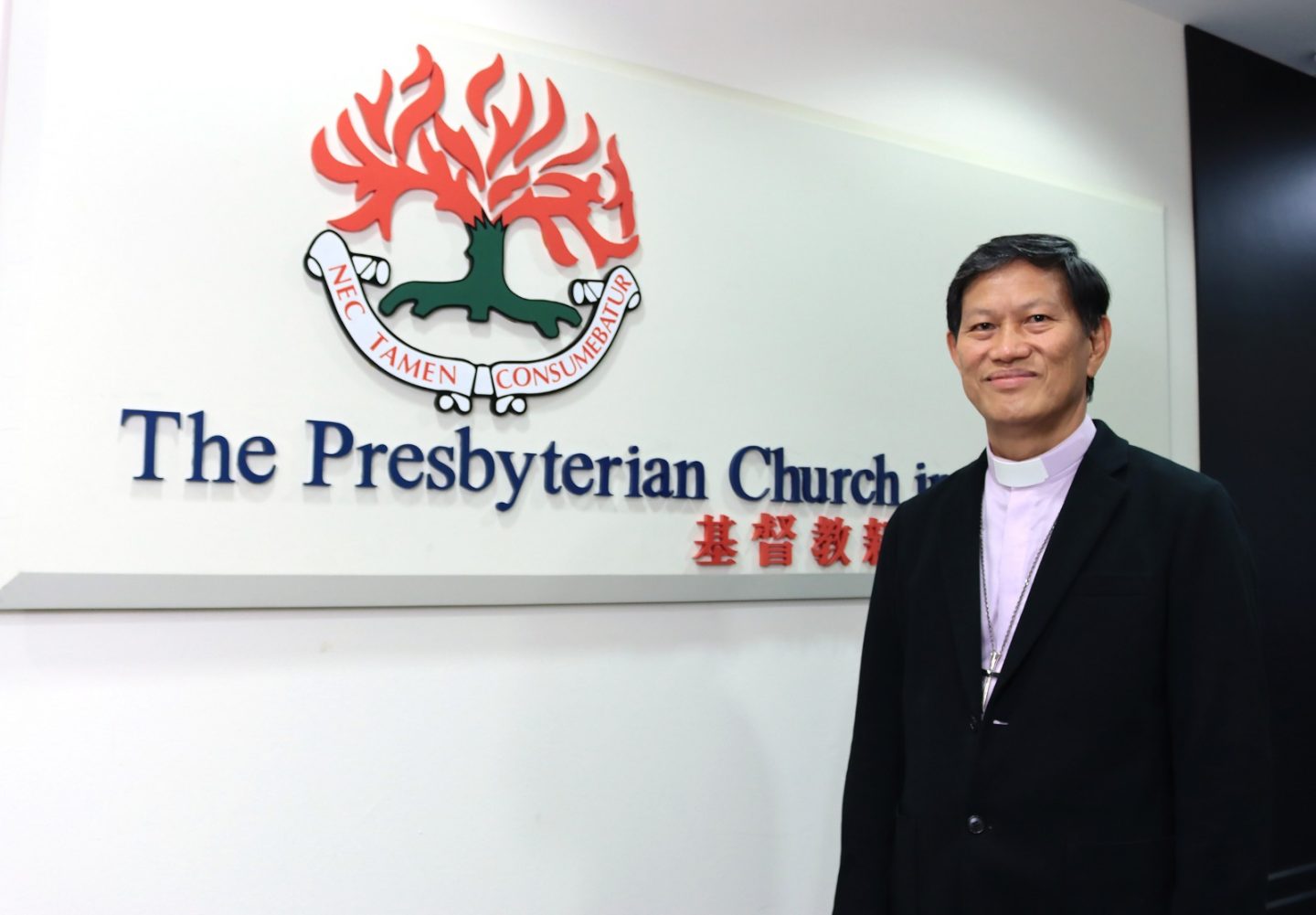 After receiving Christ at 18, Rev Keith Lai had wanted to become a missionary – and was well on a trajectory to becoming one – until God redirected his steps. He has since served faithfully in the Singapore church for almost four decades. Photo courtesy of Rev Keith Lai.
Having served faithfully in Singapore's local church for close to four decades, former President of the National Council of Churches of Singapore (NCCS) Reverend Keith Lai is a familiar face to many.
But few know that Rev Lai, 64, who is also the Senior Pastor of Covenant Presbyterian Church, had actually set out in his younger years to be a missionary.
In fact, having had four years of missions experience and a Bachelor's degree from a missionary training school, he had well been on a trajectory to becoming one – until God redirected his steps.
Young and passionate
A year after receiving Christ in 1974, Rev Lai, then 19, had felt so compelled by the call to serve God – which he heard three times, no less – that he contemplated "dropping everything", including his studies at a polytechnic, to answer it.
At a recruitment meeting by international missions organisation Operation Mobilisation (OM) in Singapore, he remembers one line that had struck him: "The only qualification needed to serve God is a deep hunger for God."
"That was me – unqualified but hungry," said Rev Lai.
But at his pastor's advice, he stayed to complete his National Service and chalk up some working experience as an administrator. It was only then – about two years later when he was 21 – that his church leadership endorsed his going.
His choice of ministry was OM Ships International's first pioneering ship, MV Logos. "Somehow the excitement of seeing the world and gaining a world vision really inspired me," said Rev Lai.
As part of his journey to get onto the ship, he had to take a 21-day overland trip from Swansea, England, to southwestern Asia, crammed with 24 others in a minibus.
"It was quite an adventure. We never checked into a hotel. We slept on the bus, we put up tents in the open field. In Austria, I remember, we slept in the toilets because it was the warmest," recalled Rev Lai.
"And then when we travelled through (a country in West Asia), we were stuck in the mountains because there was too much snow and the whole fuel tank had frozen overnight. They had to heat it up to defrost it," he said with a laugh.
Huge culture shock
When he arrived on board the ship, he soon realised that life would be vastly different from what he was used to in Singapore.
His cabin was two times the size of a toilet in a small flat, his bed a shared double-decker.
His first roommate, he remembers distinctly, was a Scottish fisherman. "He was real Scottish," said Rev Lai. "I could only understand 10% of what he said each time because his accent was so thick!"
As there were more than 140 people from over 20 countries living in close quarters on the ship, he also had to get used to living, working and playing alongside people from various cultures, something that was at times "very challenging".
"You're forced against your will – in that you cannot jump ship, you cannot run away – to accommodate others, to learn to accept people and learn to forgive."
He was also shocked to find out that the work he would be doing was far from what he had expected a missionary to do.
When he first signed up for mission work as a young believer, he had passionately told God: "Lord, I want to be the second Billy Graham and have a chance to preach to a crowd."
But that ideal was "smashed" the moment he was assigned to be a deckhand.
"What I was doing had nothing to do with ministry to me. I was washing the toilets, doing all the dirty work like painting the side of the ship, cleaning the external, internal, everywhere," he said with a laugh.
"It was challenging. My expectation of ministry was blown to pieces." Yet he persevered, believing that somehow his work would be used by God.
An encounter with grace
From 1978 to end-1982, Rev Lai sailed with the ship through the Middle East and Asia, progressing on to become part of the programmes department that did more front-facing ministry.
Along the way, he continued to learn valuable lessons that would shape his service to God for decades.
For example, lessons on the importance of faith and prayer.
Prayer was a huge aspect of life on the ship, said Rev Lai. The ship's crew would hold overnight prayer sessions every week to ask God to provide them with fuel, which was funded by donations. And God always provided, even during the oil crisis in the Middle East.
He also remembers everyone praying fervently as they were being "chased" by a typhoon through the South China Sea, with seas so rough that even the ship's doctor was too seasick to help anyone.
God always provided fuel, even during the oil crisis in the Middle East.
"It was very scary. If you've been caught in a typhoon in the middle of the sea – it's pitch darkness. The ship was just thrown sideways and all over the place, and it really forced everyone to pray," he said.
Apart from learning to trust God in every circumstance, Rev Lai also had a deeply impactful encounter with God's grace.
"I did something silly which deserved me being sent home," he said, declining to reveal more details except that he had broken a rule on the ship. 
He owned up to the ship's director, Dr Allan Adams, fully expecting to be sent home. But he was surprised when Dr Adams not just forgave him but allowed him to continue serving on board the ship.
"To me, it was grace. Nothing else. So that was very transforming. And if I look back, that is something that I have carried into ministry," he said.
The sum of these experiences was like an "internship" that trained him in character building, he said, adding that it equipped him and deepened his desire to go into long-term mission work.
Redirection of steps
After his time on the ship, Rev Lai returned to Singapore to help out in the youth ministry in his church.
Then he left for Tasmania, Australia, to get a degree in biblical studies at a missionary training college by WEC International to further equip himself.
"While the harvest is about missions, it's not just overseas but local."
When he graduated at 26, the only thing left to do was decide which country to settle down and serve in for the long term.
But as he was pondering on this, the leadership at his local church, the English service of Jubilee Presbyterian Church (now Covenant Presbyterian Church), asked him to consider joining the pastoral team as a youth pastor.
There was only one pastor then in their congregation of about 400 people, and they were in need of someone to anchor the youth work and ministry.
"I was in a dilemma because I was already preparing to go into missions," said Rev Lai, who fasted and prayed for three days over his decision.
It was during this time that God spoke to him from Matthew 9:36-38:
When he saw the crowds, he had compassion for them, because they were harassed and helpless, like sheep without a shepherd. Then he said to his disciples, "The harvest is plentiful, but the laborers are few; therefore pray earnestly to the Lord of the harvest to send out laborers into his harvest."
Rev Lai said: "The word 'shepherd' really struck me because it talks about the role of pastoring, of caring for the flock. So while the harvest is about missions, it's not just overseas but local."
Mission field in our backyard
Even though Rev Lai chose to follow God's leading into local ministry, none of his years in the mission field were wasted.
"I still carry that world vision, world mission perspective. It has really formed my conviction," said Rev Lai, who later went to Singapore Bible College before rising up the ranks to become a senior pastor in 1991. He also served as a former member of the OM Singapore board.
Both local pastors and overseas missionaries are equally important to fulfil the Great Commission, he said.
"In Covenant, a lot of things we do always bring us back to what we are doing in world missions, whether it's discipleship or Bible study. These things are not an end in itself. How does it work and contribute toward world missions?"
He added that churches in Singapore have a unique opportunity to reach out to the nations through the hundreds of thousands of migrant workers in our country.
Citing an example, Rev Lai shared that there has been a fellowship of a particular South Asian group in his church for the past 20 years.
Some of them, after coming to Christ in Singapore, have returned to their country to become pastors, he said, adding that the ministry has also opened up opportunities for them to train pastors in church planting in their home country.
Every year, a team from Covenant Presbyterian Church flies over to their country to run a four-day church camp for those who have returned. Eager to reconnect with friends they had made in Singapore, the workers readily attend the camp and often bring along their family too, some of whom eventually come to know Christ.
Importance of unity
Rev Lai believes that the future of missions is no longer in large evangelistic rallies, but in smaller, more intimate discipleship groups.
This is in line with the Disciple-Making Movement, or DMM, which emphasises multiplying small groups of disciples over adding numbers to an ever-increasing large church.
"Everyone takes pride in their way of doing ministry … So working together requires a lot of brokenness and humility."
"We should be going out there, reaching people where they are, letting them remain where they are and then training and equipping them to start their own evangelistic Bible study groups with their friends," he said.
This is applicable not just locally but in the overseas mission work that churches do as well, he added.
He observed that churches often go into these countries to do good works, such as building homes for the poor, digging wells or set up schools.
"All these are excellent starters and initiatives," said Rev Lai. "But if we just stop there and never think of disciple-making and training local church planters, then I think we're missing the point."
Back home in Singapore, he hopes that the local church can be more united in pooling their resources toward common goals, for example, to help Bible translation movement illumiNations Asia achieve the goal of having a portion of Scripture in every language by 2033.
"Everyone can chip in for that to finish the work sooner rather than later," he said.
"Churches in Singapore have a unique opportunity to reach out to the nations through the migrant workers in our country."
He added that he would love to see more churches working together in missions, though he acknowledged it is "an uphill task" as people have to be willing to lay aside their differences and opinions.
"Everyone takes pride in their way of doing ministry. Then we talk down to others, maybe not publicly but hinting at it. So working together requires a lot of brokenness and humility," he said.
Nevertheless, he is heartened by the unity that has been gaining momentum since the Celebration of Hope in 2019, an evangelistic rally that saw key apex leaders across churches in Singapore working together. "That's a very positive sign," he said.
In the work that Rev Lai does and continues to do, one image from his time on Logos remains firmly with him – of the vast ocean that seemed to go on forever whenever they embarked on a sail.
It was – and is – an image that reinforced the vision in Habakkuk 2:14, one that promises the completion of the work that the Church is doing:
For the earth will be filled with the knowledge of the glory of the Lord as the waters cover the sea.
---
God calls us to missions in our unique capacities. Will you live out His love to those who do not know Him? Explore opportunities here: www.sg.om.org
40 God stories

To commemorate their 40th year, OM Singapore has published a book, Unchanging: On Mission With a Faithful God, capturing 40 God-stories of Singaporeans, including Dr Keith Lai, who love God and His mission in many parts of the world.
"The quintessence of OM rests on the premise that God can use anyone, anytime, anywhere, whenever one hungers for Him. It is about giving God a chance to work in and through us," said Rev Keith Lai, President of National Council of Churches of Singapore (NCCS), who served on board OM's Logos ship.
"The 40 curated stories in this book testify to this truth. What a motley bunch of most unlikely individuals. What diverse and interesting backgrounds. But all with an underlying common thread – a touch of God's grace stirring in their hearts to leave home and venture into the fathomless unknown." 
To purchase the book for yourself and your friends, click here.
---
MORE ON GOD'S FAITHFULNESS IN MISSIONS:
"There was no big blueprint, just the fingerprint of God": HealthServe's Dr Goh Wei Leong