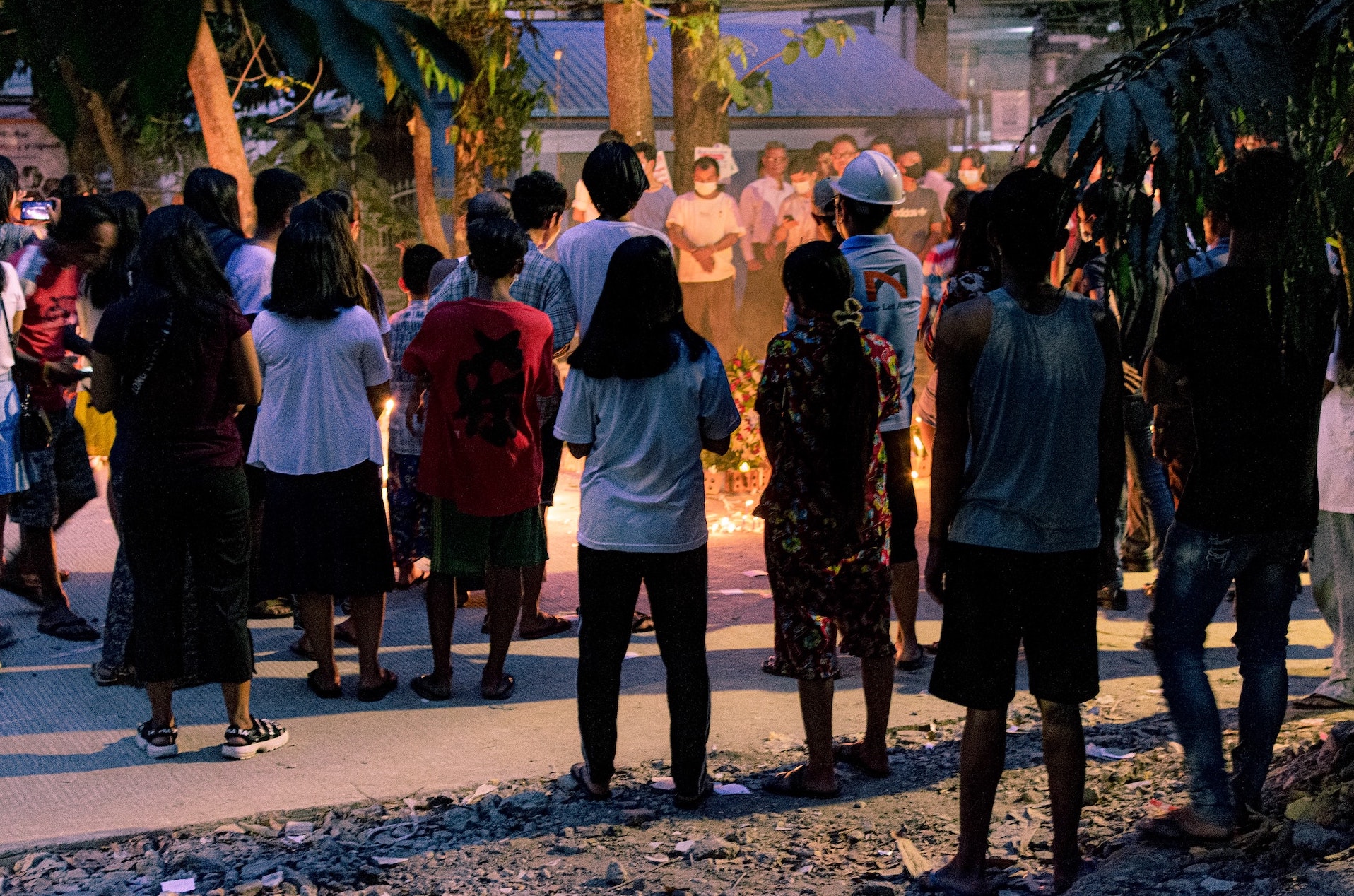 Myanmarese keeping a candlelight vigil earlier this year. Photo by Zinko Hein on Unsplash.
"Be still, and know that I am God; I will be exalted among the nations, I will be exalted in the earth." (Psalm 46:10)
This verse has been a source of comfort and strength for Tom*, his family and team of workers in the last few months since the military coup in Myanmar. The violent takeover by the junta in February 2021, which has now led to civil war, put an end to six short years of relative peace under a largely-civilian democratic government.
Recent events have "thrown everything upside down", said Tom, a foreign Christian worker who has had to leave his work in the country. He has been serving Myanmar and her people groups for more than 25 years.
"But this is a call to recognise who God really is – He is greater than we are. It doesn't mean we can lean back (and do nothing).
"It is a call to faith in prayer and action." 
War triggered
Tom was one of two Christian workers who shared about Afghanistan and Myanmar at a prayer meeting organised by Antioch21 (A21), the global missions arm of LoveSingapore last Saturday (September 11). Over 170 people attended the Zoom session which focused on intercessory prayer for Afghanistan and Myanmar, two nations that were plunged into crisis this year.
"I think this is what God is doing: He is wanting to reveal Himself to nations and peoples that have yet to know Him."
The choice of date did not ring a bell with the team when they first picked the date to call for a prayer meeting, explained Joseph Chean who is leading the A21 initiative. The National Director of Youth With A Mission (YWAM Singapore) clarified that it was "not a last minute thing" but was previously intended as a prayer meeting in the lead up to the re-launch of Antioch 21 movement later this year on November 27. 
In fact, it was only after news reports linked the withdrawal of US troops in Afghanistan to the 20-year anniversary of the 9/11 terrorist attacks in New York that the organising team realised the significance of the date. The world changed on September 11, 2001, when the events and consequences of that fateful day markedly shaped the future.
It triggered the war on terror in Iraq and Afghanistan and changed the balance of power in the region.
It caused a new generation to grow up in war and conflict in a different way from their forebears.
It changed the face of aviation security – like the ban on check-in liquids – and even the flow of cross-border money because of anti-money laundering laws.
The shaking of nations
"When (the Taliban takeover of Afghanistan) happened, we realised that this was also a 'reset' button for Afghanistan," said Chean.
Earlier, God had already given him a word from Scripture in Habakkuk 1:5 about what the Lord was doing for the season.
"When God first shared this with me, I was puzzled: What would God do that I would not have believed? What on earth is God doing?" Chean wondered as he pondered over all that was going on in the world.
Chean believes this is God's invitation to us to stand in the gap of the nations – "to weep with His emotions as He weeps over them".
"I feel that God is really wanting to reset the world," said Chean. The answer came from the next verse that the Lord reminded him of in Isaiah 65:1: "I revealed myself to those who did not ask for me; I was found by those who did not seek me. To a nation that did not call on my name, I said, 'Here am I, here am I.'" (Isaiah 65:1)
Chean surmised: "I think this is what God is doing: He is wanting to reveal Himself to nations and peoples that have yet to know Him. And God is wanting – through a time of crisis – to shake the earth. To project and reveal Himself so that nations can come to know Him."
Chean believes this is God's invitation to us to stand in the gap of the nations. "To pray for these nations with His perspective; To weep with His emotions as He weeps over them. To wage war (through prayer) with His righteous anger and to decree according to His sovereign purpose."
How you can pray
Tom and Mong*, another Christian worker who lived through the first years of Taliban control and spent over 20 years working amongst Afghans, gave an update on the ground situation and shared how we can pray for the two nations.
For Afghanistan
1. That many Afghans will turn to the Lord in the midst of their suffering and know the hope of the Gospel.
The Hazara people are an example of people turning to Christ for salvation because of the intense persecution by the Taliban and Islamic State (IS) because of their religious heritage as a Shi'a sect. Last year, a terrorist bomb went off in a maternity hospital which served mainly Hazaras.
2. For a strong mandate and protection of God's servants and pre-believers.
After 2001, the Christian work in Afghanistan expanded, said Mong. Many came into the country under the banner of NGOs and other aid agencies and made their way to the rural poor in places where no Christian had ever been.
3. That those who are starving and in need of help will be fed and receive aid in the name of Jesus.
In Kabul alone, there are over half a million displaced people who are without food and shelter. The country is also facing a nationwide food shortage caused by a severe drought, with more than 1 million children at risk of starvation.
4. That many foreigners with a desire to witness will be able to return to the country.
Afghanistan is one of the places in the world with the most intense persecution of Christians and there have been reports of kidnappings and killings of aid workers who are suspected to be Christian. There are reports of targeted persecution by the Taliban towards Christians as well.
5. For the diaspora and for the churches and believers in countries they are residing in to reach out to them.
Neighbouring countries like Pakistan and Iran saw the highest numbers of Afghan refugees and asylum seekers last year. According to UNHCR figures, 1.5 million Afghans fled to Pakistan in 2020 while Iran hosted 780,000. Countries nearer to home have small refugee populations as well: Malaysia and Indonesia have about 2.600 and 13,000 Afghan refugees.
6. For those who have come to faith to have a strong desire to return to Afghanistan in the future to be a witness for the Lord.
7. Against an increase in terrorism and that plans of attacks will be foiled.
For Myanmar
1. For hope, peace, stability, equality and freedom in the nation.
The coup in Myanmar has been overshadowed by other news. But there are daily arrests, fighting and bombing. This time, the conflict is nationwide. On September 7, the shadow government declared revolution and war. Economic collapse is imminent with an inflation of 30% and a liquidity crunch.
2. For the protection of the innocent and the weak.
Military brutality against the people of Myanmar dominated headlines in the earlier half of 2021. This time, however, with a declared resistance, people are also being caught in the clashes between the resistance militia and the military.
3. For the healing of mind and bodies.
A massive wave of Covid has hit the country: In Yangon, Mong estimates 45,000 people have died. Over 500 pastors and mission leaders have died, according to sources on the ground. Many feel that the Covid deaths were preventable.
4. For aid to reach where it is needed: Food for the hungry, medicine and care for the sick.
All forms of governance – the education and even healthcare system and any form of administrative capability – has collapsed. Government services are currently non-functional.
5. Many more to find eternal hope and peace in Jesus.
Many feel hopeless, afraid, abandoned, sad and angry. There is a great sense of injustice and oppression. The fear and hopelessness is crippling. People are turning to the Lord: Not massive revival but individuals "here and there".
6. Transformation of the worldview to be all-inclusive and equal. 
The Bamar ethnic group used to enjoy unrivalled dominance in community, but this is not the case as Myanmar is moving towards a society based on equality.
Standing in the gap
Pastor Edward Pousson, a missionary who has been serving in Singapore for the last 30 years, ended the meeting with prayers for the nations and the workers still involved in the work on the ground.
For nations in crisis:
Our dear Father in heaven, we pray for the nations and the peoples of Afghanistan and Myanmar. And we pray, O God, that You bring forth justice. That You overthrow the injustice that is presently prevailing in those nations and causing such horrendous pain and suffering and atrocities.
God, we know that You are more outraged than any of us could ever be and so we pray and we ask You to hear our cry: That You would make all things beautiful in its time and make all things right. That You would rectify the injustices in Your time – when it pleases You. But Lord, we pray that it would be soon.
For Christian workers:
We pray that Your hand of blessing and protection would cover them and keep them secure and safe. Keep them from being exposed to danger so that they can continue their work – whether on site or from a distance – and we ask You, O Lord, that You would give them wisdom, understanding, discretion and determination that they would be able to continue working in Afghanistan and Myanmar. 
We pray, O God, according to Your will, that you help them to be fruitful and help them to mobilise many others to have an impact on these two nations and the unreached peoples in those nations. This is our cry and prayers.
Bless these two missionaries, their families and co-workers, in the name of the Father, Son and Holy Spirit, and the name of our Lord Jesus Christ, we pray, Amen. 
---
*Names have been changed for security reasons.
---
MORE STORIES ON MYANMAR AND AFGHANISTAN:
"Brothers and sisters in Christ, please don't forget about us," plead embattled Christians in Myanmar
"We know where you are and what you are doing": Taliban warn house church leaders
"Help! We can't breathe": Pray for Myanmar, struggling to get oxygen as dead bodies pile up
Afghan aid worker who has chosen to stay: "I am not a brave person. Every day I pray to the Father and ask Him to help me."
If you have enjoyed reading Salt&Light...
We are an independent, non-profit organisation that relies on the generosity of our readers, such as yourself, to continue serving the kingdom. Every dollar donated goes directly back into our editorial coverage.
Would you consider partnering with us in our kingdom work by supporting us financially, either as a one-off donation, or a recurring pledge?
Support Salt&Light