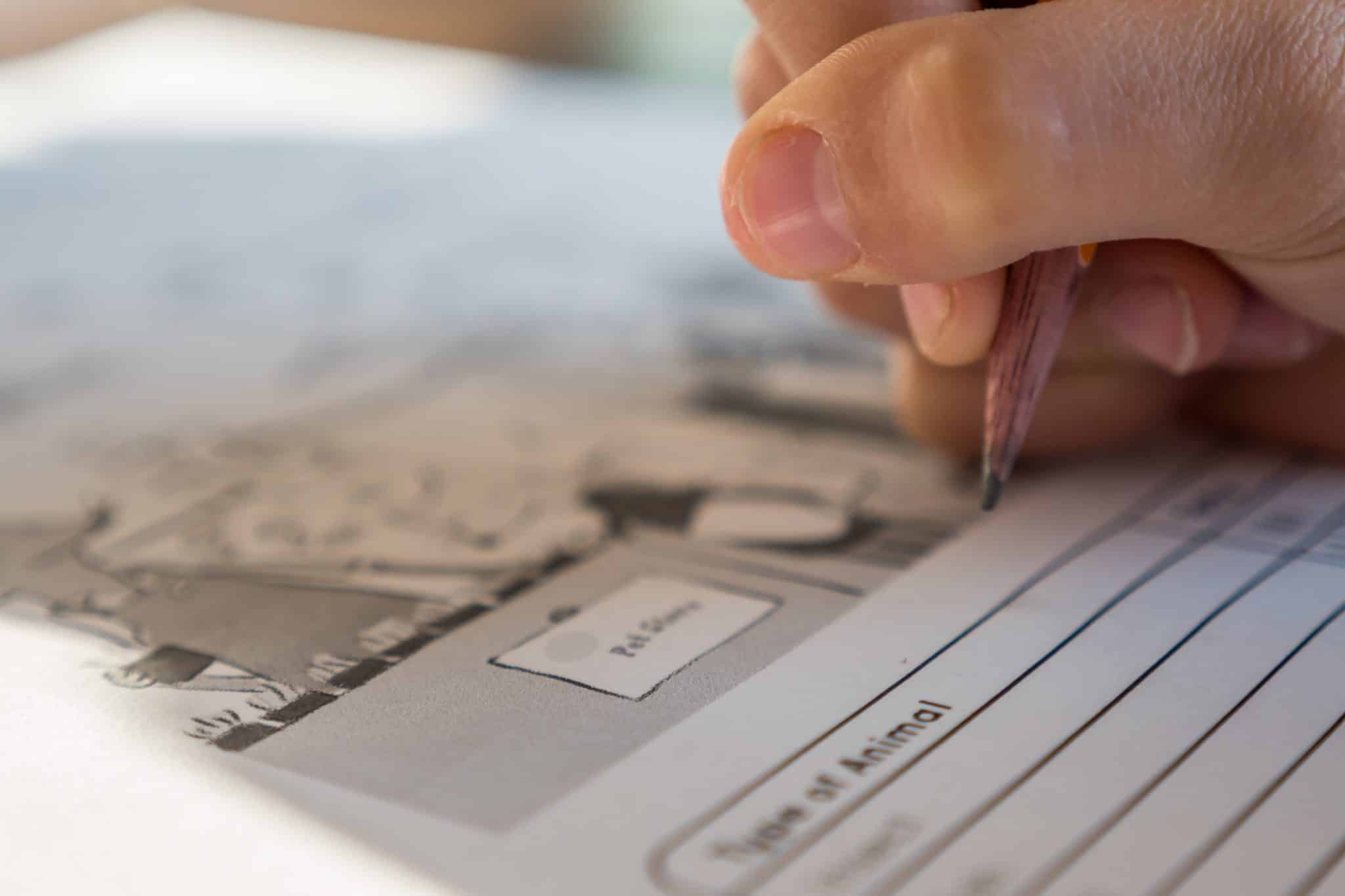 PSLE is a rite of passage for most 12-year-olds in Singapore. For Luke, it was a season where he saw God provide for him. Photo by Jessica Lewis on Unsplash.
 From the time he was in kindergarten, teachers would complain about Esther's* middle son, Luke*.
"They said he couldn't focus, he daydreamed in school, his handwriting was bad. He had a younger brother in the same kindergarten and they would compare them and would say his brother could write better."
Esther did not know what to make of it. She assumed that he simply needed more time to catch up.
"We thought every child was different. Or maybe it was the middle child syndrome."
"I had no problem with my first child. So, I didn't take her advice to heart."
Luke would graduate from kindergarten with an award, the only one in his class to do so. The award was for his diligence because he had shown that, despite everything, he was hardworking.
But, at a parent-teacher meeting, his teacher advised Esther to pay more attention to her son's studies.
"She told me that he may have a difficult time catching up when he went to primary school. She also gave me a flyer for dyslexia because, from her observations, she thought he might have dyslexia.
"I had no problem with my first child. He didn't have any issues. So, I didn't take her advice to heart."
Instead, Esther chalked it up to the stress of change. That year, the family had just moved homes. Fitting into a new environment and making new friends were tough on the children, she reasoned. A little distractedness was par for the course.
But things did not improve over time. In fact, Luke's condition only got worse.
Struggling with studies
When Luke went to Primary 1, homework became a real struggle.
"He would cry for hours when we asked him to do his homework. He didn't want to do it. It was difficult for him and frustrating for us. We didn't know how to help him.
"Many nights, I would wake up because I didn't know how to help him." 
"I felt very guilty. I blamed myself and thought that I needed to spend more time with Luke and his younger brother."
With her firstborn, Esther had been a relaxed parent. She did not enrol him for tuition classes or enrichment programmes. In time, she discovered that other parents did and it made her re-think her strategy.
So, when Luke appeared to be struggling with his studies, she toyed with the idea of sending him for tuition in Primary 1. In the end she did not, because of Luke's reaction to tuition when he was in kindergarten.
"We did send him and his younger brother for Chinese tuition classes when they were in kindergarten. But he would cry from our home all the way to the tuition centre. He didn't want to go. When he cried, our youngest would cry as well.
"The tutor told us that he needed 15 minutes to settle down in class. In the end, we withdrew both of them from the classes."
As a result, Esther simply soldiered on, helping Luke with school work on her own. Teachers continued to complain about his lack of concentration and bad handwriting, but Luke still managed to turn in acceptable results in Primary 1 all the way to Primary 4.
In Primary 3, Luke even seemed to improve. He was given a Best Progress Student award and did not need extra coaching any more. Esther thought he had turned the corner.
"His kor kor (older brother) would receive an award every year and he always looked up to his kor kor. So, when he got the award, he was very proud."
He had told his teacher that "the words on the white board appeared to be jumping about". 
But last year, when Luke entered Primary 5, his results took a nose dive. He failed nearly every subject. Even with Chinese, which he had been quite good at, he was suddenly faring badly.
"It really stressed me out. I felt guilty and thought maybe I didn't pay him enough attention. Many nights, I would wake up because I didn't know how to help him. I didn't know what was going on," said Esther.
Both she and her husband are full-time workers in a faith-based non-profit organisation. She had devoted a lot of time and effort to reaching out to a much neglected sector of society. Now, she wondered if she had been too focused on her work and had failed her own child.
Then, at a parent-teacher meeting, Luke's teacher shared that Luke had told her that "the words on the white board appeared to be jumping about". The teacher suspected he may have dyslexia.
"My son never mentioned anything to me. But when she said that, I began to link all that had happened since he was in kindergarten. And I remembered what his kindergarten teacher had told me."
Miraculous intervention
Even so, Esther wondered if Luke may have more of a social problem than a learning disorder. A quiet, compliant child with a gentle soul, Luke "did not know how to express himself". He became an easy target for bullies.
"From Primary 4, his friends would call him a failure. He would come home and tell me about it. We assured him that the more important thing was how he reacted to those comments. We told him, 'You're fearfully and wonderfully made' (Psalm 139:14).
The psychologist, whom Esther had never met face to face, offered to pay for the assessment.
"But it didn't help him. When the situation arose, he would get overwhelmed and forget what we told him. He would get very agitated and he wouldn't be able to concentrate in class."
There was the hope that if Luke learnt to be less perturbed by what his friends said, he would be better able to focus on the lessons. The suspicion that Luke may have dyslexia was quelled.
But it happened at the time that Esther's missionary friend paid them a visit. This friend had come home to Singapore because Covid had shut most borders. With the pandemic on the wane, she was preparing to return to the field and Esther invited her home for lunch.
"I told her what I had been going through and how my best hope was to find my son a good tutor. She told me she had a friend who was an educator who could help."
The next day, that friend called up. It turned out that she was a psychologist and when she found out more about Luke, she urged Esther to get him tested for dyslexia.
They did just that. But the Dyslexia Association of Singapore (DAS), where the assessment was done, told the family that they would need up to 12 weeks to process the results. By then, Luke would already be in Primary 6. Any intervention in preparation for his PSLE might be too late. Esther begged them to speed up the process but there was little DAS could do given the number of assessments they had on their hands.
"This was God's timing and God's provision."
During that time, Esther gave a talk in a church, sharing about the work of her ministry. The pastor of the church found out that Esther was trying to get her son tested for dyslexia and got a church member in the area of education to contact Esther.
"It turned out that this church member was an educational therapist. She contacted my missionary friend's friend, the educational psychologist, and together decided that it was best that Luke get a private assessment instead of waiting for DAS."
But Esther could not afford the four-figure assessment fee. So, the psychologist, whom Esther had never met face to face, offered to pay for the assessment.
"She believed that the assessment would get Luke exempted from Chinese which would help him better focus on the other three subjects and be less stressed out.
"This was God's timing and God's provision. I had only hoped to go to her to get advice on tutoring Luke and how to prepare him for PSLE."
That would be the first of many such divine arrangements.
Why, God?
At the end of his year in Primary 5, Luke was diagnosed with dyslexia. The family received the news with mixed emotions.
Luke's tantrums and social challenges, seen in the light of the diagnosis, suddenly made sense. The family hoped that now they would be better able to prepare Luke for his PSLE.
But there were unexpected misunderstandings.
"One of the neighbours started to say that dyslexia is a mental problem. So, all his friends said they didn't want to be friends with him.
"He told me, 'Mum, can you tell his mummy I don't have a mental issue? I just have a learning disorder.'"
It broke Esther's heart but she also saw this as a teachable moment.
"I told him, 'Why don't you pray and trust that God will make a way? Forgive him. If they don't want to be friends with you, it is okay.'"
In the end, the boys reconciled. When that happened, Esther reminded Luke of his prayer.
"I told him, 'You see, when you learn to forgive, when you learn to let go, God will make a way.'"
"I don't want to indulge in self-condemnation or else I won't be able to move on."
Still, Luke struggled. He asked his mother why God had made him this way and allowed him to have dyslexia, and why God did not see it fit to heal him.
"He asked me, 'Why is God so good to my brothers?' I told him, 'God created you for a purpose. God will help you to overcome. Look to Him. We may not understand why but since God allowed this, God will bring you through.'"
The diagnosis was a teachable moment for Esther as well.
"As a mother, I felt I had made a mistake. I should have known about his dyslexia earlier. I felt very guilty. Am I a good mother? Did I help my children?"
In her darkest moments, she contemplated stepping down from her ministry work. The late diagnosis weighed on Esther because she realised that the best interventions for those with dyslexia happened before a child turns 10. Luke was turning 12.
"I went to God and repented. I told Him, 'If you allowed this, You will fix it. So, I trust in You. I don't want to indulge in self-condemnation or else I won't be able to move on.'
"It took me some time to go on that journey. But God has been very good to me."
By God's grace
As Luke started Primary 6, his resistance towards Chinese increased. Esther, who was born in China, found his aversion to her mother tongue especially hurtful.
"He said, 'I hate Chinese.' He resisted reading everything Chinese and his Chinese became very, very bad.'"
Even their friends recognised God's hand in it.
By the time they tried to get him exempted from Chinese for the PSLE, it was July. The Chinese oral exams were going to take place the following month. There was virtually no way he could be allowed to drop the subject.
He was given the alternative of doing the subject at the foundational level. But that would require a change of classes, difficult for most children and traumatic for Luke who did not take well to disruptions.
But then, help came in an unexpected way.
"The school was very good. The Head of the Chinese department suggested that Luke dropped to Foundational Chinese but remain in the same standard Chinese class. They then exempted him from the work and gave him extra lessons in Foundational Chinese," Esther said.
"This was all God's grace."
Even their friends recognised God's hand in the incident because being able to move to Foundational Chinese at the eleventh hour was nothing short of a miracle.
More provisions to come
God was not done.
Unknown to Esther, a member of her ministry gathered a few who knew the family well and they pooled together a sum of money to help pay for any intervention Luke may need for his dyslexia.
"God has been so good to encourage me."
At first, Esther did not think she needed the money because she had assumed that the programmes at DAS would be subsidised. But when she signed Luke up for three programmes, she discovered that only one would be subsidised. The amount to be paid for the rest would be four figures for 10 classes.
"It was then that I realised why God had sent us the money," said Esther.
Even more help was to come.
One of her friends she had asked to pray for Luke lives in America. She introduced Esther to her daughter's career guidance counsellor. The man turned out to be Dr Benjamin Bolger, who has 16 degrees to his name. He, too, has dyslexia.
"He shared with me his journey. God has been so good to encourage me."
Right before Luke's PSLE, he was so stressed out that he could not fall asleep.
"He asked me, 'Why did God allow PSLE?'
"I told him, 'I also couldn't sleep so when I wake up, I pray for you. And God told me to ask you to pray and look to Him to help you overcome and go through the journey.'"
Luke asked for his favourite Christian song – Steal My Show by TobyMac – to be played and he fell asleep to it. The song is one of surrender to God to "steal my show" and take control.
Salt&Light spoke to Esther exactly a week before the PSLE results were due to be released, which is today (November 23) and asked her what her hope for Luke was in terms of his results.
"I've learnt to let go. In the past, my prayers were for him to go to a good school. Now, I pray that, whichever school he goes to, God will build him up and help him to respond well to people, even if he is exposed to bullies.
"Because of his dyslexia, I was so burdened. But this year has been such a miracle. We know his future is in God's hands."
Their journey has also been a testimony to those around them. More than a few of Luke's teachers and his psychologist have marvelled that so many people have rallied around the family in prayer and with support.
"One of his teachers told him, 'You are very fortunate your mummy has so many friends to come and help you.' I would have felt very desperate without all this support. We know he is very blessed."
---
Editor's Note: In thanksgiving, Esther has shared that Luke's PSLE results today turned out better than expected. The family continues to pray that God will lead Luke to the right school.
*At the request of Esther and Luke, names have been changed for the family's privacy.
---
RELATED STORIES:
If you have enjoyed reading Salt&Light...
We are an independent, non-profit organisation that relies on the generosity of our readers, such as yourself, to continue serving the kingdom. Every dollar donated goes directly back into our editorial coverage.
Would you consider partnering with us in our kingdom work by supporting us financially, either as a one-off donation, or a recurring pledge?
Support Salt&Light