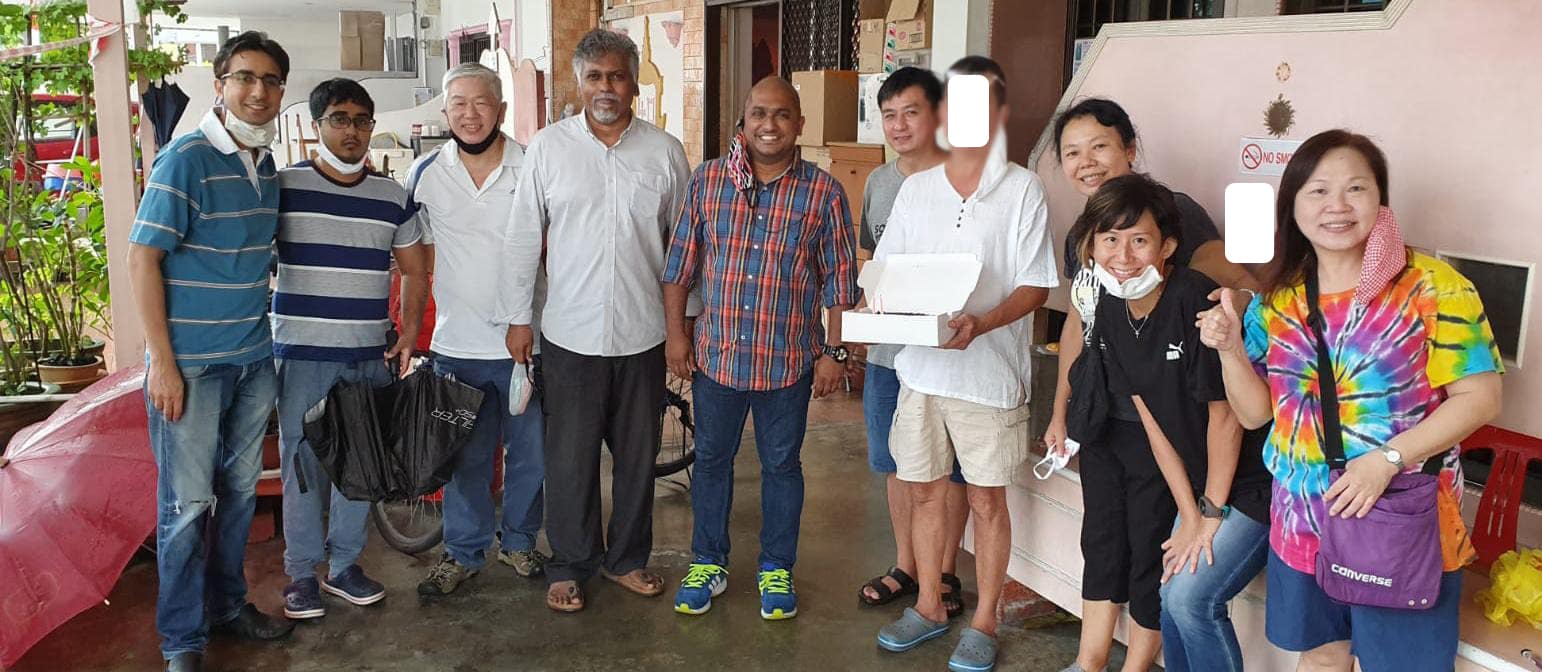 Geylang Ministry's Debbie Zhang (third from right) with an "uncle" from Geylang and volunteers from the Tabernacle of Holiness and Agape Christian Centre who are partner churches of GM. All photos courtesy of Geylang Ministry.
Silently but surely, the lorongs (alleys) of Geylang are coming back to life. The brothels, shuttered in 2020 due to the Covid pandemic, have reopened. The girls have returned.
So, Debbie Zhang has resumed her walk along the streets of Geylang.
Since 2008 and until Covid struck, she has been visiting the alleyways of the area to pray for the men and women in the sex trade as part of Geylang Ministry (GM), an outreach to prostitutes and pimps in Geylang. GM is run by the House of Olive (HOL) which Debbie founded.
"It is by God's favour that we are able to do outreach there. So many new girls want to come in, more than during pre-Covid times because they are poor and the economy in their countries are very poor."
Pivoting a ministry
The outreach work that GM does has always been challenging. But in the last few years, adapting strategies to changes in the sex trade brought on by the pandemic has taken up much of Debbie's efforts.
In 2020 when Covid closed the brothels, GM had to shift from giving out Christian tracts and little treats to running a weekly Food Blessing programme. Every Friday afternoon, Debbie and her volunteers, along with churches the ministry partners, delivered meals and groceries to the sex workers who had no means of income.
"That is the day all the girls look forward to because they know someone is caring for them and they will have a good meal. In the midst of all the uncertainty and all the darkness, they could find hope," said Debbie.
When it was clear that the brothels would remain closed, GM helped some 64 sex workers return home to various parts of Asia.
GM got the workers donated luggage to pack their worldly goods and even raised enough to give each girl S$650 for their journey. The ministry also helped the "uncles" – pimps and brothel owners – find other jobs.
During Covid out-of-job pimps and brothel owners became more open to the faith.
With the girls home, the reach of GM extended. They worked with Christian centres in the different countries to get the girls a place there so they could live there and learn a skill that would get them jobs outside of the sex industry.
In addition, they raised funds to give the girls a small monthly allowance to be in the centres to partially make up for the loss of income.
For the girls who were not willing to go to the centres, GM conducted Bible study lessons with them over Zoom. Only a handful who returned to their home countries took up GM's offer.
Naomi (not her real name), whom Salt&Light interviewed last September and who had returned to her home in northern Thailand, was one. Another girl who had also returned to Thailand was another. GM raised money for them to help them clear the debts they had incurred that had led them down the sordid path – S$10,000 and S$4,300 each. It was the first set of funding the ministry managed to raise.
Covid also opened up opportunities previously never thought possible. Out-of-job pimps and brothel owners, usually locals, became more open to the faith. GM started doing Bible study with some of them both in-person and online.
The lure of the trade
But the work Debbie and her volunteers do is nothing if not a three-steps-forward-two-steps-back dance.
Of the men GM has conducted Bible study with, only one has remained.
A former pimp they had ministered to had to work two jobs – coffeeshop manager and property agent – to make ends meet during the height of the pandemic. Yet, he continues to go to church and has not returned to the sex trade.
The other men have since returned to the trade now that the industry has re-opened. Others claimed they no longer have time for Bible study.
"But we are still friends with them. It is not easy for anyone to come out of the trade because they have been in the trade for so many years and there are so many needs in their lives," said Debbie. 
The story is repeating itself across Asia. Of the more than 60 girls whom they had helped to leave Singapore, most have returned to sex work either in their country or abroad.
"Most of the girls go back to the trade. But they will not forget how God has blessed them."
One of the girls, who had been going to Bible study sessions with GM, recently informed Debbie that she intended to go abroad to be a sex worker.
"We had no choice but to bless her. But then, the next day, she called to say that she was stuck at the airport because her vaccination had not been recognised."
Undeterred, she tried again and ended up in the Middle East. But the situation there proved too difficult for her and she later called Debbie for help.
"I told her we can help her provided she can make a commitment to stay away from the trade because we had helped her get back home from Singapore and we need to answer to our supporters for the money used if we help her again this time."
Yet, Debbie is firm in her belief that no work for God is ever wasted.
"Most of the girls go back to the trade. But they will not forget how God has blessed them. If the time is right, they will come back to God again."
Not in vain
Not every GM rescue ends in disappointment, though.
Chaem, a single mum, is doing well back home, by all accounts. She faithfully attends Bible study sessions via Zoom every week.
"Even when she had a fever, she came," said Debbie.
GM has been supporting her financially since her return because her family – her parents and only sibling – has passed away. The only condition has been that she does not go back to the sex trade.
Chaem is helping other girls who have left the sex trade, doing Bible study with them.
It was Chaem who took the initiative to find a local church to attend, informing Debbie only when she had successfully settled in. She has since seen God work mightily in her life.
When she worked at Geylang, even though she earned more, she was not able to send much home to her family.
The cost of living in Singapore was simply too high. Clearing the debt she had incurred in order to come to Singapore was an even more insurmountable task.
Now, she is working at a farm, a job she enjoys. The income is modest. Yet, with that and the monthly support from GM, she can well afford to support her children.
"God makes my dream to come true to be able to see my children daily. Now, I have so little income but I am able to start to pay for my debts."
"It is so huge a harvest field, not possible for GM to do so much work alone."
This has affirmed her faith so much that Chaem is helping other girls who have left the sex trade, doing Bible study with them.
In Singapore, GM has found more encouragement in the work they do. Several churches in the area have partnered them including the Tabernacle of Holiness, Oasis Christian Fellowship Singapore, Faith Mission Home and Agape Christian Centre.
Since the re-opening of Geylang, GM has changed their weekly walkabouts to fortnightly ones because of the uncertainty post-pandemic and the fluid situation in the sex trade there.
But it has added a new focus – clients of the sex workers, many of whom are lonely migrant workers. Tabernacle of the Holiness is the first church working with GM in this new aspect of their ministry. 
Debbie is hopeful because she has already seen how partnership with neighbouring churches have borne fruit. About four years ago, during the rainy season, Debbie reached out to Oasis Christian Fellowship Singapore to help a Geylang "uncle" in need. The man, an ex-brothel owner, was homeless and Debbie hoped the church could deliver a blanket to him. The pastor of Oasis Christian Fellowship Singapore agreed to help.
"That was how they connected. Because of that, he got baptised in the church even though he speaks Mandarin and the church conducts services in English.
For the coming year-end festivities, GM is looking forward to more of such collaborations.
"It is so huge a harvest field, not possible for GM to do so much work alone."
---
RELATED STORIES:
When a birthday cake in Geylang turned this red-light worker's life around
"In the past, if people heard my name, they would run": Former Geylang pimp
"The pay was so high, I couldn't bear to leave": Geylang brothel owner's struggle to walk away from her old life
In the now-quiet Geylang lorongs, a ministry to prostitutes and pimps continues
If you have enjoyed reading Salt&Light...
We are an independent, non-profit organisation that relies on the generosity of our readers, such as yourself, to continue serving the kingdom. Every dollar donated goes directly back into our editorial coverage.
Would you consider partnering with us in our kingdom work by supporting us financially, either as a one-off donation, or a recurring pledge?
Support Salt&Light