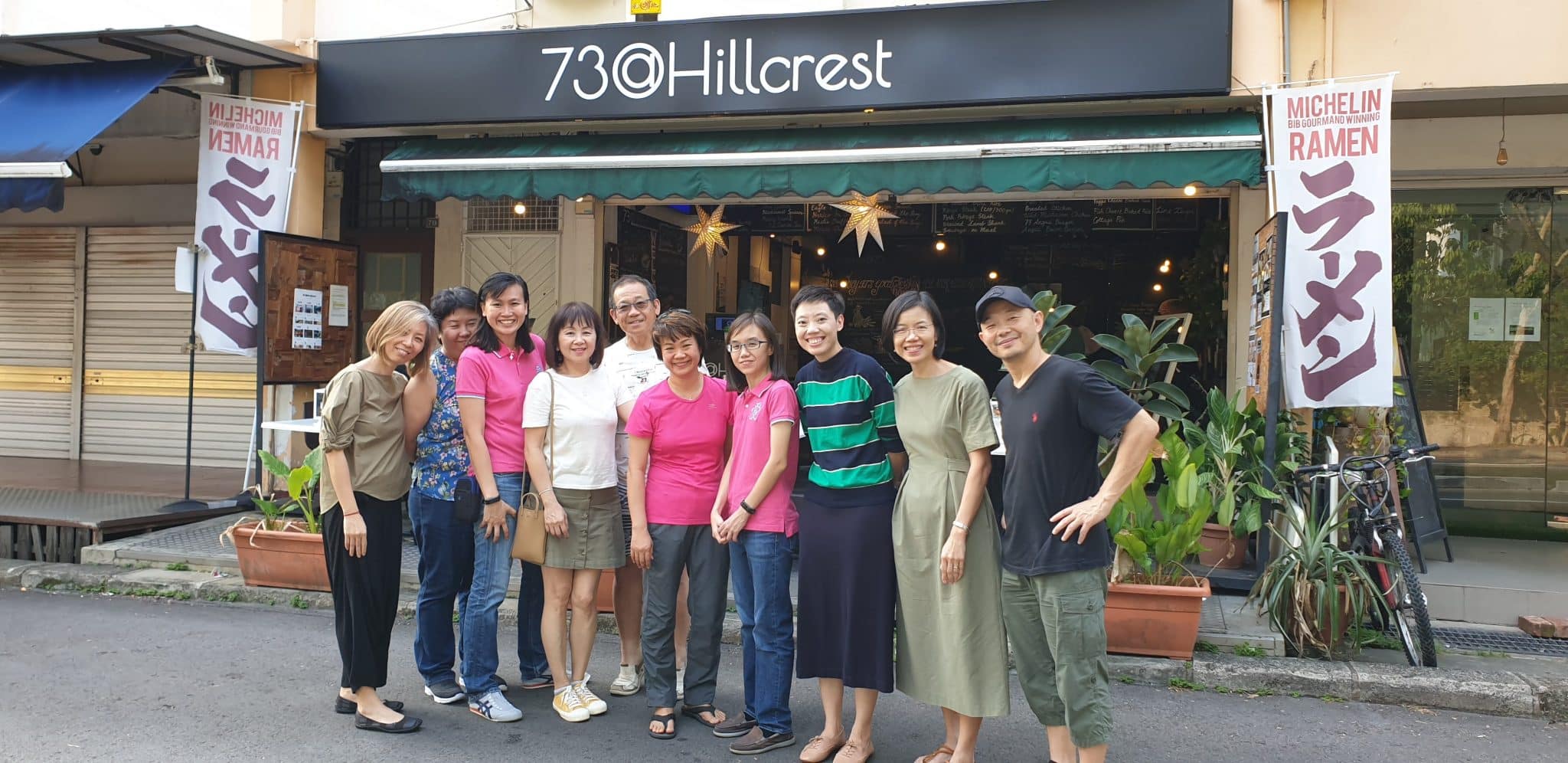 Boon (extreme right) and Cheryl (extreme left) with customers and the community of Christian friends who worked with them to organise events at [email protected] that benefitted those in need and that allowed the Gospel to be shared. All photos courtesy of the LIms.
Every day, when her children were young, Cheryl Lim would walk them to their primary school. Their journey required them to cross a major road via an overhead bridge.
That bridge became a place where Cheryl would see other parents who were either on their way to the same school or making a trip home.
She had always wanted to make friends with these parents. She just did not know how.
Boon was the affable owner who made himself available to pray with anyone who needed comfort, whatever their faith.
"We see the same faces on the bridge but I didn't know how to engage them further. You can't just stop in the middle of the bridge and say, 'What's your name?'"  
At the heart of that desire was the conviction that it was important to show the love of Christ to those in their community, a conviction Cheryl and her husband Yau Boon, or Boon as his friends call him, shared.
"We tried to simplify the Gospel to try to fulfil the first and second commandment – love God and love your neighbour, and then make disciples," said Boon.
When an opportunity arose for them to run a bistro right at Hillcrest in Bukit Timah where they lived, they took it. Architects for most part of their careers, with no culinary experience beyond cooking for the family, the Lims nonetheless launched into the F&B business.
Said Boon: "We thought the coffeeshop was a good place to reach out to the community."
"The coffeeshop became a place to eat together and share lives. We called it a 'coffeeshop ministry'."
That was the start of [email protected], a casual dining bistro that dished out Western cuisine and radical hospitality in equal measure. Boon was the affable owner who made it known that he was available to pray with anyone who needed comfort, whatever their faith.
Said Cheryl: "Within a month, we knew everyone and was saying 'hi' to everyone. Because of Boon's nature, he really engaged whoever came. He was the marketeer. People came by word of mouth. As they came, we related to them."
It was easy for the diners to become friends. They came to [email protected] as much for the food and casual ambience as they did for the warmth and camaraderie that the Lims offered. As the Lims showed God's love through their special brand of hospitality, people became drawn to the Christian faith.
"The coffeeshop became a place to eat together and share lives. We called it a 'coffeeshop ministry'," added Cheryl.
Partners in the Kingdom
It did not take long for God to raise partners to come alongside their "coffeeshop ministry". Among them was a family who had come to dine at the bistro and ended up praying with Boon for an Indian patron. They, in turn, got their cell group to participate in [email protected]'s outreach programmes and charity events.
Said Boon: "I always use this metaphor: I'm a fisherman. I've got a very small pail next to me. I can only put the fish in the pail for a very short time. I need an aquarium for the fish to live in. So, I want to work with as many people as possible to house these fish."
"We disciple by getting people involved in what is meaningful in God's eyes."
One of their customers and neighbours, Raymond Khoo, the owner of now closed restaurant The Peranakan, became another of the Lims' partners. Raymond is the founder of The Saturday Movement, a non-profit volunteer group that reaches out to the elderly and to needy families primarily in rental flats.
The Lims created S$9.90 meal sets their customers could purchase ahead of time for the beneficiaries of The Saturday Movement. When they had enough of these meals, they invited the beneficiaries to dine at [email protected] This pay-it-forward meal programme lasted the three plus years that [email protected] was in business.
"Our customers saw the elderly coming to eat and enjoying it. They saw that this was worth doing and we got more and more donations. I had to write down the donations on our board for accountability," said Cheryl.
Soon, [email protected] became the platform for other charitable causes, including one that sought to bring people with disabilities to the bistro. To make that happen, they needed special vans to transport the guests.
When the Lims told their customers their need, their customers chipped in to pay for the van.
Said Cheryl: "It's amazing how people would put in the money and effort. To bring in one child to eat at our place cost S$90. We managed to raise over a thousand."
Their customers, Christian or otherwise, were able to "discover and experience God" through the process of blessing others.
On another occasion, the Lims needed NTUC vouchers for an event for families under the care of Prison Fellowship Singapore (PSF). Boon messaged a customer and she gave him S$2,000 worth of vouchers.
"No questions asked," marvelled Boon.
"We became the bridge between the community of givers and the community in need. That was what we had planned for when we talked about loving our neighbour and making disciples.
"We even had neighbours participating in our Kingdom projects even though a lot of them were not believers. Our concept of making disciples changed a little bit. We discipled by getting people involved in what was meaningful in God's eyes."
In this way, their customers, Christian or otherwise, were able to "discover and experience God" through the process of blessing others.
Giving and receiving like a family
The Lims also organised Alpha courses at [email protected] that reached out to their neighbours. Desserts were on the house for participants. 
Said Cheryl: "There was a tuition centre next to us. So, we ran one Alpha for adults and one for children. They knew we were not a church. So, they were open.
"One of them who attended became a Christian. She was from China. One of the helpers at that Alpha attended a Chinese church. So, she brought this lady to her church."
When the rest of the coffeeshop became available for rent, the Lims decided to lease the entire place. That gave them the freedom to host more events there. They ran Sunday talks, inviting missionaries to share their stories.
"We positioned it as community enrichment," said Boon.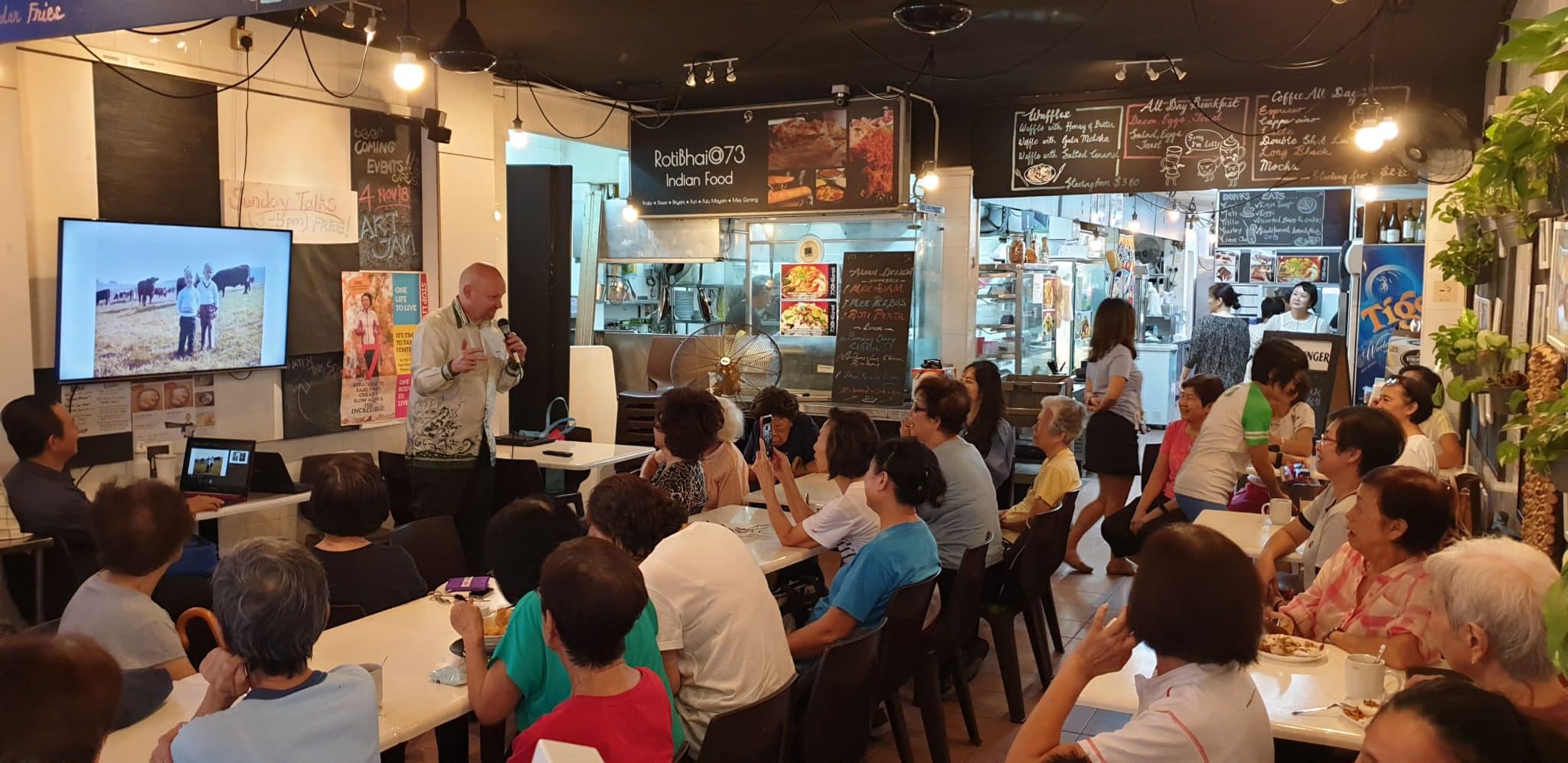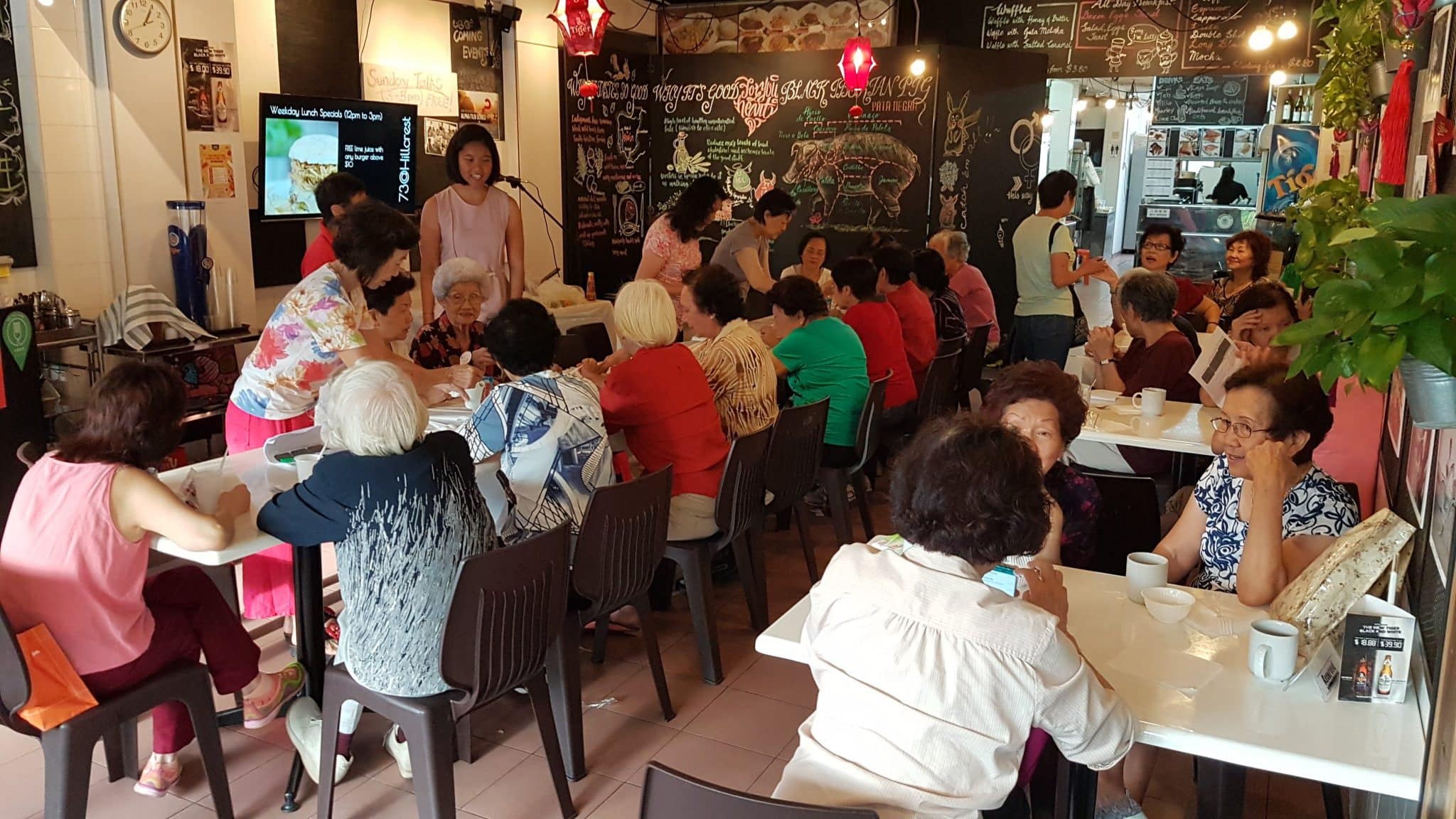 Chimed in Cheryl: "We became a village pub with an open mind. Neighbours would ask us what we were doing this Sunday."
Thursdays were "open mic" nights. Anyone with the inclination could perform a song. People brought their own guitars and sound equipment. It became so popular that the MP of Holland-Bukit Timah GRC and now Senior Minister of State for the Ministry of Foreign Affairs and the Ministry of National Development and the ruling party's Deputy Party Whip, Sim Ann, joined in the jam sessions.
As they gave, the Lims also received. In 2018, nearly two years after they opened [email protected], Cheryl discovered she had breast cancer. The community they had created came together for her.
Said Cheryl: "I found I was surrounded by a community of love. When I was down, I was told, 'This person asked about you; this person prayed for you.'
"We were at the receiving end of a lot of love from the people we were serving. It was amazing the kind of support we got. It was like a big family."
A season's end, a new beginning 
Throughout the nearly four years that [email protected] was in operation, the business was "cashflow positive but not profitable". The Lims drew no salary in those years, living on their savings instead.
"When we made the decision to do this, she was 45, I was 46. We felt we still had some energy left in us, some savings," said Boon.
In 2019, when the time came for the Lims to renew their lease again, they decided to find a partner to run the coffeeshop while they ran their bistro. They offered the landlord four years' worth of rent or an approximately S$500,000 commitment.
"We prayed and said that if he offered us just one year of lease, we wouldn't take it because then we would have to find another coffeeshop tenant when the lease was up. It was four years or nothing," said Boon.
It seemed like a win-win offer but two weeks before their lease was up, the landlord told them he could only offer them a one-year lease.
The Lims knew that the season of [email protected] had come to an end.
The last seven days of [email protected] saw the place packed. Every night was open mic night.
As they had started, so they ended, surrounded by the friends they had made in the community.
"It was quite emotional," said Boon.
"We changed from going to church on Sunday to doing church every day."
When the last song was sung and the last meal served, 20 of their community friends came to help them strip the place and restore it to its original condition so they could return it to its landlord. Because of the extra help, what usually would have taken two weeks took just two days.
As they were blessed even in closing their business, the Lims chose to bless others. The two staff under their employment, their countless recipes and their contact list of some 2,000 customers all went to their friend Timothy's Lowercase café.
"When Covid hit months later and students stopped going to school and patronising his café, our menu and clientele helped Tim pull through. So, we ended up just being a part of God's plan," said Boon.
On hindsight, the Lims realised it was God's providence that the landlord did not renew their lease in late 2019 because, months later, Covid swept across the globe and shuttered businesses.
"That's how God took care of us," said Boon.
Today, Cheryl has a new job with a major real estate company and Boon is helping a software company get listed in the US. Both opportunities arose from the connections they made because of [email protected]
They also have a new circle of friends, many of them former customers and current neighbours.
"We just go for a walk in the evening and people will call our names," said Boon with a smile.
The bistro may be no more but the concept of community and sharing God's love and hospitality has remained. The Lims' home is now where the community congregates.
"Now, we are really loving our neighbours as ourselves. We changed from going to church on Sunday to doing church every day."
---
Read Part 1 of the [email protected] story here.
Remember [email protected]? This is the story behind the beloved neighbourhood coffeeshop-bistro
---
RELATED STORIES:
Uncertain outlook? "God will fulfil His part as our business Partner," says restauranteur Paul Ooi
"Would you change your prayers?" God told a father, who went on to launch Soul Food for youths with special needs
Cloud kitchen launched at YMCA employs the needy and helps Singapore food heritage brands
Business down by up to 97%, yet these restaurant owners are still giving to the community
If you have enjoyed reading Salt&Light...
We are an independent, non-profit organisation that relies on the generosity of our readers, such as yourself, to continue serving the kingdom. Every dollar donated goes directly back into our editorial coverage.
Would you consider partnering with us in our kingdom work by supporting us financially, either as a one-off donation, or a recurring pledge?
Support Salt&Light