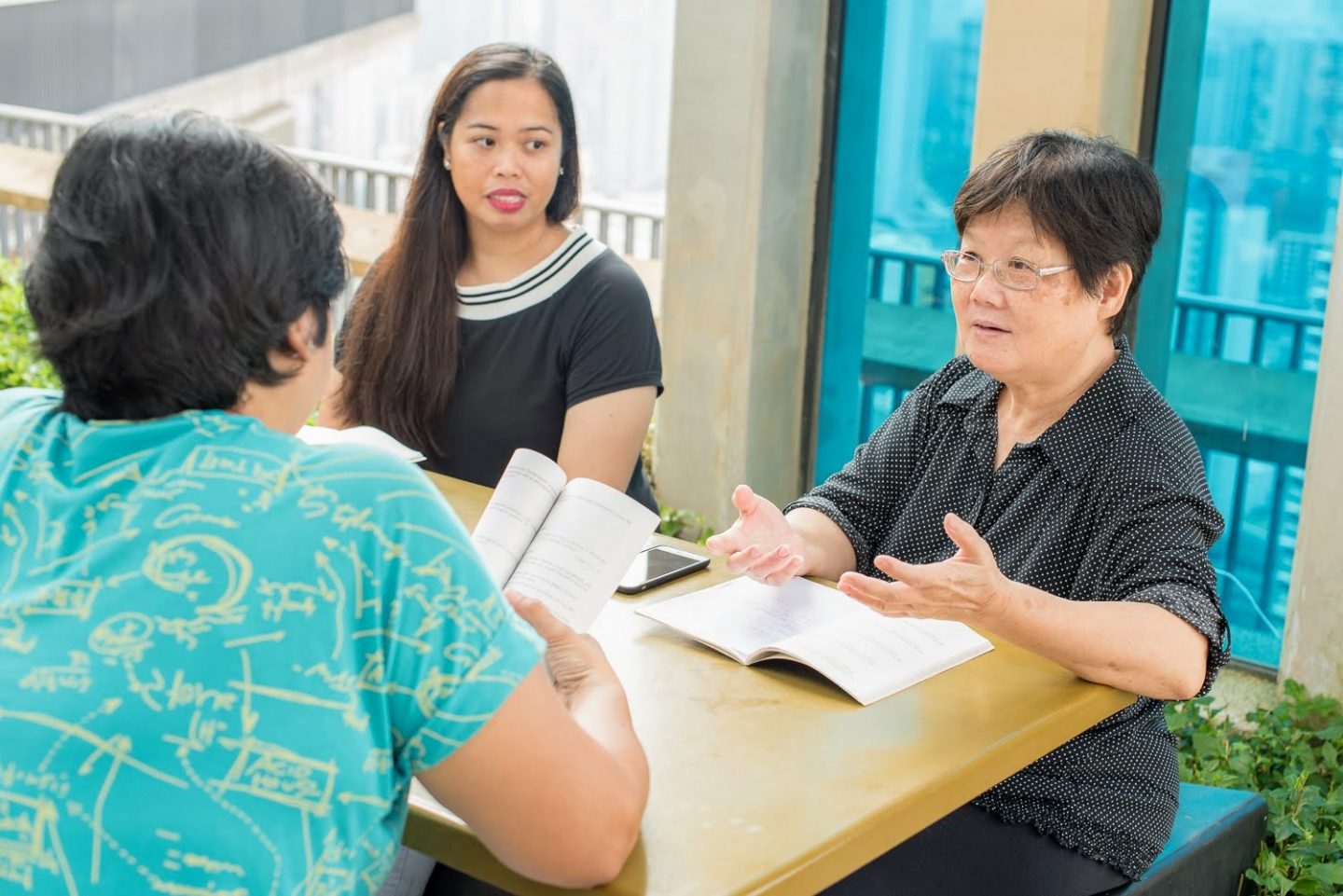 Audrey Lai (extreme right) has been leading a bible study for caregivers since 2016. Photo by Glen Goh.
A grandmother found an opportunity to care for others when placed in a situation that she thought was a waste of time. 
An active ager who wears several hats in community work encourages others to practice kindness every day in their own capacity.
A church planter spends money on making life better for others instead of splurging on holidays.
While some fear the arrival of their older years, these three individuals bring wisdom and experience in showing that there is no age limit for strengthening the body of Christ and being a blessing to others.  
Caring for other carers: Audrey Lai
When Audrey Lai first accompanied her grandson Jaymin to the Rainbow Centre in 2009, she had lamented: "Why, God, did you send me here to waste my time! All these women were yakking away."
The centre caters to children and youth with special needs. While waiting for their charges, the caregivers, most of them Filipina, would stand around gossiping for hours – a routine that would take place daily.
God revealed His purpose for her seven years later, through Cristin Talastas, a fellow carer, who had worked in Singapore for more than two decades. The Filipina was prompted by God to start a Bible Study group with the other caregivers. She approached Lai, who had previously prayed with her, to lead the group. 
"By encouraging them, I myself feel encouraged." 
Lai leapt at the opportunity, and went to buy Bible study books such as The Masterplan of Evangelism. The group had their first session in May 2016. She was 68 years old then.
The group met for Bible study every week, first at a public sky garden opposite Rainbow Centre. They started meeting virtually via a Messenger group chat during the Circuit Breaker in April.
Lai's motherly concern pushes her to continue caring for this group of caregivers. She personally understands their struggles of being the main caregiver to a child with special needs.
"It can be very tiring; sometimes you feel like giving up. What more for a maid? If they don't have the strength, wisdom and motivation from the Lord, it can be very difficult.
"By encouraging them, I myself feel encouraged because at times I also have my meltdowns," she said. 
Lai also lends a listening ear and prays for the caregivers who are not part of this Bible study group.
Her ministry has led to the baptism of several girls. Lai's satisfaction comes from the way she has seen their lives being changed.
Showing kindness every day: Dr William Wan
Dr William Wan recently made the news with the push-up challenge he started on social media (#WWpushupchallenge) during the Circuit Breaker. To mark his 73rd birthday, he did 100 push-ups over a Facebook live stream to raise funds for Prison Fellowship Singapore's 70×7 initiative. It helps inmates and ex-offenders reintegrate into society and reconcile with their families.
The co-founder of organisations such as Prison Fellowship Singapore, the Law Christian Fellowship, and the Evangelical Fellowship of Singapore (FFOS) is also a Justice of Peace. 
"When we practice kindness, we are showing God's love." 
In 2011, he was given the Active Ager Award (Council of the Third Age) and was made the General Secretary of the Singapore Kindness Movement.
In an earlier interview with Salt&Light, Dr Wan shared: "Scripture says the Gospel is God's kindness to us. (Titus 3:4-5) That means our salvation speaks of God's kindness!
"When we practice kindness, whether we recognise it or not, we are practising God's kindness, we are showing God's love."
Not everyone can take on the roles that Dr Wan did, or have the same fitness he has at this age. But kindness can always be practiced in our own capacities.
Displaying kindness in everyday life and living out your faith are the "deeds that will draw people to Christ". said Dr Wan.
Making life better for the needy: Ooi Kooi Tin
For 12 years before Covid-19, Mdm Ooi Kooi Tin was taking weekly ferry rides to Tanjung Pinang in Indonesia where she built a church, spending three days visiting its villagers praying for them and helping them in a multitude of practical ways.
Mdm Ooi's deep compassion for the needy and the lost drive her efforts, even amidst calls from her relatives and friends to retire. She is now 76 years old. 
"People tell me: You're old, let other people do this. Don't give away your money, you should be spending it on holidays. But I can't! The $5,000 or $6,000 spent on a trip can provide for half a year of missions work in Tanjung Pinang," she told Salt&Light in an earlier interview. "I tell Him: 'As long as I'm not sick or bedridden, I will go wherever you send me!'" 
While she is just "doing what she can" and "helping within her means", Mdm Ooi's love for others has greatly inspired her daughter, Elim Chew. Chew – the founder of 77th Street, logistics service FastFast and Korean restaurant GoroGoro Steamboat – is also well known for her mentoring and heart for social enterprises.
To Chew, the practical help her mother extends to others embodies how Christians can go beyond just praying for people.
"I tell Him: 'As long as I'm not sick or bedridden, I will go wherever you send me!'"
She said: "What can we do to make their lives better? How can we bring God to them so they can see God in the purpose of their lives?"
Far from seeing herself as a role model, Mdm Ooi remains focused on how the hungry need food, the sick need medicine, the poor need jobs, and the unsaved need Gospel hope. 
While unable to physically visit Tanjung Pinang during this Covid-19 season, Mdm Ooi remains connected to the church via Whatsapp. Twice a week, she sends videos of Hokkien sermons from City Harvest Church's dialect service, and shorter audio clips for members who are on prepaid phone plans and have less mobile data.
She also sends funds each month to support an outreach group (known as 爱心小组) of "younger" members in their 50s who have been serving the elderly in the village. The group reaches out to the sick and the housebound: Cooking for them, cleaning their houses and doing their laundry regularly.
Mdm Ooi has also planted seven churches in China, a children's shelter in Salween, Myanmar, and set up an eldercare facility in Anhui, China.
She continues to trust in God's sovereignty for her future.
"I don't know God's plans. I pray to seek His will, and I tell Him: 'As long as I'm not sick or bedridden, I will go wherever you send me!'"
Who cares for the caregivers? 70-year-old Auntie Audrey does
Who's looking out for our foreign domestic workers during Circuit Breaker?
"Kindness is very, very close to the heart of God": Dr William Wan, Singapore Kindness Movement
If you have enjoyed reading Salt&Light...
We are an independent, non-profit organisation that relies on the generosity of our readers, such as yourself, to continue serving the kingdom. Every dollar donated goes directly back into our editorial coverage.
Would you consider partnering with us in our kingdom work by supporting us financially, either as a one-off donation, or a recurring pledge?
Support Salt&Light