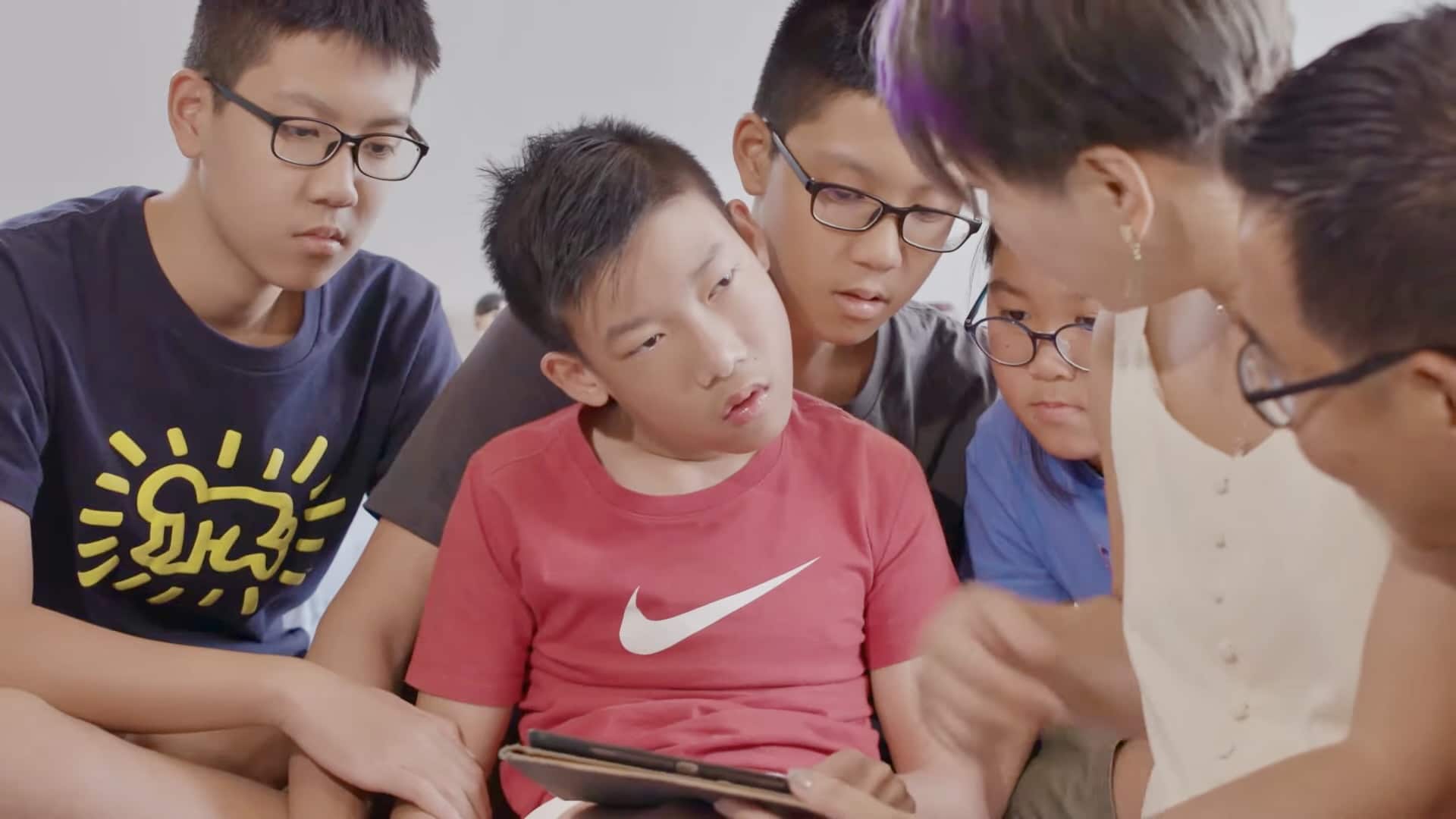 "We kept believing that God would see us through," says Jiang Ke Yue, whose son, Joel, 15, was born with a rare genetic disorder. Photos courtesy of Jiang Ke Yue and Shirley See, and screengrabs from the Jiang family video by Trinity Christian Centre.
Early on in their marriage, Jiang Ke Yue and Shirley See, who were 26 at the time, were delighted to receive the news that they were expecting their firstborn. 
"Congratulations you are going to have a boy," the doctor had told them.
The young couple was overjoyed.
But the doctor's next statement would mark the start of a tumultuous journey for them. "There is something wrong with his heart," the doctor continued. 
A specialist they consulted told them that their son would likely not live beyond six months and advised the couple to consider an abortion. 
They did not abort.
Joel Jiang was born with DiGeorge Syndrome, a rare congenital disorder that affects his development and growth. Now 15, he has learning difficulties and suffers from low calcium levels, immune deficiency and other health complications.
But Joel and his doting family, have also seen the mercy and miracles of God.
Ke Yue and Shirley, now 42, shared their story of faith and surrender in a video at Trinity Christian Centre. 
Assurance in a song
Shirley: From Friday to Sunday we were still toying with the idea of whether we should keep the baby or we should have the abortion.
"How sweet to hold a newborn baby, to feel the pride and joy that he gives."
But when we were in church on Sunday, we heard a message from God when we heard the hymn Because He Lives, especially the part that says: How sweet to hold a newborn baby, to feel the pride and joy that he gives.
The moment we heard that, there was this assurance from God.
For me particularly, because I'm carrying the baby. (Before) when I see shops carrying baby clothes I did not dare to go in.
When I spoke to one colleague who's a believer, he said one thing that impacted me and that was: "Why don't you take that step of faith and go and get the first set of clothes. And even if Joel doesn't make it, he has a set of clothes to see the Lord."
So I decided to take the step of faith and bought my first set of clothes (for Joel).
An uncertain arrival
Shirley: Because Joel had a very serious heart condition, the doctors did warn us that when he was born, he would probably be blue.
It's amazing because when he was born, we could clearly hear his cries. He wasn't blue, he was very pink, just like a healthy baby. 
Ke Yue: Joel then went for an operation, but there were some complications – the part where they performed the operation ruptured, so they had to stop his heart again and redo the operation.
During this period there was a loss of oxygen to Joel's brain and he had to be resuscitated.
Shirley: (But) there was this period of time where he just kept crying from day to night, and I stood in front of him and realised that he couldn't see me. Nobody could explain why he was blind, but he just regained his vision. 
Ke Yue: We kept believing that God would see us through. I mean along the way, we have shared Joel's testimony and each time we said we believe he can walk independently. One day, the miracle did happen.
Shirley: It happened in school when he was seven years old during one of his physio lessons.
He suddenly could walk from one corner to the other corner, and I was just really crying because it took him seven years for him to walk. And, to him, it takes a lot of effort just to achieve that milestone. 
Because He lives
(Fourteen years after his birth, Joel's heart function severely deteriorated and he needed surgery. )
Shirley: He's not critically ill actually, so for me to send him to surgery when he's not critically ill was even more painful.
Ke Yue: Our CG leader led a prayer for him over Zoom, praying for Joel and praying for the whole family.
"The doctor had told us that he could die on the operating table. So it was just complete surrender."
Shirley: So in the early morning, the nurses actually had to clean him up and it was very heartbreaking to see that he was just lying still.
At that point of time it was quite painful for me because it's like someone is preparing your son for death, you know. So I had to step out and I didn't want to cry in front of him.
Just before he was wheeled into the theatre for the recent surgery, he was looking at the worship service.
Ke Yue: So I asked the doctor to play the video while I carried him to the operating table. I just held him so tightly. They just injected him with the anaesthesia and suddenly he drifted to sleep.
The doctor had told us that he could die on the operating table and so it was just complete surrender.
Three, four hours later, to our surprise, the surgeon messaged: "Oh it's done already" and we met with the surgeon.
He told us that the operation went so smoothly. They measured the area which was to receive the valve and it was a perfect fit. The surgery proceeded very smoothly with no complications.
Joel recovered so fast.
Within days, he was awake. I still remember there was a weekend his (cell group) was meeting and I asked whether he could join, they said: "Yeah, by all means just dial in."
And there he was attending his (cell group) with all the tubes coming out of his head."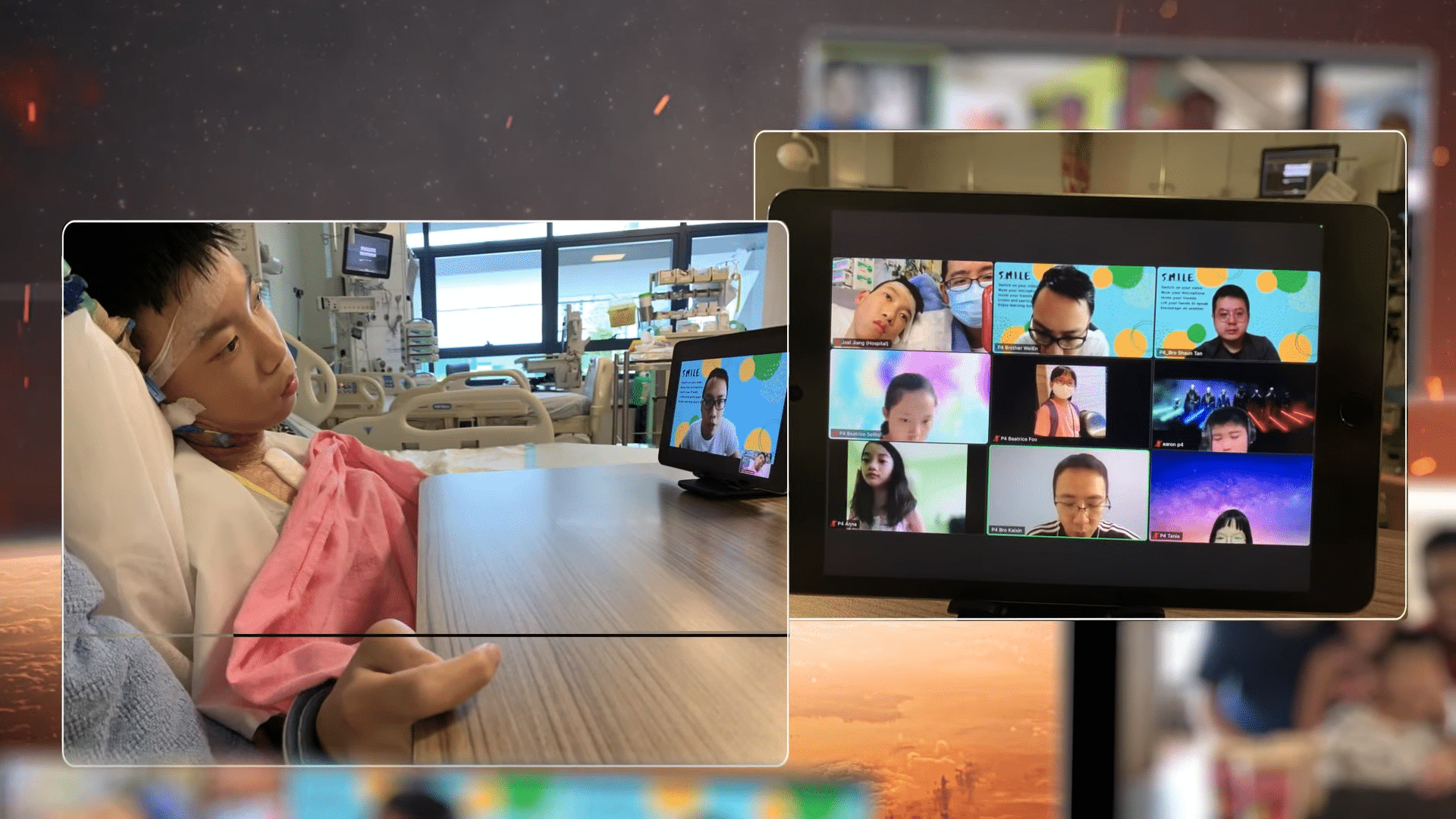 Joel attending his church small group meeting in hospital after his surgery. 
So he was discharged within one week, even though the surgeons told us two weeks to recover in the hospital.
One month later when we did the routine scan, we were told that his heart function was back to 100%. Before he was severely underweight – he was 22kg – and now he has gained a total of 10kg.
Faith through the generations
Shirley to Joel: Daddy brought you into the hospital right? On the bed, isn't it. Were you scared? 
(Joel shakes his head.)
Shirley: Why are you not scared?
(Joel taps on a tablet: GOD)
Shirley: Yes, because God is with you, isn't it? Jesus is with you and now you feel good. Who heals you, who makes you better? 
(Joel taps on the tablet again: Jesus heals me.)
Shirley: Before his surgery, Pastor Evelyn came to our house to pray for him. My mum who really loves Joel was very worried about him, so Pastor Evelyn prayed with her and assured her that she doesn't have to worry because Joel will be protected by God.
And praise the Lord, she actually received Christ! 
After he recovered, we started taking up activities – so the latest was para-cycling.
It's so nice to see him laughing and smiling and being so active after the operation, doing things that he could not do.
Shirley: I'm very thankful to the church (Trinity Christian Centre). It means a lot to parents with special needs when you see your child being accepted and being in a place that you're so happy and comfortable in.
Ke Yue: Through these 15 years, we have witnessed God's miracles in Joel's life.
We do not know how long Joel's heart function will continue to hold, but because he lives we can face tomorrow. 
---
You can hear the full video testimony of the Jiang family here. Extracts of the video were republished in Salt&Light with permission.
---
RELATED STORIES:
"Nigel and Donavan, one day we'll meet again," say parents of boys in tragic Tampines accident
"Deaf doesn't mean dumb": Profoundly deaf photographer Issy Lim tells her story of faith through pictures
"Disabled does not mean unable": 10 persons with special needs ascend Mount Fuji
If you have enjoyed reading Salt&Light...
We are an independent, non-profit organisation that relies on the generosity of our readers, such as yourself, to continue serving the kingdom. Every dollar donated goes directly back into our editorial coverage.
Would you consider partnering with us in our kingdom work by supporting us financially, either as a one-off donation, or a recurring pledge?
Support Salt&Light