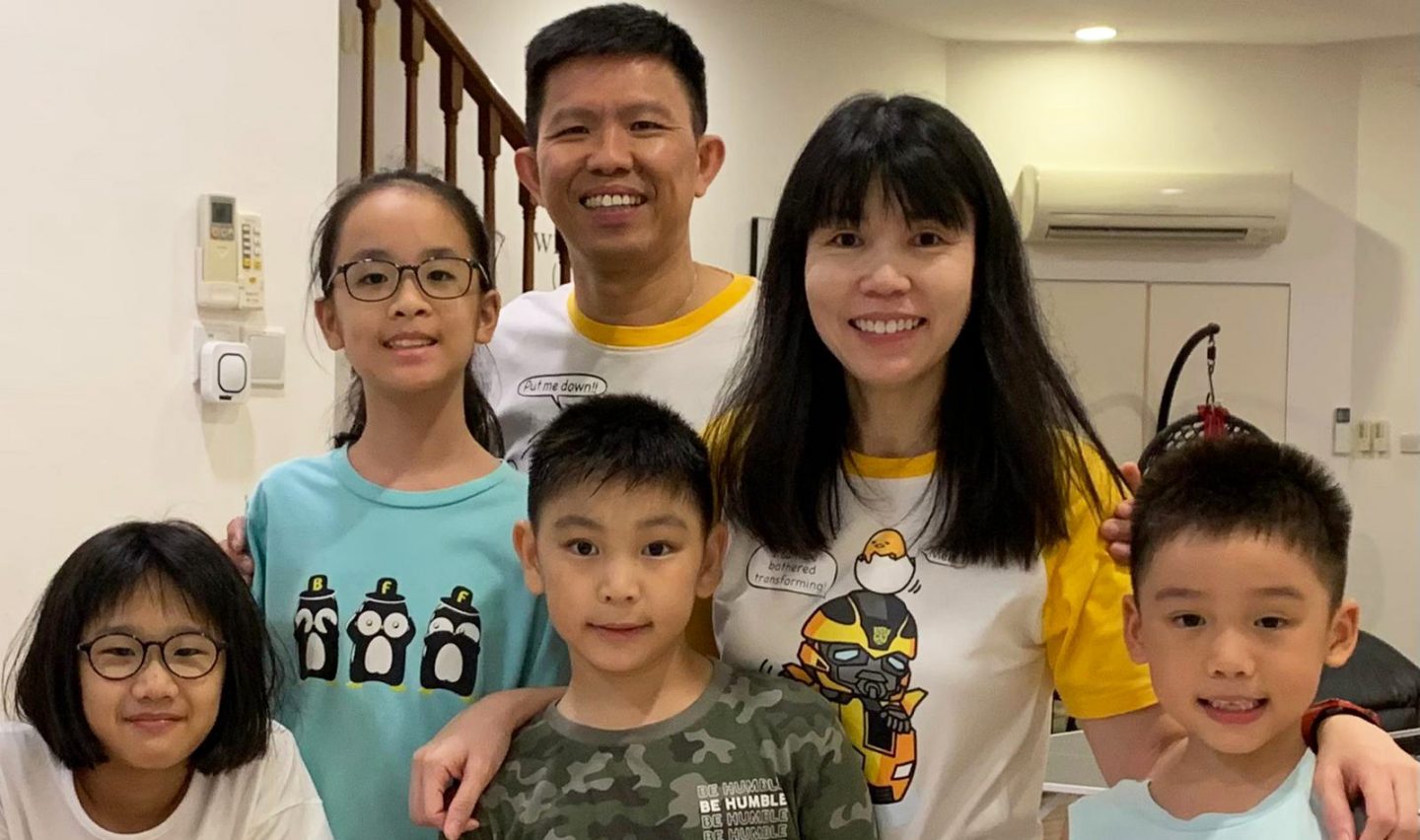 They call themselves the DnA family because their names all begin with the letters D or A. (Left to right) Amanda, Dawn, Dickson, Daryl and Alan Lim may not have similar DNA but they are a family all the same, loved and accepted. Photo courtesy of the Lim family.
Ask the Gans – Li Ping and Joseph – how many children they have and the answer without hesitation is "five". They have three biological children aged nine to 18 and two foster children, aged 12 and seven years old. All are boys.
"The Lord spoke to us via a few very clear signs."
On Sunday, their brood expands. That is when their two former foster children to whom they provided respite care – a pair of brother and sister in primary school – join them.
The Lim household is just as full. Dickson and Allison have four children, each from a different set of biological parents but all equally wanted and loved. They chose to adopt 11 years ago after going through eight cycles of fertility treatments without success.
Biological, foster or adopted– children can be added to your fold in any number of ways. For those thinking of fostering or adopting, the two families shared with Salt&Light what to look out for.
#1: Decide early what you want
When the Lims decided to adopt, they made an unconventional decision to take in any child who needed a home without choosing. No photos. No biographies. No meet-ups. They could not bear the idea that a child should be rejected a second time.
Said Allison, 45, of their decision: "The Lord spoke to us via a few very clear signs. The first one was when our common friend went into a room with several babies for her to choose (when she was adopting).
"The feeling was: Oh no, if I take one, then what happens to the others? Did I make the right choice? It was a feeling I didn't want to have, as if I was buying something."
As the couple prayed over this decision, their senior pastor then, Pastor Edmund Chan, shared his own adoption journey in a sermon.
"Since we are saving a life, we wanted a gender that was more vulnerable."
"He mentioned that he chose not to choose because he was not buying a commodity and that the Lord would provide what we needed regardless of what the child who came along would need. That gave us confirmation," said Allison who is a principal of a primary school.
Added Dickson, 51: "If you are doing this to save a baby's life, then why are we choosing?
"And if you are choosing, you have to pray a lot harder because how would you know the one you picked is the (right) one?"
The only instruction they gave their adoption agent for their first adoption was that they were looking for a girl.
Explained Dickson: "Since we are saving a life, we wanted a gender that was more vulnerable."
For the Gans, they opted to foster boys.
"Foster girls can't share the same rooms as my sons. So, it's more practical," explained Li Ping, 43, a pastor at Christ Methodist Church.
#2: Embrace the unknown
Many couples are apprehensive about the unknown, which is why they prefer to have a choice when they are adopting, said Dickson who works as a philanthropy advisor in a bank.
But, having gone through the adoption process four times, he assured: "Whether they sit in your tummy for nine months or appears at your doorstep, you still won't know anything about them at first. It's really all about your faith and how your faith directs you."
Recalled Allison of their third child, Daryl: "When we brought him home, there was nothing major we could see."
"It's really all about your faith and how your faith directs you."
It was only when he missed certain milestones like crawling that they sent him for check-ups. While they did not know about their son's developmental issues, God did and had arranged ahead of time for him to have the right medical care.
"I was given the name of a neurosurgeon because they suspected he had cerebral palsy. I was told that the queue to see her would be very long.
"When I saw the name, I realised it was the person from church who had invited me to join her Bible study class right before Daryl came into our family. I didn't even know she was a neurosurgeon," said Allison.  
"Even telling you this now, my hair is standing because God was already preparing me to know this person. God was orchestrating, assuring us that He is the one in control."
For the Gans, fostering has plenty of unknowns as well. 
"I got some snippets (of information about each child), enough to know what the first one had gone through. We knew the second had gone through a few foster homes. We were told just enough to see if we could handle them," said Li Ping.
#3: Get everyone in the family on board
The entire family needs to be in agreement about the decision.
Said Li Ping: "Both of us heard through a sharing in church about fostering and separately felt it was something to consider. I felt compassion for these children and felt that it was something our family could do."
They also talked to their children about bringing kids home to foster, taking a year to talk them through the process. Their oldest son was 12 at the time and their youngest was in pre-school.
"For them, they just thought it meant more children to play with," laughed Li Ping.
"I felt compassion for these children."
Even their domestic helper was consulted because both Joseph, who is co-founder and CEO of tech start-up V-Key, and Li Ping, hold full-time jobs.
"Before we became foster parents, they also interviewed the people who live in the household," said Li Ping.
As the Lims added to their family through adoption, they prepared each child for the arrival of their new siblings, too.
"We didn't have nine months though. From the moment we receive the news, we usually have only a week because we don't chose so the process is quite straightforward," said Dickson.
"Then, when we announce it, it's like a big announcement. We drum up a lot of preparation. Each child will choose a gift to welcome the next one. Given that they were so young, it was easier to mobilise them."
#4: Be prepared for challenges
Fostering can be tough because many of the children come with various traumas. The Gan's older foster child was seven when he came into their home. Though they already knew him from outings and stayovers they had had together, actually fostering him still threw up some unexpected challenges.
"If you want to do this, you have to be committed."
"He was scared about a lot of things and he would get angry and sad easily. In school, he had a lot of behavioural issues like tantrums and not listening to the teacher as well as academic difficulties.
"At that time, I didn't know how to deal with it because none of my kids had problems like that. It was really hard for me to adjust to it," said Li Ping.
The Gans persisted and today their older foster child has calmed down and has learnt to love and trust them. Their younger foster child, who also joined them at seven, had similar challenges. With the same love and patience, they welcomed him into their hearts and home, and he has since settled in and is doing well.
"If you want to foster, you have to be committed. This is not like getting a pet. You cannot give the child back."
Their first foster child has been with them for four years. The second will have been with them two years next February.
#5: Treat every child fairly but not the same
Both the Gans and the Lims insist that being fair to each child – adopted, fostered or biological – is paramount.
"Fair doesn't mean equal treatment. We have broadly the same level of discipline and privileges for all the children.
"Fair doesn't mean equal treatment."
"So, when both my natural kid and my foster child needed to get a tooth taken out, I sent them both to a private dentist because that was what I would have done for my natural child," said Li Ping.  
After that, it is all about adapting those same measures of discipline and privileges to each child.
"My second foster child, he has had quite a bit of trauma. So, sometimes when we give rules or discipline, he reacts more and in a way my natural kids wouldn't.
"So, I help him to recover first. There might be more repair work, more counselling, more comforting and praying but we don't lower the standards."
To help them tailor their methods to each child, Li Ping works extra hard with her foster children.
"They didn't grow up with you. They don't know you. It takes time for them to adjust and build up trust. So, I will spend a lot of time with my foster children to understand what they need and understand the root cause of their behaviour – is it because they feel rejected, or a lack of trust, or fear?"
"You must trust us that we do this for your good."
Said Dickson of his adopted children: "There is a lot of myth about adoption. Apart from how they arrive, the rest of the journey is just like any parenting – start right with a lot of love, equal love without discrimination."
Even among adopted siblings, being fair is tough. Three of the Lim children have special needs and require more attention and care. Sometimes, their oldest child, Dawn, feels left out.
Said Allison: "She did mention to me that 'I'm the only one without special needs'. I tell her, 'You are special, you have needs, so you have special needs'. Then, I explain to her that we tailor our treatment of her to her needs.
"For example, she likes her special corner because she needs the space but her sister would rather have her bed near the brothers. I told her, 'You must trust us that we do this for your good'."
#6: Learn as you go along
For Li Ping, her fostering experience has been a learning journey as well.
"As I went through therapy with him, I learnt."
"Some of the things I learnt from dealing with my foster kids, I use on my own kids. Dealing with their traumas also helped me learn about my own past brokenness and grow out of that."
She shared how dealing with her first foster son who cried a lot and got angry triggered her because of her background.
"My family of origin never talked about their feelings or difficult emotions so I was used to stuffing them down. Most of the time, it's okay for me. Now, daily this child is showing difficult emotions.
"We had to get professional help and as I went through therapy with him, I learnt what it means to be aware of my emotions, to label them, accept them and cool down. So, I got less triggered, less upset."
#7: Communicate openly
All the Lim children know they are adopted.
"We want to make sure they hear it from us so they know that we will never keep anything from them," said Allison.
"You bring me to the family because you love me."
When they told their oldest child, they used the popular movie Kungfu Panda to explain adoption.
"We told her, 'See how the father is a goose and the panda is a bear? How they look completely different but the father loves him so dearly? We will also be the ones to love you and take care of you forever'."
By the time it came to the two younger boys, their sisters were the ones who talked to them about it.
Recounted Allison: "Daryl loves to buy toys. I remember telling him to wait for a toy, saying, 'You know, mummy loves you. Not buying doesn't mean not loving'.
"And he said, ''Yes, just like how you bring me to the family because you love me'. He seemed to take it quite well."
#8 Have a community
The Gans have a community of other foster families they talk to and Li Ping believes that form of support is very important.
"When we first wanted to be foster parents, we were asked to consider taking in a trio of siblings because siblings are hard to place. The more experienced foster parents advised us to start with one first because we were so new to it.
"Having fellow foster mums to talk to is good because it normalises my experience."
If you have enjoyed reading Salt&Light...
We are an independent, non-profit organisation that relies on the generosity of our readers, such as yourself, to continue serving the kingdom. Every dollar donated goes directly back into our editorial coverage.
Would you consider partnering with us in our kingdom work by supporting us financially, either as a one-off donation, or a recurring pledge?
Support Salt&Light