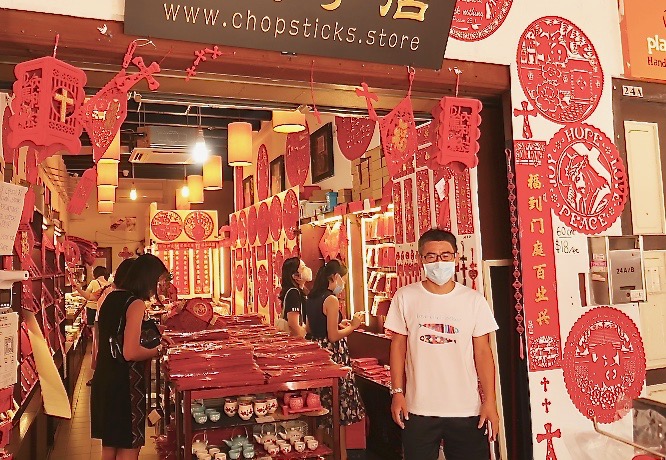 Customers flock to The Chopstick Store in Chinatown for their Christian-inspired duilian and huichun, traditional Chinese New Year decorations. "It is no longer about making a living for us, it is about our testimony," said owners Moses and Lilian Zhao. All photos by Jewel Yu.
Remember last year, when a small shop in Chinatown selling traditional Chinese New Year decorations with Christian blessings shot to popularity on social media?
Tourists and locals alike flocked to The Chopstick Store (formerly Orchid Chopsticks) after a customer posted a photo of owner Moses Zhao and his duilian and huichun, traditional Chinese New Year home decorations that welcome the spring.
The difference between The Chopstick Store's decorations and the ones in the surrounding Chinatown shops? Their Bible-inspired verses, crosses and declarations of joy, peace and love in the decorations, specially designed by Moses, 49, and his wife Lilian, 47, as a blessing to customers.
At that time, the Zhaos were bemused by their sudden popularity. But it was during the devastating lockdown from Covid last year that they truly saw, and are still seeing, God's provision.
An unexpected miracle
The family business has been operating for 10 years, and started selling Christian-inspired Chinese New Year décor eight years ago. 
"It was during the devastating lockdown from Covid that they truly saw God's provision."
Sales of the Christian decorations were never particularly exceptional before last year.
Said Lilian: "There would be a few regular customers, and they would buy a piece or two. Each year, the sale of ornaments would increase, but only marginally. But last year was something different."
The sudden popularity of the store was met with surprise by the couple, who had moved to Singapore 14 years ago from China, due to a job opening in Zhao's previous company. 
"We have been selling these products for eight years and not many know us. So, why the sudden interest?" the couple wondered.
The reason was to unfold in a series of astonishing events.
Earlier last year, Lilian had been flustered when she discovered that she had made a mistake in her stock order.
"Every year, I make orders based on estimations from the previous year's sales. Last year, I made an error when ordering the products, and ended up buying twice the amount I had intended to order," said Lilian.
She was concerned about having too much stock; after all, there was a particularly short run-up to Chinese New Year from Christmas last year. 
"At the time we were not in a particularly difficult financial situation, and we did wonder why God was blessing us so much."
Nevertheless the order had been made. Shortly afterwards, however, the couple received news that their order had been lost at sea enroute from China, where the items were produced.
They immediately placed a second order, which arrived just when their unexpected popularity from the viral photo online saw customers streaming into their store. Their shop was not the easiest to locate, and many customers were redirected by other helpful store owners. 
Very soon their stock was sold out. But just then, their original order was found and arrived at the shop. This batch was also sold out five days before Chinese New Year.
"We were so amazed by God's provision," said Lilian.
The couple designs all the Christian-inspired decorations themselves before sending the blueprints to China, where manufacturing is cheaper. This means that, should they run out of stock, they would not be able to get new stock in time. 
"But we were confused as well," confessed Lilian. "At the time we were not in a particularly difficult financial situation, and we did wonder why God was blessing us so much."
It all made sense later, when Covid-19 worsened in Singapore, forcing all non-essential businesses, including theirs, to close down for about four months. Because of God's provision, the family remained financially stable despite being unable to work for four months.
Lilian related their experience to the story of Joseph in the Bible, when Egypt experienced seven years of abundance before seven years of famine. 
"The good sales meant that we were able to live happily during the few months that we stayed at home."
Provision and protection through Covid
The blessings did not end there.
Lilian related to Salt&Light how God's Word spoke to her and her cell group members as they prayed over a Bible verse each night.
"We would pre-select 21 Bible verses, and pray over each of them over the course of 21 days."
They repeated this five times, over 105 days. During this time, God spoke to Lilian through 1 Samuel 17:47: "All those gathered here will know that it is not by sword or spear that the Lord saves; for the battle is the Lord's, and he will give all of you into our hands."
"God takes care of the birds, what do I have to fear?"
The first time she read the verse, it coincided with the Government's announcement that businesses that had renewed their rental contract on or before March 24 would be eligible to defer rent payment for six months.
The Zhaos had renewed their contract exactly on March 24, without the knowledge that such an allowance would be introduced.
The second time Lilian read the same verse on April 22, the Government had just disclosed the previous day that the temporary closure of non-essential businesses would be lengthened. As a business primarily sustained by tourists, except during Chinese New Year, the extended closure was good news for the Zhaos because remaining open was of no benefit to them. 
In fact, having the closure extended meant that they were not required to pay any rent for the four months that they were closed. 
On April 5, Lilian also read 2 Chronicles 20:17, which was an encouragement to her and her husband that God was with them. This came with the news that Permanent Residents like them would be receiving 75% of their pay each month from the Government. Initially, only citizens were entitled for such generous payouts by the Government.
"God takes care of the birds (Matthew 6:26), what do I have to fear?" said Lilian. "I was reminded that it is God who gives us victory."
100% Christ-inspired
God's care for the couple has continued.
Last year, when the shop's Chinese New Year decorations sold out five days before Chinese New Year, customers were still dropping by.
While 90% of last year's Chinese New Year products were Christian, this year, it is 100%.
The couple decided to have customers leave their names and contact details. They have become this year's customer base, with a steady stream of customers visiting the store during this Chinese New Year period.
Orchid Chopsticks is now called The Chopsticks Store, after Moses gave the original name to his brother who is also operating a shop in Chinatown. 
While 90% of last year's Chinese New Year products were Christian, this year, it is 100%.
Lilian explained that, because of the demand for Christian Chinese New Year items, they no longer need, or want, to sell the regular kind. 
This year, they have also introduced new designs of paper cuttings, lanterns and red packets. 
Also new are English words in many of the decorations, so that their English-speaking customers – mostly local, this year – are able to better grasp the deep meanings behind each product.
"It is no longer about making a living for us. We hope that our decorations in their home will remind them that God is with them."
Said Lilian: "Customers ask us what the words of the decorations mean, and we explain. But they tell us that they will forget by the time they go home!
"Last year we experimented a little with the English words. This year nearly every piece has English words."
They have also brought in Bible-inspired bowls and plates and traditional Chinese wedding items like tea sets.
Moses is hoping to sell his products on his website from April this year. 
When asked where they get their inspiration for the products, Lilian said they always get ideas when they are doing their Bible study and when reading the Lord's Word. 
"It is no longer about making a living for us. It is way beyond," said Lilian. "We hope that our products will bring joy, purpose and meaning, and leave an impact on whoever sees them.
"We hope that they will bear testimony of what we believe, and that having our products in their home will remind our customers that God is with them."
---
The Chopsticks Store is located at 24 Sago Street, S'pore 059020.
---
RELATED STORY:
"We wanted to offer traditional New Year decorations that bear witness to Christian values": Moses Zhao of buzzworthy Chinatown shop
If you have enjoyed reading Salt&Light...
We are an independent, non-profit organisation that relies on the generosity of our readers, such as yourself, to continue serving the kingdom. Every dollar donated goes directly back into our editorial coverage.
Would you consider partnering with us in our kingdom work by supporting us financially, either as a one-off donation, or a recurring pledge?
Support Salt&Light