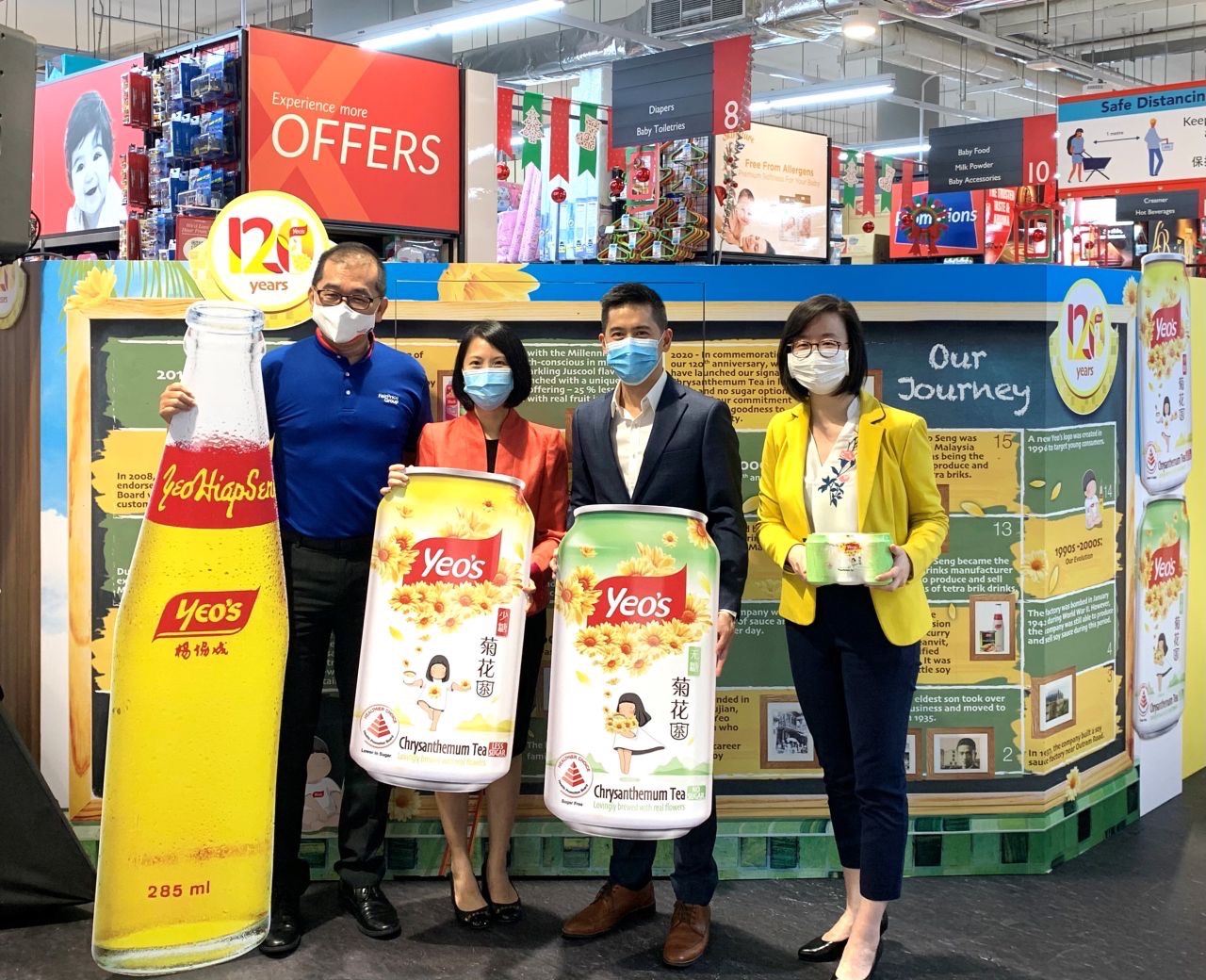 In April, Yeo's collaborated with the Ng Teng Fong Charitable Foundation to deliver 120,000 cans of nutrition drinks to migrant workers receiving treatment at hospitals. CEO Samuel Koh (2nd from right) at Yeo's 120th Anniversary event this year. All photos courtesy of Samuel Koh.
In a far-flung corner of Singapore, a few workers of Yeo Hiap Seng – better known as Yeo's – were marking Christmas at the industrial area of Senoko Way. 
Its relatively new CEO, Mr Samuel Koh, 46, started by giving a short address.
Briefly, he explained to them why Christians celebrate Christmas. Then he thanked them for their hard work over the years and urged them to bless others around them even as they count their blessings.  
Some of the workers knew Koh was a Christian; others did not. It did not matter.  
Koh did not share his personal faith story with them that day, as he preferred to "walk the talk" first.  
"If I show myself to be a good and caring leader, then that adds to my credibility should we talk about faith-related matters next time. What's the point of being a Christian leader if you are failing at what you do? We need the walk to do the talk." Koh said candidly.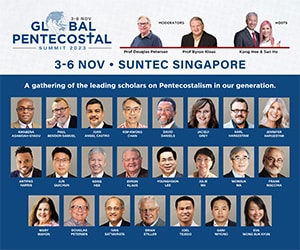 He took on the group CEO position formally in March this year. 
Yeo's marked its 120th anniversary this year by distributing some 1.2 million cans of the brand's popular chrysanthemum tea to residents of Singapore in the National Day "fun packs".  
120 years of history
Yeo Hiap Seng was started as a soy sauce factory 120 years ago by two friends with the help of a church loan. The firm relocated to Singapore in 1937, survived World War II, then expanded its range to canned food, soy milk and other drinks.
Part of the appeal for Koh in helming Yeo's was appreciating its rich Christian roots and legacy.  
It has 2,000 people on staff now – one fifth of them are Singaporeans and the majority are Malaysians.  
Part of the appeal for Koh in helming Yeo's was appreciating its rich Christian roots and legacy.  
The company's founder, Yeo Keng Lian, was born in China in 1860. When he and a friend decided to open a soy sauce factory in Zhangzhou, Fujian province, they pooled their money together but realised they were short of the remaining US$660 needed for their new venture. Yeo prayed for a solution before going to bed.  
He dreamed he was lost in a raging sea, but someone threw him a plank that turned into a bridge and brought him to dry land. When he woke up, he confidently approached his pastor for a loan and immediately received the cash that he needed.  
In 1901, the two friends founded the Hiap Seng Sauce Factory, which was later renamed Yeo Hiap Seng Sauce Factory.
While "Yeo" was Keng Lian's family name, "hiap" was chosen because, when written in Chinese, it has a cross character – symbolising Christ – and three copies of the Chinese character for strength.   
The "hiap" in Yeo Hiap Seng was chosen because, when written in Chinese, it has a cross character.
Keng Lian's son, Yeo Thian In, eventually was the one who took his father's business to Singapore and expanded it to Southeast Asia.   
During the Japanese Occupation, on the morning when Japanese planes dropped a 10-kg bomb on the factory, Thian In's wife had a vision. Through the planks of the home where Thian In and the family lived above the factory, she saw the sky opening up and angels descending from the sky. Soon after, the factory was bombed.  
Miraculously, no worker or family member died. They realised later that the bombing was a blessing in disguise as the Japanese thought the factory was largely destroyed and did not convert it to ammunition depots, like other soy factories.
Instead, the Yeo factory was the only one that could continue operations covertly and soon, the demand for their soy sauce exceeded supply.  
The family believed that this was God's way of reassuring them of His protection and they would honour Him by starting company meetings with prayers and hymns.  
During the early 1990s, unfortunately, some members of the Yeo family became mired in factional fighting over the business. In the mid-1990s, control of Yeo Hiap Seng passed from the Yeo family to Ng Teng Fong's Far East Organization. 
The last member of the Yeo family in a senior management role at Yeo Hiap Seng was Yeo Chee Yan, a managing director of Yeo Hiap Seng Malaysia, who retired in 1999. 
Today, not only is there no Yeo family member in Yeo's, the company's faith practices of praying and worshipping before the start of corporate meetings no longer remain.  
Nonetheless, Koh hopes to continue building up the company's culture of prioritising employee's welfare and emphasising good hospitality.  
Awards for values 
One practical way he would be doing so is in introducing new quarterly awards within the company that recognises certain values, such as integrity, excellence, ownership, entrepreneurship and unity.  
"We want to call out specific instances or behaviour that embody such values and recognise and reward staff in order to create a culture that is driven by these values," said Koh.  
He had learnt the importance of staff recognition during his early career days with Yums Brand, which oversees fast food chains such as Pizza Hut and KFC.  
"The 'guan xi' relationships we want to build at Yeo's is 'I help you because I care for you'." 
Back then, some 15 years ago, the back of the name cards of its managers would have a printed template of words that went: "I would like to thank ____ for ____".  
Any time that Koh or the other managers noticed laudable behaviour from its front-end staff, they would whip out their name cards and fill up the staff's name and actions observed and then pass the cards to them as a form of encouragement. They would also give out toys – a set of chattering teeth which has mechanical legs and could walk when wound up – to staff as a tangible symbol of them "walking the talk" to spur on good behaviour.  
"Building up a culture of trust and unity is key. Having authentic relationships where one is willing to invest time to care for others would be the most powerful testimony for God," said Koh.  
The dynamics of such relationships would be the opposite of how "guan xi" (connections) work in China, where he spent about nine years working in Shanghai and Beijing for F&B giant Coca-Cola.  
Though he was brought up in a Chinese educated household and always longed to work in China, he found himself in for a rude shock when he moved there with his family in 2011.   
It was a rainy and chilly day, Koh recalled, and he and his wife were carrying their twin babies as they tried to get a cab to their accommodation. When Koh opened the taxi door, two Chinese people rushed in and took off with the cab.  
"It was not easy to live and work in China, navigating the culture, politics and their way of working there. Guan Xi over there usually means: I help you so that you will help me in future. But the relationships we want to build at Yeo's is: I help you because I care for you and I want to do it," said Koh.  
Koh quickly rose up the ranks at Coca-Cola and became the chief financial officer of COFCO Coca-Cola Beverages, a prominent Coca-Cola bottler in China, where he took charge of acquiring new bottling territories, between 2015 and 2017. 
For the next two years, he would serve as vice-president of Coca-Cola's Greater China and Korea business, where he led new business ventures and investments in emerging beverage players. 
China was a tough environment to work in because businessmen would not keep their word at times.
"It was like the olden days when gatherings were simple and pure. God would move powerfully."
He and his wife and two other Singaporeans attended a church in Shanghai together with 40 to 50 local Chinese people. 
"It was like the olden days when gatherings were simple and pure. God would move powerfully and even those who were once very anti-God would come to know Him through the Alpha sessions we held or through our usual meetings," said Koh.  
The Chinese people appreciated the warm and genial gatherings, often hosted with food, because being in a fast-paced big city can be an alienating and dislocating experience for those who hail from other smaller cities in the country. 
"It was also good for me to work and live overseas because I could identify with how they felt. When you are vulnerable and desperate in an unfamiliar place, you can only rely on God as only He can help you," said Koh, who has two twin children who are now 10 years old.  
Koh and two other colleagues also started a prayer group called "Christ in Coke" when they were all working in Shanghai.  
When asked whether he found it hard to reconcile his job of selling essentially carbonated sugared drinks with his faith and his reply was that he was called to be a good steward wherever he was.
Coca-Cola, he said, offered people a variety of products and they could choose if they preferred the no or low sugar options. Besides, he added, producing such products was the basis of employment for many of the poor in third-world countries. 
With him leading Yeo's now, he is encouraging his senior leadership team to similarly start a prayer group to pray for the company and its employees. Koh, who came to know and accepted Christ through St Andrew's annual religious emphasis week, now attends Covenant Evangelical Free Church. 
"When you are vulnerable and desperate in an unfamiliar place, you can only rely on God." 
Like many other companies, Yeo's has been affected by Covid-19.
Topline figures have dipped by 10% but its e-commerce sales have doubled. The mainboard-listed company announced earlier this year that it expects to post a net loss for FY2020 ending December, due to fallout from the Covid-19 pandemic in its key market of Malaysia.  
Yet such news did not dampen the company's attempts to do its part for the community during the pandemic.  
In April, Yeo's collaborated with the Ng Teng Fong Charitable Foundation, its family foundation, to deliver 120,000 cans of Yeo's nutrition drinks to migrant workers receiving treatment at hospitals in Singapore and 75,000 cans of isotonic drinks to the migrant worker charity Alliance of Guest Workers' Outreach to show support and care for the migrant workers who were the hardest hit group in Singapore during the pandemic.
Earlier in February, it also delivered over 14,800 bottles and packets of nutrition drinks to healthcare workers at five public hospitals.
Wanting to do more, Yeo's has developed a special herbal drink made up of about five herbs, aptly called called X19, in the third quarter of this year to give out to frontline workers – such as healthcare workers and taxi drivers – in Singapore, Hong Kong and Malaysia in a bid to boost their immunity.  
"Our purpose is to nourish every household with natural goodness and this heritage gives us a strong reason to exist," said Koh.  
Yeo's Chrysanthemum Tea enjoys iconic status throughout the region, as does Yeo's grass jelly drink, Water Chestnut drink and Winter Melon Tea.  
Hugely popular in China, Yeo's Water Chestnut drink is still painstakingly made by hand from the husked vegetable.
Its chrysanthemum flowers are obtained from the best in Hangzhou, China, while the soy beans for its Soya Bean Milk come from Canada.  
Yeo's has also recently launched new products such as the less, no sugar or honey variants of its chrysanthemum tea. 
The work continues for Koh at Yeo's.  
During his first week with the company, he had intimate lunches or meetings with small groups of junior staff from the sales and production team in Singapore and Malaysia so as to listen to any feedback they may have. He also signs off emails to his staff with a simple "Sam", hoping that they will know that they can talk to him any time.  
Koh hopes his witness in the marketplace will be as bright as the light shining from the lighthouse in the old logo of Yeo's, aligning to what is written in Matthew 5: 16: "Let your light shine before others, that they may see your good deeds and glorify your Father in heaven." 
Said Koh: "The lighthouse as inspired by the Bible verse is a very powerful symbol. I hope to bring it back in some form or other next time."
---
IF YOU LIKED THIS, YOU MAY LIKE THESE STORIES ON BUSINESS AND LEADERSHIP: 
Far East Organization's Philip Ng on learning to be a servant CEO
"The hand of God is holding us up": Choe Peng Sum on how Pan Pacific Hotels Group is ready to expand despite COVID
Lost her father at 21, widowed at 37, yet F&B CEO Jocelyn Chng says God never left her
"I'm really proud of our miracle nation": NVPC's Melissa Kwee on her dreams for a City of Good
If you have enjoyed reading Salt&Light...
We are an independent, non-profit organisation that relies on the generosity of our readers, such as yourself, to continue serving the kingdom. Every dollar donated goes directly back into our editorial coverage.
Would you consider partnering with us in our kingdom work by supporting us financially, either as a one-off donation, or a recurring pledge?
Support Salt&Light