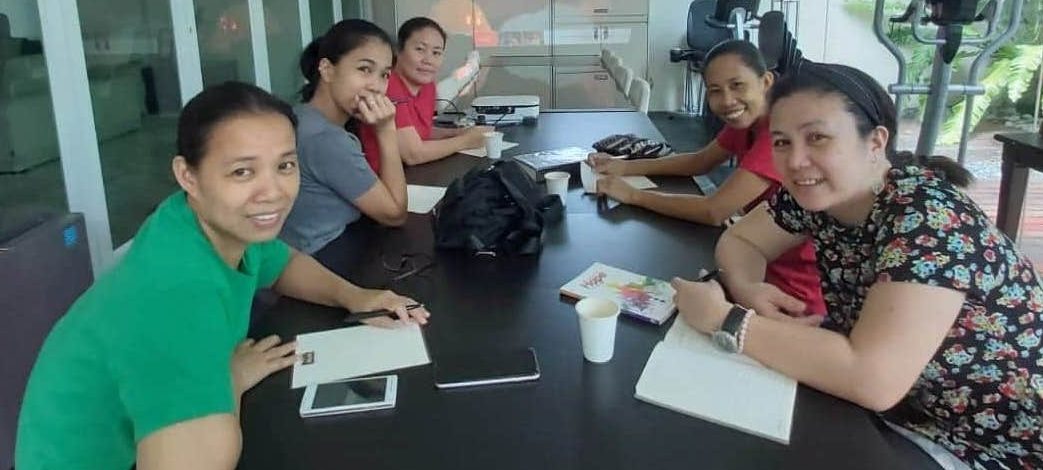 Even though their Alpha sessions have ended, Filipina Edmonda Untal (in red at the back) and the group she started in February 2020 continue to meet each week to fellowship and study the Word of God. All photos courtesy of Edmonda Untal.
As Filipina domestic worker Edmonda Untal was about to be baptised in the holy Jordan River, she spotted a duck in the distance, and was instantly hit by a sense of déjà vu.
It was what she had seen in a dream.
Untal was with her Singapore employers on a trip to Israel in 2017. 
While she enjoyed the visits to places of biblical significance, Untal, now 35, regrets that she paid little attention to the lengthy explanations by the tour guide.
However, one thing from the trip stuck with her. "Ma'am's sister told me that being a believer is not a religion. Christianity is about your relationship with God," Untal tells Salt&Light. Ma'am is her employer Eileen Magnus.
It was a new insight for Untal, who had taken Catechism classes as a child.
She did not know it then, but her baptism would be the start of a new journey. One that would lead her to start an Alpha group with fellow domestic helpers. 
A job at 12
Untal grew up in the city of Iloilo in the Philippines, the third of four sisters. Her father passed away when she was six years old, leaving her mother to raise her children on her salary as a domestic worker.
At age 12, Untal started doing part-time domestic work during the school holidays to supplement her mother's income. She gave up her studies at the age of 20 to work full-time as a house helper when her family faced unexpected financial problems. 
After labouring diligently for five years, she headed to Singapore in January 2010. At that point, she craved new experiences.
Her only wish was to have a good employer in Singapore, who she could work with for a long time. Her wish was fulfilled.
Untal has a deep bond with Eileen and her husband Richard Magnus – her only employers in all the 10 years she has been in Singapore. 
"My mother taught me that since I'm not taking care of her back home, I should take care of my employers as if they were my parents."
Beyond the stability the Magnuses provided, it was through them that Untal began to have a relationship with God.
Big believers
Back in the Philippines, Untal was never a regular churchgoer. In Singapore, she was exposed to Bible studies organised at the Magnus' home and was often invited to church by her employers. 
Stephanie Magnus, Eileen and Richard's daughter, has been holding Alpha courses at her home since 2012.
Untal would keep herself occupied with housework to avoid taking up Stephanie's offers to join the sessions. "My heart resisted it because I thought I already knew all about Jesus; they didn't have to tell me more," said Untal.
"Being a believer is not a religion. Christianity is about your relationship with God." 
Underlying this resistance was a prejudice she held against Christians. Untal chuckled as she recalled: "Every time we saw a Christian we would think, 'this girl very big because she's a believer'."
There was something about the confidence Christians had, and the knowledge they had about God, that intimidated her.
Things began to change after the Israel trip in 2017. Untal finally sat in for an Alpha session in 2018. Her heart softened bit by bit, and she accepted Eileen's invitation to attend the Celebration of Hope Christian rally in May 2019.
"When I went there, I saw a lot of people – they were all so happy. I could just feel the spirit of joy in the air," said Untal.
The next month, Eileen took her to Barker Road Methodist Church. She went gladly, attending the Filipino service with her sister and some friends.
She loved the service, and how it felt like a family right from the start, even when they did not know anyone else there. She had found her "home church".
Week after week, she returned, enjoying the fellowship with friends while discovering more about the God she thought she knew.
"I could just feel the spirit of joy in the air."
When Untal's contract expired in December that year, she was planning to take a break and return to the Philippines to care for her mother.
"I wanted to rest because I had been working for the past 23 years." Out of her care for the Magnuses, she wanted to ensure that someone she could trust would replace her.
But it looked like her employers would have to hire two new domestic workers as her co-worker in the same household decided to transfer out at the same time.
Knowing that she would not be able to leave with a peaceful mind, Untal renewed her contract to continue working for the family.
Alpha in a time of Covid
In February this year, Stephanie suggested that Untal start an Alpha group with her Filipina friends. Seeing it as a good way to address the many questions she still had about God, Untal embarked on it enthusiastically.
For the sake of easier contact tracing due to Covid-19, the group started with domestic helpers within the Magnus family, who all lived in the same area.
They met on Sundays at 2:30pm, watching Alpha videos followed by discussions. Their employers supported and blessed these meetings. 
"I saw the changes in us, and I felt this urge to continue." 
Stephanie's Alpha group occasionally prepared snacks for their "coffee time", while her husband Daniel Ong provided materials for the sessions.
When Circuit Breaker kicked in, they met via video calls on Facebook Messenger.
The virtual platform increased the convenience of meeting. And Untal was able to reach friends beyond their small group when she shared the Alpha videos on her Facebook. 
"Some people will comment and ask to join, although we're still waiting for them to come," she said.
Growing happiness
Untal was  prepared to end the meetings once the Alpha sessions were over. But with each week, she witnessed the fruits of her friends' strengthened faith.
"I saw the changes in all of us, and I felt this happiness, this urge to continue."
She recounts the time a member of their group struggled with marital problems. When this friend came to Singapore to work, her husband in the Philippines left their children, and moved in with another woman.
"No matter how much I suffer now, it's just a fraction of what Jesus went through on the cross." 
"She was angry, filled with hatred towards her husband. We encouraged her to send Bible verses rather than curses whenever she messaged him." The group continually reminded her to trust in the plans and work of God.
As her friend slowly learned to love those she hated, her husband miraculously returned to the family after a few months.
Untal herself has also been learning to release the grudges she used to hold. "The hatred was so heavy in my heart, but I am now more able to forgive.
"No matter how much I suffer now, it's just a fraction of what Jesus went through on the cross, and He didn't even do anything wrong."
The group continues to meet online each week, worshipping, learning from God's word through Bible studies and praying together.
Untal has grown in her understanding of who God is, and "knowing verses beyond John 3:16".
The group bonds over shared concerns about their families back in the Philippines, and the stresses they go through while working away from them. 
Patience and the Holy Spirit
Untal not only longs for the day her group can meet face to face again. She also hopes that one day, her group of five will become a group of ten, 20, and even more. Till then, she continues inviting pre-believing friends to church with the same patience the Magnuses showed her. 
Having once been in her friends' shoes, Untal recognises their stubbornness and constant rejections, but she is undeterred. "I'll ask them until they decide to give it a try, just to stop me from asking them again. Then I'll leave the rest up to the Holy Spirit."
Looking back at her journey, Untal is awed by God's hand in her life. The employers God has given her. The dream He reminded her of at her Jordan River baptism. How she did not end up returning to the Philippines in December. 
"If I had gone back, there wouldn't be Alpha, I wouldn't have this group, and we won't grow in the faith together.
"God is amazing."
Cheated of money, cheated in love, yet this foreign domestic helper chose to forgive
"One little pebble, and all these ripples have gone out!": How God grew one group's desire to bless
If you have enjoyed reading Salt&Light...
We are an independent, non-profit organisation that relies on the generosity of our readers, such as yourself, to continue serving the kingdom. Every dollar donated goes directly back into our editorial coverage.
Would you consider partnering with us in our kingdom work by supporting us financially, either as a one-off donation, or a recurring pledge?
Support Salt&Light