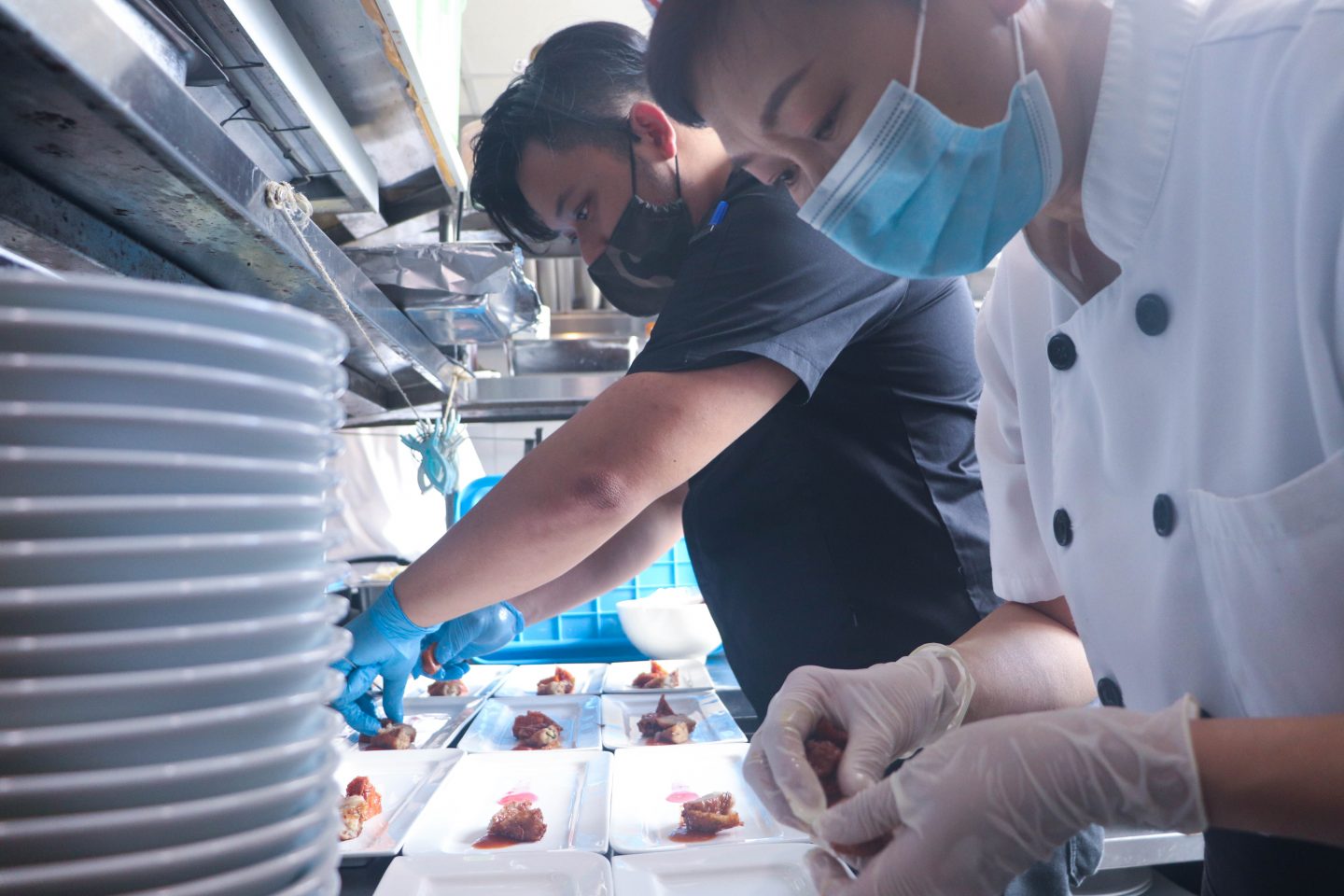 The Social Kitchen plans to start 50 shared kitchens across Singapore to help local food brands in this Covid-19 world, and provide employment and training opportunities for people with special needs and from disadvantaged backgrounds. All photos by Alex Wenxuan.
Singapore's first social enterprise cloud kitchen provides employment to the disadvantaged and people with special needs while giving nine local food brands a fighting chance during the Covid-19 economic fallout. 
The Social Kitchen, which officially opened on August 1, takes over the space occupied by Y Café at YMCA.
It expands on the mission of Y Café, which hired and trained people with special needs, to give them independence and confidence. 
Aiming to open 50 shared kitchens across the island, the team behind The Social Kitchen plans to be the largest employer in Singapore of people from disadvantaged backgrounds. The goal is to increase their income and quality of life by paying salaries pegged towards the market rate and providing training to upgrade their skills.   
The initiative is the brainchild of two President's Volunteerism and Philanthropy Award winners: Alvin Mark Yapp, 50, and Ang Kian Peng, 42.
The Social Kitchen at YMCA serves as a central kitchen and café for nine F&B brands. They include old timers like Ming Fa (known for their fishballs since 1946), Hiap Giap (which started manufacturing fresh noodles in the 1960s) and KiomKee (supplying dim sum to hotels and restaurants since 1988). Customers can dine in, order takeaway or opt for delivery.
"The pandemic has hit many heritage food and beverage brands really hard … The main challenge for them today is manpower and rental. The creation of our cloud kitchen will give them a fighting chance in today's Covid-19 world," said Yapp.
The Social Kitchen also assists the nine brands with food preparation and delivery. It also manages all operational matters including securing the necessary government licenses to operate the kitchen. 
The F&B businesses share setup costs with The Social Kitchen, but pay for their own utilities.
Speaker of Parliament Tan Chuan-Jin, who was at the launch of The Social Kitchen, said: "I am glad to encourage these efforts to make sure children and families have enough to eat, and help businesses make it through this pandemic." 
Growing wonderfully
The food businesses working with The Social Kitchen are committed to hiring and training people from disadvantaged backgrounds. They include people with disabilities, single mothers, or low-income families – and caregivers. Social service agencies will provide employment support.   
Currently, the kitchen has 10 stalls employing around 20 staff. 
On the team is Michael Ang, 25, who has special needs. He was a trainee waiter at Y Café for three years. 
In jobs before Y Café, Ang was never allowed to work at the front of the house even though he wanted to. He was confined to back-of-the-house tasks such as washing crockery. 
At Y Café, Ang had the opportunity to do both. His colleagues guided him and were forthcoming when he needed help.
"If I don't know how to do the cashier, they will teach me how to do the cashier," Ang told Salt&Light.
He found the culture at Y Café "supportive", and the pace of work more accommodating than his former workplaces which he described as "rushing".
"Everyone is carefully and wonderfully made, including our staff with special needs."
His new job scope has yet to be defined, but he said: "I hope to learn in the cooking area. At least I can help out the kitchen people when they are on MC."
Ang and his colleagues will benefit from the training.
Steve Loh, general secretary and CEO of YMCA of Singapore gave an example to Salt&Light: "So now you can make char kway teow, I want you to make har gow, bar chor mee and dim sum."
Just as our Heavenly Father wants us to reach our full potential, The Social Kitchen enables the people it employs to reach their full potential, he said.
"Everyone is fearfully and wonderfully made, including our staff with special needs. The Lord has specific plans for them, to bless them with growth and maturity."
Paying forward blessings
Yapp strongly believes in showing his love for God through action. He is also the founder of the Intan, a Peranakan private home museum. 
"Given that I have been blessed with so many things, how can I not seize this opportunity?" Yapp told Salt&Light of passing along the blessings that God has granted him to people in need. 
"It could be that restaurateur who is just giving up … the beneficiary whose self-dignity was restored because of a compliment on his service, or the single mother who was about to give up hope. That's what it's about."
"The Gospel was given for times like these": Social enterprise in Philippines feeding thousands going hungry in lockdown
Hawkers and taxi drivers team up to deliver meals to needy, despite their own bills to pay
If you have enjoyed reading Salt&Light...
We are an independent, non-profit organisation that relies on the generosity of our readers, such as yourself, to continue serving the kingdom. Every dollar donated goes directly back into our editorial coverage.
Would you consider partnering with us in our kingdom work by supporting us financially, either as a one-off donation, or a recurring pledge?
Support Salt&Light