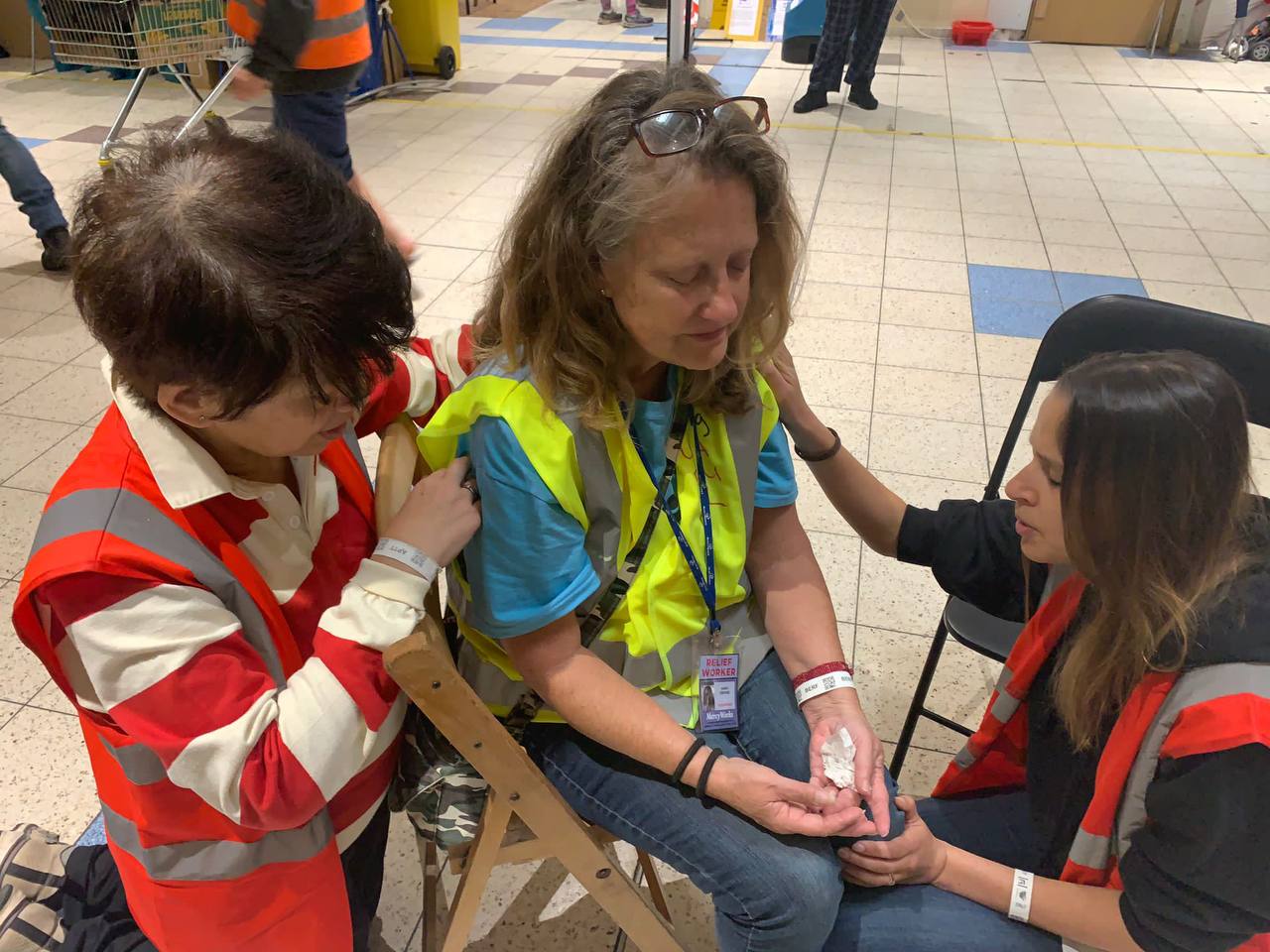 "People in a present hell need that drop of water, the hot meal or a compassionate chat before the Gospel can look like a plausible choice," says Wally Tham, who went to Poland. Photo courtesy of Peter and Guat Wah Soh.
"Overwhelming" is the description Soh Guat Wah has for the sight that greeted her when she arrived at a train station in Przemyśl, a Polish city close to the Ukrainian border.
As one of the major exit points for Ukrainians fleeing the war in their country, it was crowded beyond her imagination. "So many Ukrainians were just trying to get to different parts of Europe, refugee camps or even just temporary shelters," she shares.
"That feeling was amplified when I went to the refugee centre."
She and her husband, Peter, were among those who stepped forward in response to their pastor's wish that someone could be amongst the Ukrainian refugees just to "hold their hands", alongside the gift of funds their church, Church Of Joy, was raising.
Flying to Krakow, Poland, they spent one month from mid-April there, availing themselves to even such work as "fixing furniture late into the night", says Peter, 63, a private-hire driver.
The "long-tail problem"
In the three months since the war in Ukraine began on February 24, more than 6.7 million people have fled the land. Poland has received over 3.5 million of these and remains the main country of arrival for refugees.
While news of the war has tapered off, the need for humanitarian relief is still immense, and some Singaporeans continue in their efforts to be of service in Jesus' name.
For Wally Tham, founder of content creation agency Big Red Button, "my concern is the long-tail problem".
The 45-year-old's company has been involved since 2008 in overseas aid work, from the fallout of the civil war in Sri Lanka to forest fires in Indonesia.
Wally and his wife, Amizadai, were in Europe when they heard that a friend's community was rallying to take in 700 families, and interrupted their holiday to visit Poland to see how they could help.
"At first, when there's a lot of urgency and compassion, people donate. And it tends to be for mass relief efforts in large centres, where people are sleeping in rows next to each other.
"But how long can that go on?"
Using their media skills, the couple have created Home Away, a fundraiser and pilot programme that aims to provide safe spaces for families to settle and regroup in order to make plans for the future.
Such a respite is necessary, so that they can "start making important choices".
The issues are many, Wally explains. Security for families with elderly or young children is a concern, especially if they are going to have to remain in refugee camps or temporary housing for months.
Are they then going to be psychologically safe enough to restart their lives in a new country? What might that life look like?
"You can't make those decisions if you're constantly in chaos," Wally adds.
"There is hope"
While the influx of refugees into Poland and has slowed, daily arrivals still number over 20,000 in May, according to a UNHCR report.
Every effort goes a long way. One small refugee centre in Krakow, where Peter and Guat Wah, a relief teacher, served would come to house 44 refugees. 
"We went to convey God's love to people."
Besides fixing up new furniture, the couple provided transportation to various destinations, prayed for and with various individuals. They even led worship and distributed Ukrainian Bibles for free in the city.
"We went to convey God's love to people," Peter says. "I tell them: 'I come from Singapore, but we're here to show you our support and love.' Many people broke down when I shared this.
"Humanly speaking, what's the point? But that's what you're there for: to tell them that there's hope."
The need for hope
Separately, hope is also what Wally is trying to restore through Home Away.  
The memory of an "intense" interview he'd conducted with one mother, an internal medicine doctor who was fleeing conflict for the second time in her life (the family was first displaced from their home in Donbas in 2013) remains vivid in his mind.
As she recounted the horrors of driving out of Ukraine with her elderly mother and three daughters, leaving behind her husband, a cardiologist in the Ukraine army, Wally had asked: "Do you feel safe now?"
From the security of the host community in Poland, she replied: "I'm safe, but I don't feel safe. I'm here, but I don't feel at home."
If we don't begin to hope for something for ourselves, then we have stopped dreaming.
Probing deeper, he asked: "What plans are you making?"
"I don't know," came her response, matter-of-factly.
He went on to share that without hope, there are no dreams, and if we don't begin to hope for something for ourselves, then we would have stopped dreaming. The woman started to weep.
He reflects: "I was very struck by that – that even though you've come to a place away from all that violence, you cannot sit down, you cannot feel like you're okay.
"That's the madness of war, and it stays with you even when you've escaped the violence."
Gathered to transform
Neither couple has grandiose illusions about the situation in Poland, but both testify that God moves among "people in crisis who are trying to find hope and meaning", says Peter.
"The work is tremendous," he tells Salt&Light, "but we don't look at what we can do, but what God is leading us to do. The little acts of kindness, the short prayers we offer for the refugees, God can do wonders.
"Every kind act might only be a drop of water in the ocean, but God is gathering His people to go out and turn this tragedy into an opportunity for the Gospel.
"People were touched and their needs were met. That was how God moved and how God worked. It was not individual – it is all of us together."
People in a present hell
For Wally, the ideal is: "I really hope the war stops.
"But no, that's not going to be enough, I know. And even, right now, we know that it is not stopping. Human beings are terribly, terribly complex.
"My reading of the Bible reminds me this world is not complete, it is unfinished because we as people are steeped in the effects of sin.
"Till Jesus returns, it balances my optimism around what our humanitarian efforts and strategies can achieve.
"I like that Jesus was a Man of action and made an intervention as often as He preached the Good News."
"It also balances against the issues of environmental dread, seemly insurmountable geopolitical conflicts, knowing that God is sovereign even as His creation behaves like selfish and spoilt children."
He declares: "I like that Jesus was a Man of action and made an intervention as often as He preached the Good News."
His hope is that Singaporeans will give to the Home Away Kickstarter, to help get homes ready so that Ukrainian families can begin to rebuild their lives. 
"We have peace and we are not running for our lives. That gives us the means to make decisions. 
"We don't need a whole lot of debate to see the hell we can create and the need for Jesus as a Saviour.
"But people in a present hell need that drop of water, the hot meal or a compassionate chat before the Gospel can look like a plausible choice."
---
MORE STORIES:
World Refugee Day Singapore: These Singaporeans are helping refugees worldwide – and you can, too
"They weep as we pray for them": Singaporeans are flying to Poland and Germany to offer aid to Ukrainian refugees
If you have enjoyed reading Salt&Light...
We are an independent, non-profit organisation that relies on the generosity of our readers, such as yourself, to continue serving the kingdom. Every dollar donated goes directly back into our editorial coverage.
Would you consider partnering with us in our kingdom work by supporting us financially, either as a one-off donation, or a recurring pledge?
Support Salt&Light