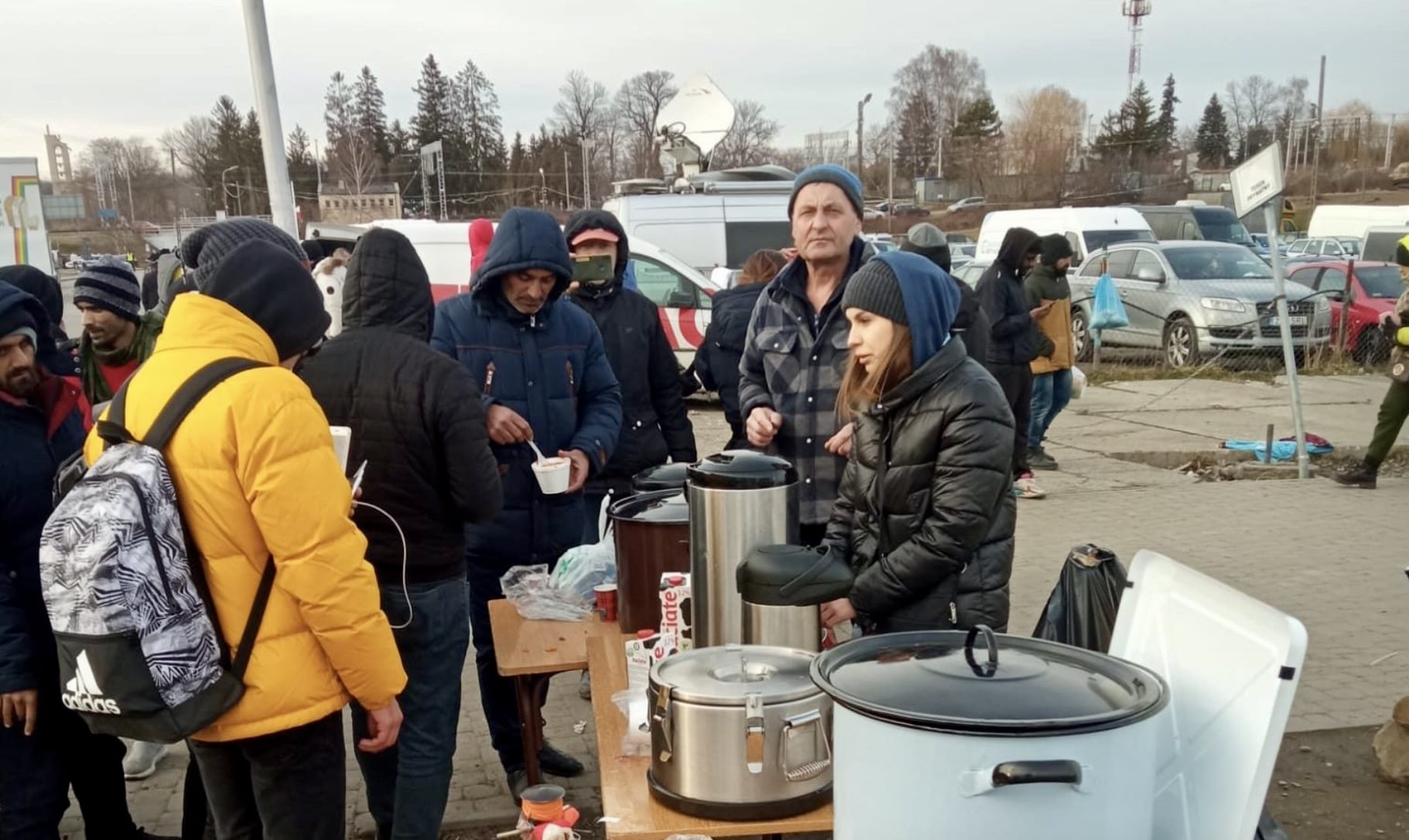 Stations with warm drinks and food at the Polish border offer respite to Ukrainian refugees. Up to 1.8 million Ukrainian refugees are now in Poland, equivalent to the population of Warsaw. All photos courtesy of Magda Marze.
Something unexpected  is happening in Poland, three weeks after Russia invaded Ukraine, says Magda Marzec, who pastors Church for the City of Kraków with her husband, Zbigniew.
"A miraculous unity has arisen not only amongst the churches in Poland but throughout the country and beyond," Magda told Salt&Light via Zoom from Kraków, the second largest city in Poland.
"It shows that when we face such a horrible crisis, we can unite to help others."
"Poland as a whole nation has decided that we need to help. NGOs are helping, churches, local authorities, The government is creating refugee places in some of their facilities, changing the law for Ukrainians to get jobs more quickly.
"It did surprise me what has happened in our country especially since politically we have been quite divided."
It is not just the authorities that are leaping into action, ordinary Poles are also stepping up. People are using their cars to transport refugees and opening up their homes.
"There are maps of shelters for refugees. If you Google it, Poland looks like it's dotted with places where people have opened up their homes to the refugees," said Magda.
"People are queueing to give blood. It came to a point when Red Cross said, 'Enough, we need to take a break.' I think it is amazing.
"I see the world uniting. I see the EU making decisions like never before for a country under fire.
"It shows that when we face such a horrible crisis, we can be above it and unite to help others. These help me keep hope."
A war they did not expect
Just days after Russia launched the attack on February 24, Ukrainian refugees started pouring into Poland by train, by car and on foot in temperatures that often dipped well below 0°C. Some had hurriedly packed bags, while others had little more than the clothes on the back.
By the time Magda Marze spoke to Salt&Light a little more than a week after the February 24 invasion, over 500,000 Ukrainians had already fled their homeland for Poland, becoming refugees overnight. 
"We had a girl in our church who went to visit her family in the Ukraine. She had to walk 14km to get to the border."
They made up about half of the over 1 million Ukrainians who escaped the country then. 
"We had a girl in our church who went to visit her family in the Ukraine," said Magda. "She had to walk 14km to get to the border.
"It was a miracle she could travel back from where she was near Odessa. She managed to get on the last bus from her town.
"The bus had to try to find all ways (to get to the border) because the roads were blocked. It took her three days. Normally by car, it would be a day's drive.
"I don't think anybody expected (the war) because we had hoped that in the 21st century, with people being so aware of what war means especially in our region, no one would be crazy enough to start something like that."
Kindred spirits
Now, three weeks into the assault with no end in sight, the exodus of Ukrainians is numbering 2.97 million, according to UNHCR. The United Nations expects 4 million, or 10%, of Ukrainians to exit the country in the months to come.
"When the war started, we decided to help our people's families find refuge."
Most will end up in Poland.
Because of the long border the two countries share, Poland is the nearest way out of the country for many Ukrainians. Years of shared history and political fate have also made the two countries kindred spirits. An estimated 1.8 million of the refugees are now in Poland, equivalent to the population of the country's largest city, Warsaw.
At Magda's church of up to 170 members, there are about 40 to 50 Ukrainians, part of the estimated 2 million Ukrainians already living in Poland before the war.
"When the war started, we decided to help our people's families find refuge," said Magda.
The extraction works on an informal network. Family members of the Polish church are given a number to contact via text. Once they cross the border, the contact person in Poland arranges for transport for them.
Magda's church, Church for the City of Kraków, partnered a church closer to the Polish-Ukrainian border – just 40 minutes from the border – to ferry the refugees from the border to a town nearby. There, they can get proper documents to certify their refugee status and settle other legal matters.
Members from the Church for the City of Kraków then drive some three hours to the town to pick these refugees up and take them into the city.
Help for those who remained
Beyond rescuing those who have escaped the conflict in Ukraine, Madga and Zbigniew are also helping Ukrainians who are determined to remain in their country.
"Last year, we started a church planting programme to train and support church planters. We have 20 church planters, local Ukrainians, who are in Ukraine.
"No one wants to leave. Some of them were thinking of moving their families out but in the end they decided to stay as a family.
"We are sending them financial help."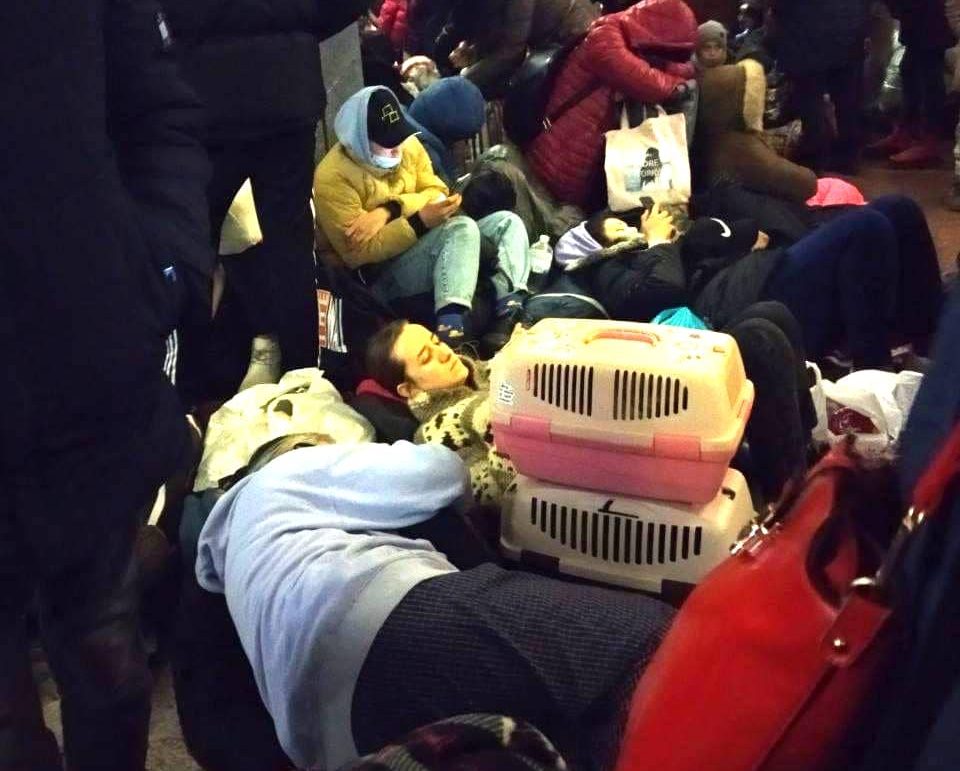 A day before Magda spoke to Salt&Light, they received word that the funds were being used to evacuate people who want to leave as well as to buy necessities for those in hiding – sleeping bags, mattresses and food.
"We try to stay in touch with them as much as we can. We check in every day.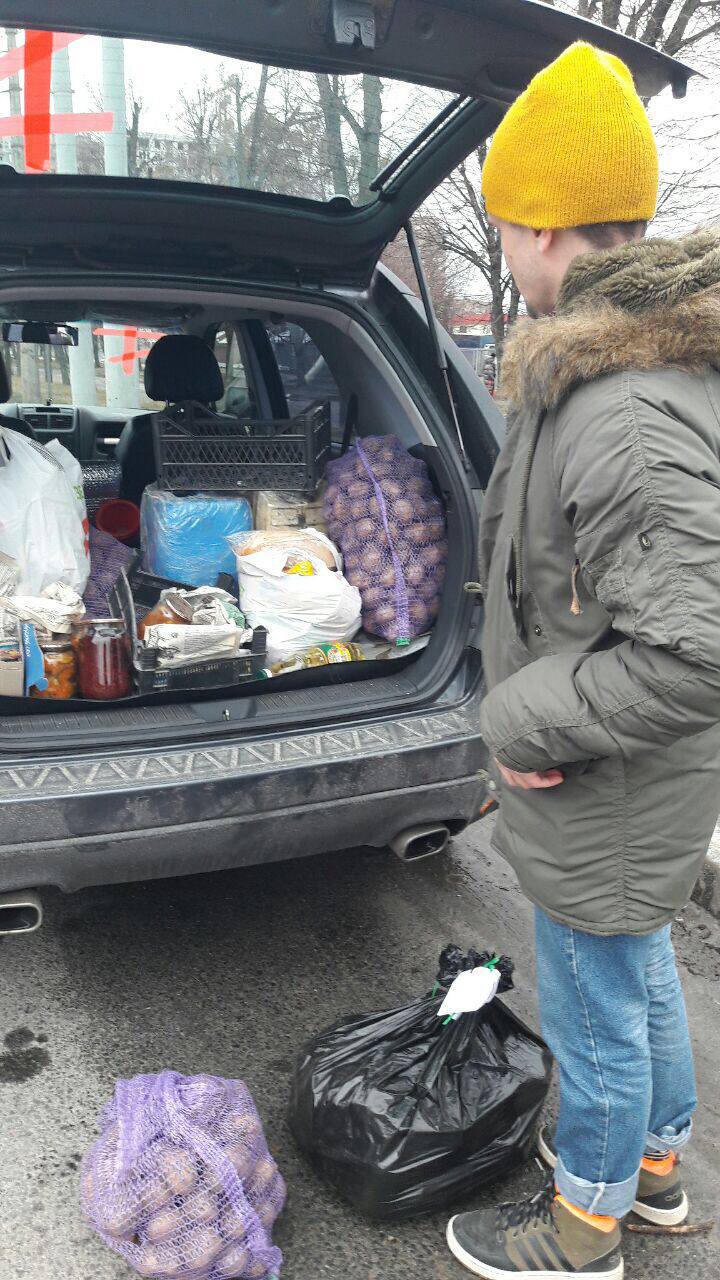 "The men who have been conscripted are being trained on how to use guns and how to help with protecting the area where they are. They are asked to help protect the place where they live."
Students and orphans
For the Ukrainian refugees fleeing Russian aggression, getting out of their beleaguered country is but the first step in a long journey.
Said Magda: "We are thinking of getting a minivan. That would help with the transportation because sometimes, they come, six or seven people and that means splitting them between two cars.
"With a minivan, everyone can go together."
Shelter is their next concern.
"We are trying to widen our help and think long-term.
There are overseas students from India and Africa as well as some 50 to 60 orphans they are trying to bring out of Ukraine.
"Some people who come through our city want to move further into Poland or to other countries. About 80,000 Ukrainian refugees are asking for transitions.
"Some people have no place to go."
Those are the ones Magda's church members have housed in their homes. "Among those with our (church) families, we have a five-year-old."
With a steady flow of Ukrainians coming into Poland, Magda has contingencies in place. She managed to get in touch with someone who owns a holiday centre just outside Kraków. He has offered her the use of his bungalows, capable of sheltering 250 people.
Magda has also drawn upon her network of international organisations and aid agencies for help.
"Joyce Meyer Ministries contacted us to help. People know we are trustworthy.
"We are collecting offering from our church members as well. We need money to pay for food, pay for things."
But Magda is beginning to see a more diverse set of needs. Ukrainian families are not the only ones running away.
There are overseas students from India and parts of Africa among the refugees as well as some 50 to 60 orphans whom they are trying to bring out of Ukraine.
Prayer and hope
But there is more than just physical provisions – shelter, food, medicine – that the Ukrainian refugees need.
"When they escaped to the border, they had to avoid Russian troops. They are scared."
In a mere few days, they have had their lives ripped apart. Families have had to leave husbands, fathers, sons and brothers behind.
"I heard of at least one family where they had been hiding for three days without food. They lost contact with them. So, they didn't know if their father is alive."
Many have witnessed a level of violence not seen in decades in the region. The journey out of their country has been beyond harrowing.
"When they escaped to the border, they had to avoid Russian troops. They are scared. They don't trust anyone.
"So, we ask the Ukrainians who have been living in Poland to talk to them first, then we pray with them," said Magda.
"We wanted to take the youths out to McDonald's but their parents didn't want to let their kids go because they don't feel secure."
Magda has arranged for a psychologist to be at the holiday centre where most of the Ukrainian refugees they have rescued have been placed.
"The majority are teens so we are organising activities for them, bringing them games so they have things to do.
"In a week or two when they feel safer, we can think of what to do next. Help them find jobs if they settle down a bit more so they can provide for themselves and not just sit and think about things."
Uncertainty hangs over the situation like a dark cloud. No one knows when the war will end or how things will look when the dust settles.
"Most of these people want to go back as soon as it is over. For now, they keep crying, they don't want to talk."
Added Magda: "There is anger on the ground. We have to keep reminding ourselves that God is greater and bigger than this and that He loves everybody. It's tough.
"For many, their faith has been shaken. We are thinking of how we can do a church service in the facility we have for them to help them focus more on God and get some peace and hope."
---
RELATED STORIES:
"Lives are perishing as we read this": The Church rallies worldwide support for people fleeing Ukraine
"Even war cannot stamp out love": Ukraine pastor conducts wedding, leads Lord's Prayer, as fighter jets zoom overhead
Romanian Christians driving through snow storms and risking lives to help refugees from Ukraine
Two weeks on, the world's eyes are still on Ukraine. Are ours?
If you have enjoyed reading Salt&Light...
We are an independent, non-profit organisation that relies on the generosity of our readers, such as yourself, to continue serving the kingdom. Every dollar donated goes directly back into our editorial coverage.
Would you consider partnering with us in our kingdom work by supporting us financially, either as a one-off donation, or a recurring pledge?
Support Salt&Light