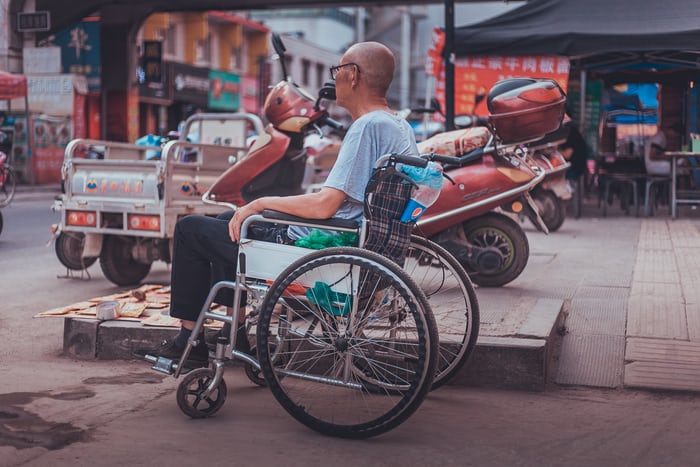 "To love somebody is to see the face of God." It was a statement John Ng found difficult to come to terms with, when dealing with his dad who had dementia. Photo by 张 学欢 on Unsplash.
Sharing our faith story is a struggle for many of us. We believe it is important. We know people need the Gospel message. But somehow, "just do it" is easy to say but difficult to do.
If this describes you, read on. Here's how God schooled me in becoming a winsome witness for Him and won my Dad's heart to Himself, even while Dad was steeped in dementia.
1. Be alert to opportunities
Too often, we are blind to the opportunities (John 4:35). We are preoccupied and too busy to see the needs around us: Colleagues who are discouraged, relatives in the midst of a financial crisis, or – as now – friends who are badly affected by the coronavirus situation.
"No time" is perhaps the biggest hindrance to sharing our faith today.
"No time" is perhaps the biggest hindrance to sharing our faith today.
After my mother died, Dad's mental condition began to deteriorate. He had depended on her for emotional and social support after he retired as the owner of a Chinatown provision shop.
Her death was too much for him. A usually clear-thinking and outspoken person, he became depressed and began slipping into dementia. He could not remember names and places.
It was the perfect time for me to reach out to him, but I was too busy. In truth, I was fearful. He needed 24/7 care, and I wasn't up to it.
Actually, nobody wanted him because, wafting in and out of dementia, he was starting to become intolerable. After much family wrangling, however, my eldest sister-in-law reluctantly took him in at tremendous personal sacrifice.
I continued pursuing my own life in the meantime and rarely visited Dad.
2. Be prepared to be 'converted' 
As the dementia deepened, Dad became verbally abusive and aggressive and literally drove my sister-in-law crazy with his incessant demands and accusations. The last straw came when he accused her of adultery, which was untrue.
One night, I was summoned to her home. She begged me to take Dad home.
Again, I clung on to my busy schedule as a legitimate excuse. Besides, I had other older siblings who should bear the responsibility, I reasoned.
"To love somebody is to see the face of God." – Jean Valjean in Les Miserables
My third brother, Richard, eventually agreed to take Dad into his home. It went well initially. My wife, Alison, my kids and I visited him regularly.
During that time, I asked Dad if I could pray for him. He objected strongly. He was a staunch believer in another religion and the community leader for all its festivities. Praying to a foreign god was too much for him. 
Eight months into living with Richard and his family, Dad began losing his sense of taste and was gradually incontinent. My sister-in-law was at her wits' end with the mess he created several times a day. To worsen the situation, he refused to eat what she cooked, complaining of lack of flavour, which she interpreted as ingratitude.
One Sunday morning, Richard convened an urgent meeting. He told us of Dad's unreasonable behaviour and insisted that I should house Dad, but I refused and there was an intense altercation.
Finally, I said: "Look, I am late for church already. I don't want to talk to you now." I stormed out of the house and slammed the door.
On our way to church, Alison was very disturbed. She wondered about our Christian witness: Too busy for Dad. Quarrelling with my brother … because we were going to church?
Two things haunted me throughout that day. The first was a line of a song sung by Jean Valjean in Les Miserables: "To love somebody is to see the face of God."
Honestly, I couldn't see God's face in Dad. I could only see a demented, disdainful, troublesome old man.
That story struck a chord in my heart: "If Dad were Christ, would I take him home?"
The second was a story from the book, Tortured for Christ, by Richard Wumbrand, a Romanian pastor incarcerated by the former Communist regime for his faith. He told of two prisoners in China, both shivering in a shared cell during the winter. One was a Christian and the other, a pre-believer.
The Christian prisoner had a blanket barely large enough to cover himself. His cell mate, who was sick and coughing incessantly, had none. The Christian thought: "If he were Christ, would I give him the blanket?" Reluctantly, he did so. 
That story struck a responsive chord in my heart: "If Dad were Christ, would I take him home?"
I finally understood the words of Jesus: "If you visit someone in prison, you are visiting Me. If you feed the hungry, you are feeding Me. If you give a cup of water to the poor, you are giving it to Me." (Matthew 25:34-36)
That same night, I went back to my brother's home and took Dad home. It was the beginning of my own conversion – similar to Peter's in Acts 10, when the Voice declared, "Do not call anything impure that God has made clean." (Acts 10:15)
Before Cornelius was converted, there was the conversion of Peter. That episode resonated with me: Before my dad could be converted, I had to have a conversion of my own heart to God and people!
3. Care deeply for people
There is no short cut: Being a winsome witness involves caring for people deeply, practically and consistently. That was perhaps the most difficult lesson for me.
Dad lived with me for about a year and a half. His dementia made him incredibly difficult to care for. It took hours to feed him, and yet he got hungry easily.
Being a winsome witness involves caring for people deeply, practically and consistently.
He was obsessed with showering and after each shower, would shortly insist on being showered again. Once, I had to shower him eight times!
We bickered constantly. My family and I didn't understand his dementia, and insisted he was wrong and unreasonable. In turn, Dad felt disrespected and unloved.
Thankfully, we found help at the geriatric unit of Alexandra Hospital. The doctors and nurses taught us that dementia causes a person to have mood swings, become aggressive and have distorted realities.
After months of feeding, showering and massaging Dad, and taking him for walks, I noticed a spiritual openness in him. When I offered to pray with him, he agreed readily.
The spiritual transformation was not only affecting him, but Alison and me, too. We felt a deep presence of God in the care we rendered to Dad – we "saw" the face of God.
4. Believe in the power of prayer
One night, while our family was out, our helper tried desperately to contact us. Dad had collapsed on the floor.
We rushed him to the hospital, where we were told he had suffered a stroke. His left side was immobilised and he could not talk nor swallow.
Never underestimate the power of prayer to move God's heart.
Many of my friends and colleagues prayed for him. Miraculously, after two weeks, he could move his left side and subsequently was able to swallow and eat again. Soon, he could stand and walk. His doctor was shocked.
Even more remarkable was his spiritual candour. Not only did he allow me to pray for him, he even learned to pray himself, repeating each sentence after me. Soon, he was reciting the sinner's prayer, even though I led him in my unpolished Hokkien!
I had been praying for Dad's conversion since I became a believer. I never thought he would be so open.
Never underestimate the power of prayer to move God's heart.
Conversion is the work of the Holy Spirit. Our part is to live out our faith, truly loving people deeply and sharing God relevantly, leaving the results to Him.
5. Share Christ using simple language
Words like "salvation", "redemption", "revival", make no sense to pre-Christians. We need to frame the language of our faith in relevant and contextual terms. 
I had to re-learn Hokkien to share Christ with Dad. I spoke and prayed with him in the dialect, using words that were pertinent and poignant.
To reinforce the message, I invited my friend, Rev Oh Beng Kee, the former Pastor of Grace Assembly Of God, to share the Good News with him in his own dialect.
Rev Oh was sensitive, gracious and respectful. I learned so much: Rev Oh was the consummate winsome witness for Dad.
6. Prepare to be surprised by God
As Dad became weaker, I sensed God's prompting and plucked up the courage to ask if he wanted to accept Jesus into his life and become a Christian. To my surprise, he nodded. I could not believe it.
I rephrased the question: "Do you want to go to the church and be baptised?" For the traditional Chinese, church was taboo. But he nodded again.
To do evangelism is to be surprised by God!
Unconvinced, I elaborated: "Do you want to be a Christian, be baptised and go to church?" Baptism meant a total repudiation of the past and his former religious traditions. Again, Dad nodded his head.
Fearing that his demented state might be clouding his judgment, I changed the question to "Do you want me to shave your eyebrows?" to test if he really understood my previous three questions. Dad had thick eyebrows which he would never shave, because they signified longevity. He shook his head. I knew then that he had truly understood!
Tears streamed down my face. After 30 years of praying, Dad had accepted Christ! Hallelujah! Indeed, to do evangelism is to be surprised by God!
My dad's unashamed public testimony was another surprise. I told my siblings about his conversion. They were adamant it could not be true, until they heard him praying and were amazed.
7. Be sensitive to culture
Over the next few years, Dad suffered multiple strokes and his condition deteriorated quickly. He had to be fed intravenously. He was bedridden and developed bedsores.
There was no miraculous healing. We accepted that it was time for him to return Home, where there would be no tears or pain.
Dad spent his last days in a community hospital, and I prayed that God would take him as painlessly as possible because he had literally become skin and bones. God answered our prayers and Dad passed away peacefully.
It was God who gave me the patience to sow the seed. It was God who finally reaped the harvest.
Our next challenge was negotiating his wake and funeral. Although my older siblings knew about his conversion, they wanted to pay their last respects in the traditional way.
As far as I was concerned, Dad was a believer. To preserve family harmony, I relented, and my siblings were appreciative. Their rituals were toned down, and they allowed me to invite a pastor to pray for the family.
This dual ceremony demonstrated our mutual respect. Our ability to dialogue and compromise made my siblings more open to the Christian faith. My prayer and hope now is that they will all come to Christ one day!
Recounting Dad's faith journey has reminded me that witnessing must begin with change in me. When my heart was open to God, He gave me the strength and the love to care deeply for Dad.
It was God who gave me the patience to sow the seed. It was God who finally reaped the harvest.
Ravi Zacharias once said that sharing Christ is not about making bad people good, or even making good people better. It is about making dead people come alive!
Being a winsome witness has made me come alive to the reality of the Good News. Better yet, in Christ, I know that I will see Dad again!
For 23 years, this small group has been praying Singapore into her God-given destiny
Is there tension in your family?
During the Circuit Breaker, when families are cooped up at home, conflicts may arise, as work, home and family intersect.
If this describes your home or someone you know, you may find this resource helpful: NEXLeaders.com is offering a free course on "De-escalating Conflict During COVID-19". Click
here
to download.