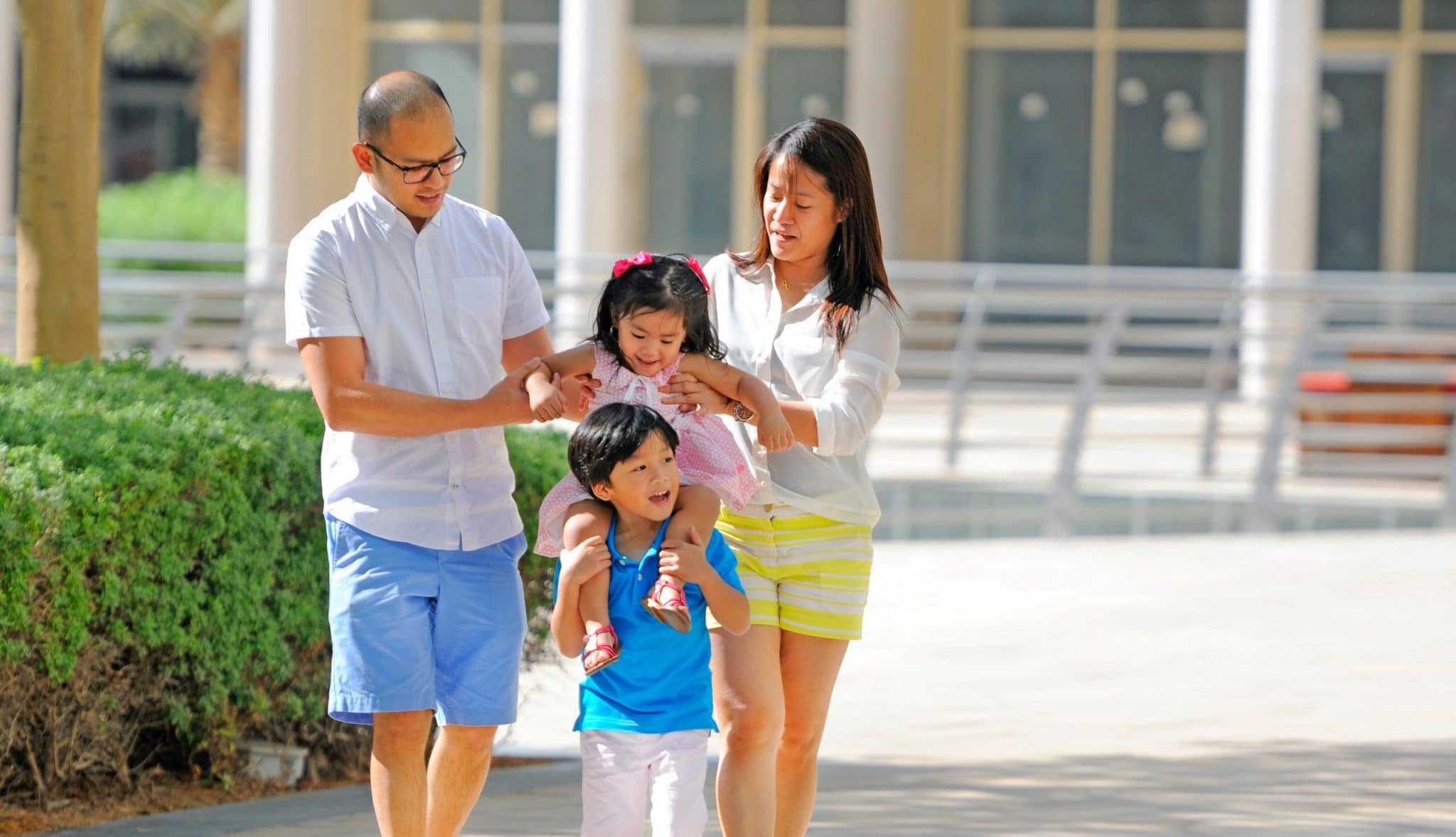 The topic of faith in the family is so close to the heart of parents that even Salt&Light Family Night hosts, Carol Loi and Alex Tee, shared their personal parenting journeys. Photo by Paolo De Guzman from Pexels.
"It's like unboxing every day. Every day, I'm discovering what is this child. And on some days, it's like, 'Where is the baby that I brought home from the hospital?'"
This bit of parenting experience was revealed by co-host of Salt&Light Family Night Carol Loi as she helmed last Tuesday's edition with Alex Tee. Over 470 participants, mostly parents (82%), joined the Zoom chat show.  
"Every day, I'm discovering what is this child."
The topic was certainly one close to the hearts of all: How do I build a family of faith in this scary world?
In fact, it prompted Alex to share a personal story about a challenge he and his wife faced in their parenting journey.
Their sons are just 12 months apart in age. In an effort to manage their two boys when they were very young, the younger boy was somewhat neglected. As a result, the child became "quite difficult to manage" and "got a lot more volatile".
After a year-and-a-half of this, Alex purposed to pray with his wife for their son for 180 days "to trust God to return this child and to settle and calm him, and help him know that he is loved".
Before the six months was up, they saw a "discernible change in his demeanour".
On the panel that night (February 22) was Nicole Soh, Carol's older daughter. The 19-year-old has just completed her mass communication studies in a polytechnic as well as an internship in a media company.
Now in the Colson Fellows programme, a 10-month Christian worldview education programme, she serves in the children's ministry in her church and was involved in her school's prayer group. Nicole also regularly speaks in churches on dealing with the media and cultural engagement. 
With Nicole was Pastor Simon Say who leads the English Adult and Children Churches and oversees the Youth, Family Life, and Discipleship & Nurture Ministries at Kum Yan Methodist Church. He also serves as an associate trainer with Scripture Union Singapore and is a member of the D6 Singapore movement. Married for 23 years, he is father to a 17-year-old boy.
Rounding it up was Jacqueline Chung, the much-loved "Auntie Jackie" of the children's church at St James' Church. Jacqueline is the Academic Director of the Anglican Preschool Services. She holds a PhD in early childhood education and is an ECDA Fellow as well.
Together, they shared perspectives on parenting that help to build families of faith.
Parenting as stewardship
"If we look at every child that God has given us as a gift, not ours to own but on loan that we return back to the Lord, our role as parents is to uncover and discover this very precious gift," said Jacqueline.
Instead of determining the paths for our children on our own, parents can ask God to show them who their child is in "a journey of discovery".
"Look at every child that God has given us as a gift."
This discovery also requires parents to invest time to learn about their child.
Pause, observe, have conversations, ask questions, encouraged Jacqueline.
"If parents approach parenting as a journey of discovering who these gifts are, it changes the way we look at our children and the way we parent because it's not us deciding or doing things.
"It is us saying, 'Lord, who is this child You have given to me? How should I raise this child so that I may return him or her back to God and for His kingdom's sake?"
Parenting as role-modelling
Growing up, Nicole followed her parents to all sorts of Christian activities from prayer meetings to conferences.
Carol took her daughters with her to prayer meetings. "They learnt as I learnt."
Though exhausted, she soon realised that she was picking up lessons and values even though she was young.
"I started to grow more and learn more as I followed her to those meetings. It spoke to me and, more importantly, it motivated me to do something in my school."
In Secondary 3, she shared a morning devotion in her Christian school about how the world and the universe were made.
Nicole credits her parents' role-modelling with her active involvement in Christian service.
"My parents have been such great role models. Thank you, Mother, and my dad also."
Added Carol, giving the context to Nicole's account: "I was a backslider for 20 over years. I didn't have a lot of Christian heritage in my own home."
In an effort to learn more about her faith while spending time with her children, Carol took her daughters with her.
"They learnt as I learnt."
Parenting according to age
Younger children require tighter boundaries but older children require looser ones or they might rebel, said Jacqueline.
She admitted that she made a mistake with her daughter, now an adult, by doing the reverse.
"I started off with very loose (boundaries) because I thought I grew up quite well, I sorted myself out, my husband aIso.
"Both of us very guai (obedient). Because mother, father guai, daughter should be guai, right? No, it doesn't work like that!"
When husband and wife tried to be firmer with their daughter as she grew older, she "was not taking any of that from us".
"Of course, it was not her fault, it was our fault. My advice to parents is: When they are younger, don't give them so many choices, just this or that.
"Every human being clamours to be understood and accepted."
"And as they learn to discern, then you can allow them because with choices comes responsibilities and very young children are not ready for some of the responsibilities of those choices. We need to protect them and guard them."
With older children, let go and allow them to make some mistakes. "Life is about falling and getting up."
The role of parents is to welcome them with open arms and cry with them when they fall.
Having a community of faith helps older children, too.
Said Nicole: "A supportive community is very helpful. Then, we get to bounce off questions and talk through similar experiences."
She credits her Christian friends from secondary school and the community she found in her polytechnic days with helping her stay in the faith as well.
Ps Simon added that, at every age, U.S.A. is necessary in parenting: Understanding, Sincerity and Acceptance.
"These three would cause any person to be able to open up simply because you are being understanding, authentic and accepting of the person."
He tells the story of a 10-year-old whom he met when he was interning in a children's home. The child had jumped from the fourth floor and injured himself just to get his parents to pay attention to him.
"It sends a signal to me that every human being clamours to be understood and accepted for who they are."
Parenting to build faith
Parents need to be anchored in their faith first in order to build faith in their children.
Said Carol, speaking as a parent: "Let them see our relationship with God. Let them see how we react, how we struggle, how we lean on God. That is part of discipleship."
Ps Simon agreed, encouraging parents to love God first and show their love for God because "children tend to love what their parents love".
Teaching from Deuteronomy 6, he laid out the steps of passing on faith to the children:
Impress on them the commandments – this means to carve and inscribe the love and obedience you have for God on your children;
Talk about the Commandments – this refers to intentionally looking for teachable moments;
Tie them as symbols – this refers to helping them to remember the lessons in their hearts;
Write them on the door frames – this means to mark milestones in their lives with God's Word. As an example of this, he said that he and his wife took their son on a three-day retreat to talk about sexuality, what it means to be a man, and God's mission for him as a rite of passage.
Build scaffolds for them to practise their faith, said Carol. First, you do and they watch; then, do it together; and when they are ready, they do and you watch, guiding periodically.
This has to begin as early as possible because children are more receptive when they are young, added Jaqueline.
"It's just simple faith," said Jacqueline. "It's the best time to say, 'God loves you; Jesus loves you.' They will believe and accept it."
Ps Simon encouraged parents to love God first and show their love for God because "children tend to love what their parents love".
Surround them with the Word of God and with talk about the goodness of God, and fill the house with praise and worship songs. These are deposits that the Holy Spirit can bring to remembrance in times of need.
"There's something about music that you absorb."
She shared how her daughter grew up in the children's ministry in their church, where worship and Bible verses were central. Years later when her child strayed from the faith, the music and Scripture would come back to her, unbidden.
Said Jaqueline: "She told me, 'Even though I walked away from God, those songs and words never left me.
"And at points in my life when I really needed them, God brought them back because they were there even though I didn't want it.
"At moments, just when I was about to go over the edge, God with a thin, fine line held me back (with) all those verses and all those songs.'"
Parenting the prodigal
To parents whose children have rejected the faith, Jacqueline gave a word of encouragement: "Hang in there. All is not lost. Let us hope in the Lord.
"If we anchor ourselves in God and bring our children before the Lord, surely the Lord will touch them not in our time but in His time."
"We don't give up. God gave you that child … If you give up, your child is fair game for the devil."
She knows this first hand. Between the ages of 12 and 22, her daughter, who will soon turn 35, walked away from the faith they had taught her. Even as husband and wife served in the children's ministry, their daughter refused to go to church.
"It was very, very painful."
But Jacqueline urged parents not to make the pain about themselves and give voice to the disappointment.
"We have to be careful that our words don't damage our children but are life-giving."
Instead, persist in prayer.
"We don't give up. God gave you that child. You have no right to give up on that child. If you give up, your child is fair game for the devil."
Jacqueline's daughter is now a missionary.
---
This report is Part 2 of the Salt&Light Family Night episode on building a family of faith in this scary world. You can read Part 1 here. 
A full recording of this episode will be posted on the Salt&Light YouTube channel at the end of the week. You can watch past episodes of Salt&Light Family Night on our YouTube channel here.
---
RELATED STORIES:
Prayer ministries for youths
If you have enjoyed reading Salt&Light...
We are an independent, non-profit organisation that relies on the generosity of our readers, such as yourself, to continue serving the kingdom. Every dollar donated goes directly back into our editorial coverage.
Would you consider partnering with us in our kingdom work by supporting us financially, either as a one-off donation, or a recurring pledge?
Support Salt&Light