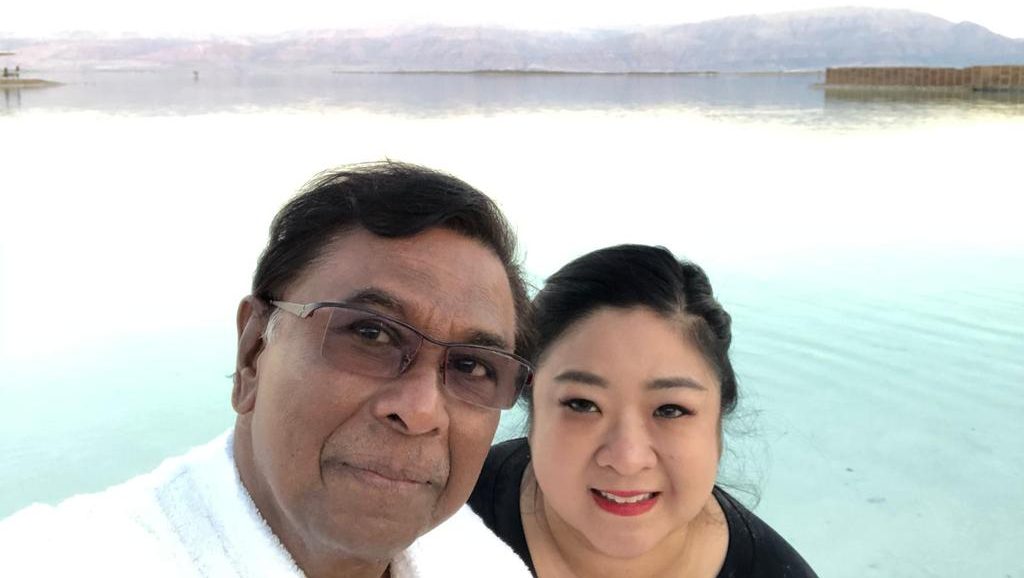 Richard and daughter Stephanie Magnus at the Dead Sea in 2019/2020 – possibly their last overseas trip together. All photos courtesy of Keith and Stephanie Magnus.
Richard Magnus, retired Chief Judge and Diocesian Chancellor, was called home to the Lord on March 14, 2022. At his funeral, his two children spoke lovingly of the Dad they cherish and will dearly miss. What follows is an edited version of Keith and Stephanie's individual eulogies, respectively, republished with permission.
---
Keith Magnus: "Nothing left unsaid"
Much has been said about Richard Magnus' contributions to Singapore, that his passing was — in the words of Her Excellency the President of Singapore — a "profound loss to Singapore", and it has also been said that Singapore had lost one of her "best sons". 
For me, I have lost not just my father, but my best friend.
Whilst there are countless precious memories to share — over 48 years' worth — I would like to share the iconic aspects of his father-ship that will last me a lifetime and through our generations to come.
Firstly, my father's love was unconditional.
It was deep, self sacrificial and caring. He was an ever-present confidante and help, and deeply committed to each one of us.
We were still living together when I first started my career as a young investment banker in the 90s. My father was then already Chief Judge of the now State Courts and obviously handling a vast amount at work and facing, himself, extremely heavy days in the office.
He would say: "I love you, son. This is what you have a father for."
I would, during that time, get up early to go to work in the morning, and very often that included early morning trips to the airport, sometimes leaving from home at 4.30 or 5am in the morning.
Not once did I leave home for work without my dad waking up, coming downstairs to make sure I had a quick coffee or pau, giving me a hug or a pat on the back to encourage me for the day as I left the home.
I often told him not to trouble himself, but he would say: "I love you, son. This is what you have a father for."
We met very often, chatted and texted almost daily about family affairs, current affairs, the nation's affairs, and what was happening personally in each other's lives.
In my adult years, whenever we saw each other we would give each other a deep hug each and every time, and I would say: "I love you, Dad" — in later years sometimes holding his hand whilst doing so, and he would respond: "Thank you, son. Me too."
Secondly, my father taught us values.
"Have a strong set of values" and "do what's right, son; operate with integrity" is his voice ringing in my head.
As a child, I remember we used to have dinner reasonably often at the old Ladyhill Hotel, one of my dad's favourites then — he liked that the coffee house was above the pool, and my sister liked the fish and chips there and my mother, the beef hor fun.
"Do what's right, son; operate with integrity" is his voice ringing in my head.
Once, after dinner, we were back in the car and he re-checked the bill. He said: "They didn't charge us for the beef hor fun."
"Son, come with me." He called me out of the car and together we went back and saw the manager there and showed him the bill and the mistake that had been made. He confirmed that the item had been left out, but the manager told my father that as he had been honest, he would waive the entire bill.
I was a young Primary 2 child then. As we left the restaurant looking at each other, my father holding my hand, he said: "Son, always do the right thing."
He also taught us to be kind, humble. "Have empathy," he would often tell us.
I remember distinctly once I was with him and he needed to refuel our car. He asked me to check in his wallet how much cash he had: $50.
He said: "Can you jaga ("watch") the pump and ask the pump attendant to fuel $47 worth", whilst he went into the station to pay. I was puzzled.
When he reappeared after paying $47 for the petrol, he returned with a cold can of Coke and snack for the pump attendant and a small tip.
These were some of the many lessons I've learnt growing up with my father. Through these simple lessons in life, he inculcated in us a spirit of giving and contributing back to society. He's said to us: "Be a giver, not a taker."
Thirdly, we had so much fun together.
Learning how to ride a bike, walks in light rain around the neighbourhood with our raincoats on, swimming many weekends at the former Mitsukoshi Gardens (some of you might remember the water slides park), badminton over the gate at home, rounders with the cousins, simple trips to Fraser's Hill — my father planned it all.
Our home has been a safe sanctuary full of joy and laughter.
In later years we would take time to travel often as a family and had fun.
Once, my wife, Dana, and I were in Adelaide on holiday with the kids, and my parents showed up out of the blue whilst we were playing mini-golf!
They had secretly flown all the way from London with a stopover in Singapore to surprise us!
My father also had a witty and slapstick sense of humour and was always making us laugh. Our home has been a safe sanctuary full of joy and laughter.
My father was my confidante and that of the family.
Whenever any of us were facing issues he would immediately drop everything and come over to listen, pray for us, offer wise counsel to help us through our problems.
When I longed for his counsel to handle my grief on his passing, a friend sent me a video that my father had filmed several months before and which had been released, saying: "Keith, you may have questions and I somehow think your dad filmed this for you".
It was a clip on "Where is God when it hurts".
My father intervened, unobtrusively, to help and support everyone in our family.
In that video my father shared about the deep grief that he himself suffered when his own father and mother passed away, and that God is present in that grief. Watching it afresh spoke straight to my heart.
My father was wise, and it seemed like he even planned for that.
No matter how busy he was he would always place the needs of the family first. I remember when (my daughter) Nicole was doing her 'O' Levels, my father and mother came early every single morning before Nicole left for her exams, to be with her, spur her on and pray for her, as she confronted the day's papers.
That showed how much he loved the grandchildren — always spending time and playing with them, putting their needs above his.
My father intervened, unobtrusively, to help and support everyone in our family.
Finally, and most importantly, my father taught us the importance of salvation and to accept
the precious gift of eternal life from our Lord Jesus.
He showed us through his own life, how precious it is to have a close and intimate relationship with God.
To my mother, my father was a loving husband, partner, her true soul mate and her best friend. I have not heard a harsh word uttered against my mother, nor has he ever lost his temper.
The closeness of the marriage is one that we would try and emulate. Dana and I would marvel at how my parents still held hands whenever they went out after all these years. My father was the perfect role model of a husband.
In recent years, I had begun to think of what life would be like without a parent. And I had started the journey with my father to make sure there was nothing left unsaid. But nothing quite prepares you for the immense grief that hits you when it happens.
But we know that this is God's perfect plan for his life. Proverbs 3:5-6 says: "Trust in the Lord with all your heart, and lean not on your own understanding, in all your ways acknowledge him, and he shall make your paths straight." My father trusted the Lord Jesus with all his heart.
As a family, we take comfort that my father has been reunited with our Lord Jesus in heaven. My father has built up many treasures in heaven through the work that he has done in his lifetime.
Stephanie Magnus: "All is well with my soul"
I would like to share a personal letter Dad wrote to me last year (below). Dad and mum spend time seeking the Lord for the family, and every year, they write these beautiful letters which speak into our lives and which we cherish dearly. 
Dear Dad,
When I had hypothermia and fell into a coma as a baby, and doctors gave a poor prognosis — brain damage — you cried out to God, asking Him if He was real to heal me. The very same day, your miracle happened, and you heard me cry — a cry of a healthy baby.
You shone for Him. The light of Christ indeed chases away the darkness. 
That started your journey in earnest with Jesus Christ, our Saviour, and we were baptised together a few months later. Since then, you have taught me the ways of the Lord — teaching them and demonstrating them diligently to me: Love God, seek Him.
Show love to your neighbour. Love your enemies — not just in words, but in action. 
You shone for Him. The light of Christ indeed chases away the darkness. 
Love and care
I thank God for you, and am so grateful to Him that you care for, mould and love me. 
A perfect start to the day. Me, you, and the heavenly Father. 
I remember when I was in primary school, you would wake up before the sun, come down the stairs, make sure I have my Milo, and then bend down and tie my shoelaces.
"Dad, don't need." You would look up at me, your eyes full of love — and carry on. 
When I started work, you would fetch me to work. Much of the journey was in silence, then a warm hand on my hand and a prayer together before I left the car. That was my strength for another day.
A perfect start to the day. Me, you, and the heavenly Father. 
Wisdom and counsel
You were also my wisdom. You knew everything about anything. So learned and wise. You were called on to carry out difficult tasks at work — national tasks. Monumental tasks. 
"Dad! Dad! What's coming out for my science exam tomorrow?"
But at home, you had even more monumental tasks!
With a Dad who knows everything, why not find out what was coming out for my exams? So, after a long day attending to critical affairs of the state at MINDEF, I would come to you: "Dad! Dad! What's coming out for my science exam tomorrow?"
You knew everything, and you had a direct dial to God, so of course my Dad knew!
You would smile, and respond. I came to learn to study the exact opposite of what you said to do.  
"Burn bright"
Dad, you are now together with God in heaven. You once wrote in your own Psalm — "Psalm 151", that "I dwell between my Father, my Saviour and my Counsellor". 
It gives me such joy, peace, restedness and security that you are together with our God in heaven, which enables me to say, "All is well with my soul."
You told me to burn bright for Him – for the whole world to see the light of Christ.
You stopped for the one — made time and met their individual needs.
You brought me on my first mission trips — to the Philippines and Sarawak. You encouraged me, as a 12-year-old, to give my testimony in public. It was simple. I had a Saviour who loves me so much, why won't I share the goodness of His love to others? 
You encouraged me in seeding a prayer movement, in reaching out to the lost, least and broken, showing the love of Jesus. You showed me the heart of Jesus — to proclaim the good news to the poor, to bind up the brokenhearted, to proclaim freedom.
You stopped for the one — made time and met their individual needs.  
You taught Keith and me and the grandchildren this selfless heart. I will embrace this high calling, with the grace of the Lord.
Dad, the olive sunbirds still come every day to our balcony, as reminder that our home is a place of rest – for others and for me.
I love you, Dad. Always.
---
Richard Magnus, who had spent 50 years in public service, was 77 when he passed away of a heart attack on March 14, 2022. He leaves behind his wife, Eileen, their two children Keith and Stephanie, their spouses Dana and Daniel, respectively, and three grandchildren.
"The ordinary man, you and I, can make a difference": Retired Judge Richard Magnus
"One little pebble, and all these ripples have gone out!": How God grew one group's desire to bless
Retired Senior District Judge and church leader Richard Magnus called home to the Lord
If you have enjoyed reading Salt&Light...
We are an independent, non-profit organisation that relies on the generosity of our readers, such as yourself, to continue serving the kingdom. Every dollar donated goes directly back into our editorial coverage.
Would you consider partnering with us in our kingdom work by supporting us financially, either as a one-off donation, or a recurring pledge?
Support Salt&Light