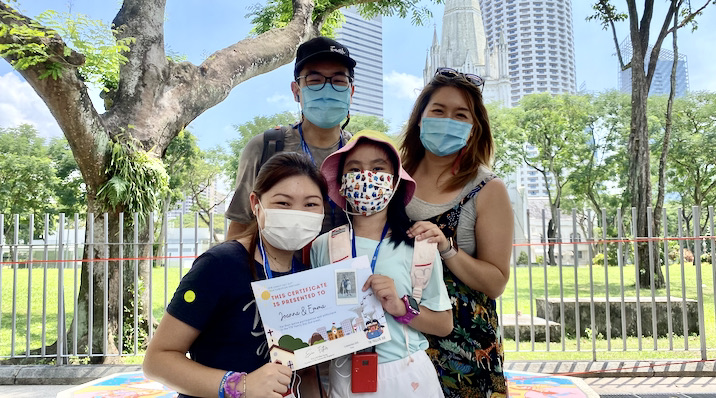 Organisers of the Christian heritage trail, Elvin and Esther Foong (left), present a certificate to a participating family, against the backdrop of St Andrew's Cathedral. All photos by Tricia Tan unless otherwise stated.
It's 8.30am on a Saturday.
A colourful mosaic of five socially-distanced families wend their way from Bugis to Mount Sophia and into the heart of Singapore's historic Civic District. 
Through all 13 landmarks along the 2.8km-long trail we visit, testimonies and stories of Christian pioneers in Singapore abound.
This trail immerses us in the lives and minds of the Christian pioneers who served so faithfully and well.
"What happened in 1965?" asks Esther Foong, one of our three guides, as she stoops down to listen to a whispered answer from a young participant.
"Right, Singapore became a nation!" says Esther, who leads the group with her husband, Elvin Foong. 
The heritage trail is the one of the latest efforts in the Foongs' mission through their company, The Treasure Box SG, to build faith-filled families in Singapore via devotions and other activities. Esther and Elvin's warmth is as palpable in person as it is on-screen during their weekly online Sunday Children's service.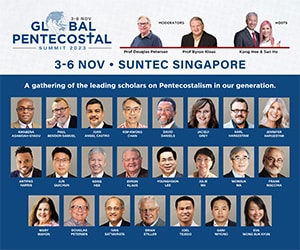 But the roots of Singapore's Christian heritage go back to missionaries who first reached our shores long before 1965.
Esther points to the various sites in the colourful workbook participants are given. Names like Sophia Blackmore, Maria Dyer, Brother Joseph McNally and many others grace its pages. 
Planting the seeds of faith
"The stories we will be sharing today are about early pioneers who laid the foundation of our faith in Singapore," says Lim Chee Peng, another guide for the heritage trail. The polytechnic lecturer and consultant has been leading various Christian heritage trails since 2017.
In June, he worked with the Foongs to initiate trails for children. The particular one we are on focuses on the work of missionaries in the 19th century.
At the Prinsep Street Presbyterian Church, for instance, Chee Peng speaks of the journey of India-born British missionary Reverend Benjamin Keasberry in establishing in 1843, what was then known as the Malay Mission Chapel. 
At the cheery Young Men's Christian Association (YMCA) building – where I recall fond memories of my weekly dance classes – Chee Peng pauses. There are gasps from the young participants as he informs us gravely that the building was taken over by the Kempeitai, the Japanese military police, during the Japanese occupation from 1942 till 1945. YMCA resumed its outreach after the occupation.
The two Sophias
While the word "heritage" might call to mind stuffy museums and archaic scripts, the Family Day Out heritage trail is rife with thoughtful stories.
At Sophia Road, the green road sign takes on a new shade for me as I learn of not one, but two incredible Sophias. 
"Their gospel was a social gospel because they met the needs of our community."
Australian missionary Sophia Blackmore, defying conventional wisdom at the time, arrived at the shores of Singapore at the tender age of 30. She opened a school for Tamil girls, which in time became known as Methodist Girls' School (MGS). 
Sophia Road was where MGS stood from around 1925 till 1992.
The second Sophia is no less impressive. 
British missionary Sophia Cooke, the group is told, arrived in 1853 to become the principal of what is now St Margaret's School. (In its early days, the school served as a boarding house for poor, abandoned or abused Chinese girls.)
Aptly, "Sophia" means "divine wisdom" in Greek.
(There are a few more Sophias connected with the area. It is generally accepted that Mount Sophia was named after Sophia Hull, the second wife of Sir Stamford Raffles).
Lessons for girls and more
Clearly, this heritage trail is not just for children. Despite being a university student, I find myself in wonder at the heady combination of narrative, place and the childlike joy of the group. 
At this point, we reach an idyllic spot that barely looks like Singapore. The road is neatly lined by rows of terrace houses and an equally linear progression of trees. 
The children thread tiny fingers through a honeycombed fence, peering at the building within. 
We are outside St Margaret's Secondary School, and I find I do not think of its founder, Maria Dyer from a Wikipedia article, but Dyer in the flesh.
Chee Peng, our guide, shares the story of Dyer who came from England to Penang, Malacca and subsequently Singapore. I imagine the young missionary and educator speaking in halting Hokkien to her first Singapore students at what was then known as the Chinese Girls' School. (It took in girls who were orphans or had fallen victim to child slavery).
In a time when the education of women was considered unimportant, how did she find the faith to push on? 
Perhaps she took long walks of prayer around the estate, petitioning God for the beautiful school compound we see today, or held on in private devotions amidst the trees.
We might never know, but this trail immerses us in the lives and minds of the Christian pioneers who served so faithfully and well.
It reminded me of what it means to live life on mission for God. 
Love God, love people
While the missionaries came to Singapore to "plant churches", Esther shares that actually, they did not come with that purpose per se.
"All of them came with just one simple mission – to love God, love people," she says.
What else could prompt these young men and women to spend their prime in a then backwater third-world nation? 
French priest Father Jean-Marie Beurel, at just 26, founded St John's School (later renamed St Joseph's Institution) as a free school with support from the public. Sophia Blackmore was 30 when she arrived in Singapore. Maria Dyer, 39. 
"All of them came with just one simple mission – to love God, love people."
They gave of their best years to shepherd small groups of children and youth.
Dyer's first cohort was a humble group of 19 girls, half the size of a typical class these days. 
"All the great work we see was birthed from that simple mission," says Esther. It is something she hopes to impress on the kids, too. 
No monopoly on stories
Around halfway through the 2.5 hour trail, we reach the campus of the Singapore Management University. On the edge of the greenery overlooking the Singapore Art Museum, Esther and Elvin lead the families through a rousing game of Kahoot. 
There's laughter and furled eyebrows as the kids jostle for first place.  (Pop quiz: What's the Methodist Girl's School mission? Find the answer later in this article.) 
I catch up with Chee Peng, who guides Christian heritage trails as a passion project.
I ask him about his favourite part of the Christian trails he's run since 2019.
"Nobody has a monopoly on all the stories. As more and more people come on the heritage trails, we ourselves learn more," he says. 
Passing on memories
Throughout the trail, Chee Peng often calls on the families to share their memories of the different sites we visit. 
At the former St Joseph's Institution, now the Singapore Art Museum, one father shares animatedly about how the chapel sessions helped build his spiritual foundation early on in life. 
At Mount Sophia, Chee Peng shares about Methodist Girl School, and prompts a young girl to recite her school's motto: "To master, to grow, to serve".
As the rapid-fire Kahoot questions draw to a close, the families stay huddled together on the lush greenery.
The children, waving the same colourful maps in hand, buzz about, gesturing to doodles in their heritage workbook. 
Weaved together with engaging stories from the guides, the participation of the many young children and seeing the buildings in the flesh, I find myself wishing for similar excursions when I was kid. 
A foundation of good
While Esther and Elvin are sanitising the audio sets (lent to families to hear what the guides are saying) for the afternoon session, I catch up with them as the families peter off.
The genesis of this family heritage trail began with Elvin and Esther's leap of faith in 2018, when they simultaneously left stable jobs to focus on The Treasure Box full-time, on a word from God. 
Indeed, this trust in the Lord's goodness permeates both their lives and the thousands of families God has purposed them to reach out to.
"This is our mission ground", Esther tells me. "We want to see faith at home, built on a foundation of good. We want to see children and families growing closer to God, and to each other."
Sowing into the next generation
I think back to all the small gestures throughout the trail. Among them, a mother guiding her fearful son down the 100 steep steps from Mt Sophia to The Cathay, the father smiling at his son while sharing his journey of faith in ACSI.
"We want the children to think: 'I can do something for the nation, for our people, for God.'"
 In the microcosm of a morning, one glimpses the gears of this mission moving.
"It's so easy to live on the surface. There's just so much history behind these buildings, and we can enjoy what we have today because of the work of our pioneers," says Elvin gesturing to the imposing St Andrew's Cathedral, the oldest site of Anglican worship in Singapore. 
"We want the children to come for the trail and think: 'I can do something for the nation, for our people, for God,'" he says. 
And if the gap-toothed grins of the children at the unofficial closing ceremony of the walk are of any indication, we can be sure the seeds sown during this journey have fallen on good ground. 
A social gospel
Even a week after the trail, curiosity lingers.
I find myself tracing the genealogy of my own convent primary school on Google to find yet another miracle of missionaries: St Anthony's Canossian Primary School has her roots in the ministry of the Canossian sisters who arrived on the shores of Singapore in 1894.
Seeing the precious memories of my early school years in a new light, I have newfound gratitude for the faithful men and women of God who dedicated themselves to a new home in a foreign land.
I recall the words of Joseph Chean, director of Youth With A Mission Singapore: "And when they came, their gospel was not just a churchy gospel, their gospel was a social gospel because they met the needs of our community." 
And, as a fruit of this "social gospel", a generation of youth like myself have the privilege of education and fond memories to treasure in this life and beyond. 
A beautiful heritage
Recalling the medley of buildings and stories and people during the trail, I can't help but be reminded of Psalms 16:6: "The lines have fallen to me in pleasant places; indeed, my heritage is beautiful to me". 
The word "beautiful" in Hebrew is sapar (שָׁפַר), which one translation renders "to shine forth as the dawn". 
In truth, stories of heritage are being written every day.
Everyone's discovery of our shared national genealogy is unique, a story in and of itself. 
What a wonderful experience it was on the trail, to be surrounded by a shining cloud of witnesses both past and present, to enjoy the beauty of heritage in motion, lovingly orchestrated by God.
---
The next Family Day Out Christian heritage trail is scheduled for November 20, 2021 (Covid-19 guidelines permitting). Contact The Treasure Box SG here. Churches may also write in to enquire.
Heritage trails run by Lim Chee Peng are currently on hold. They will resume when the Covid-19 situation improves. Click here to stay updated. The trail can be tailored for various age groups and audiences; email [email protected] for information.
---
RELATED STORIES:
A Gift of Peace: Couple whose 2 months of income was wiped out in 2 days compose song to spread hope
If you have enjoyed reading Salt&Light...
We are an independent, non-profit organisation that relies on the generosity of our readers, such as yourself, to continue serving the kingdom. Every dollar donated goes directly back into our editorial coverage.
Would you consider partnering with us in our kingdom work by supporting us financially, either as a one-off donation, or a recurring pledge?
Support Salt&Light