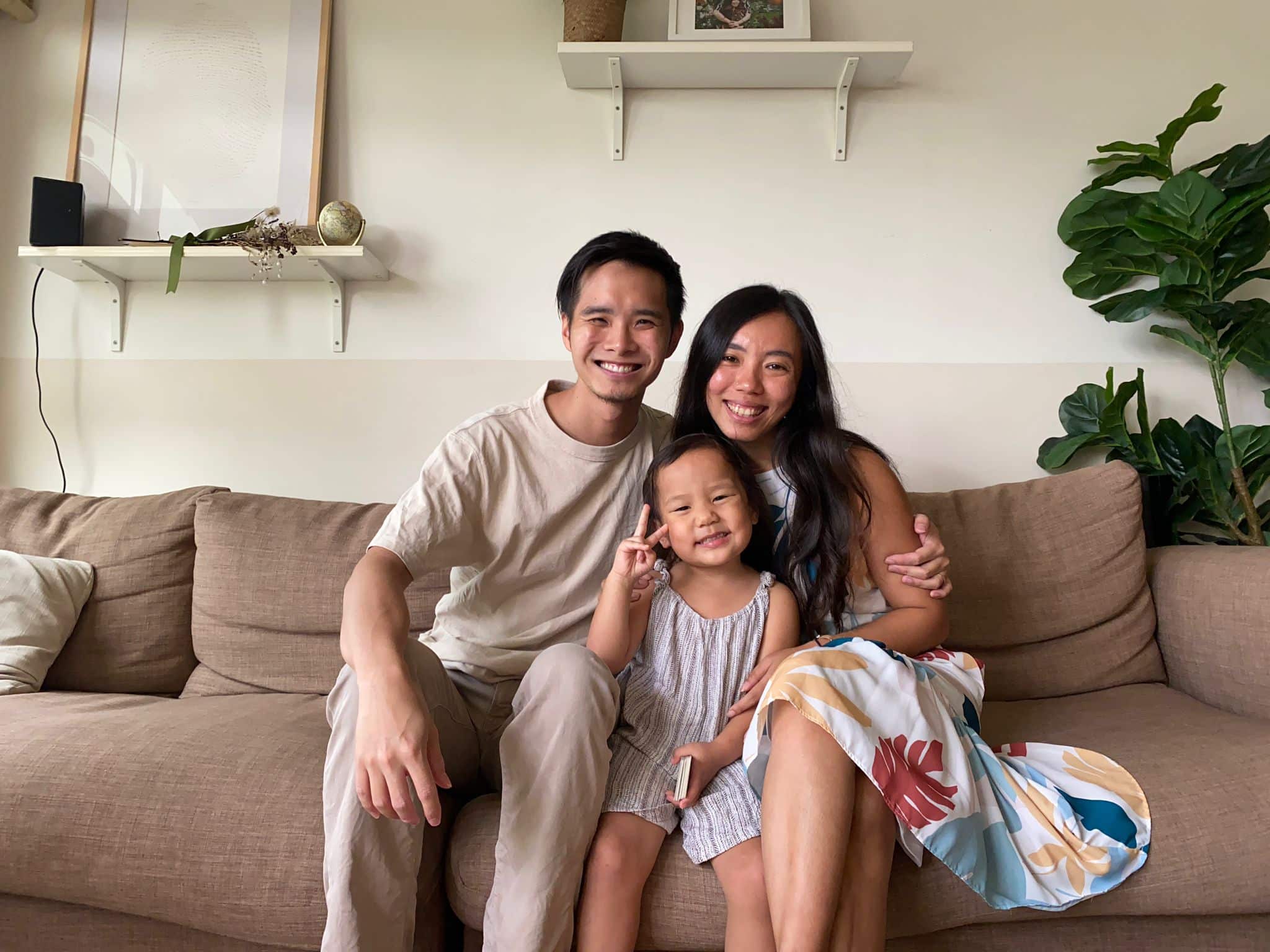 Newlyweds Melvin and Joanne set aside plans to start their own biological family, as they wanted their adopted daughter, Ariel, to know that she is their first choice and not second best. All photos courtesy of Melvin and Joanne Soon.
Like most young couples, Joanne Ong and Melvin Soon followed The Singaporean Dream: A life trajectory of applying for a build-to-order (BTO) flat, getting married and then moving into their new home.
They moved into their five-room flat in Jurong in 2020 after they got married in February that year.
But the similarities with their couple friends and peers ended there.
Shortly after their marriage, the Covid-19 pandemic took the world by storm and Singapore went into lockdown.
Instead of protecting their personal space as newlyweds and using the Covid period to adjust to work-from-home arrangements, Joanne and Melvin chose to house three single mums, with their children in tow, for a period of three to six months each under their roof.
They wanted to provide a refuge for single mums and their young children who needed a place to stay while they waited for their rental flats to be allotted to them.
An unusual question for newlyweds
After opening up their new home for those in need for two years, the couple made another unusual move. 
They asked themselves a question that would not have crossed the minds of most newlyweds: "Should we have biological children first? Or foster and adopt a child first before having our own? What should the order be?"    
The reason Joanne and Melvin were asking themselves such an unusual question could be traced back to their teenage years. God was already planting seeds in their individual lives, even before they met in university and fell in love.
"Should we have our own children first? Or foster and adopt a child first before having our own?"
When he was 19 years old, Melvin heard the sharing of a fostering advocate in church. He was so impacted by the talk that he went home and asked his parents whether they could do something similar as a family.
At that time, his family had other commitments and could not do so. So, Melvin pondered taking up fostering when he had his own family, though that seemed far down the road.
Meanwhile, while studying social work in university, Joanne was exposed to the reality of vulnerable children in children's homes. She learnt about the power of a family in providing the safest place for a child to form secure attachments. As she was single and did not have a family then, she began to volunteer to care for children.
Both Joanne and Melvin were also deeply influenced by the books they read as young adults. Joanne had her worldview shaped by a book called Radical written by David Platt; Melvin had his heart moved by Francis Chan's Crazy Love. Both books tell of God's tremendous passion for His people and how His people should, in turn, be transformed to love radically.
So, when both of them met and became a couple, each was pleasantly surprised that the other felt the same burden for vulnerable children.
It was only after marriage, however, that Joanne and Melvin started talking about fostering and adopting children, despite hoping to have biological children one day. 
Which children – biological or adopted – should they have first?
With this question burning in their hearts, they went to older mentors and couples for advice. Most of them told Joanne and Melvin to have their own children first.
"Most of them only have biological children so I guess that's the most obvious and natural answer, to love and learn to care for our own child first before going on to care for others," rationalised Joanne, now 29.
All God's children
Only a few friends would tell them that the order did not matter, biological or otherwise. One of these friends was a missionary who chose to adopt before trying for her own child.
"We wanted the adoptive child to know that he or she was always our first choice."
"She explained to us that, to her, all are God's children and it's about caring for the ones in need. If a need comes and we can meet it, why not do so?" said Joanne.
Joanne and Melvin came away from that meeting with the conviction that, indeed, all children are of God. So, they decided to open themselves up to all three options: Fostering, adoption and trying for a biological child. They then waited on God to see which would happen first.
Eventually, however, they decided to prioritise fostering and adoption, and stopped trying for a biological child.
"We wanted the adoptive child to know that he or she was always our first choice, instead of him or her having lingering doubts about whether he or she was less favoured compared to our biological child," said Joanne.
The couple believes they have a calling to serve overseas in the future. So, they decided to go through the potentially long adoption process while they were still in Singapore.
But first, they shared their plans with their parents.
"Our parents were shocked, as the natural way is of course to consider biological children first. They took the time to hear us out but reminded us to think about it first," said Joanne.
Having made up their minds, they did the necessary paperwork and went for all the fostering and adoption interviews in late 2021.
The interview process and home visits, to ensure that they were safe adults going in with the right intention, took a total of three months. By end-January the following year, they were matched with a six-year-old boy for a six-month fostering placement.
Connecting the dots
Joanne and Melvin saw the placement as a God-given opportunity. He had already prepared them to care for a six-year-old, as they had previously interacted with the six-year-old child of one of the single mothers who had stayed with them.
From being newlyweds, they found themselves thrust, not only into parenting, but into being foster parents of a child who had lived through traumatic experiences.
"It was challenging but we also saw how the church came behind us to support the child, from passing us toys to integrating him in Sunday school and our cell group," said Joanne, who worships with her husband at Katong Presbyterian Church.  
After their foster child went back home, Joanne and Melvin waited to see if God would open the door for adoption.
Silence and a series of 'failed' adoptions
At first, there was silence.
"All the adoption agencies we had talked to either did not reply, or did not have any available child, or were serving others. When we spoke to other people, we realised that adoption could take some time as there may be many others who are waiting," Joanne said.
"When the adoption process fell through, twice, it was like going through a miscarriage."
"We prayed to God that if it was still His will, the child would come. We did not want to take a child from other parents who could not have kids and desperately wanted them. We just wanted to make ourselves available to care for any child who needs a home," she added.
In the next few months, they received a few calls for them to adopt various babies. They felt the peace to say "yes" to a baby, but the adoption process did not go through due to miscommunication with the baby's home country. Another call came the following month and, again, they felt the peace to say "yes". But yet again, the adoption process fell through due to similar issues.
"Each time we said 'yes', we had to prepare our homes and hearts for the baby because the baby could come as soon as within the next two weeks. So, when the process fell through, twice, it was like going through a miscarriage. Our hopes were raised but we ended up feeling disappointed and grieved. We wondered if we had heard God wrongly," Joanne admitted.
Meanwhile, time was ticking. The approval to be potential adoptive parents lasts only for two years, and couples who do not manage to adopt during this period of time would need to apply for another home study report to renew their eligibility.
The couple left this matter in God's hands; if their eligibility expired, they would move on to try for their biological child.
An overseas call 
In November that year, Joanne and Melvin were at a vision trip in Western Asia when they received a call from an adoption agency.
"Our hearts broke. She had gone through more in her short four years than our 30 years of living."
"Would you be open to adopting a four-year-old girl from Vietnam? She is already in Singapore," the caller asked them urgently.
The little girl used to live in adverse circumstances  in Vietnam before being rescued and placed in a shelter there.
"Our hearts just broke when we heard about her background. She had gone through more in her short four years than in our 30 years of living. We couldn't bear for her to be sent back, which was highly likely as older children tend to have lower chances of adoption because a lot more is unknown about their past and baggage," said Joanne.
Yet legitimate doubts also assailed them.
The language barrier between them – the girl could only speak basic Vietnamese – coupled with her multiple trauma needs meant that she would need massive investments of their time, attention and love. She could not be placed in institutional childcare. If they said "yes", they would also need to take her in in a few weeks' time, given that she was already in Singapore.
Were they ready?
The big "Yes"
As they prayed, they realised that the many years of conviction they had carried in their hearts regarding needy children had prepared them for this day.
"I still felt the tension between fear and faith. Fear still existed because I was now forced to depend on God."
"The various 'yes-es' we said along the way to fostering and adopting babies – those were less scary," said Joanne.
"Maybe it was less about hearing God wrongly for those, but learning to say 'yes' to God, so that we were more prepared when the bigger 'yes' was required from us."
Within an hour of the call, they said "yes" to adopting the little girl.
Like Peter responding to the call to walk on water, they chose to exercise faith despite feeling apprehension about the uncertain future.
"Even after saying 'yes', I still felt the tension between fear and faith," said Joanne.
"Fear still existed because I was now forced to depend on God and trust Him for what was to come."
But it did not take long for the couple to see God's hand of provision. In the remaining days of their vision trip, they met and spoke to missionaries who had adopted children. There was also an adoption support group meeting happening at that very time, which they joined.
The day they returned to Singapore was also the day they first met their adopted daughter.
Understanding who they were, the little girl melted their hearts by immediately addressing them as "Me" and "Bo" (Mother and Father in Vietnamese). They gave her the name "Ariel" – "lion of God".
By then, both Joanne's and Melvin's parents had not only come round to the idea of their adoption plans, but were wholly supportive of it. They pitched in by helping to look after Ariel on some weekdays when both Joanne and Melvin had to work.
A close group of friends – those who were still studying or who could take time off work – also offered to help them mind Ariel for the rest of the weekdays.
Going part-time to homeschool
This temporary childcare arrangement lasted for two months while Joanne, a social worker, made the shift from working full-time to part-time.
"I didn't expect myself to have such depth of love for someone I didn't know but whom I now call my family."
This allowed her to homeschool Ariel, a move she felt was necessary to foster a secure attachment and give Ariel the extra coaching needed for her to catch up on her language and learning milestones.
"I cried when I had to shift to part-time work because I enjoyed my job a lot and I didn't realise that I had derived much of my identity from it," admitted Joanne.
"It was very hard to move from a position of competency (in my job) to a position of inadequacy because I had no skills or experience in homeschooling." 
Despite her fears and the loss of her own career, Joanne took the plunge.
She asked God to perfect His power in her weakness (2 Corinthians 12) and to give her joy so that she would not end up feeling bitter or resentful for giving up her professional life.
Every morning, she goes to work for half a day while Ariel attends a Mandarin-based childcare centre. In the afternoon, Joanne homeschools Ariel in English and then takes her out for an hour of outdoor play.
Communicating with Ariel was an uphill battle. Apart from not knowing English, Ariel's complex trauma from the past meant that her parents often could not understand her emotionally-charged meltdowns.
For instance, Ariel would cry hysterically and refuse to be put to sleep during bedtime. Even if she managed to sleep, she frequently had nightmares that left her screaming and punching the air.
Her sleep-deprived parents suspected that she was acting out because she associated sleep with bad memories or abandonment, and patiently prayed over her every night.
Over the last few months, Ariel has started opening up and sometimes runs to her parents to initiate hugs. The time they spend in coaxing her to sleep has also drastically been reduced from three hours to 20 minutes.
The couple hopes to start trying for a biological child later this year once the family stabilises. They also have plans to serve overseas in future, together with their children.
The Father's love
Their adoption journey has given the couple greater insight into and appreciation of the Father's love for them.
"Though I did not bear Ariel in my womb or breastfeed her, the love that I feel towards her is indescribable. It can only be the working of the Spirit, because I didn't expect myself to have such depth of love for someone I didn't know but whom I now call my family," said Joanne.
The couple not only had to make sacrifices on the work front, but also had to fork out adoption fees amounting to $35,000.
"Yet our love and sacrifices are but a minute fraction of what God has done for us. He sent His Son to die for us while we were yet strangers to Him, and He paid the highest price," said Joanne.
"I marvel at His deep and enduring love for us."
---
MORE STORIES ON FOSTERING & ADOPTION:
"We will not choose": Parents who adopted four babies, three with special needs
"We knew in our heart that we are Kaela's 'forever family'": Couple who were moved to adopt their foster child
How do you love a child who is not your own? Parents who foster with the Father's heart
If you have enjoyed reading Salt&Light...
We are an independent, non-profit organisation that relies on the generosity of our readers, such as yourself, to continue serving the kingdom. Every dollar donated goes directly back into our editorial coverage.
Would you consider partnering with us in our kingdom work by supporting us financially, either as a one-off donation, or a recurring pledge?
Support Salt&Light