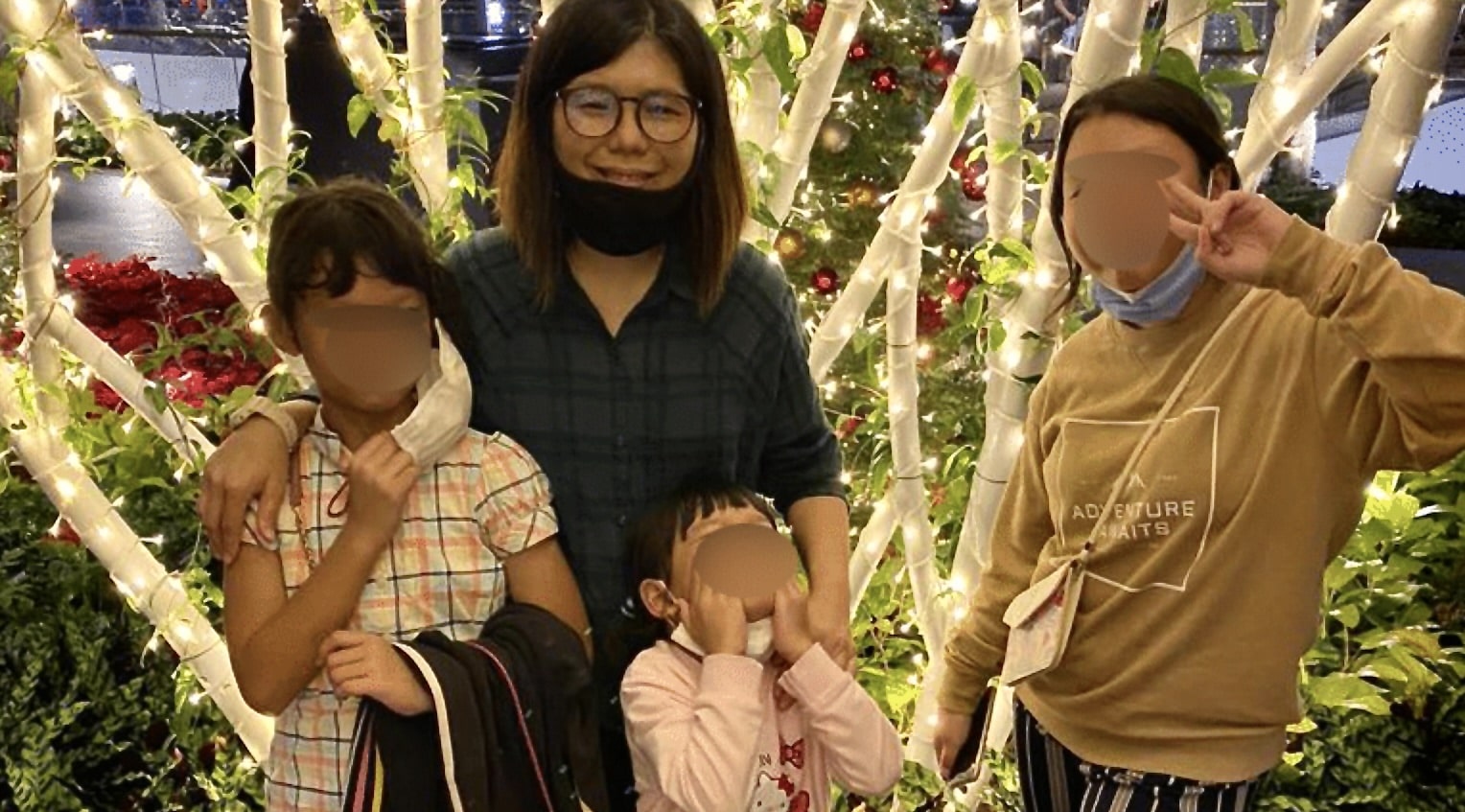 Pastor Aw Yew Lin with her three foster girls enjoying an outing to Gardens by the Bay. All photos courtesy of Pastor Yew Lin.
Aw Yew Lin was making her way through the crowds at Tampines MRT station in 2020 when she chanced upon a roadshow on fostering.  
As she was about to walk past the banner on fostering, she felt a tug at her heart.
"I sensed it was the right time for me to respond to this need," said Yew Lin, a pastor at Faith Community Baptist Church.
Pastor Yew Lin knew that the best place for children to grow up is in stable families where they can form secure attachments.
Over the years, God had been placing a burden on her heart for the needs of vulnerable children.
In 2013, she took up a Master of Arts programme in holistic child development and learnt how exploited children overseas – especially those forced to move from home to home – tend to have poorer outcomes in life.
In 2019, Pastor Yew Lin attended the LoveSingapore's Pastors' Summit in Malacca and found her heart moved by the fostering vision shared at the conference.
Currently, there are more than 600 children and youth in institutional children's homes in Singapore. Since there are 600 churches in Singapore, the LoveSingapore speaker pointed out that if every church opens their door to foster one child, the Church would be able to house most of the vulnerable children in Singapore.  
Pastor Yew Lin knew that the best place for children to grow up is in stable families where they can form secure attachments and diminish the chances of abuse or delinquency in their future.
The time is now
Pastor Yew Lin was convinced that this was the time for her to act. She had just moved into a newly renovated four-room flat in Sengkang and had the space for fostering. With the pandemic raging, her pastoral duties on the weekend had been reduced, so she had more time to dedicate elsewhere.
Responding to the tug in her heart, she dutifully picked up the flyer on fostering and subsequently sat through a Zoom call interview with an officer from a government ministry.
Shortly afterwards, however, she received an email informing her that she had not been chosen for the fostering scheme as priority was given to married couples who could commit to long-term fostering of up to two years.
"I was relieved. I told God I did respond but, see, I was not qualified for it," admitted Pastor Yew Lin, who is in her 50s.
"Three? You sure you can handle?" It was a huge undertaking for a single woman to be thrust into being a "parent" to three.
Given that she is single and prefers short-term fostering, they recommended that she apply for respite care fostering. Respite carers step in when parents or caregivers are temporarily unable to care for their children due to issues such as medical emergencies, sudden job loss and incarceration.
Deciding to try again, Pastor Yew Lin signed up with Sanctuary Care, a community respite care service offered by Boys' Town.
They matched her with three sisters and asked if she would be able to take them in for three months.
The girls urgently needed a place to stay as their parents were divorced and their father had a pending court case. If they had no roof over their heads, they were prepared to sleep at West Coast Park for the night.
"Three? You sure you can handle?" Pastor Yew Lin's mother asked her. Indeed, it was a huge undertaking for a single woman to be thrust into the role of being a 'parent' to three.
"Can lah!" she replied with spunk. "I have run camps for 200 kids before." It was not that she was confident in her ability; she was simply moved by their plight.
They wound down the window to say: "Bye Dad, I love you," to their father who sent them off.
One night in October 2020, Pastor Yew Lin drove to Boys' Town to pick up the girls. The youngest was then in K1, the middle in Primary 3 and the eldest in Secondary 2.
The girls got into the car and, as the car exited the driveway, they wound down the window to say: "Bye Dad, I love you," to their father who sent them off.
It was a stormy and windy night, and the external environment mirrored what the girls were feeling.
"They were silent all the way. The silence was deafening. One girl was crying at the back," said Pastor Yew Lin.
Her heart was heavy but later lightened up when she overheard them exclaiming excitedly to their father on the phone upon arriving at her home: "Daddy, my room looks like a hotel room!"
She might have run camps for hundreds of children in church before, but Pastor Yew Lin was ill-prepared for the chaos that ensued the next morning.
With their schools located far from her home, she had to start waking them up at 5.30am. It was tough waking them up at that hour.
She prepared bread and milk for breakfast for the children but only the youngest girl accepted it.
Then they began the long ride to Jurong to be dropped off at three different schools.
"The youngest began vomiting in the car on the way there. I didn't realise that the children usually did not eat breakfast, and she only ate it because I offered," said Pastor Yew Lin, who had to clean the car and take the little girl to the doctor after that.
After the next few overwhelming days of heading out early, then going to work and returning to pick up the girls from school before seeing to their dinner, shower and homework, Pastor Yew Lin found herself exhausted.
The girls had also brought with them only a few sets of clothing, including two sets of school uniforms. If she did not wash their uniforms every night, they would not have anything to wear the next day.
It takes a village
Thankfully, support came from her mother, Sanctuary Care and the church community.
"They would fight to sit in front with me, so they had to take turns for that."
Her mother, who lived a few blocks away, began staying overnight to help cook dinner and care for the girls. Sanctuary Care settled the daily transport arrangements to get the girls home from school so that Pastor Yew Lin could focus on their other needs after she got off from work. Her church members made multiple visits to her home to drop off donated clothing for the girls.
It helped that the girls were open and trusting towards Pastor Yew Lin, though she was a stranger to them at first. The youngest girl even slept with her on the first night as she was afraid of the dark, while her two sisters could not sleep with the lights on.
The middle girl also found herself baring her heart – she freely shared her feelings about her parents' divorce with Pastor Yew Lin. The oldest teenager, however, took some time to open up.
Car rides were a precious time of bonding for them.
"They would fight to sit in front with me, so they had to take turns for that. I could have deeper one-on-one conversations with the child who sat next to me during our long car rides to school," said Pastor Yew Lin.
Their routine for the day usually involved her taking them to playgrounds and parks to play for an hour or so after she knocked off from work. Sometimes, they also went on special outings to Jewel or Gardens by the Bay. 
"I just play with them. They enjoy simple things and it's our presence that matters," said Pastor Yew Lin.
She also connected with them individually – reading bedtime Bible stories with the youngest, helping the middle girl with home-based learning and homework, as well as enjoying spicy Korean food with the eldest.
On the weekends, she would send them off to spend time with their biological parents while she caught up with household chores and grocery shopping.
Though it was a joy to care for them, there were difficult moments, Pastor Yew Lin admitted.
The eldest child sometimes made up excuses to skip school.
"I would just lend a listening ear as I knew she was having friendship issues in school," said Pastor Yew Lin.
There were also times when the youngest girl would draw on the walls and sofa with crayons.
One of the biggest challenges Pastor Yew Lin faced in her fostering journey was in deciding on the food to prepare for the children.
"I would just lend a listening ear as I knew she was having friendship issues in school."
Once, her mother specially cooked her signature curry chicken for the girls. It was a dish that everyone in their extended family loved.
"The girls took a few mouthfuls and stopped eating. They told me that was not chicken curry. I guess the chicken curry that they were used to back in their own home was cooked differently, but I was quite upset over the incident," said Pastor Yew Lin.
One day, while driving and agonising to God over what to feed the children, she heard God's gentle whisper: "Why don't you take them to NTUC and ask them to pick what they want?"
She did so and all they wanted were packets and packets of instant noodles.
"I learnt how to hold back my judgement of those items being unhealthy and let them have it for a while. If it's their comfort food, who am I to say otherwise?" said Pastor Yew Lin.
Another big challenge was getting them to sleep on time so that they could be roused early the next morning. The girls tended to talk late into the night despite repeated warnings. Pastor Yew Lin had no choice but to turn to their social worker for advice. She was given the idea of taking away their phones at 9pm every night so that they could be lulled to sleep.
Mirroring her own relationship with God 
"Every morning I would have a hard time waking them and they would promise me that they would sleep early the next night. But the cycle would invariably repeat itself," said Pastor Yew Lin.
"I was happy that they could be reunited with their father. The six months had been a blessing for them and for me, too."
"Such aspects of my relationship with them reminded me of my own relationship with God. I sin against Him again and again, yet He chooses to forgive me again and again."
The girls' childlike trust in readily opening up to her also prompted her to reflect on whether she approached her heavenly Father with the same openness and trust, or if she had built walls between God and herself.
After six months of taking care of the girls, it was time to bid farewell. At that time, their father's court case was still pending and the social worker felt it was time for the family to be reunited temporarily.
"I was happy that they could be reunited with their father. The six months had been a blessing for them and for me, too, in many ways," said Pastor Yew Lin.
"I could choose to be a perfect foster parent in terms of being on top of their meals or studies, but I chose to prioritise their spiritual life in light of eternity," she added.
Though their father had taken them to church a few times in the past, the girls did not know much about the faith.
Pastor Yew Lin would share with them videos from church and enrol them in the children's Zoom camp. She also linked the eldest girl up with a youth worker to work through some of her friendship issues.
For Pastor Yew Lin, she had the unexpected privilege of having her mother involved in her fostering experience.
Her 79-year-old mother was willing to sleep in her living room so that the girls would get their own room. She stayed up late to ensure that they went to sleep and woke up early with them. Though she was more fluent in Mandarin, she used halting English to try to talk to the girls. Knowing that they enjoyed the hot dog buns she bought, she would frequently head to the neighbourhood bakery to get them.
"I didn't expect that my mum would voluntarily play such a big part in fostering the girls. She was so emotionally involved and sacrificial in her love. It brought our relationship to a different level. My mother became my partner in this," said Pastor Yew Lin.
Barely two months later in May 2021, Pastor Yew Lin chose to foster the middle girl for another two months. She had heard that their father had since gone to jail and that the girls needed foster homes once again.
She knew she could not cope with three of them again, and so opted to take in the middle child. Pastor Yew Lin felt that she could help her work on the anger management issues that had developed due to her parents' divorce.
Two other foster parents – a single person and a couple – took in the other two girls.
Giving a hand to other foster parents 
Pastor Yew Lin created a WhatsApp group chat with the other two parents to help them in their fostering journey by sharing with them, for instance, the girls' likes and dislikes. They also video-called each other every Friday so that the three siblings could catch up with one another.
"Vulnerable children grow up best in loving and stable familial environments. I am willing to be that person for them."
She also became the respite carer for a fostering couple who needed some help over a weekend. The couple had a child with special needs and were also fostering a three-year-old toddler. Pastor Yew Lin took care of the toddler for one weekend so that they could go for an appointment.
Having a community where respite carers can step in to relieve the load of foster parents may encourage more singles to consider signing up for short-term respite care fostering, said Pastor Yew Lin.
"Singles are worried about their personal space, or if they have to give up their holidays or hobbies if they were to help foster. Having a network of other respite carers who are able to help out on short notice can ease such concerns," she said.
Singles may desire to play a part in the lives of vulnerable children if they know how much of a difference they make, she added.
"You impact lives in ways you may not know until years later. It is not a one-off relationship but one that is built over the years."
Pastor Yew Lin continues to take the girls to church whenever she is able and encourages them to have sleepovers at her place on their birthdays.
"Vulnerable children grow up best in loving and stable familial environments. I am willing to be that person for them."
---
MORE STORIES ON FOSTERING & ADOPTION:
This young couple used their new BTO to welcome single parents and children who needed a home
"All they need is one trusted adult. We want to be that adult for them": What you need to know about the fostering journey
Children belong in families. Will you open your homes to foster children in need?
If you have enjoyed reading Salt&Light...
We are an independent, non-profit organisation that relies on the generosity of our readers, such as yourself, to continue serving the kingdom. Every dollar donated goes directly back into our editorial coverage.
Would you consider partnering with us in our kingdom work by supporting us financially, either as a one-off donation, or a recurring pledge?
Support Salt&Light